Gardening journals help you keep track of what seeds you start, what plants you have planted, and where. When you keep organized your gardening efforts are easier to enjoy!
Gardening journals are a great way to keep track of all the things you love about your garden! It can be anything from planting tips, photos during the season, or even recipes. It can also help you stay on budget, which is important too.
You have the beginnings of a garden diary if you save your seed packets, plant tags, or garden center receipts, and you're only a few steps away from finishing it up completely. This post provides suggestions for creating a garden journal that can help you learn from your triumphs and failures while keeping track of your garden's progress.
This is a great way to help your kids learn about gardening too. Involve them in writing down observations and let their creativity shine through by allowing them to draw pictures of the plants they're growing or bugs on their leaves.
Gardening journals, what are they?
A garden journal is a written record of your garden, you could call it your garden diary. Some people refer to them as a garden planner because, in the long run, it can help you plan out things for the garden through the seasons.
This year I created my own garden planner aka journal. Many of the ones out there had way more than I needed or would use. As I go along I may add more pages. Sometimes, as I am going along, I think about something that would be helpful, so I will create another page.
My Garden Journal and Planner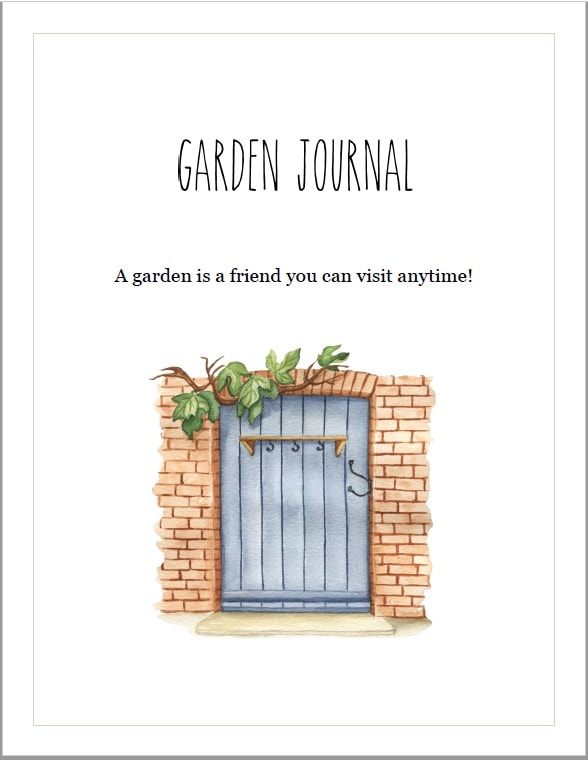 This post contains affiliate links. If you make a purchase after clicking a link I can make a small commission at no added cost to you.
You can keep your garden journal contents in any notebook or on note cards organized into a file. Some like to use a ring binder because it allows you to add pages as needed. For example, you can print the graph page from my printable journal for each section of your garden and add it to your binder. Put in plant names, location of planting, and more.
Calendar with the Garden Journal, Planner, Diary
Print each month's calendar page to jot little notes to keep track of where you are at in the year. This helps me to see if a window of opportunity is slipping by when I need to be getting a certain garden task done.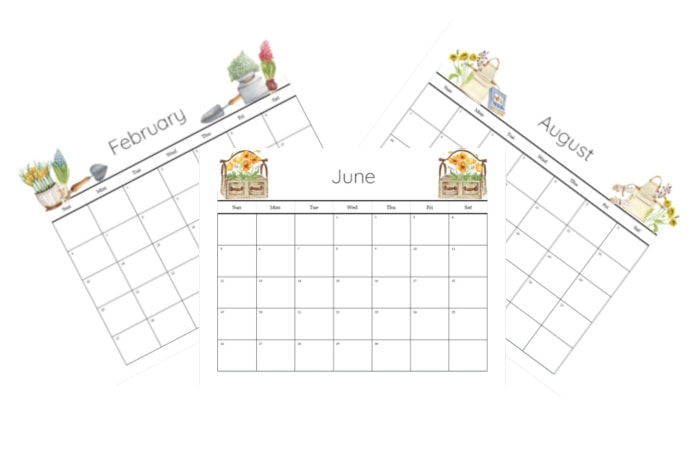 Some people use plastic pockets for seed packets and I have included a page where once you empty them you can attach them to keep them on hand to refer back to or to have a photo of the plant. I have also photocopied a packet and added it to the page instead.
Saving plant tags from ones you have purchased can be helpful too.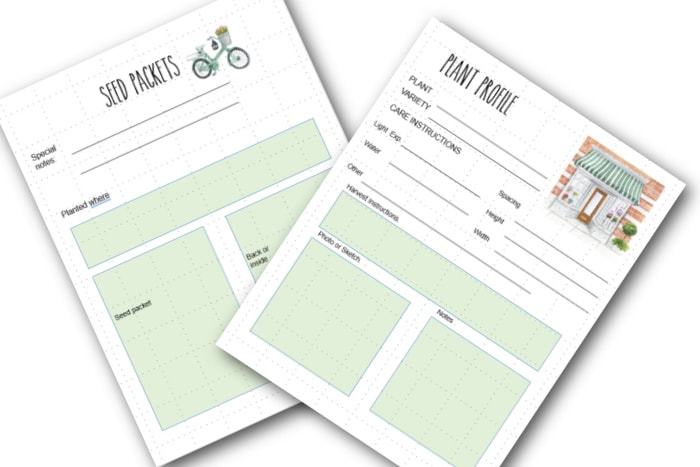 Why Keep a Garden Journal or Diary?
Keeping a garden journal gives you a written record of your garden layouts, where you planted what (I have forgotten by spring if I have planted seeds in a certain area), plans, successes, and failures, and you'll learn about your plants and soil as you go. This information can be helpful when trying to remember what worked well in a certain area of your flower garden or which plants struggled last year.
I am finding my video journal, which is my YouTube channel, is also a huge help to me. You may not want to start a YouTube channel but keeping some videos of your garden through the season can give you added help.
I have done a lot of video just on my iPhone and then downloaded to my computer to save in files. I name the files, like "Secret Garden tours", "Front garden" or "veggie garden". This helps me find them again when I want to refer back to them.
Garden Diary – Vegetable Gardens
An essential duty of the journal or diary for veggie gardeners is to keep track of crop rotation. Planting the same crop in an identical location can deplete the soil and contribute to pest pressure, fungal problems, and plant diseases. Some suggest vegetables should be grown on a three- to five-year cycle. Your garden design plans are an important planning tool from year to year.
Keep track of which veggies do well together or how long each plant yields. Each year can be a bit different but you will get a feel for things.
Succession planting is a great way to ensure you have produce all season long! Plan and track what you can plant after the early Spring crops are fading.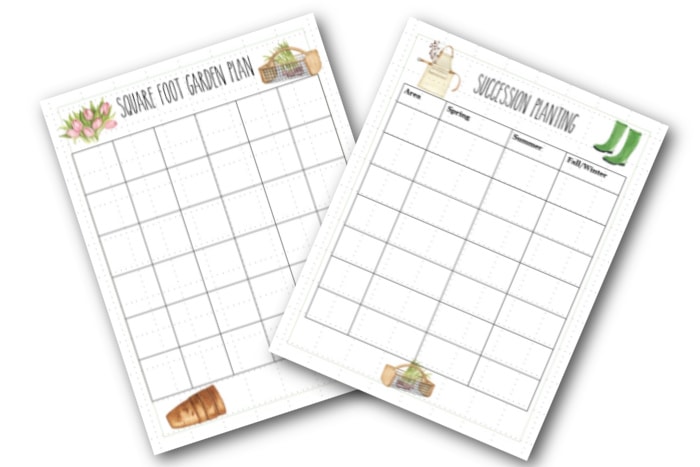 Succession planting also works well in flower gardening. Before Spring flowers fade you can sow summer annuals like Zinnias or Cosmos.
Record of Seeds
Keep a record of the seeds you already have so you don't end up buying more of the same one. This is especially helpful if you have winter cabin fever and those gorgeous seed catalogs lure you into a buying spree!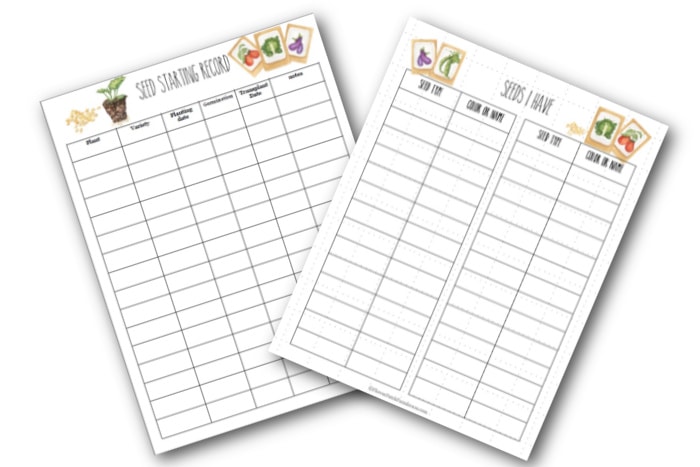 Do you do Winter Sowing or do you start seeds indoors? Keep track of when you sow, when they germinate, and more. It is a perfect way to get your gardening fix during the colder months.
Pests and Disease tracking
Did you have a pest problem last season? Or maybe an outbreak of a fungus or plant disease? Keep track of what is going on in your garden by noting when pests or diseases strike. You might be able to take steps to prevent them from happening again next year. Prevention is always preferable over waiting for the problem to occur.
I have found this book to be invaluable in helping me to use companion planting to mitigate problems organically: Plant Partners.
Gardeners Logbook
A garden diary or gardeners logbook allows you to keep a permanent record of your garden, which you may refer to from year to year. I also have a digital archive of photos along with the videos, from my garden and that is helpful too. The garden maps I have sketched have been invaluable when I am planting early in the season and prevent me from planting on top of a perennial that is dormant.
In winter, as you plan the next season's garden it is refreshing to look over what you enjoyed most the prior season and what you may wish to repeat or toss.
Garden Budget
The budget page helps you keep track of spending and a record of what you have purchased during the growing season. If you have a plant you wish to acquire but it is on the pricier side, plan a way to save for it. I am coveting a Black Bamboo but to purchase an established one is very expensive. By budgeting or making sure I don't buy seeds etc I already have I can start saving for it.
This year I am going to pass on buying more Dahlia tubers. Not only do I have some saved from last year I have decided that as they are such a fussy plant for me and zinnias provide something similar in shape I can sacrifice buying more. Saving the money and making do with the tubers I have saved will give me a chunk of change to put towards a Black Bamboo. (that is if I can't find a garden friend that already has one and can give me a start)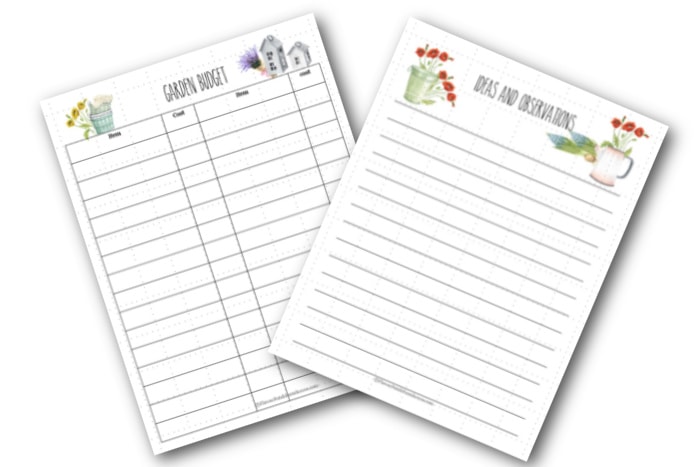 Ideas and Observations
This is a page to write down ideas that may pop up through the gardening season of what you may wish to try. Or make observations of the weather. Did you have a hot spell? What plants fared well and which obviously suffered. Or just use this page to keep notes of any kind.
Keeping a garden journal is a great way to make the most out of your gardening efforts! Not only does it help you stay organized, but it can also be a source of inspiration for the next season. What will you include in your garden journal this year?
DIY Garden Journal
get one for yourself!
Printable Garden Journal
After creating my Garden Journal I decided to share it with you all. You can print as many or as few pages as you wish. To purchase the digital file just press the button. I wanted to keep this affordable so it is $5
If there is a page you might like added to the gardening journal, please let me know and I will see what I can do.
Happy Gardening!