Propagating lavender from cuttings is one of those really easy and rewarding garden pleasures.  Not only do you get more plants but it is just plain fun to grow more for free.
Propagating lavender from cuttings is an easy and fun way to get more. Create a hedge of this sweet smelling, pollinator loved plant on a budget.
I have shared my propagation addiction before, Lilacs, Roses, Clematis, Delphiniums and Geraniums, to name a few.
Today we will focus on how to propagate lavender from cuttings (or slips, as some prefer to call it)
I have included a video version of this at the end of the post.  If you so wish, please subscribe to my new YouTube channel which will be dedicated to gardening and DIY.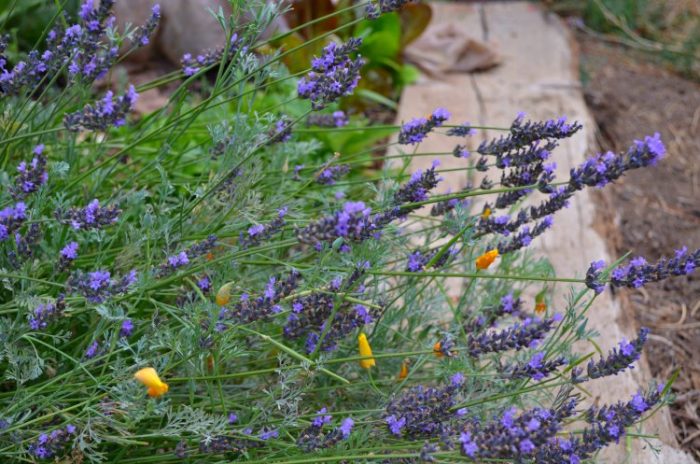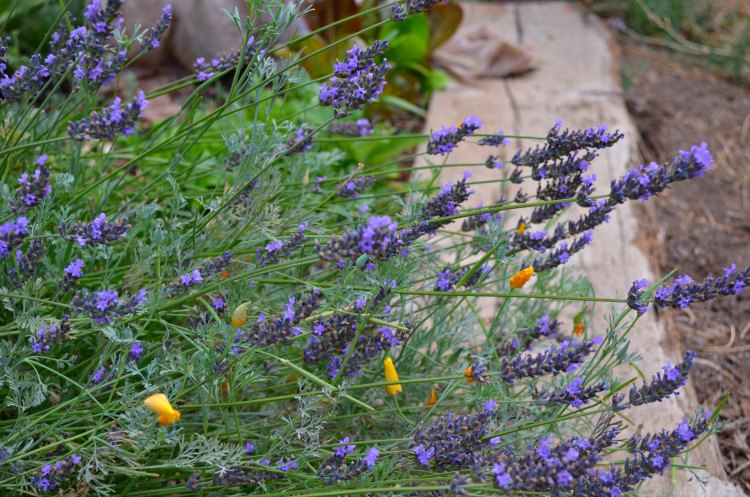 The photo above is the mother plant.  This is what I take my cuttings from and from a daughter of this plant (below) that I had started a couple years ago.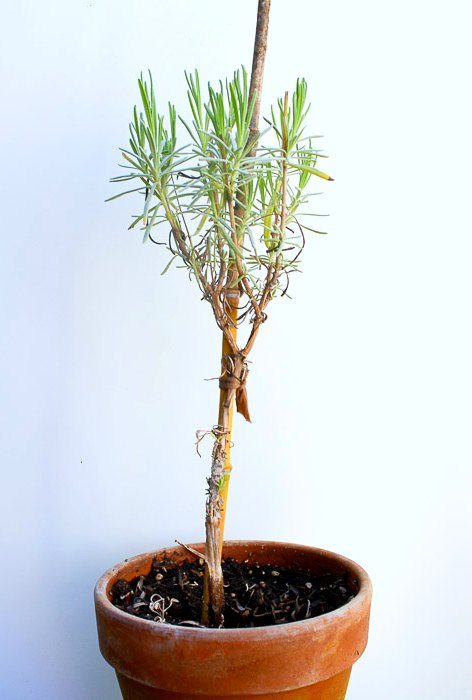 Yes, that photo above is of an actual lavender plant that I started from a cutting.  I am attempting a topiary and so far so good, even if it is a slow process.  It is very green right now, that is new Spring growth, as it matures it will turn the typical grey green you see on most lavender plants.
To take cuttings you can use the new growth as well as some more mature growth (not too woody but woodier than the really green ones). Notice in the photo below a couple are more green than the others. That is because I took the new growth off the plant above to make cuttings which over wintered in my greenhouse.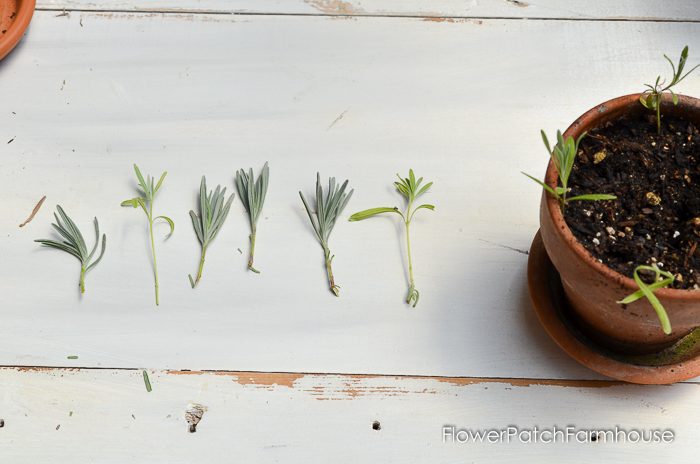 The darker ones are from my outside plant and they were a bit more mature.  Below is the twig or branch I snapped off of the outside plant.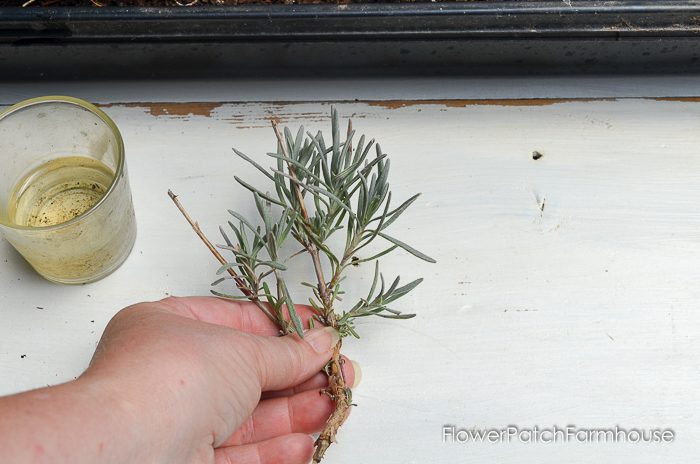 I pinch or cut the little side shoots off the main stem. You can actually try to root the hard wood stem but that takes much longer than the newer growth.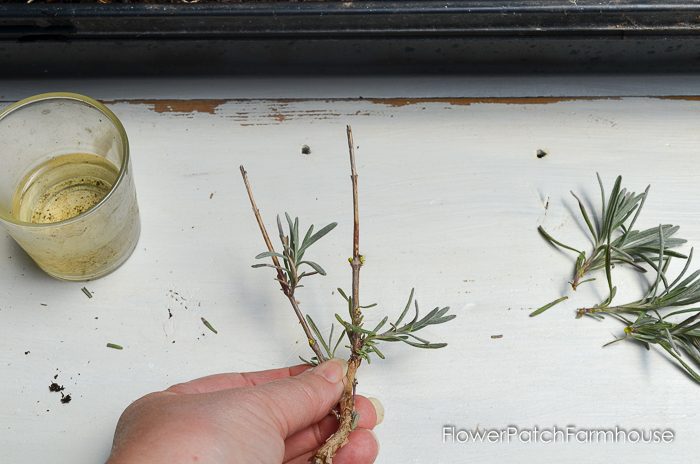 The cuttings you took of the main stem now need to have the lower leaves stripped off.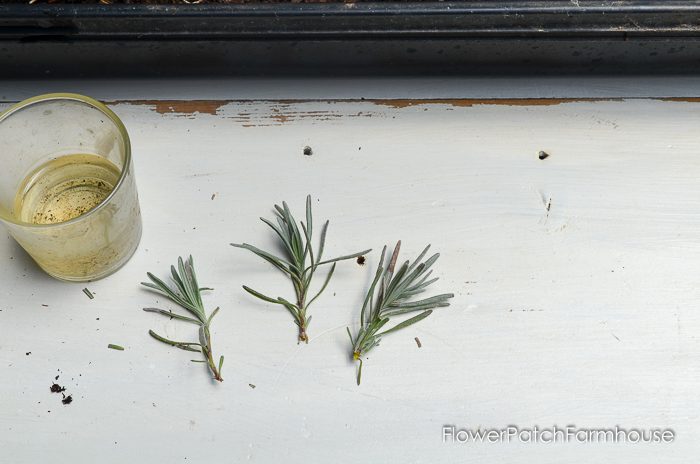 I pinch them off with my thumbnail or use a sharp knife.  Above you see the stems with leaves and below the lower part now is leafless.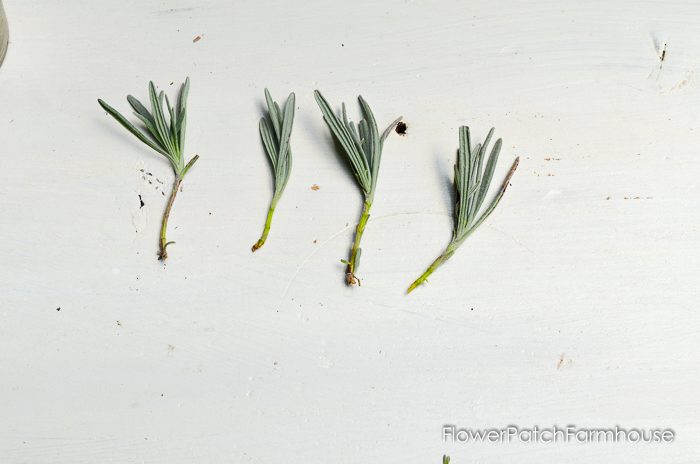 Dip the bare part into rooting hormone (optional, some say this is not necessary and I have not tested it without rooting hormone yet to say if it works for me)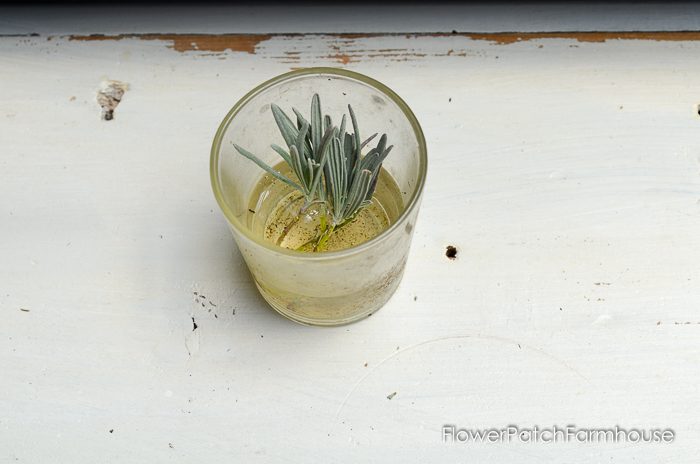 I have this little votive candle holder and it works great for shorter things like these cuttings.   Fill your small pot with potting soil and water it in.
With a pencil or stick about the size of a pencil poke holes into your damp soil around the edge of the pot.  Now tuck the cuttings into the holes and press the soil in around them.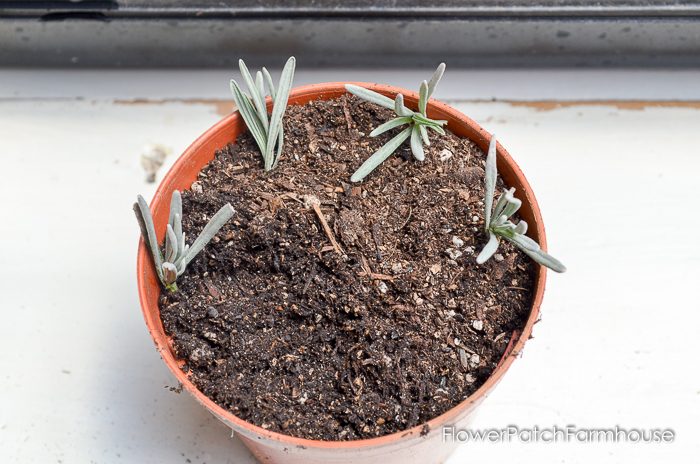 There are two schools of thought on why next to the edge of the pot is better than the center.  One is when it is up against the edge it will cause some roots to grow laterally rather than all straight down and the other is they tend to dry out less quickly when up against the edge.
I cannot attest to either theory but I do know that it is easier to separate them if they are along the edge once they do root and you can start more in a small pot. This is a 4 inch plastic pot, I also have some in a terra cotta pot of the same size.   The greener, newer shoots usually will get roots first.
I place them in a mini greenhouse like the one shown here, this keeps the air around them moist but the little vent on top keeps some air flowing too.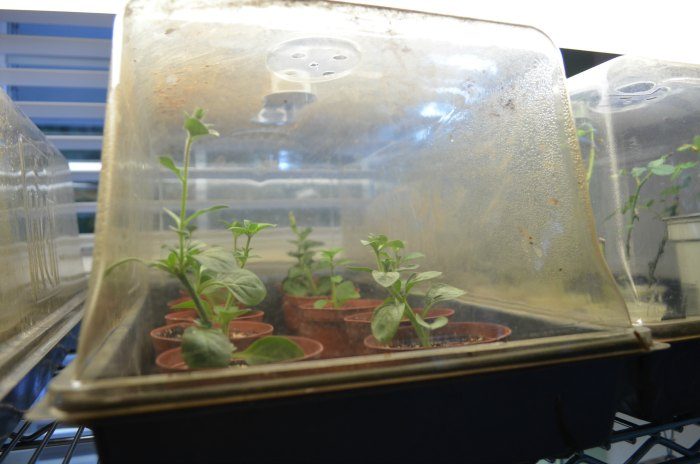 I find it easier than using a plastic bag.  If the pot is large enough you can also use a jar like I did here, you would just need to leave enough space on the edge for the jar to sit.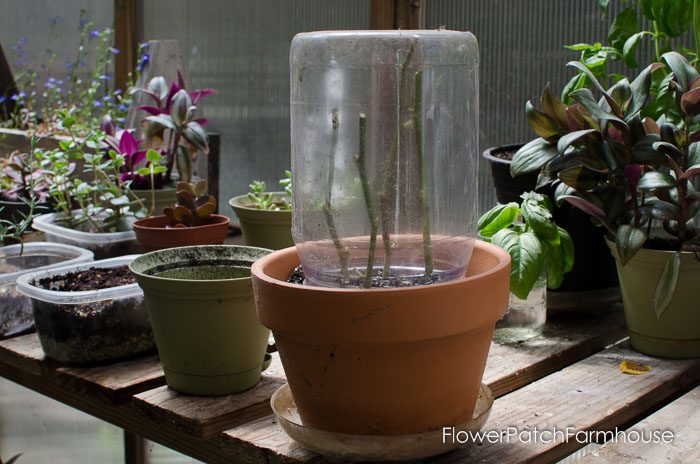 Before you know it you will have enough lavender to create a hedge.  Can you imagine the beautiful scent!
Supply list:
Plastic Pots
Mini Greenhouse Dome lid
Rooting hormone
Potting Soil
Pruners
More Lavender posts I know you will enjoy!
How to Use Lavender
Blueberry Jam with Lavender & Honey
Create a Lavender Hedge
Make a Lavender Wreath
Happy Gardening!