Garden Journal 2018. I am going to keep a garden journal for this year, 2018. This will include a video tour of my garden and what is going on in the greenhouse.
This, my friends, is the beginning of a garden journal for 2018. Week by week I will bring you either videos, photos or both of what is happening in my garden and greenhouse.
Even when there is not much to see I will post.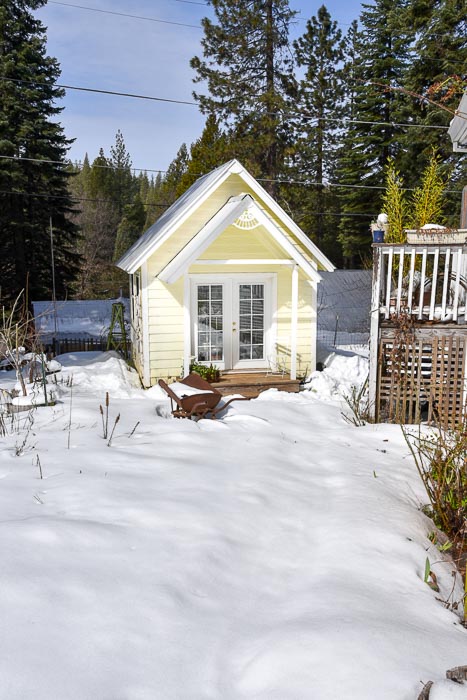 Like now, there is only snow to see on the ground. Above is my side garden. It lies between the street and my house.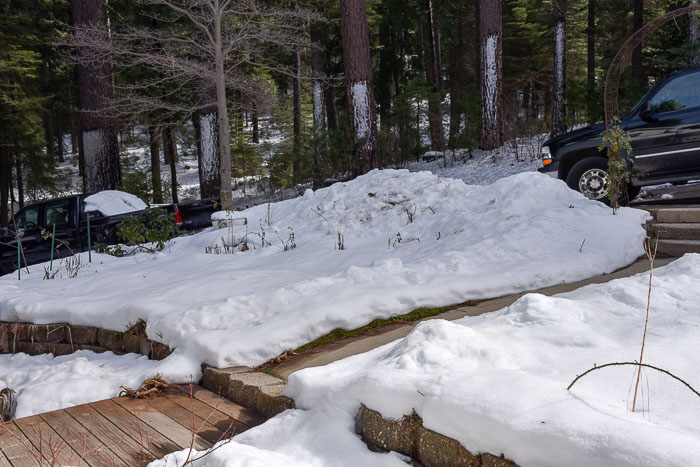 This is part of my front garden, the next photo shows the other part. The sidewalk from the parking area along the road divides my two sections of the front garden.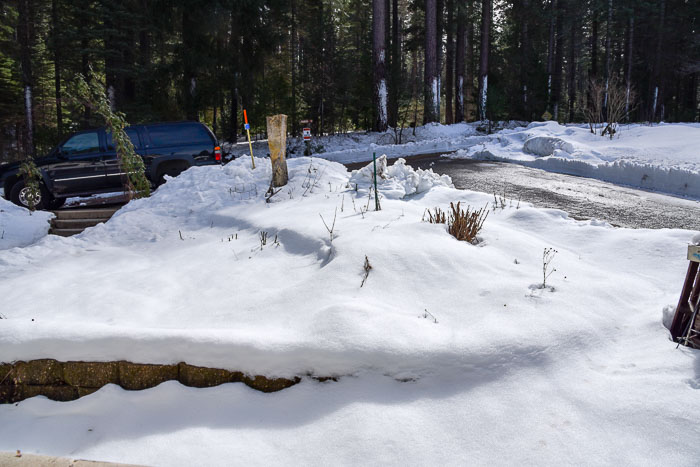 The arbor that has my Eden Rose climbing it is right in front of my Suburban but it does not show up well in the photo. The lighting cast such harsh shadows.
This is what it looks like in all its glory. (sorry the photo is pixelated, I will get a better one this summer)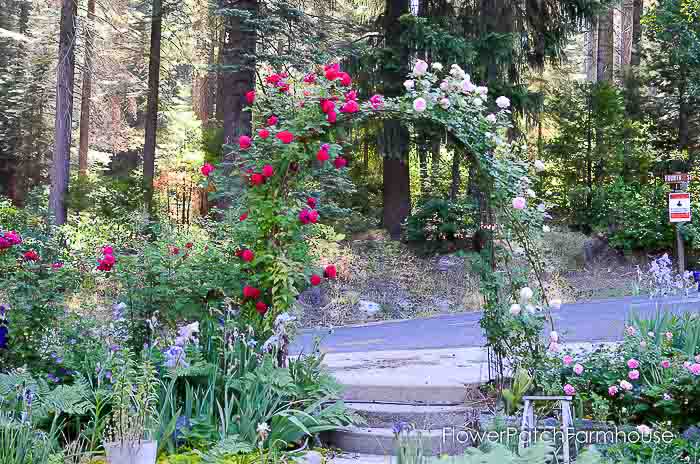 My Eden Rose is the one I show how to Air Layer to Propagate. A fun and fast way to get more roses!
Now to the back of the house.
Below is my Greenhouse. I had placed some temporary panels on the roof as many of my original panels were getting punched out by the snow bombs dropping from the huge pine tree above. One slipped down after a very powerful snow bomb pounded it.
In my video of potting up Christmas Cactus Cuttings you can hear the snow bombs hitting the roof of the greenhouse.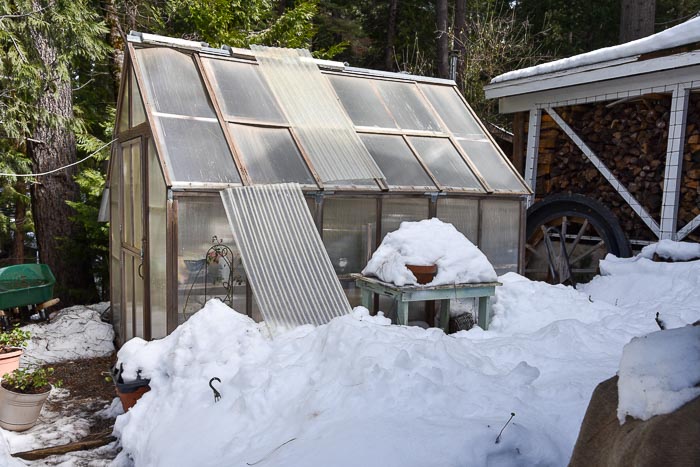 We plan on doing some repairs on this when the snow has melted so will be good as new.
As we pan to the left from the greenhouse we see my chicken house and pen. The area directly in front is where I usually have my vegetable garden.
The step up with the arbor is the beginning of my Secret Garden.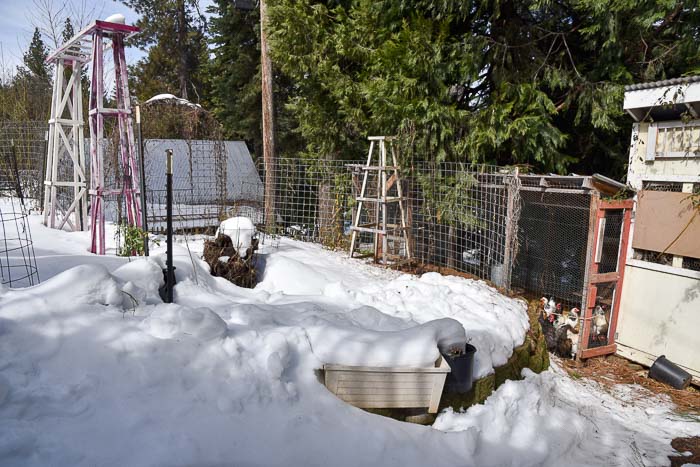 Go further and you see the side of my Flower Patch Cottage studio.
From the path you see on the left of this photo to the fence you see in the background is my Secret Garden area. Not large at all but I pack it full of sweet smelling flowers.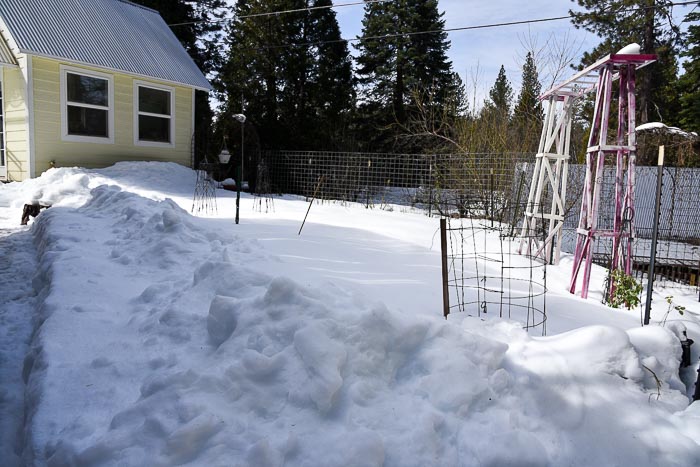 Right now this below is where all the garden chores are being done. Yes it is in disarray, we had a sudden onslaught of really cold temps after a mild and warm January and February so I hastily brought in many potted plants that normally would stay out.
They had not had a chance to harden off for such winter weather and I figured they would fare better in a protected environment.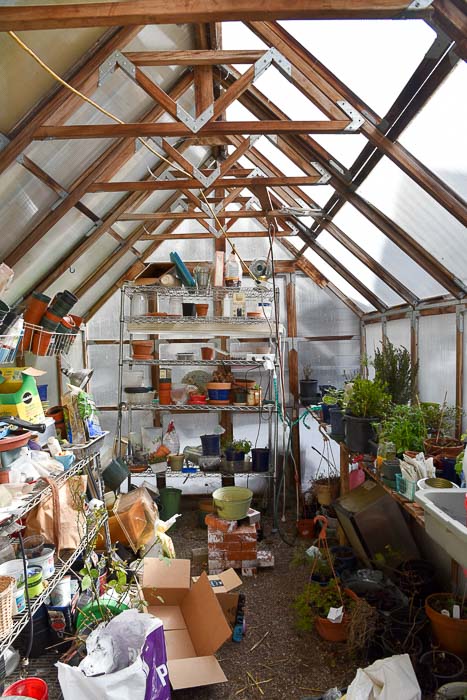 I am busy setting up some seed starting and I will get this cleared out and organized so I can maximize the space.
I will share that in a later garden update.
Here is the video.
I promise next video I will use my external mic so the sound is better. I just get lazy sometimes.
This video was taken a few days ago so the difference in snow level. We have been enjoying warmer temps and sunshine so the snow is melting.
Happy Gardening!