My rose cuttings have rooted and it is now time to pot them on. Come see how I pot up rose cuttings that have rooted.
Potting rooted rose cuttings isn't hard but it is necessary. Have you seen the post on Rooting Roses from cuttings? If not that is where I show you how to take cuttings and root them and this post is showing you what to do once they have rooted.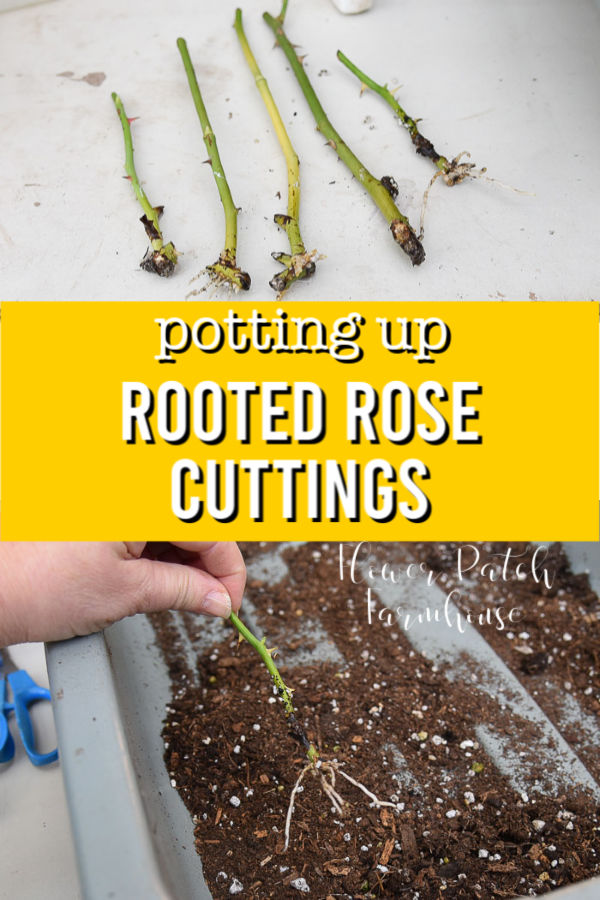 A few months ago I shared how I take and root cuttings from roses in a video. Sometimes it is more helpful to see how I do it step by step rather than in photos.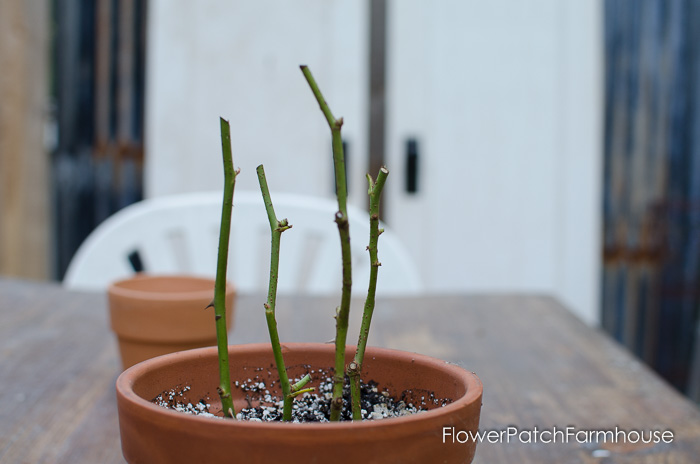 Disclosure: This post may contain affiliate links, meaning I get a commission if you decide to make a purchase through my links, at no cost to you. Please read my disclosure for more info.
So now that the cuttings have rooted I am sharing how I am going to pot them up.
Please Note: They could've stayed in the rooting medium longer and grown larger roots but as I checked on them I decided to go ahead and pot them on now.
Remove rooted rose cuttings from medium
Many times you will be able to see the roots in a clear or translucent container but if you rooted in a pot then you will need to test for rooting.
First I gently tug on the cuttings to see if they may have rooted. If they are holding fast they will most likely have roots. You see me doing this in the full length video located at the bottom of this post.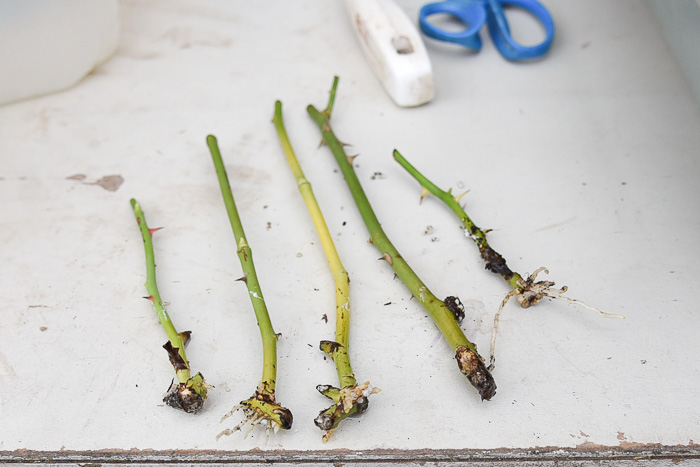 Use something to loosen the potting medium, I grabbed a pair of scissors in the video. Not the best choice but I was grabbing what was near at hand.
Using your tool poke it down into the medium and under the cutting roots, gently lift and loosen the medium as you pull out the cuttings.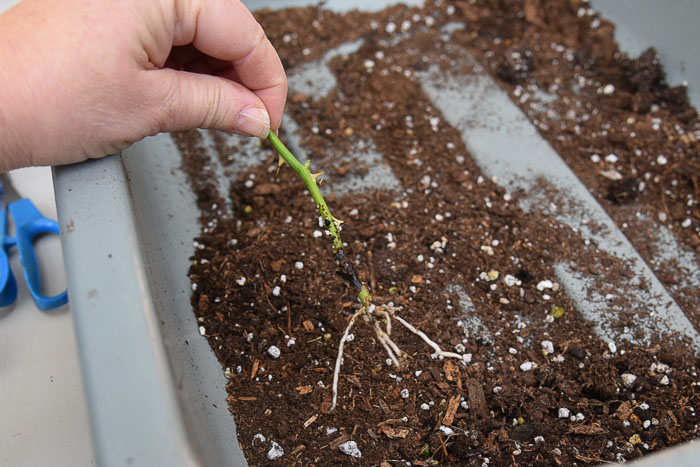 (the full length video will show it much better)
Potting rooted rose cuttings
Fill the 4 inch pots halfway with good potting soil. Today I am using Ednas Best by EB Stone Organics. I have had great success with this potting soil.
Set the roots on top of the soil. Don't shove them down, they are delicate and can be easily torn off.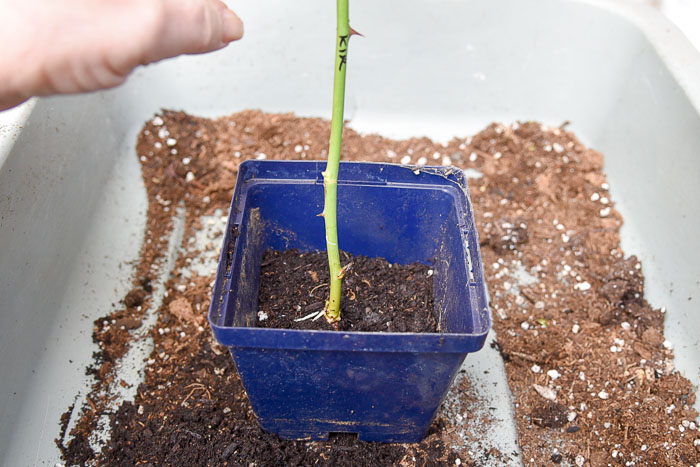 Gently fill with more potting soil until there is only about 1/2 inch left to the rim of the pot.
This next step is optional but there is many benefits to doing it. The main reason I do this step is I like the way it looks.
Give the cuttings a topping
Sprinkle some horticultural sand on top of the soil to about an 1/8 thick. This can discourage fungus gnats and it will help retain moisture.
Keep watch on new roses
These will be kept on a shelf in my unheated greenhouse. I will check them daily to be sure they are still healthy and moist.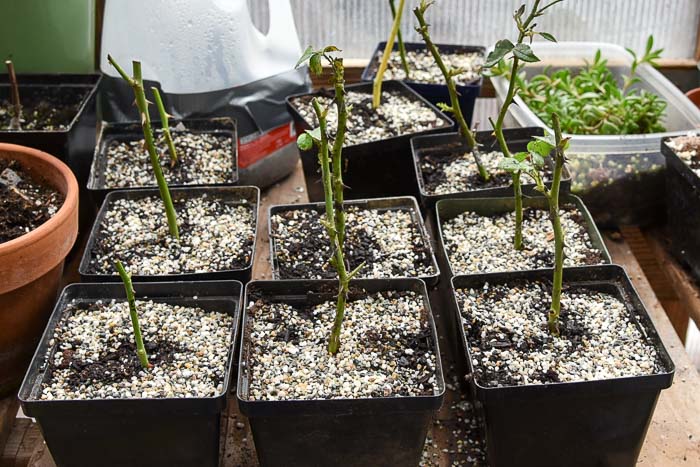 They will soon send out new growth and when the temps get warmer, especially at night, they will get put outside.
Once they have grown much bigger I will pot them up into 1 gallon pots to grow on.
What if they haven't rooted?
If you take the cuttings from the medium and there are no roots then simply replace them into the medium and let them keep going.
In the video I show you one that I have to toss out and I show you why!
Watch the step by step video!
I created a fun, printable check list of this post you can print and keep. It is in the Resource Library. Just fill out this form to get your password and the printable list.
Please PIN and share!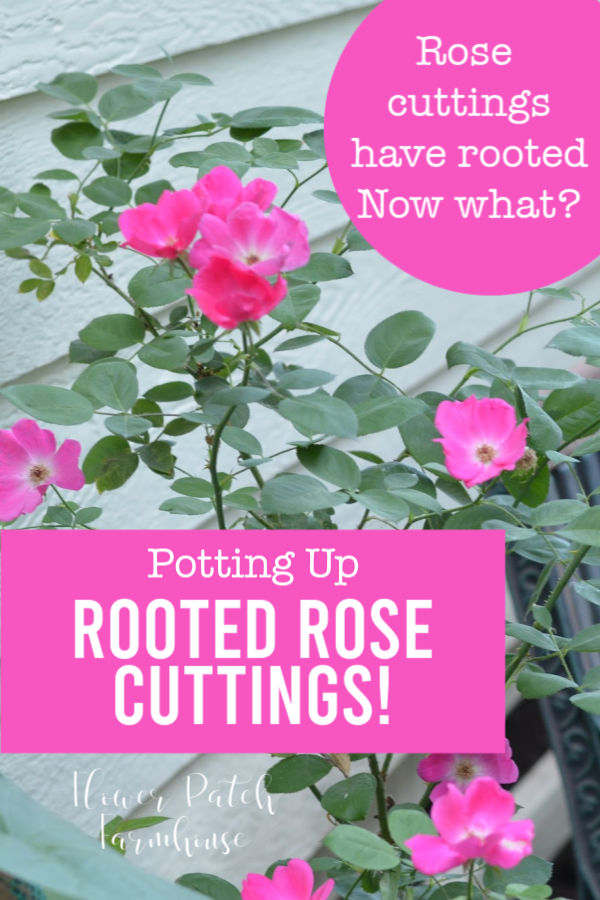 Happy Gardening!