Build an Easy Rustic DIY wood crate box
How to build an easy Rustic DIY wood crate box out of plain lumber. You can use this in your Farmhouse / Cottage decor in so many ways.
Come build this easy DIY wood crate box and give it a rustic finish. There are tons of uses for this, it is wonderful for DIY storage and organization. I have built several and use them in my kitchen, dining room and studio cottage.
Last week I shared how to get this rustic vintage barn wood finish on new wood and was asked to show how I made the little crate or box.
There are many ways to do this and I will share some variations as I build more.
This time around we will focus on this particular DIY crate.
Materials:


Ignore the piece in the upper right, I had first cut these boards for a toolbox but went ahead and trimmed on down to make the exact box that was requested instead.
You will need:
One 1 x 6 @ 25″
Two 1 x 4's @ 25″
Two 1 x 6's @ 4.25″
Wood glue
1.25″ wood screws
Screw gun
Dry fit your pieces together to see how they line up. This was before I cut the side pieces down.
When using screws it is always a good practice to pre-drill your holes.
To make it go faster I stack any pieces that I can. I clamp them so they don't move on me.
Do you see the faint pencil line? If you need to, use one to keep your holes within the area you wish to screw into. I used the end of the bottom to get the right width and eyeballed drilling the holes in the center.

I also pre-drill along the bottom.

With this crate I screw through the bottom piece into the side pieces to attach them so I will attach that first. It is easier because you can line up both side pieces (1 x 4's) on your flat work surface and lay the bottom board on top to attach. As you screw one side on the other is supported by the other side piece.
I use wood glue as well but you don't have to. I run a bead along the edge of the side piece before applying the bottom piece.
Make sure to line up all edges, I feel more than look. If you cut correctly you should be able to easily do this. Run your screws thru the bottom piece into the side pieces. I start from the middle of the board and work outward. Keep squaring up your board as you go. The wood tries to shift as you run in the screws.
Next dry fit again your end pieces (4.25″ 1 x 6″s). As you will note this one end piece is too tall by about the width of the saw blade so I take it back to the saw and skim that off.
Once it all lines up, start to run your screws into the bottom attaching the end pieces to the bottom board. You should already have pre-drilled holes for this.
Since I failed to pre-drill the other holes up to the top here I do it on the fly before adding more screws. I don't know if you can really tell from this photo below but the top edge of the side piece does not want to line up with the end cap so I have to use a clamp to pull it in before adding my screws. This will happen as standard building lumber is not always completely straight so you need to compensate.
See the bit of green showing that is the end of the side board sticking out. That needs pushing in.

Before you know it you have a finished crate.
This one may end up being a great vintage DIY wood crate to stash my bottled paints in.

I hope this was understandable enough. If not, I will try, try again.
If you like this Please Pin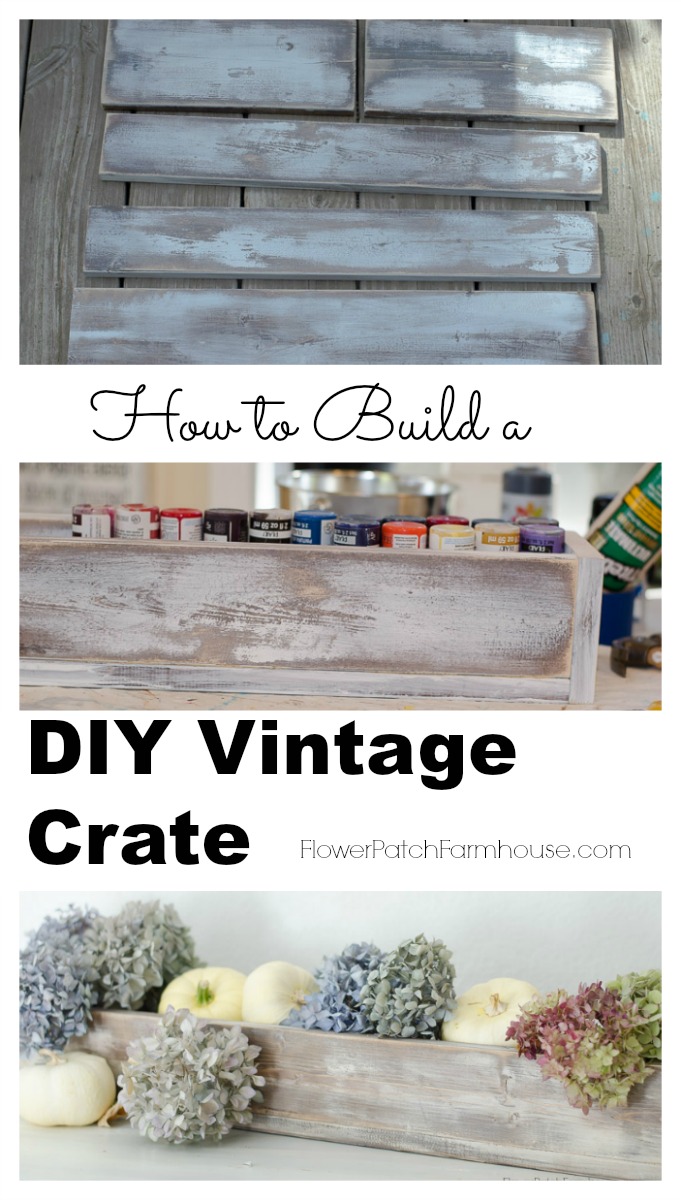 Happy Building!