Easy DIY garden arbor for your Cottage Garden. Easy to build and it is portable too.
This easy DIY garden arbor is made using the same ideas as the super easy obelisks we built and I shared here.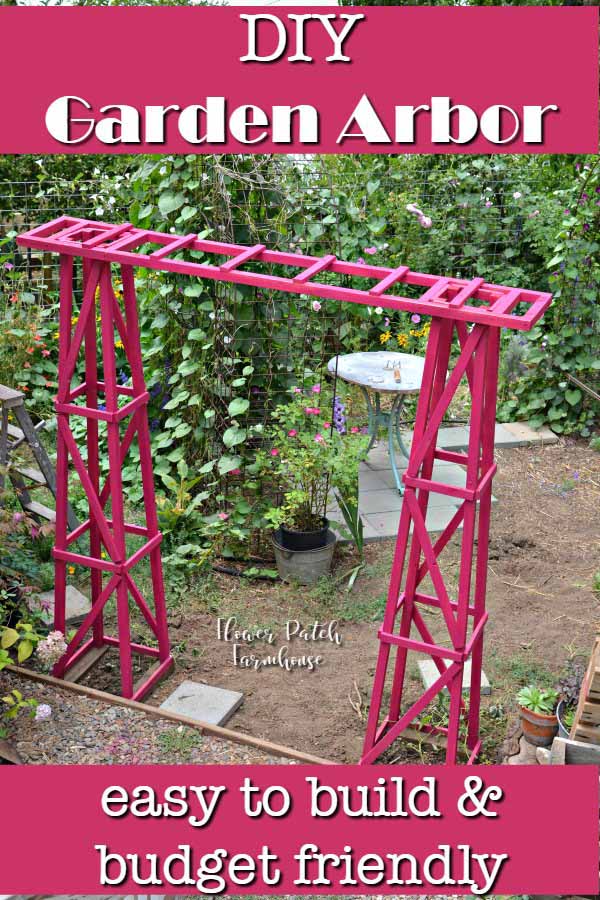 (this post would've been way too long if I had attached all the step by step photos, they will be included in the PDF download at the bottom of this post with the drawing if you wish more details)
Garden Arbor Plans
I have been so anxious to get this to you. I had to wait on dimensions and a drawing from the builder (hubby). Then when I got the drawing it is in a very technical format.
He is an engineer and thinks everyone can easily read drawings like this. If you study it you can make out what you need for materials and make your own cut list but in the not too distant future I will put one up here. (he has promised to make one for me soon)
I was going to build this all myself but when I told my hubby he would need to bring home my Ryobi nailer and miter saw he quickly decided to make it for me instead. I think I am just going to have to buy myself another nailer.
He also took the photos with his phone on the fly and some are not very clear so bear with me on this. The only remedy I can think of is to build another myself and do the photos for you but until then here she is, blurry shots and all.
The Basics to build the Garden Arbor
Start with two 8 foot long 2″ x 2″s and four 1″ x 2″s cut to their respective lengths. (please see drawing for dimensions) This is the 1 x 2″s cut to size.
(always double check everything, you can scale this as you see fit)
Create Ladders
Glue and nail them into a ladder type shape.
Make four of these ladders, it makes it go faster when you make one on top of the other as a guideline.

Add the cross 1 x 2's to your ladders.

Lie two "ladders" on their sides and attach the cross pieces. Now you can really see the obelisk taking shape.

DIY garden arbor top piece
The top piece is also a ladder made from two 2 x 2″s and the 1 x 2″s.

The ends are 2 x 2's, he pre-drilled and screwed them on for added stability.

He created a framed inside of the ladder to set on top of the obelisks to keep it steady and create the arbor.

It is an awesome design. I can take the top piece off whenever I want to move the arbor if I need to.

In this photo you can see the 2″x 2″ framework around the top of the obelisk.

These photos don't show it but the bottom has a treated 2 x 4 cut to size so the untreated wood is not touching the dirt.
All painted up in her magenta gorgeousness! (update: I have painted it white now but I am thinking black would make a great statement.)

Our estimation for how much the materials for this project ran would be $50 to $60. Not bad for such a grand statement in the garden.

FYI, someone mentioned that there is an error in the schematic but we cannot find it comparing it to our build so please always check your work as you go for dimensions.
Next on my wish list is to build an arbor like this: BHG Garden Arbor
Happy Building! (and gardening)