September is a Beautiful Memory
Sometimes it is good to sit back and reflect.
I have a tendency to run around attacking several tasks at once and ending the day feeling like I have accomplished little.
September was rather like that. So I need to take a breath and look at what I really did get done.
Each photo is linked to the post so if you wish to see the entire post just click on the title or photo
---
LIFE IS NOT A PROBLEM MONDAY QUOTE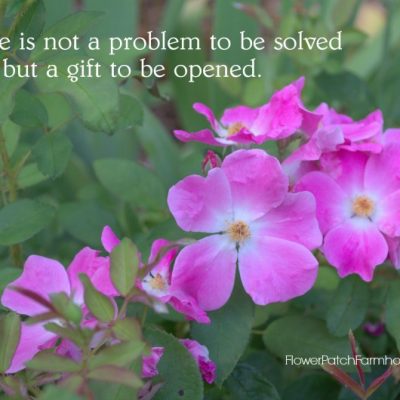 I started with getting one of my flower photos posted with an inspirational quote.
I love doing these.
I had planned on doing one a week but somehow life slips by.
I think they would be neat made into a calendar at the end of the year.
That is why I link to the high resolution size for you all to download if you wish.
In that case maybe doing one a month is good enough. Hmmm, I need to think on that.
HOW I ATTACH BOARDS TOGETHER FOR PAINTINGS


My next September post I decided to show everyone how I attach boards together for my paintings.
I was working on a tutorial of painting a large Nest painting and thought I should share first how to make your own canvas out of boards.
The trend starting now is for a large art piece on a wall instead of the gallery walls.
Behind a couch, above a mantel and so on.
I am so behind the times, I have not even gotten my gallery wall done and now things are switching.
So many will find this useful to DIY their own art.
Large canvas can get very pricey and this technique is relatively easy and inexpensive though it can be very heavy.
I love the look of wood so this works for me.
HOW TO BUILD A VICTORIAN FARMHOUSE BENCH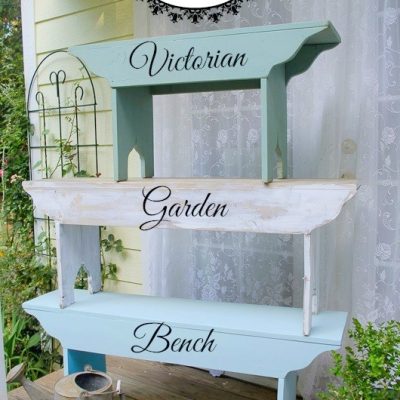 This post is extremely popular, and still is getting lots of visits.
I love my Victorian Farmhouse Benches and they are so easy to make.
I have building a few and putting them in the Gallery on my list of "to do's".
They work great as extra seating for all the visiting family and friends.
Or as display in shops.
Use them on the front porch for decoration, I have one that our television sits on until I can build a regular console.
Or I can put another shelf below the seat for the DVR and Dish box to set on and call it good.
HOW TO PAINT A PUMPKIN WITH VIDEO


I actually managed to get two painting tutorials completed and posted.
I have to say if I had a niche' this would be it as I get most of my traffic from my painting tutorials.
Since that is what folks come here to see then I am trying give them what they want.
I am working on an ebook that will be easy to download and print for easy reference when you sit down to paint. I will keep it affordable but it is a LOT of work!
In the meantime I am attempting to keep up with providing more tutorials with videos. I am also trying to get better at doing the videos.
FALL PORCH DISPLAY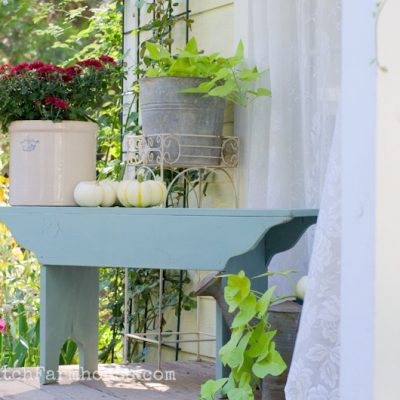 This post I had to set up to photograph some signs I was preparing to put in my online shop and thought one of the Farmhouse Benches was perfect.
I had picked up some gorgeous mum's and I had several little pumpkins that surprised me this year in the garden.
Now that is has turned really chilly at night I need to go harvest the last of them and pull out the plants.
They are so done but have given me plenty of little pumpkins to stage in photos for Fall.
Next year I will try to grow the beautiful blue pumpkins for the fun of it.
PEACH SHORTBREAD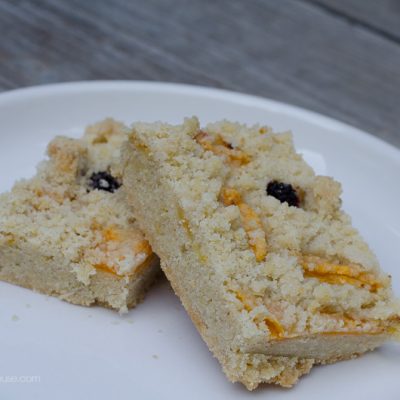 I so wish my photos of these looked as good as they tasted.
They were so delicious, not too sweet. The peaches on top and a smattering of blackberries was a perfect complement.
I have started a new book on photographing food (thinking what I learn could go far in my photography of my signs and paintings), and I can't wait to try some of the techniques and tricks for improving.
I know what I did wrong here and next time they will leap out and you and say 'bite me!,….
in all the right ways, of course. My husband and I both love to cook and since we do it daily I may as well practice my photography along the way.
So my readers get to watch my progress in my journey of better photography and maybe discover a few recipes you want to try yourselves.
They will not be anything too complicated since I usually have to cook relatively fast and easy meals.
HOW TO PAINT A NEST


I had first posted this tutorial over at Live Creatively Inspired.
A great site with a collection of talented ladies that share a variety of projects.
It is a great resource so be sure so hop on over to view lots of lovely things to make, decorate or cook.
I had a lot of fun creating this painting and I am working on some more large art pieces.
I was informed about a new water based wood stain by my local Ace Hardware paint lady that knows I do this for a living and she figured I would be interested in using it. Some of the colors are unusual but gorgeous.
I have to say I LOVE it and will share soon.
I have some projects I want to use it on and I will tackle those in Oct.
I have decreed it! So it shall be done.
(I hope)
That being said I will bid you all adieu.
Have a great day!
Wow Us Wed, Sunday Showcase, Metamorphosis Monday, Mop It Up Monday, Be Awesome, Off the Hook Mon, Inspire Me Mon, Show & Share, A Stroll Thur Life, Tweak It Tuesday, Time to Sparkle, The Scoop, Vintage Inspiration, Make it Pretty Mon, Inspiration Gallery,