Pillar Roses to save garden space!
How to pillar roses for masses of blooms all season long and save space. It is simple yet yields fabulous results. Easy and great for small gardens!
I have a small garden but a big love of roses. To fit in more I pillar roses on support in the beds. This is how I fit more roses in less space and you can too.
This technique is called Pillaring. The benefit of pillaring a rose is not only saving space but it forces certain varieties to bloom even more than if you left it to grow without this treatment.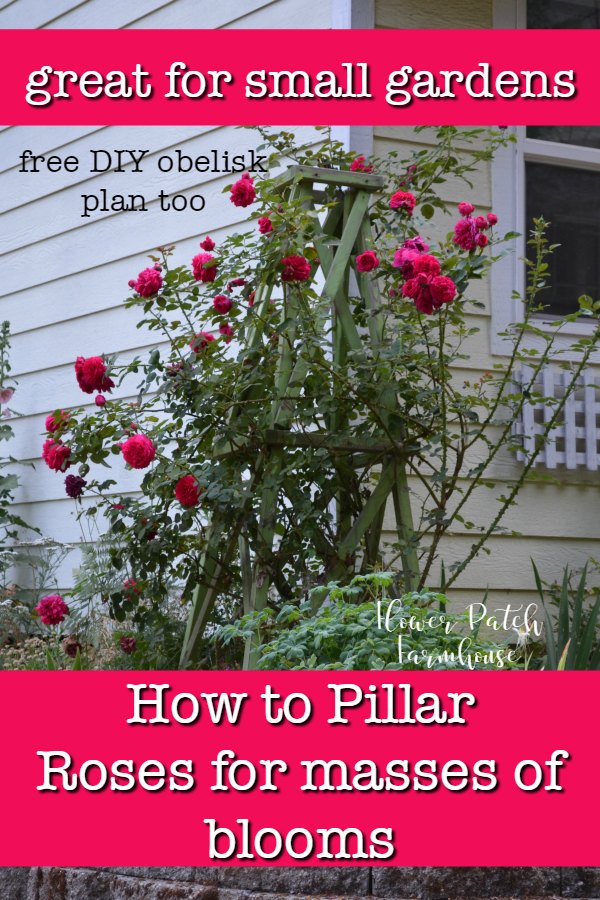 This post contains affiliate links. If you make a purchase after clicking a link I may make a small commission at no cost to you.
What roses are good for Pillaring?
There is no secret that I love David Austin Roses but did you know they are the perfect candidates to pillar? You can treat many David Austin roses as climbers in the U.S. But they have roses listed as climbers.
I also love vintage roses, I personally prefer the reblooming ones but the once-blooming are gorgeous too. Ramblers will do wonderfully treated this way, as well.
Not only does pillaring roses help them fit in tight spaces it also gives vertical interest to your garden.
In the photo above my Tess d'Ubervilles DAR is blooming happily and she does this all summer long. She keeps my DIY Obelisk covered with gorgeous red roses from June thru October.
Pillaring Supports
You can use a post, pole or other upright narrow structure anchored into the soil.
Obelisks work well too. Check out my obelisk that you can build or the obelisk arbor! Don't want to build your own obelisk..then try this one.
How to Pillar Roses
Pillaring a rose is very simple and only takes periodic attention to keep it looking great. Basically, it is wrapping your rose around a post or upright structure barber pole style. This can be a post in the ground, a metal structure or even an old Pillar.
Here is Tess in mid-November, I let her go pretty wild as I knew I was going to do this demo for you. Lots of canes going everywhere but we are going to cut many of those back.
When should I pillar my rose?
Spring and early summer are one of the best times to pillar roses. The new growth is flexible and easier to train in the directions you desire. Once the canes begin to harden you are more limited in how to can bend them.
In this post, I actually show you how to get started in Fall in anticipation of new growth in the Spring. I share what I do and why.
Get started Pillaring your Rose
Prune your rose as I showed in my Train your Climber on an Arbor post. Check for any damage on the main canes and remove those. Main canes are the ones that come from the ground. Any that grow off of the main canes are called lateral canes.
Already you can see the rose has been thinned out. The yellow arrows are some of the main canes and the orange is a lateral cane.
Here is a main cane that is on the smaller size in diameter, I have cut it back to about 2 feet, it has 2 lateral canes coming off of it. (yellow arrow in photo below) I will trim the one lateral cane on the right side to about 3 inches but the one on the left I will leave full length.
Start wrapping the canes around the pillar support
Starting from the base, wrap the cane around the obelisk as horizontal as you can. Be firm but gentle you don't want the cane to snap.
This will give encourage roses lower on the supporting structure. I want roses from the base of my obelisk all the way to the top. Use flexible garden tape or I use old pantyhose cut into strips as the ties. They work wonderfully and have enough give that when the cane grows it will not damage it. Plus they age to a green color that literally disappears to the eye.
Don't have access to old pantyhose, then these work great too and they are easy to put on.
Each of the arrows points to where a lateral cane will grow out and produce beautiful red roses.
Do this with all the canes up the entire obelisk. Now Tess looks much neater and tidier and will be protected from breakage by the heavy wet snows we get in winter and early Spring.
Some of the main canes will not bend to wrap around the obelisk so I leave some of the laterals long enough to wrap as they are pliable enough to get more horizontal. Any new canes that may sprout from the base will also get trained around the obelisk as soon as they are long enough to tie or tuck into areas along the other canes.
Note: Most of my roses are "own root" roses and not grafted. If you are doing this with a grafted rose make sure the new canes are coming from above the graft and not below. Cut out any canes that may sprout from below the graft, they are suckers.
Helpful hints for Pillaring a Rose
I grow mostly heirloom, vintage, DAR or climbers (not grafted). I purchase roses not on their beauty alone but on their reputation for toughness in any conditions. All my roses are nearly bulletproof. Meaning they can take a lot of abuse and still reward me with beautiful flowers all summer long.
Hybrid Teas can be much fussier and take more work so I don't typically buy them. They just don't thrive here. I have only one in my garden and I love it but it takes so much more care to get it to give a mediocre performance. When I lived in a warmer climate I had many and they thrived easily but the conditions were right for them.
Why am I telling you this? Because many give up on roses when they don't do well with them but actually it was not you but the type of rose you chose to try. There are so many roses that will give you the beauty you desire without all the work, just find what is right for your area.
I wish you happy rose growing!
More Gardening Posts for You!
Prune Clematis for Top to Bottom Blooms
Air Layering to Root Roses
List of roses on the David Austin website they have picked for pillaring.