Easy wood garden obelisk you can build on a budget. This is the second DIY obelisk design we have built and shared. These are great for roses, tomatoes, sunflowers and even squash. This garden element supports plants that need it with great style.
Obelisks are great for adding height and structure to any garden but they are particularly useful in smaller garden spaces.
You can make them tall or short, fat or skinny and it doesn't take much skill or money to make this one. You could build this beauty for around $25 in materials. Mine has been in the garden for 3 years now and it is still going strong.
In fact, my Tess D'Ubervilles David Austin rose absolutely loves it and is nearly covering it completely with fabulously red blooms.

This is a variation on my original Easy Garden Obelisk.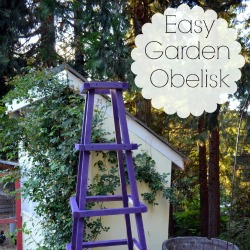 And we also made an Arbor for the entrance to my Secret Garden with 2 of these and a DIY ladder across the top.
I have white roses planted at the base and I hope soon it will be festooned with delicate white blooms. I want to add a fragrant clematis or other vine as well but not sure what yet.

Since the basics are the same as our original obelisk (link to simple drawing plant below) I am not going to bore you with all the details but I will show you some photos of how he did the X pieces.
Note to make the X you put one half of the X on the outside of the frame…
and the other goes on the inside.
And that is it….for a rough sketch of the original obelisk with measurements go here. Put it in your garden and add a beautiful climbing rose and before you know it you will have this.

Just note that you can build these any size you like, I have a few lined up to build for tomato supports, they look so much more attractive in the garden than the wire ones I have been using. If you build any please send me a note or find me on Facebook and share photos.
More Posts You May Enjoy
Paint a Stepping Stone Flower
Easy Garden Tips & Tricks
Build Potting Bench from Fence Boards
How to Paint Roses

Happy Gardening