How to divide Iris in Spring…Because I know things can get away from us and we miss the optimum times to do certain garden chores. It works very well and you can still get blooms.
I love bearded Iris. Even though many shrug them off as they only bloom a few short weeks in Spring I still love them in my garden. I have gardened with Iris for 30 plus years and am constantly adding more.
Today I am going to share with you how to Divide Iris in Spring. It is a simple yet effective way to separate those Iris you missed last Summer and Fall.
I can see so many garden enthusiasts shaking their heads already saying, "You don't divide Iris in Spring!"
Yes, I do know that the proper time to divide Iris is six to eight weeks after they have bloomed but so many times I don't get to all of them then come Springtime I have some overcrowded clumps that could use a bit of thinning.
Make sure to view the video at the end of this post!
Disclosure: This post may contain affiliate links, meaning I get a commission if you decide to make a purchase through my links, at no cost to you. Please read my disclosure for more info.
Don't worry, I still get blooms. Rest assured I have used this method for years with 100% success.
If you wish to get access to the free downloadable cheat sheet for dividing Iris in Spring fill out form below, further down in this post.
Supply List:
Garden Knife
Small Shovel
Handy Garden Tools
(the smaller shovel is easier to get in to small spaces plus it is just easier on my old lady back)
Find Dividing Point
Here is my clump of Iris that needs to be divided. The center is obvious and you have rhizomes fanning outward from it.
This Iris is actually already loaded with buds.
Decide which rhizome you want to remove and follow it back to the center. With your garden knife cut the rhizome off where it attaches to the mother rhizome.
Divide Iris rhizome from mother
You may need to dig around the connecting area to get a good view of it, then slice as close to the mother rhizome as you can. Take your shovel and dig up the rhizomes freed from the mother.
Leave the rest of the rhizomes undisturbed in the ground.
You can see them to the left of the shovel in the next photos. Those left in the ground will go ahead and bloom because you have not done anything to them.
Dig Out Iris Rhizomes
Dig down deep to get underneath the roots of the rhizomes, this way you preserve any blooms that may be already forming on them and it may go ahead and bloom.
You can see I left a nice sized hole where I dug it up from.
The rest of the plant is undisturbed, it will bloom just as if nothing has happened. (just to the left of the tip of the arrow)
Replant Iris division
Find a nice spot where you want to place your dug up Iris, dig a shallow hole and mix in a bit of Bulb Fertilizer (this is the one I use) into the soil.
Note: if you get critters wanting to dig up things skip the fertilizer, usually it has bone meal which draws them like crazy.
I placed the freshly dug up Iris in my Secret Garden I am developing in my back yard. You can see it there next to a Foxglove I transplanted. This coming Summer they should both give me lots of lovely flowers!
Press here for a video of the Iris in the Secret Garden in Spring!
If you newly planted division does not bloom this year (it might), don't worry, it will next year. But you still get to enjoy the blooms from the section you left undisturbed.
Want to download a cheat sheet of how to divide Iris in Spring. Just fill out this form for access!
If you are already a subscriber the emails you receive have the password included.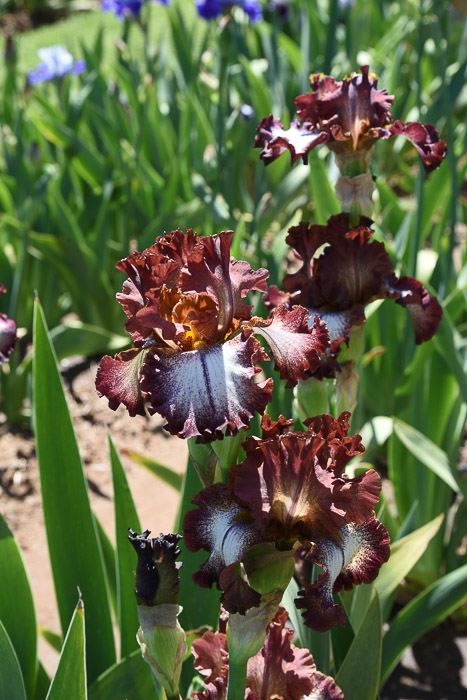 I have toured two Iris Farms the past couple of years and I shared all the beautiful blooms here IRIS FARM VISIT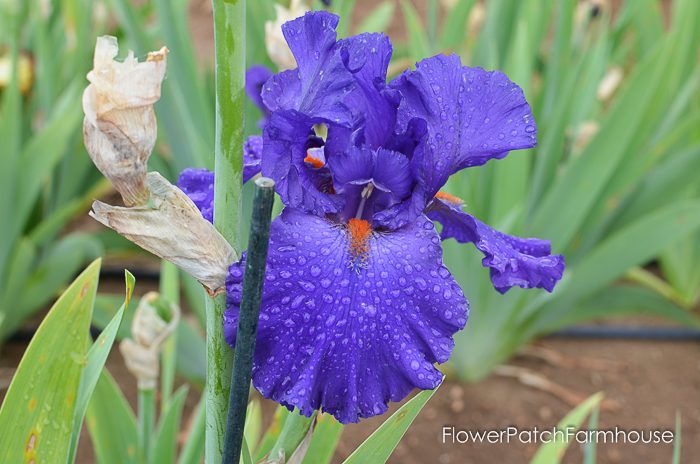 Just one more note, I credit my chickens and their leavings (doo) with a lot of my success in gardening, great soil builder. That being said if you would like to get into chicken keeping here is a great resource on it: Fresh Eggs Daily, Raising Happy Chickens Naturally.
For more great garden posts with out of the box tips and tricks see my Garden Page.

More Garden Posts You Will Enjoy
How to Divide Iris
How to Plant Iris for Tons of Blooms
Is Your Flower Garden Dangerous?
I wish you Happy Gardening and a Flowery Spring!
Please PIN and share