Join me in my Late Summer Garden of 2016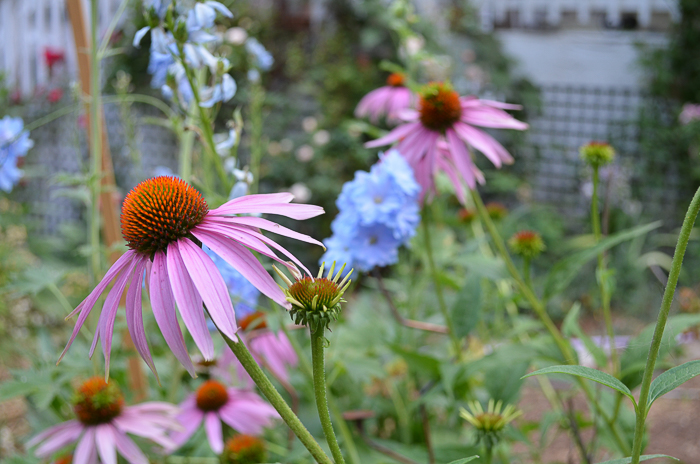 For all my garden loving followers here is the Late Summer Garden 2016 for you.
We endured a hot spell last couple of weeks of the upper 90's in temps here on the mountain.  That is not unusual for this time of year.  The valley was in the 100+ range.  We do typically  get just a couple weeks of really hot temps and then it cools back down to normal.  Though the low 90's is even rather on the hot side here which is what it climbs too in the mid afternoon, I am loving it all.  I love the heat.
Summer is my favorite time of year and I have been outside as much as I can be.  You may have noticed I have been missing on Facebook and other Social Media and that is why.  Well, one of the reasons.
(this post contains affiliate links, please see disclosure page for more info)
Late summer flowers are putting on their show.  (why people call it late summer when in reality it is mid-summer baffles me).  The Cosmos are nearly as tall as I am.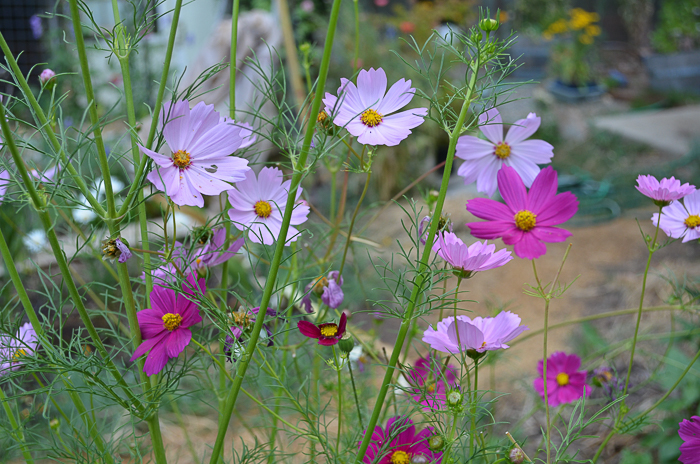 A colorful variety of morning glories are threatening to swamp the sweet peas but I chop them back ferociously to keep them in check.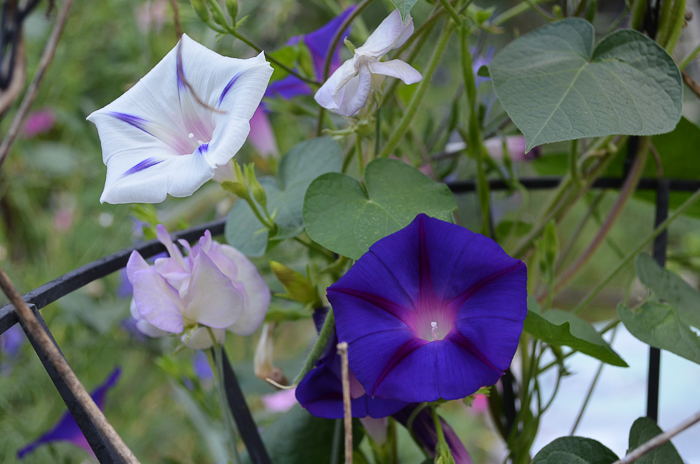 The sweet peas are continuing to perfume the garden, I try to pick them regularly to prevent them going to seed too soon but some have gotten away from me.  I am replanting to get even more blooms as summer fades into Fall and what does not bloom this year will have a head start next Spring.  I also bought some seeds in bright colors to add to my collection.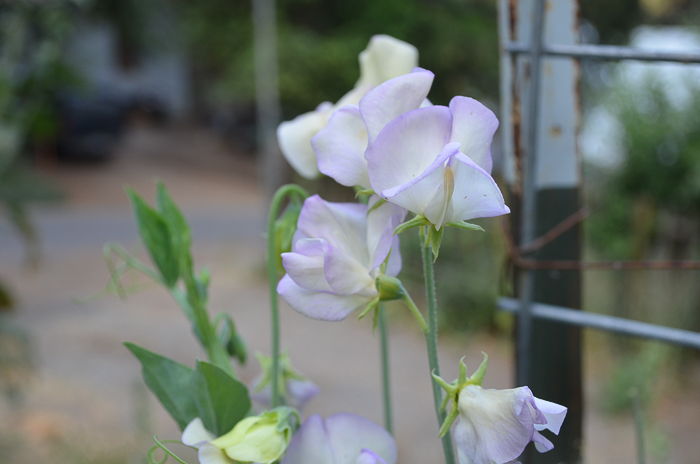 Black Knight Buddleja (aka: Butterfly Bush) is in full swing.  I already need to dead head it to keep the blooms coming.  (for more on deadheading for continuous blooms, click HERE)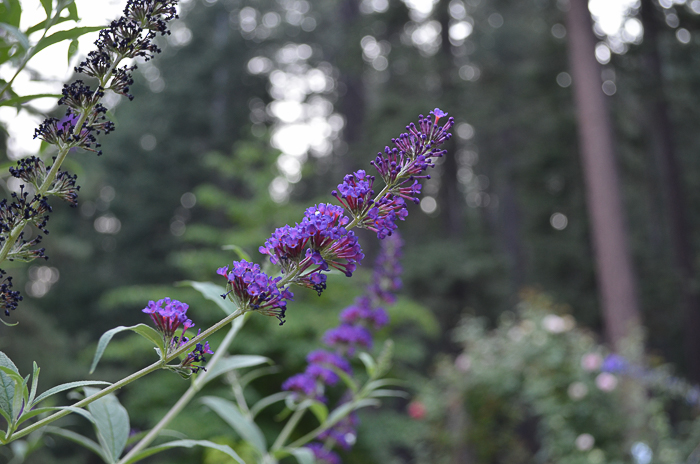 My Roses are loving this heat.  This Tess D'Ubervilles rose is at the back corner of my studio cottage.   I use soaker hoses to deep water and heavy mulch to help retain moisture in the ground.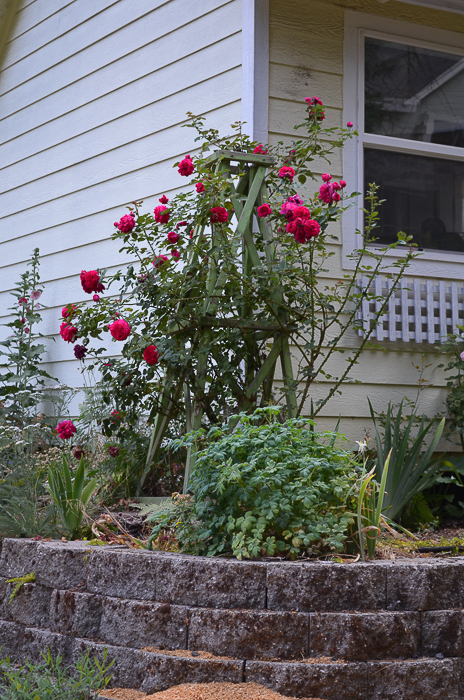 My Kiss of Desire climber has shot up higher than my 5 foot fence.  Can you see my little peaches on the tree behind.  I am hoping to beat the bears to them once they ripen up but the bears have already been around raiding some of the apple trees and the apples are not even ripe yet!  I don't know how successful I will be but I am so happy I got another great crop of peaches on my tree.  Last year was great too.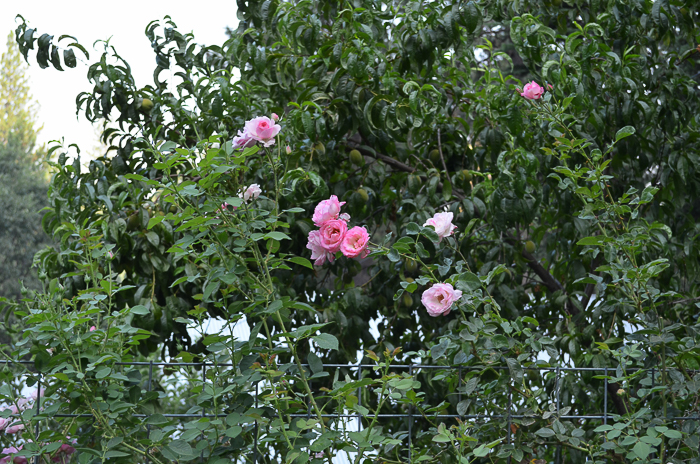 Despite a bad case of rust many of my Hollyhocks are blooming so pretty.  Many I whacked off to the ground in Spring when I saw how infected they were, they are blooming but are just shorter.  This is one that is not too badly marred by the fungus.  Unless I use a nasty old systemic pesticide/fungicide I will not be able to eradicate it so I just make do and enjoy what hollyhocks I do get.  (systemics harm the bees and other pollinators so I am not willing to use them just to have prettier flowers, I accept the flowers beauty as it comes, gnarly fungus and all)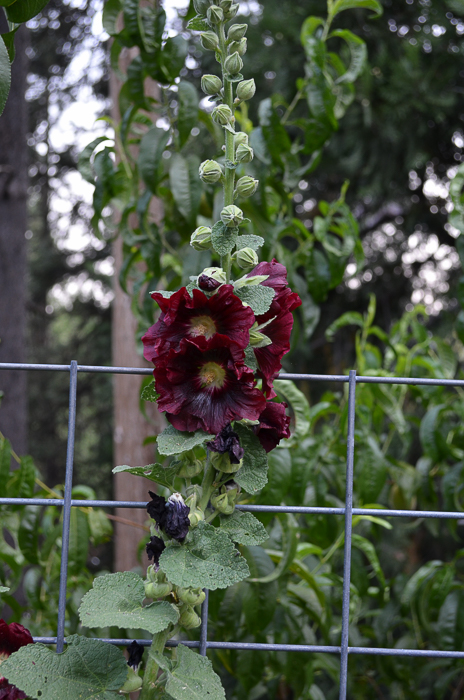 Growing along the lattice along the back underside of our deck is two climbers that have miniature flowers but are fragrant and delicately beautiful.  This one is call Sixteen Candles.  It blooms in a spray of blossoms, many times 16 to a cane.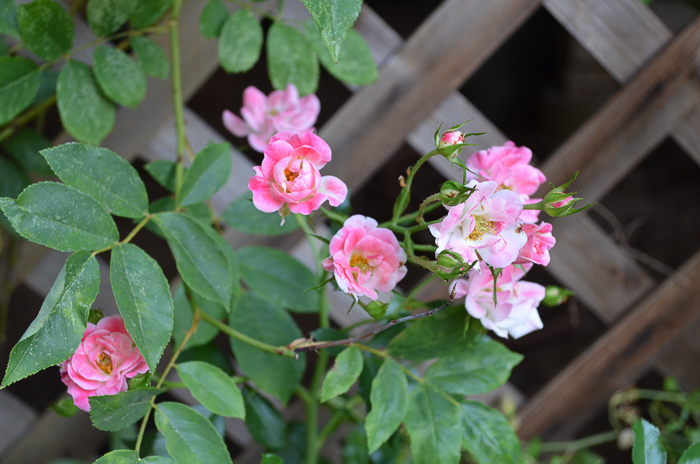 One of my Oriental lilies, one of the Stargazers, had to be rescued, it was smothered by Larkspur.  The larkspur was nearly done so I yanked out all that was surrounding this lily, there are at least 4 more buds on this little gal.  Such a sweet perfume.  I need to remember to not let the Larkspur overrun this spot next Spring.  I also have about 4 more of this lily in a pot on my deck and I will transplant them here so I will have a nice patch in one spot.  I like things planted in masses for a more striking display.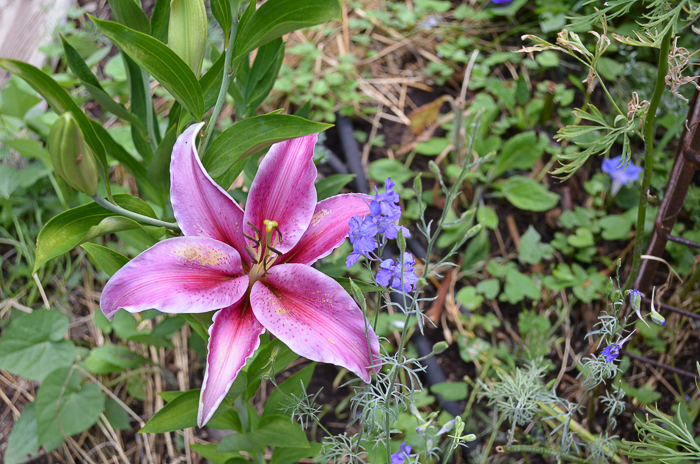 This sweet little hydrangea is in a pot and I have moved it around the garden trying to find the perfect spot for it so it can thrive, I think I have found it and this Fall it will go into the ground and be given lots of TLC so it can get big and bloom its little heart out.  This has had blooms on it for a month now so I know it is in the perfect place.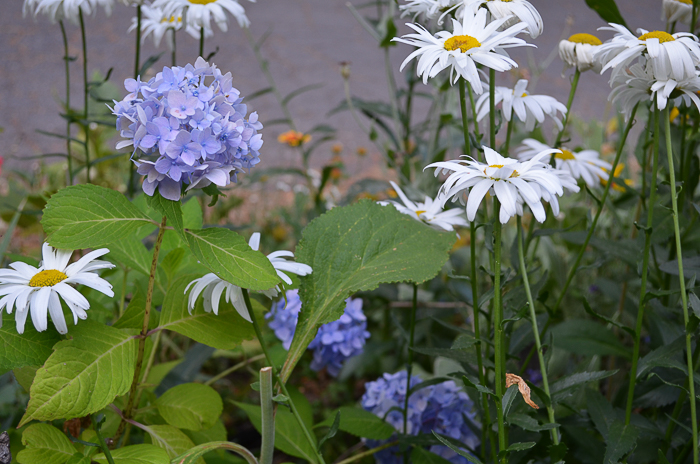 Grosso Lavender has been blooming away as well, it leans over the board pathway and emits its delicious scent each time I brush against it.  I need to trim it back and hope for more blooms but whenever I remember it is so covered with bees that I put it off, then promptly forget again.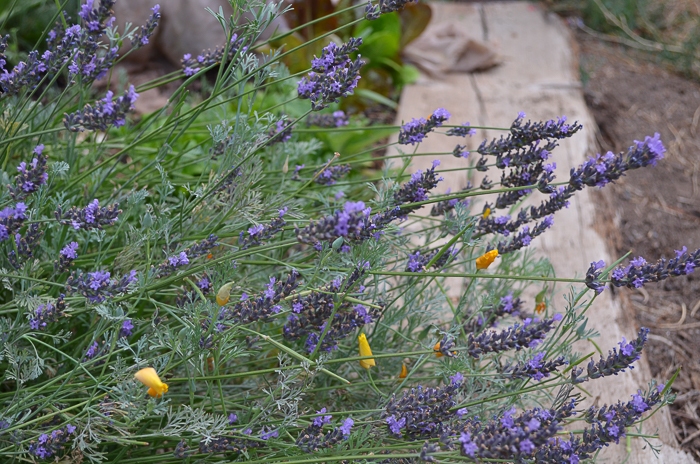 The Echinaceas are at their peak, this is White Swan and the top photo in this post is the old variety, just regular old Cone Flower.  I have PowWow Wildberry too but it has not bloomed well this year, the cone has formed but few petals.  I need to research that and see why.  For more info on growing Echinaceas CLICK HERE.  There is a great photo of what my PowWow should look like in that post.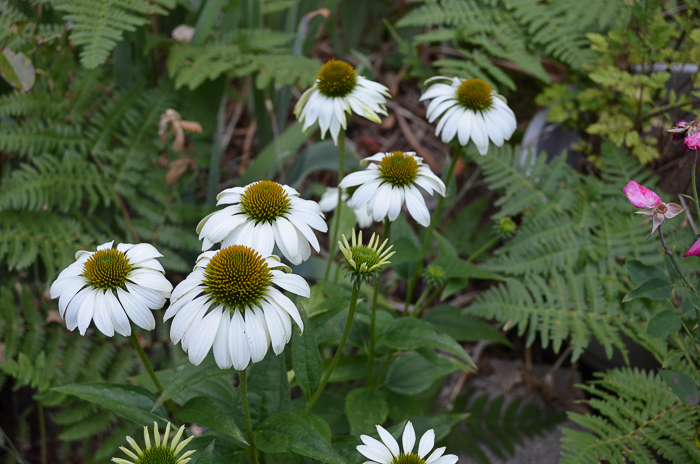 Here is what deadheading will get you, this Canterbury Bells had bloomed profusely and was starting to set seed and I whacked it off and now sweet rewards, another set of beautiful purple flowers, I have a pink one too but I cannot find the white, in fact I don't think the white one bloomed earlier either this season.  It could've been a victim of my overzealous clean up of this flower bed in early Spring.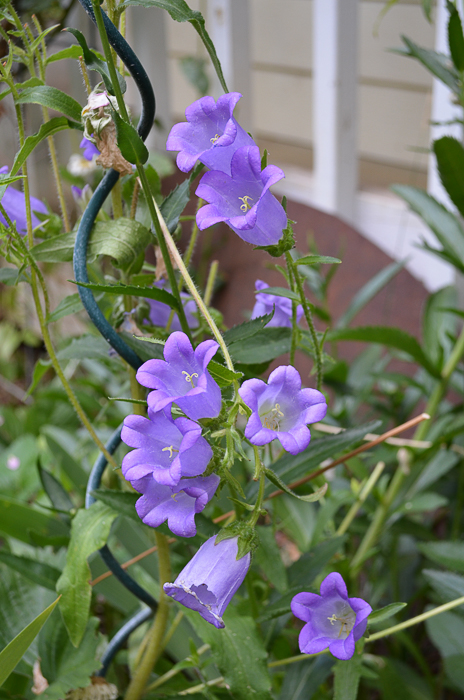 Black Eyed Susans (rudbeckias) are in full bloom, the bright golden yellows with some orange and burnt reds are so vibrant.  I have been cutting some for bouquets.   They are such a happy flower!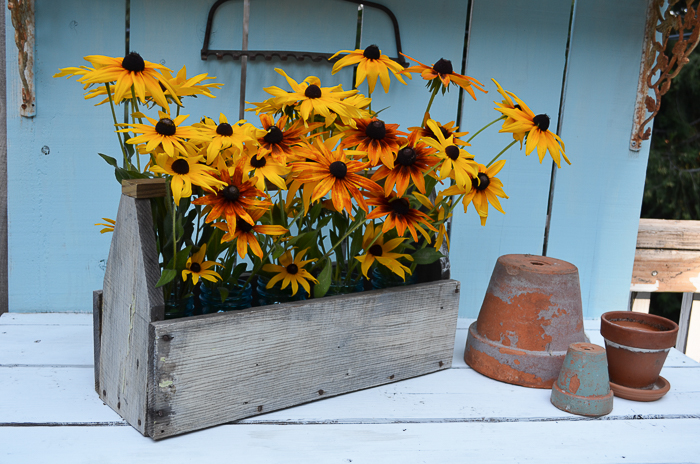 There is more blooming but I must run.  I shall share more on my Facebook and Instagram feeds.
Happy Gardening!
Please PIN and Share