DIY Potting Bench Refresh for Summer
Plaid Crafts sent me a box of chalky finish paint by Waverly in some summery colors. As soon as I opened that box I knew what I wanted to do. My DIY potting bench refresh for summer was just the ticket.
It was looking a bit tired and it was time for some TLC. Isn't it a bit sad looking? Nothing a spot of paint can't fix!
I had quite a few choices of color in the box of paints Plaid Crafts sent but the Pool Blue caught my eye right away. It just screamed Summer and I love Summer! Plaid, thankfully, sent along some great brushes too.
(some links in this post go to my affiliate shops, (like Amazon), please see Disclosure page for more info)

I sanded down the potting bench with my orbital sander and started with the Pool blue. I painted two coats to give it good coverage. The improvement was immediate and the paint was so easy to use. It went on smooth and fast.
I painted the shelf, counter top and bottom shelf in White for a bright contrast.
I forgot to photo it before bringing back all my garden paraphanalia but the white really does make the Pool Blue pop and to clean it up so much. On the horizontal surfaces I sealed with the exterior matte varnish by Waverly and that should help preserve where water shall sit when it rains. The parts painted with Pool blue I just left unsealed.

Its funny how I did not even notice I missed the side part until I took these photos. I have already fixed that. Thankfully there was plenty of paint.

We can see this potting bench from our living room/dining room so having it freshened up has added to our enjoyment of the view. I am thinking I will paint one of the reds on my faded looking tool box with the fresh from the garden daisies in it. That should make it really pop. I think I am leaning towards the Rhubarb, half because I like the name but then the Crimson looks lovely too.
For more of what is blooming in my garden just pop on over to my July Garden tour.

I love the terracotta pots next to the blue. My poor little pink pelargonium (zonal geranium) has been neglected but in the last week it has really perked up. Putting it here where I can see it helps me to give it the extra care it needs to get back to its full blooming glory.
Here it all is in the early morning light, the colors are a bit more saturated..


I am late in getting my galvanized tubs planted up but soon they will fill in and be this gorgeous..this is from a past Post called Old Buckets in a Wine Barrel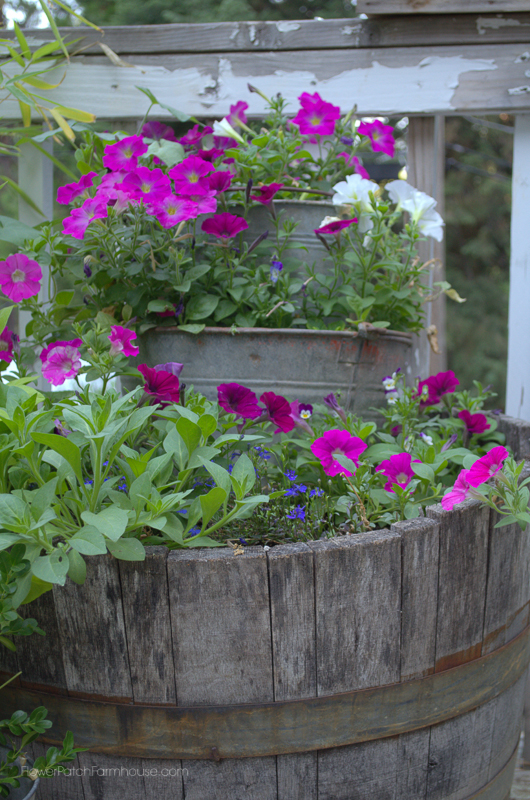 My potting bench gets some sprucing up from time to time. Here are some other great potting bench posts
A Gorgeous Potting Bench for Fall
Autumn and my Potting Bench
Potting Bench Thru the Seasons
Plaid crafts sent me the paints by Waverly free of charge but what I did with them was up to me. All opinions are my own.
Now my Potting Bench is set for the season and I have a refreshing view. Happy Summer everyone!
Please PIN and share