A Fall Potting Bench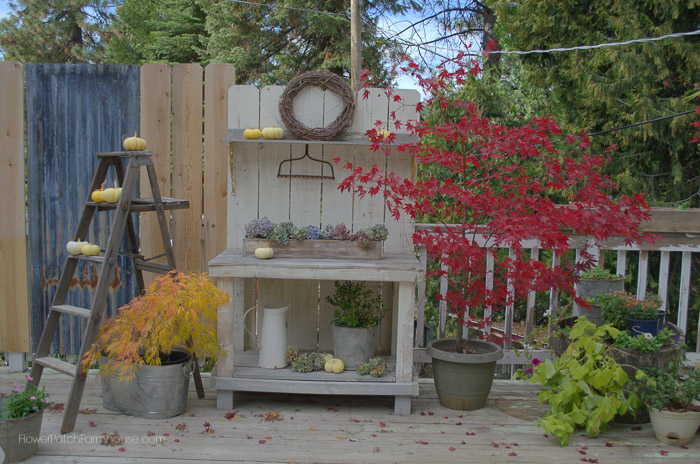 Today was gorgeous.  Mild, somewhat sunny (we have a storm rolling in) and the Japanese Maples on my back deck are in their full glory. I wanted to get a few photos of the scene I see each day out my sliding glass doors.
My potting bench which we built from fence boards is still one of my favorite DIY builds to date.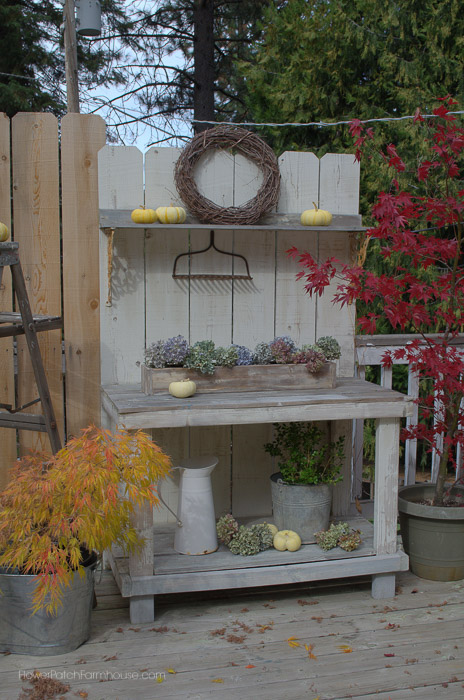 Though my work table I built for my studio is well favored too.  And I am in the middle of building more of the rustic boxes to put into the gallery for others to purchase.  I am loving building those right now.
So I guess I don't really have a favorite though I the potting bench is in the top three.
I actually built the rustic box to hold some dishes but I love the look of my dried hydrangea blooms displayed in it.  I am debating on using the hydrangeas at the gallery to show how the boxes can be used for decor.
Most likely customers would want to buy the blooms along with the box.  I have to decide if it is worth not having them myself anymore.  I would have to wait until next year to get more.
I did get to paint today as well, I nearly finished one custom sign and got another well along.
While I had the camera out I took a few of the Rooster Faux Clock I have been working on.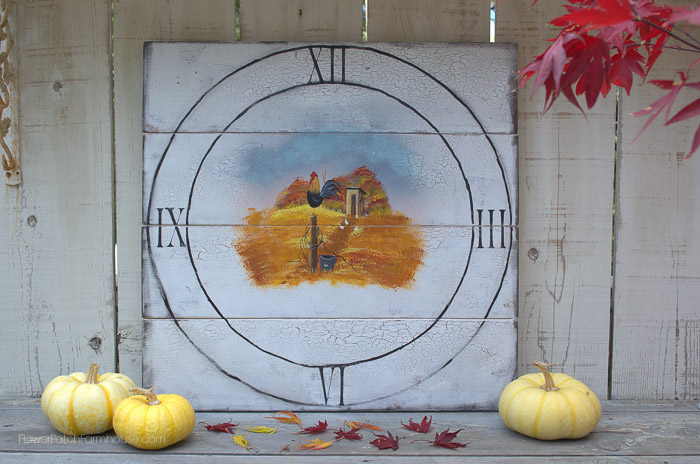 Funny thing about photos, you see things that you don't pick up on in real life.  When I was editing the photos I noticed how the clock was missing something.  The areas just below and above  the rooster scene were so…..blank.
So back to the studio I went and added some scroll work.  I hope it has the effect I am looking for.
I shall share a photo soon.  I ran out of daylight by the time I got the scrolls painted.
Tomorrow we work on the mountain.  It is supposed to snow up to 8 inches so it should be fun and I need to go fix our lunch to take with us.  It will be a long day.
I am still working on that painting video I promised.  With so many sign orders to get painted it cuts into my time but I will get it done, I promise.
Well, I am sorry to be saying goodbye to October and can you believe 2014 is nearly over too?
Until next time…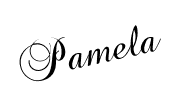 You May Also Enjoy