Prune & Train Your Climbing Rose
Prune & Train Your Eden Climbing Rose, why and when to prune your climbing roses.
Pruning to renovate and get maximum My Eden Rose (also known as Pierre de Ronsard) has gone bonkers this year. Now that it is late Fall I must prune it back before real winter hits.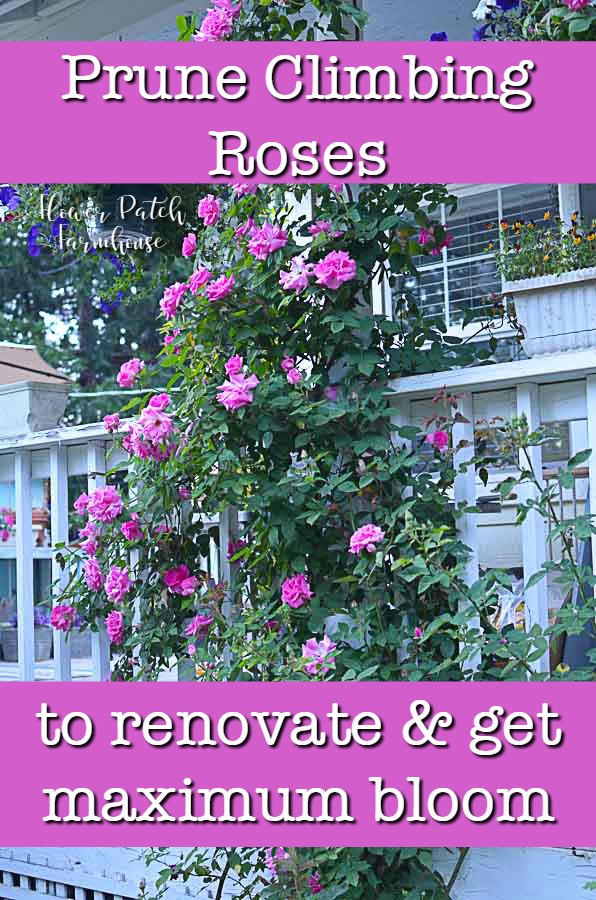 Take a look below at how the climbing roses looked this past June. (Eden is the lighter pink to the right of the arbor).
Come along as I show you how to prune & train your climbing rose for masses of blooms.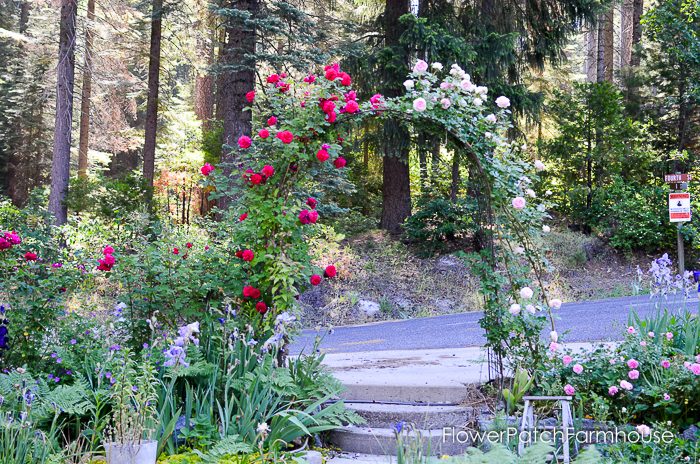 This post contains affiliate links. If you make a purchase after clicking a link I may make a small commission at no cost to you.
Rambling Rose or Climbing Rose?
This post is about pruning climbing roses which can be confused with rambling roses.
How do you tell the difference? Usually by when and how they flower.
Ramblers typically bloom once a season, around June in most parts, and only on old growth. Climbing roses will repeat bloom throughout the Summer and right on into Fall.
When to Prune Climbing Roses
(note: this was more of a refurbishment of the older climbing rose. When I am just pruning to keep it neat I prune the lateral canes to about 6 to 12 inches long. I will only cut back the main cane if it needs it. Main canes normally will not need to be cut back but every 3 years or so to keep the rose healthy. Some have let the main cane become like a tree trunk and only have roses high up on the plant.)
Many prune climbers in winter, between December and February. I have to do it in late November, early December as we can be buried in snow.
I wouldn't be able to access my roses. But a major prune or renovation can be done anytime in late Autumn through late Winter.
Pruning the climbing rose in late Fall will get us ahead of the game. This will benefit your rose if you are hit with heavy snows like we are.
If the canes are left long and wild the snow would snap off the canes. That would cause damage that could get infested with bugs and diseases.
Wind can also cause major damage to long, supple canes.
Here is what Eden climbing rose looks like before I start my pruning and training today.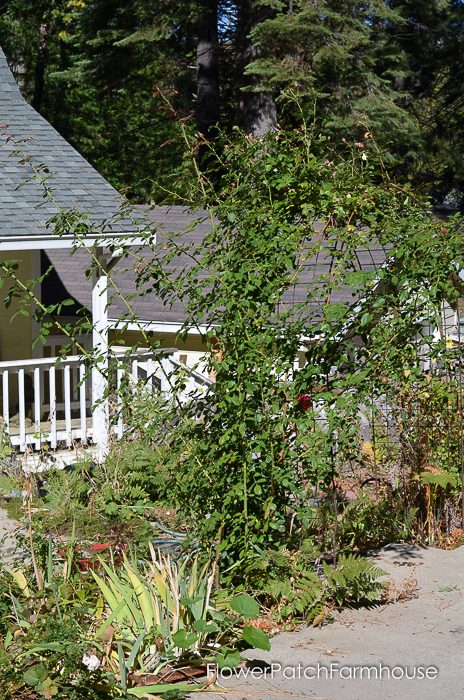 How to Prune Your Climbing Rose
This Eden Rose has become quite the wild one. Lots of laterals and new canes have shot out and up in the past few weeks, all blooms have faded and dropped the petals.
Eden put on a grand show all Summer long and now it is time to let her rest and get her tidied back up for winter.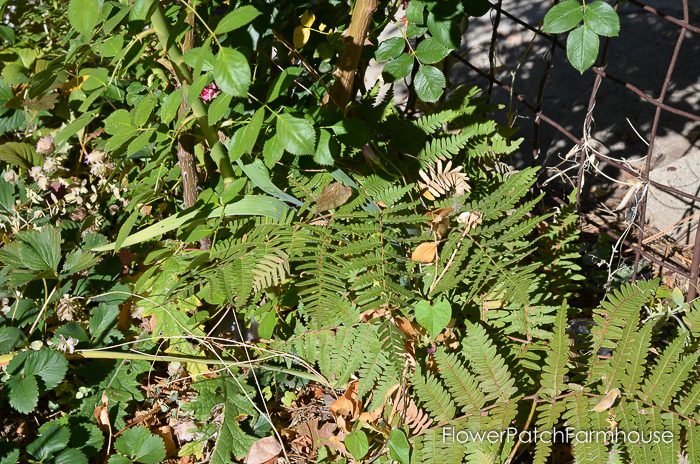 The bottom of the canes were pretty much hidden from view.
Remove weeds and other plants surrounding the rose to get a clear view of the base of the canes.
Why certain rose canes need to be cut out
Note the center cane, the darker rather gnarled-looking one, which is an old main cane that needs to come out.
The openings in the bark of the cane are not a good thing.
Those places can let bugs and/or diseases infect the plant so this cane definitely needs to be cut out. (most of the time you only want to cut the main canes back by maybe a third of its length but this rose needs to be refurbished and canes like this need to be cut completely out)
Since it is loaded with lateral canes (canes that grow out of this cane all along it to the top), you need to start by cutting out those lateral canes.
Cut them off as close to the main cane as I can so they won't hang up on other canes or the arbor.
Once you have removed the laterals just cut off the gnarly cane at the base and then every 24 inches to make shorter pieces, they are easier to pull out.
(This cane was originally over feet 12 long, cutting it into 2-foot pieces made it much easier to handle.
Just removing that cane helps to really open up the rose and let you see what you should prune next.
As you see there are two older canes left. One to the right and one towards the left, you can tell they are older by their color, brown instead of bright green.
I am refurbishing this rose along with pruning it which means I am cutting out most of the old canes to let the energy go to the newer canes.
I chose to prune out the older cane on the left, using the same method as I did with the first cane.
With the larger canes I used my larger loppers but for the smaller canes and removing leaves I use my hand pruner.
Which rose canes remain
The green canes remaining are very pliable and these are the ones that will be trained for optimum bloom next Summer.
Why train the climbing rose
With climbers and many other types of roses, you will get more blooms by training the canes in a 45 degree angle or more. (the more horizontal you can get the cane the better)
If you look closely at this cane below you can see the bud eyes.
Some are located where leaves attach to the cane. Each of those bud eyes will produce a lateral cane, lateral canes are the ones to bloom.
By forcing the main cane to be at a 45 degree angle or more it encourages more of the laterals to sprout and at the end of each lateral a rose will bloom.
How to Train your Climbing roses
I train this cane in an s type pattern on my arbor.
Though it is green and pliable it is stiff enough I am very careful not to force it too much into a horizontal line or it will snap off.
You can cut off all the leaves on the cane, they would only get moldy in the winter and cause possible problems other than just looking ugly.
Do I always get de-leafing done in Fall? No, sometimes it doesn't get done but can be done in late winter/early spring.
I use pantyhose cut into strips to secure my rose to the arbor.
They are stretchy enough that as the rose grows they don't cut into the cane and as they age in the weather they turn a green color that basically disappears into the foliage of the plant.
I do the same with the other green canes, I tie them up as best I can in a 45 degree angle or as horizontally as I can get them without breaking in an S type pattern up the arbor trellis.
It doesn't matter that they cross over each other. Pruning climbers is different than the bush roses.
There is one green cane that you see going straight up. It is tucked into the arbor at the top on the right. That cane was a bit too stiff so I just let it go straight up.
If you can see on the left the old cane I had let remain on the plant is tied up to the left side of the arbor. These will also put out lateral canes but at the top. Producing flowers so I will have roses from top to bottom on this arbor.
Last but not least do some clean up around the base. In many areas, you don't want to leave any rose debris around the base of your plant.
Some struggle with diseases and pests. I don't have those issues so I don't get too up in arms over picking up every leaf. But you may have to in your area.
The finishing touches after pruning & training your rose
I have a pretty thick layer of pine straw mulch around the base so I just top that off with some chicken manure. It is fresh from the pen but I don't worry about burning my plants.
When they are dormant and not actively growing this will do them no harm. Plus the extra carbon in the thick pine straw mulch dilutes the high nitrogen of the chicken manure.
I have been doing this for years and I get the best results and lots of worms!
Once I had the first rose pruned and trained I started on the other side of the Arbor.
When I pruned back the red rose, which is called Tess of the d'Ubervilles by David Austin roses, I realized it was planted far enough away from the arbor that I can just trim it back to a bush or I can pillar it. (want to know how to pillar a rose? CLICK HERE)
Instead of Tess climbing this side of the arbor I can plant the Eden rose I started this past Summer by Air Layering it. I can't wait to see both sides of this arbor covered with all pink roses next June!
Here is is planted all snug up to the arbor. It is small but come next Spring this rose will shoot out tons of new canes and be gorgeous.
It will take a year or two to catch up with Eden on the opposite side. That is okay, gardening is always about the journey.

Here is a video where I start pruning this rose. I will finish it up later.
Happy Gardening!
Please PIN And Share