What do you do with some old galvanized buckets especially if they have holes in the bottom???
Of course…
you make a fabulous planter that lets your petunias cascade down the side with style!
Buckets of Flowers…

Truthfully, I did this last summer..and LOVED it!
Every time I drove up and I spotted it, it made me smile.
For those of you that missed it here is the run down.
Gather up your buckets
For this to work you need them in descending sizes.
Create Good Drainage
For the ones that don't have holes..or the holes are not large enough, then whip out your drill and drill some.
Add a good inch or two of perlite…it keeps the roots nice and airy.
Add Support
To save on potting soil and to give some support to your second bucket, add an upturned pot, this is a typical 1 gallon black nursery pot.
Stack & /Fill
Just stack your buckets and fill with a good quality potting soil.
The topmost bucket did not have much of a bottom (rusted out) so I just plopped it on top of the soil of the middle bucket.
Plant
Plant it full of your favorite flowers…and.. Voila! Instant gorgeous planter for your enjoyment.
I prefer to use trailing plants but this would look great with succulents too.
Switch out the flowers seasonally.
In early Spring I had violas spilling out and delighting our eyes.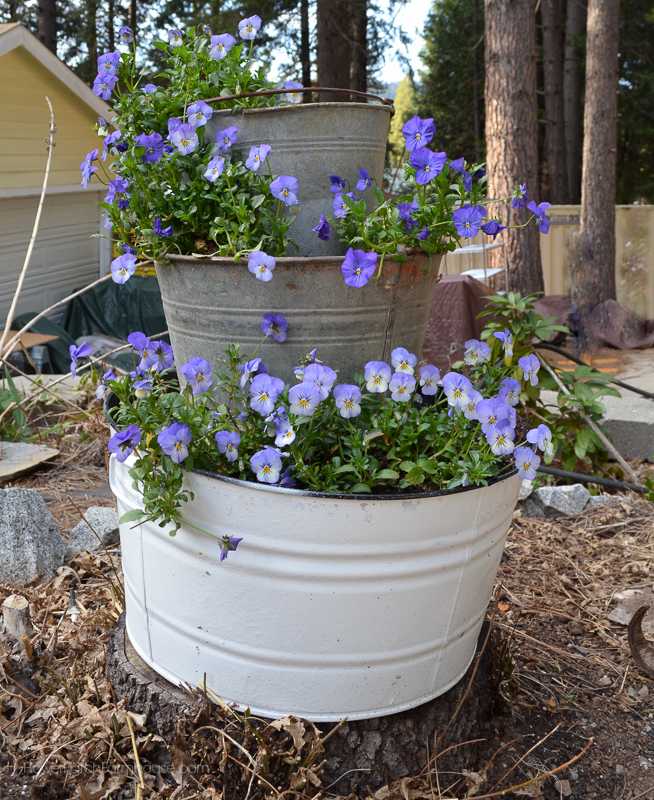 Happy Planting!