Propagate African Violets from Leaf Cuttings!
Propagate African Violets from leaf cutthings. This method of propagating African Violets is not only super simple but it is also inexpensive. Anyone can enjoy more African Violets from their existing plants.
My easy way to Propagate African Violets posts will show you how I take leaf cuttings from my existing plants and create more.
This method has had a 100% success rate for me so far and I am sure you will have good success too. The great thing is that it is very inexpensive as well.
Too busy to read now? PIN for later…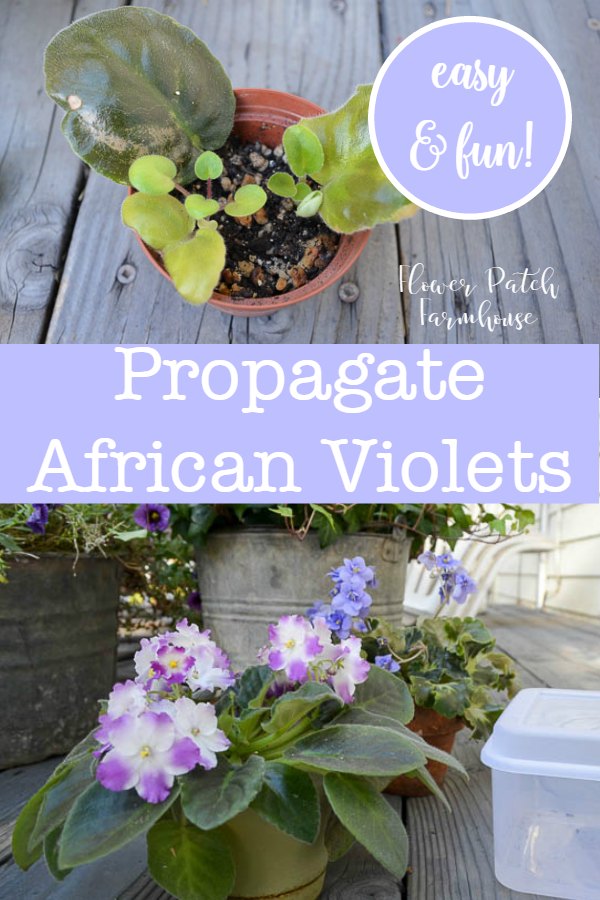 Note: This post contains affiliate links. If you make a purchase after clicking a link I may make a small commission at no added cost to you.
Get Started propagating African Violets
First, you will need your Mother Plant to take the leaf cuttings from.
You can get these from friends or off plants you already own. Here are a couple of specimens I own. At the end of this post, I will have a fabulous source for unusual African Violets.
But be warned, they are gorgeous and you may buy more than you bargained to.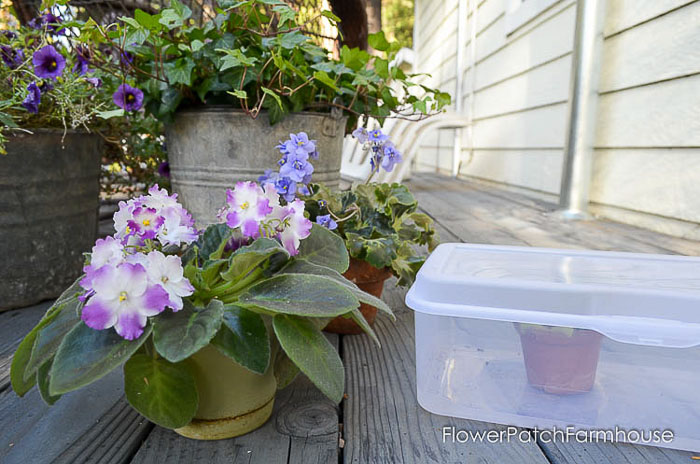 Cut a leaf from an African Violet plant
Take some nice leaf cuttings using a sharp clean pruner or shears. I like at least 1 to 2 inches of stem left on the leaf.
I have read that taking leaves from more towards the middle of the plant that are medium in size is better than the larger leaves along the edge.
I cannot attest one way or the other to that theory but I do it that way to be on the safe side.
Label your cuttings
I typically use a Sharpie marker to write the name or color of the mother plant on the back of the leaf as well as in the small pot I settle it into.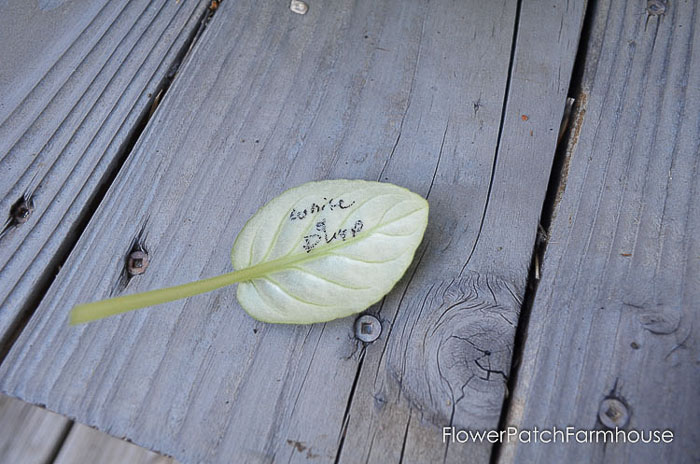 I have these small 2 inch pots I use. (I am moving away from using plastic for pots, I now am choosing these terra cotta pots)
Read this for why I love Terra Cotta pots!
Fill Your Pots
I use regular cheap potting soil that does not have any fertilizers added, or you can make your own with compost and perlite. Two thirds screened compost and one-third perlite. I don't moisten it, just fill the pots to 1/4 inch from the brim.
I don't always use rooting hormone but sometimes I do.
I dip the cut stem into the rooting medium before sinking it down into the soil. If the soil is not yet dampened it slides right in easily.
I place 2 leaves per pot, making sure only the stem is in the soil and the leaves do not touch the side of the pot or the soil.
I water them well and let them drain, making sure not to dislodge the leaves. I double-check again that the leaf is not touching anything.
Provide Humid Terrarium type Environment
I place the small pots into a plastic container like this one with a flip top.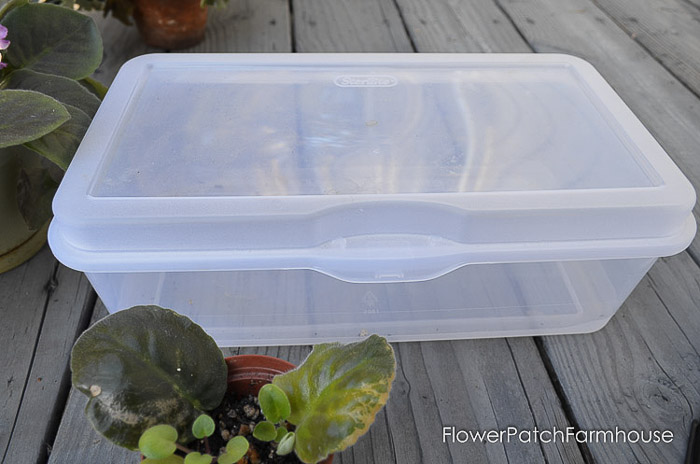 Once I have placed them into the plastic box I don't need to water them hardly ever.
I check them once a week and make sure the soil is still moist. This box will sit on a table or window sill that gets bright sun but not direct sun for the duration.
For a great glass alternative this one from IKEA would work and it is just prettier.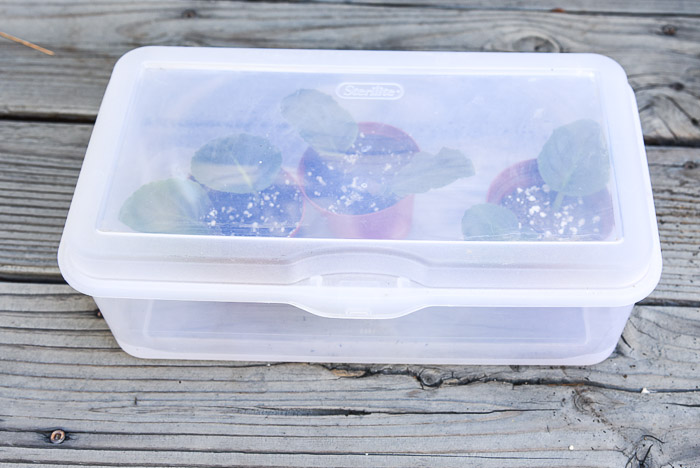 Different varieties can take different time frames to root.
I had one that took nearly 2 years to send up baby plants. I am not kidding. I thought it was never going to send up plantlets.
But in the duration, the mother leaf never rotted, wilted, or got any kind of fungus. It just sat in that plastic box until it was ready.
All the others rooted and sent out babies within a few months. So be patient and don't give up.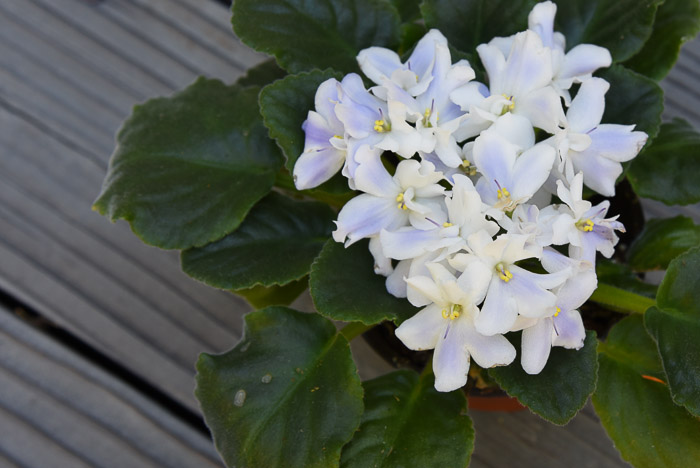 You can find African Violets in the plant section of grocery stores, many garden centers carry them or go to this place for a fabulous selection. African Violets is their specialty.
Here is another site that has a beautiful selection: Optimara Violets
When these leaves put out plantlets I will be back to show you how I pot them up and get them growing.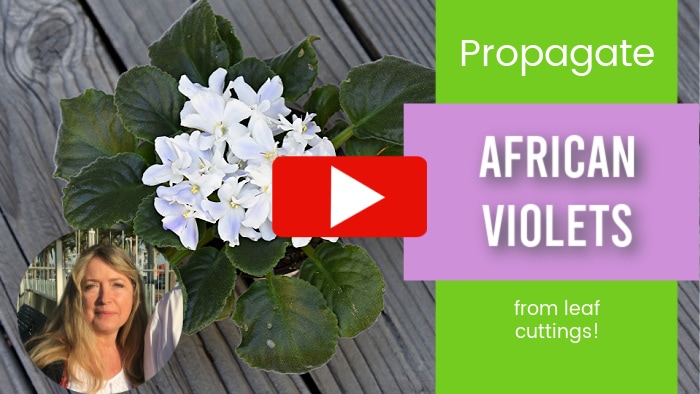 Update: I show you how to pot up African Violet babies that have rooted!
I wish you propagating success and have fun!
Happy Gardening.