easy DIY Potting Bench using Fence Boards
DIY Potting Bench you can build using fence boards.
This easy-to-build potting bench cost us about $40 in lumber. My sweet DIY potting bench has paid for itself ten times over in the five years since being built.
This DIY potting bench using fence boards is my second favorite build to date. My first is my Garden Cottage Studio.
I have used my potting bench for many things, an outdoor sideboard when entertaining, a photo prop for flowers, hand painted signs, and to pot up plants.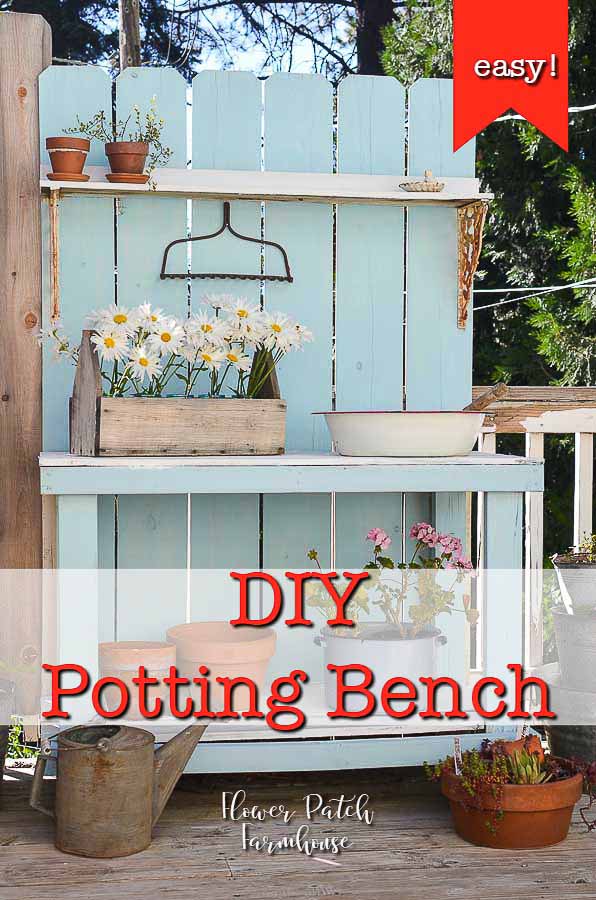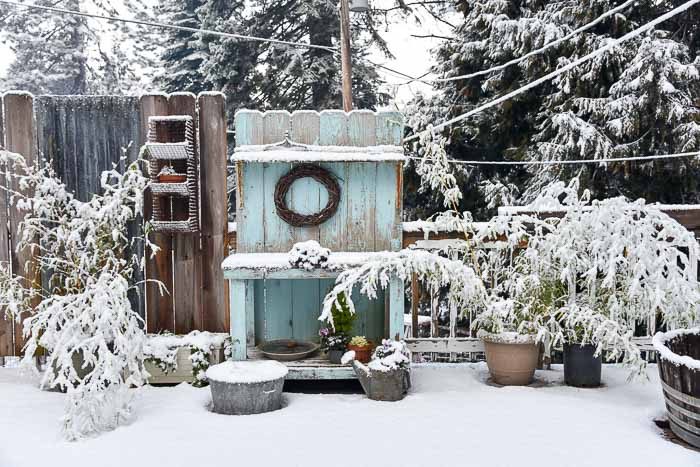 This is what it is looking like today in January…
This post contains affiliate links, if you make a purchase after clicking a link I may make a small commission at no added cost to you.
But here it is after giving it a refresh last summer. Obviously it needs is again. I love the farmhouse cottage vibe with the galvanized buckets, tubs and watering cans.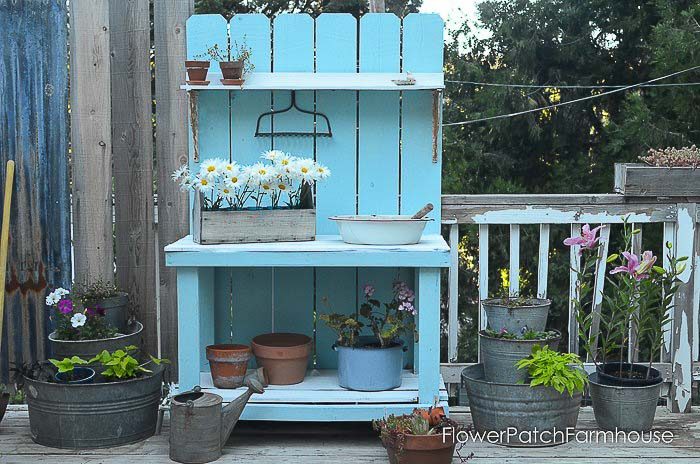 Many have asked for plans but that is hard to create when using fence boards, they are not uniform in size so we just took a basic design and built it around the 6 cedar fence boards we bought.
Measurements
We lined them up and measured across to get the measurements to cut for the framework.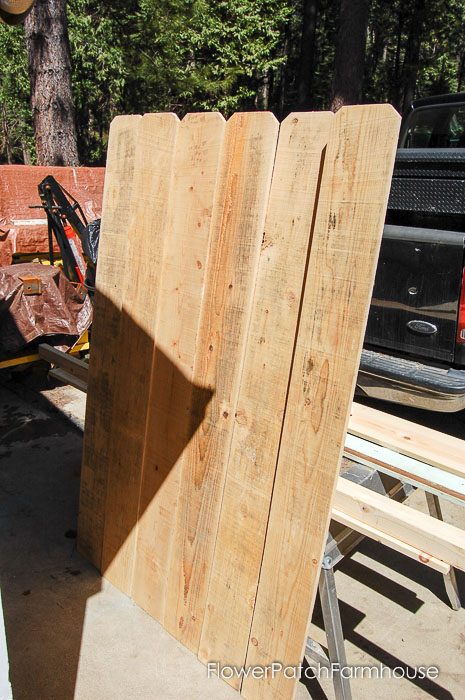 DIY Potting Bench Frames & legs
With 2 x 3's we built these two frames (you can use 2 x 4's if you can't find 2 x 3's). Then added the 2 x 4 legs.
We made it a comfortable height for me to work while standing at it. We glued and screwed everything together. Nothing fancy.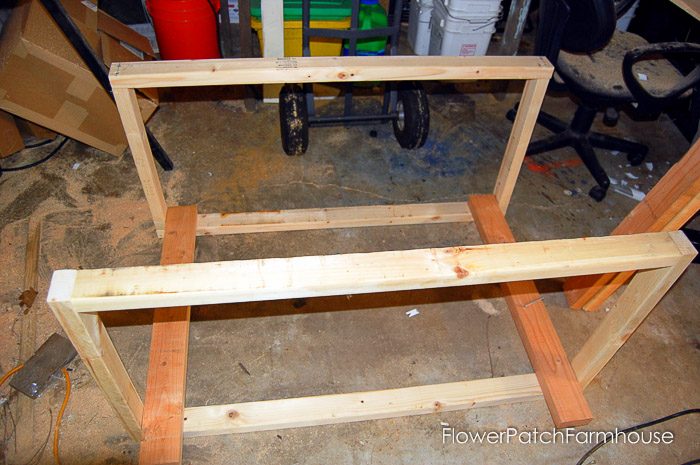 Potting Bench Back
Once we had the legs attached we stood it up to add the fence boards along the back. Again using wood glue and screws.
Bracing the potting bench
A cross piece was added to the top frame. The depth was just a measurement we picked that we liked and was easy for me to reach, you can adjust to your space or desires.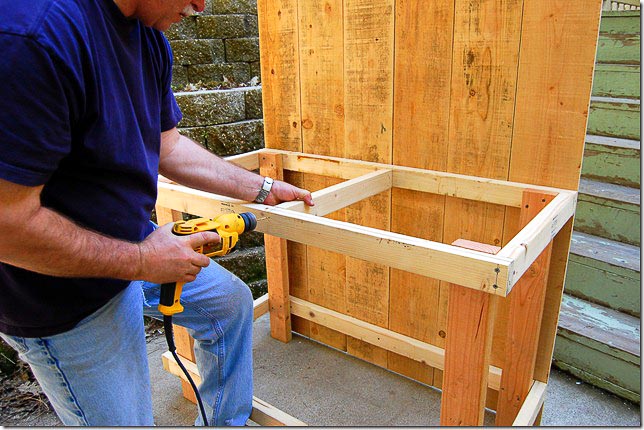 Shelf
For the shelf, we attached a fence board cut to fit the width of the back of the potting bench to a 2 x 3 then attached the 2 x 3 to the fence board back, we screwed it on from the back.
As you can see we also used wood glue. I mopped this up right after this photo.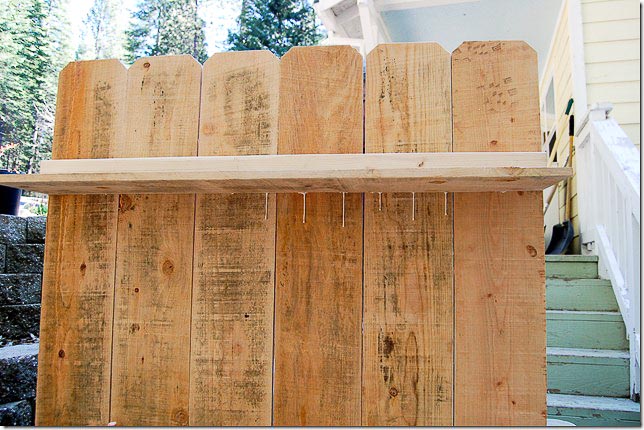 We added some metal shelf brackets I had on hand. You can use any brackets you like or make your own.
Work surface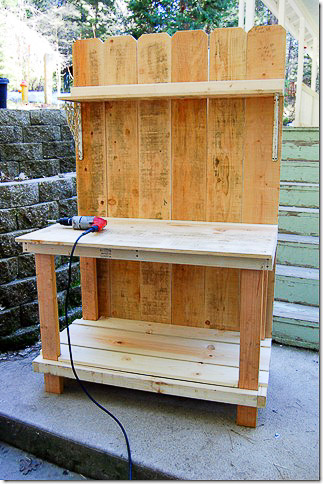 The potting bench work surface is just more fence boards cut to fit and we used pine boards for the bottom shelf. We ran out of fence boards and we had the pine on hand but you can certainly use more cedar fence boards for the bottom as well.
Paint or Stain on the DIY Potting Bench
My DIY potting bench has been through many makeovers and seasons. I have painted it several times, if you prefer to keep it natural wood then use a deck oil or stain with oil.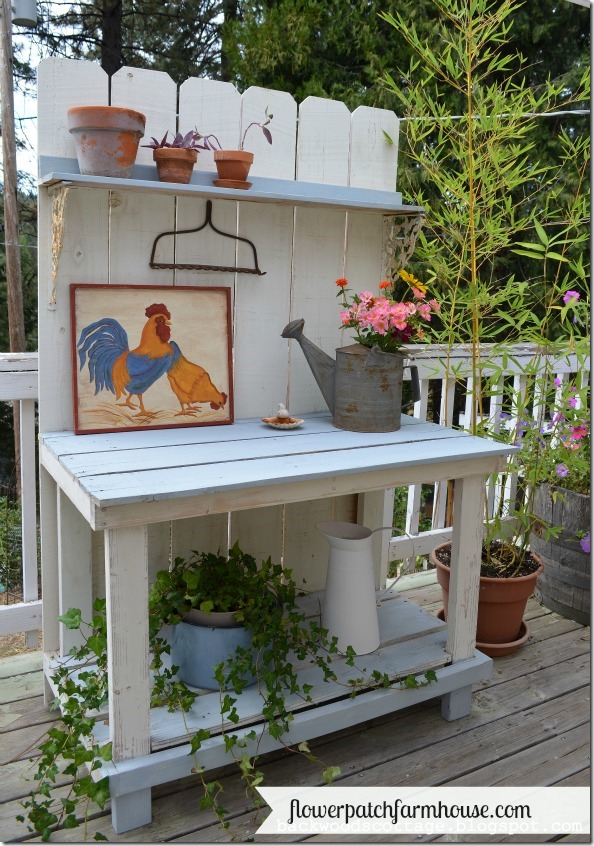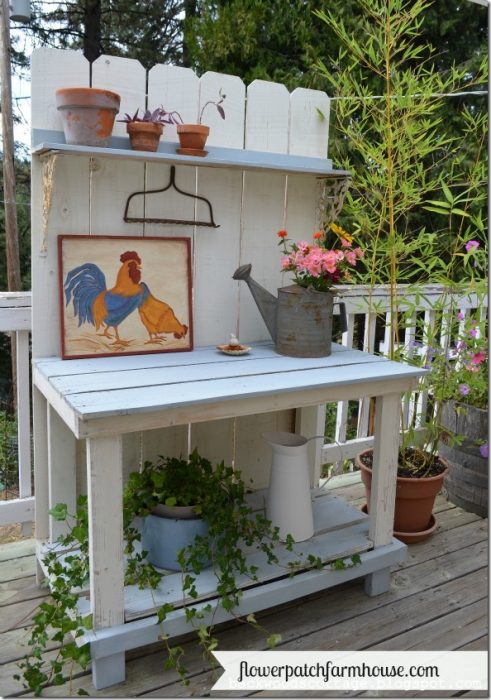 Happy Building!
More Fence Board Projects
DIY Window Box Planters
Back Deck Oasis/ Privacy Screen
DIY Kitchen Herb Garden
Sunflower Painting on Fence Boards