How to Grow Lilacs
(this post contains affiliate links)
Last week, I had a huge interest in my Propagate Lilacs with Cuttings post!
Lilacs seems to be a well loved, cottage garden favorite.  I can understand why.
Spring just would not be Spring in our neck of the woods without the sweet scent of Lilacs wafting around the neighborhood.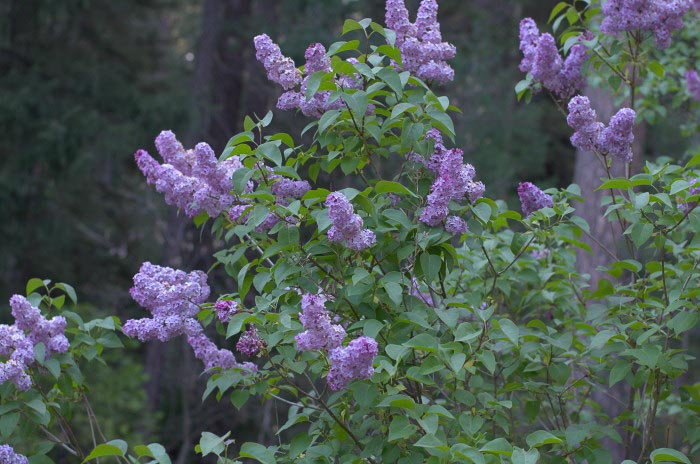 Many of the Lilacs here were planted back in the 40's when this neighborhood was established and they have thrived.  The variety of colors is wonderful along with their being both single and double (also named French Lilacs) type.

Single (you can see the individual flowers clearly)

Double or French (it is harder to tell the individual blossoms apart, they are so jammed together)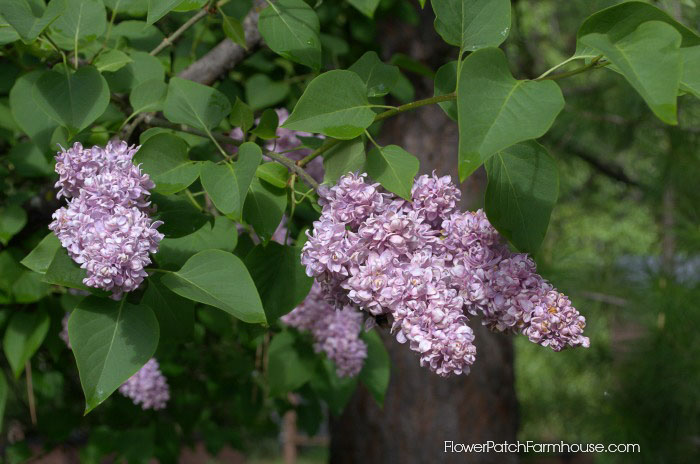 It is said that the Double or French lilacs are more heavily scented but I have not found that to be true.
All of these Lilacs are planted in areas that get little or no watering in summer.  They live off of what they get through the winter and Spring.  We rarely get summer rains.
For the longest time we were considered Zone 7 but I just checked and this is what the USDA site is saying now
Zip code 95223, Arnold CA is in USDA Hardiness Zone 8a: 10F to 15F. Using updated climate data through 2010, 95223 is in the Plantmaps Hardiness Zone 8a: 10F to 15F. The average first frost in 95223 is between October 11 – 20, while the average last frost occurs between May 21 – 31. 95223 is part of Ecoregion . 95223 averages 8 – 14 days per year where the temperatue exceeds 86°F. The average annual high temperature in 95223 is 65°F and the average annual low temperature is 40°F. The average high temperature in July (Summer) is 85°F, while the average high temperature in January (Winter) is 48°F.
They are right on in describing the details.   We range in the upper 80's and for most of the summer with a few 90's tossed in here and there.  Keep in mind those are the averages, we do get weird years where we have some hotter days for longer periods of time.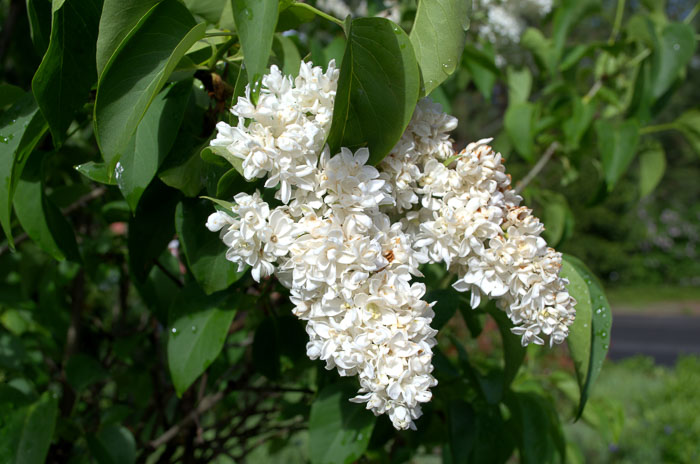 All of the pictured Lilacs bloom within a week of each other and though the blooms on each bush only last a few weeks the succession lasts for about 5 weeks.  So if you wish to get a longer bloom time be sure to plant varieties that bloom at early, mid and late season.

For healthy lilacs plant a variety suited to your Zone…these heirlooms (Syringa Vulgaris) grow best in Zones 3 – 8 (I have seen some old lilacs flourishing lower down the mountain so this is a bench mark and not a hard and fast rule)
If you live in a warmer zone that does not get the winter chill needed for the heirloom lilacs to bloom there are some newer Hybrids just for warmer zones.. here is a link to their names on the USDA Zone chart.  It looks like there is quite a few choices in many colors.
And there are hybrids bred for compactness if you have a smaller garden. They are called Dwarf Lilacs.
Some gardeners claim they are superior to the heirlooms as they don't take as long to bloom and maintain a more tidy appearance in the garden, they even have cute names like Miss Kim, Tiny Dancer and Tinkerbell Lilac.  I have yet to try either so I cannot say whether they really are superior or not.
If you start your lilac from cuttings be aware that you won't get blooms for about 3 years and they can take up to 5 years.  So the hybrids may be the ticket for you if you are impatient.
Lilac Planting:
1. Choose a sunny spot (6 hours of sun) if you are in a very hot summer area they may like some afternoon shade
2. Well drained soil (lilacs do not like wet feet)
3. Neutral PH to slightly alkaline soil
4. Spread out the roots when planting your container grown lilac in the ground so dig your hole a lot larger than the diameter of the container it is in, some say to plant it deeper than it was in the container by 2 inches and some say level to the ground around it.  You decide on that one.
Lilac Care
1. Do not over fertilize.   Spread some compost around the base in late Winter/early Spring and you can add some after they have bloomed or later in summer. If you over feed them you will get lots of green growth but no sweet smelling flowers!  (we have snow on the ground in late winter/early spring so nothing is added to them at that time in our neighborhood)
2. The first year keep it watered through the summer, no more than an inch a week, to get your Lilac established then after that be light handed on the water.
3. After your lilac has finished blooming trim or prune to shape it.  Don't wait, if you prune off the new growth that comes soon after the bloom you will sacrifice next years flowers.   It is not necessary but to me a good idea to prune back to eye level.  What is the point of blooms way over your head and these heirloom lilacs can easily get to 20 feet tall.
When pruning cut out any dead or weak canes, cut out 2/3rds of the suckers coming up at the base, leave 1/3 for future blooming stems.   You can actually dig them up and pot them to make more lilacs if you wish, they actually mature faster than taking cuttings and rooting them.  Some say to have only about 10 canes per bush for best health but not sure how correct that is.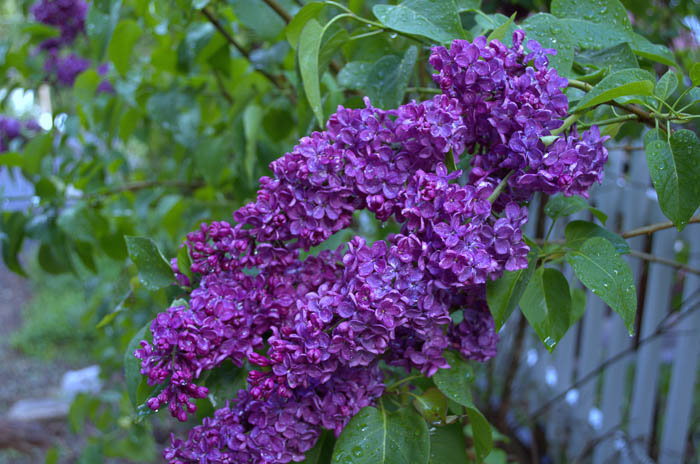 So if you want to add a bit of fragrance to your Spring garden, plant a Lilac.  (or two)
One lilac I have had my eye on is called Sensation and is bi-colored and reputed to be very fragrant.
Here is to a sweet smelling garden!  Happy Planting!
Other Garden Post You May Enjoy
How to Grow Hollyhocks
How to Grow Morning Glories
Grow Delphiniums from Seed
How to Divide Iris
If you enjoyed this please PIN and share
You may also enjoy