You may have seen my trusty DIY rustic Toolbox (some call them totes, a caddy or a crate) in many of my garden photos. I love using it for staging. The blue is such a great contrast with so many flower colors.
Easy DIY Rustic Toolbox Caddy you can build.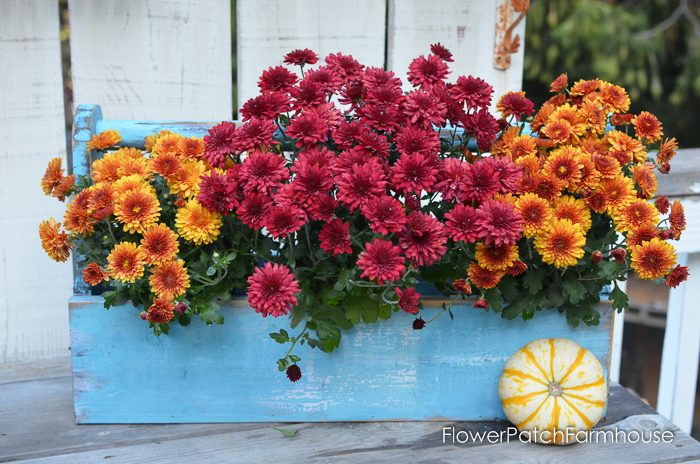 Here is one I built a little bit different, instead of curving up to the top on the side pieces I just did angle cuts.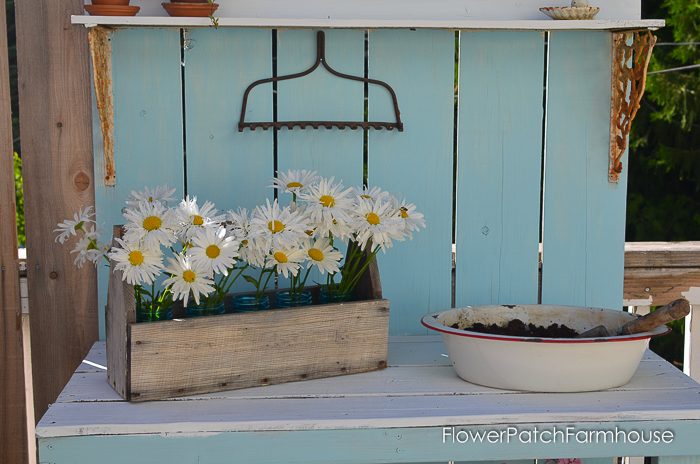 I shared the link also on how I did the rustic finish on new wood and I used the same technique with this one except I used blue paint. I think I will do a bit of wet sanding to distress it more but that is another post.
With this one I wanted it to be a toolbox with curved sides and a handle.
We put it together a bit differently to show how you can build these boxes and crates several different ways.
First we cut the boards to size. For this toolbox we use a 1 x 6 pine board. You can make this any length you wish. We used a jigsaw to cut the sides with a curved top. If you want a cut pattern for the curved sides then look for the form below.
Instead of using screws this time we used glue and a nail gun. It just goes faster and if I wish to add some vintage look square nails I can come back and add them after pre-drilling. I may do that for a more rustic vibe. Run a bead of wood glue along one side of a side board.
Fit along the edge of the bottom piece and nail in place.
Flip over and do the same with the other side board. You can build this with screws or nails and hammer, we just used the nail gun for expediency sake.
Now you should have something that looks like this..
Instead of applying the end boards to the outside this time I am going to put them inside of the two sideboards. Run a bead of glue along each edge of the end piece where the boards will be attached together.
Now nail it together. You can easily wipe off the glue that squeezes out while it is wet. Once it dries that is a whole other story.
Once you have both ends put on you will have something like this.
Measure between the top of the end pieces to cut your closet pole for a handle.
This piece we will screw in to make it sturdier for lifting.
Add a bit of touch up paint, distress some more with sand paper or steel wool also can give you a distressed look.
These are so fun to make as they are very easy. But also they are great for some many things. Storage, centerpieces on the table, planter boxes in the garden…just use your imagination.
I am thinking I want to paint something on this one, maybe some sunflowers. The golden yellow would just pop against the blue, or maybe some white daisies…or I can put some graphics for a more vintage advertisement vibe…
I wish you Happy Building!
If you are a subscriber the pattern for the curved sides is in the Resource Library, your password is in your email update.
If you are not a subscriber then go ahead and sign up here for access to the Subscribers Resource Library. It is all free.

More You Will Enjoy
DIY Wood Crate
DIY Planter Box for Herb Garden
DIY Garden Trug
Outdoor Art, Paint a Birds Nest on Wood
Garden Trug from Pallet Wood

If you enjoyed this please PIN and share