How to Plant, Grow and Propagate Iris for gorgeous blooms for years to come. A great beginner plant for garden newbies.
I want to share with you how to plant, grow and propagate Iris. Why?
Because Iris blooming is such a great intro to a new garden season. They are so easy to grow, in most zones. They also reward you year after year with more rhizomes. That means you can divide them and share!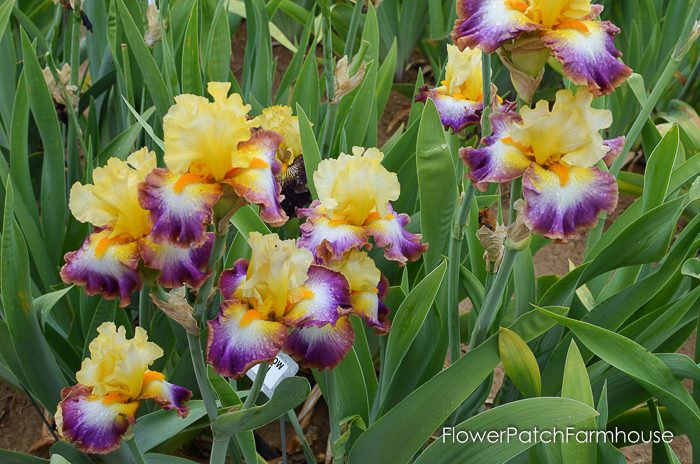 How to Grow Iris
Iris really are easy to grow and I have tons of blooms to prove it.
First you need to plant your Iris rhizomes correctly. Most Iris gardens or farms ship out their Iris in late August, early September.
That is the optimum time to plant in most areas of the Northern Hemisphere.
Here is How to Plant Iris in your garden. It is easy, if you follow the step-by-step.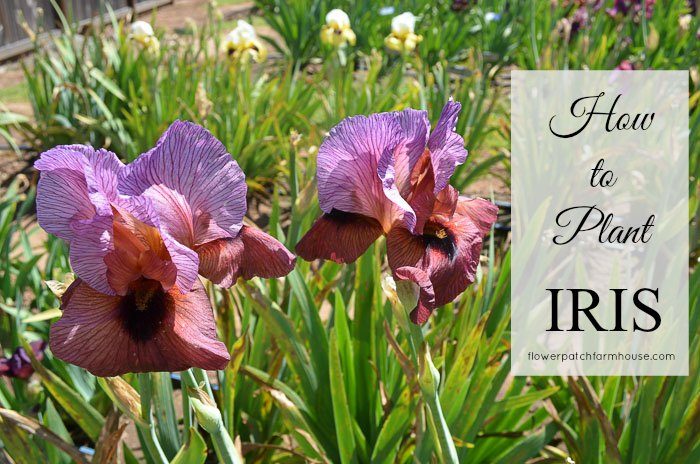 Once established Iris can reproduce quite rapidly. If you notice they are not blooming as well as they have in the past, the problem could be they have gotten overcrowded.
That means it is time to separate them and replant. You can learn all about how you can do that in the post called How to Divide Iris Rhizomes
The ideal time to divide Iris is 6 to 8 weeks after bloom, it gives them time to store up some energy.
Sometimes you can be so busy at the time that is optimum to divide your Iris that you may have to do it later. Much later. Like Spring, when things are still a little bare and you can really see the base of your Iris plants.
If you notice your Iris are crowded in the Spring, it isn't too late, you can still divide them and get blooms. I show you How to Divide Iris In Spring so that you can still enjoy their blooms while keeping them healthy.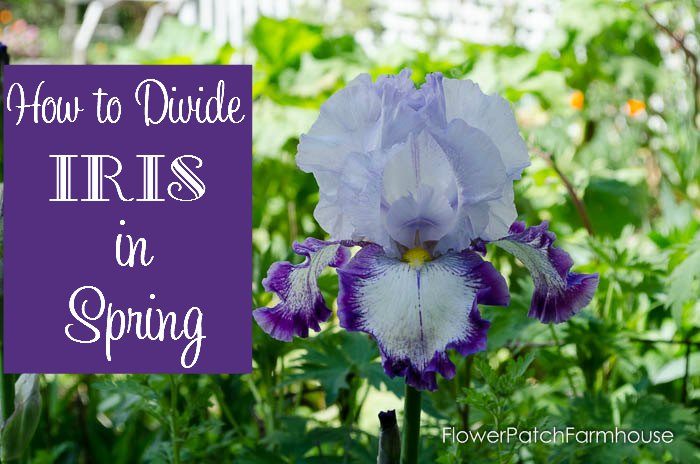 If you haven't grown Iris before I would encourage you to give them a try.
Every color under the rainbow is available if you like sticking to a color scheme in your garden. You will be able to find a wide range of shades in many colors.
You can intermingle them throughout my garden while many other gardeners like to dedicate areas to the Iris.
There are early, mid and late blooming Iris. So if you mix it up when you purchase you can get weeks of bloom.
Many have mentioned they don't like the short blooming season of Iris but for me it is perfect. By the time they are done so many other plants are putting on a show you don't mind the Iris are fading away.
Some iris actually do re-bloom in the Fall . Look for that trait if it is important to you. In the catalog or website of the Iris Farm, it will be listed in the description if it is a re-blooming iris or not.
So there you have it, How to Plant and Propagate Iris. For a look at some of my visits to Iris Gardens and Farms click on the links below.
Superstition Iris Gardens 2017
Superstition Iris Gardens 2016
Iris Farm Visit

Happy Gardening!
Please PIN and Share