How to Grow Hardy Geraniums aka Cranesbill Geraniums, a tough and easy to grow perennial that is worthy of a space in your garden.
How to grow hardy geraniums aka cranesbill geraniums. This flowering plant performs differently in different climates but no matter what it is worth a spot in your garden.
Please PIN and save for later.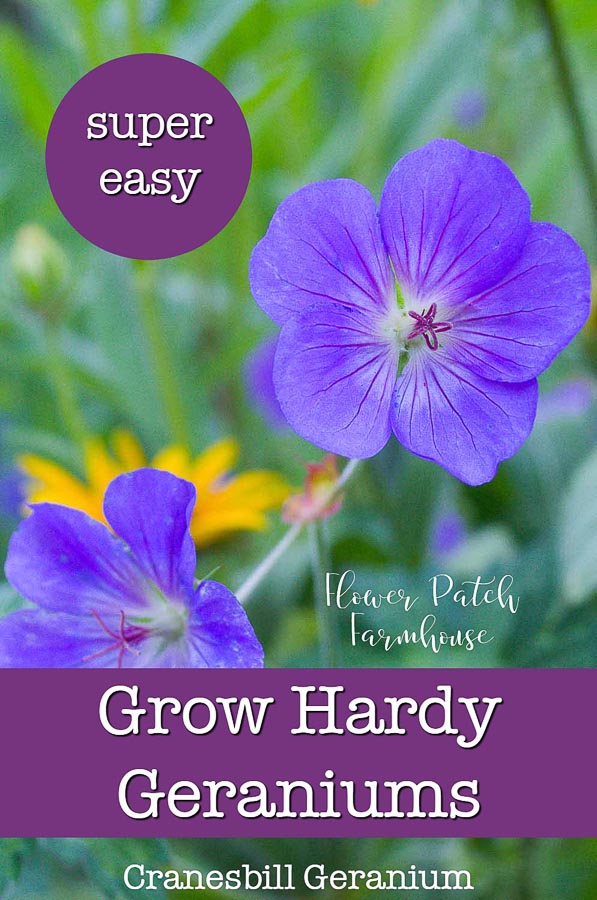 Hardy Geraniums are Super Easy to Grow
I feel almost like a fraud trying to tell you how to grow these flowers. They are so easy they just about take care of themselves.
These hardy things are the true geraniums. What is commonly passed off in garden centers as Geraniums are actually Pelargoniums. They are related so I guess it is okay to call them both Geraniums.
Make sure and do a bit of research on the plant before you bring it home. Some can be super vigorous growers that become invasive and reseed readily, coming up in areas you don't want them to.
(this post contains affiliate links, please see Disclosure page for more info)
I have about 6 or 7 different selections of these Cranesbill Geraniums and they are all well behaved in my garden, except one.
It is obviously a wild species type and reseeds itself over enthusiastically so I must keep it from going to seed or I find little sprouts EVERYWHERE. I thought it was Johnson's Blue when I bought it but I was mistaken. Johnson's Blue would not misbehave.
There are plenty of hybrids that are sterile to choose from and may be the best bet for you.
I keep it in check by taking my Ryobi weed wacker to it just after it blooms. This garden thug also spreads by runners so I am also trimming it back out of the pathway frequently.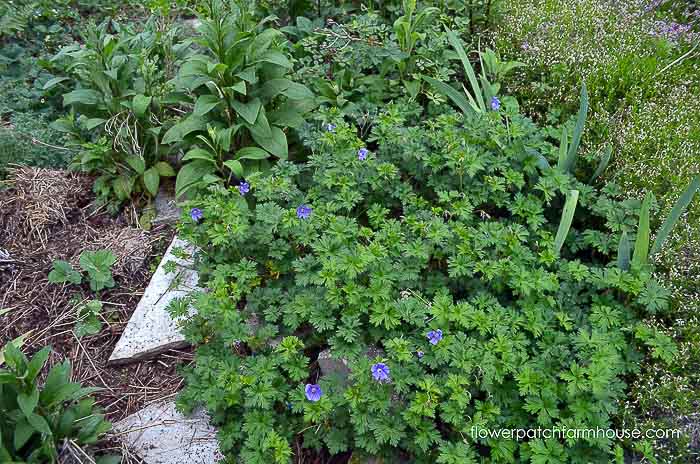 All the others are hybrids that are named and you can only propagate them by divisions so they mind their manners.
Elke Cranesbill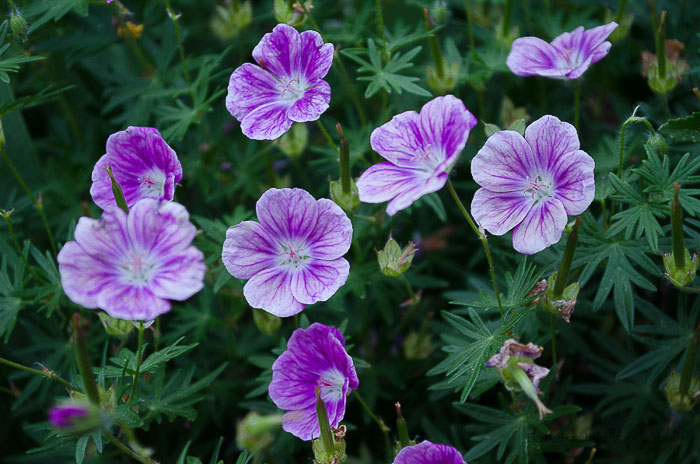 Elke Cranesbill Geranium grows 10 to 12 inches in height and spread 12 to 18 inches. The bright pink flowers are held upright above finely lobed foliage for a spectacular display from Spring until Fall.
Elke grows in full sun to part shade and prefers well draining soil. Deer resistant and butterflies love this one.
Use as a ground cover, in a rock garden, under planting roses or as an edging plant.
Dragon Heart

Dragon Heart grows to 24 inches high and spreads about 18 inches. It grows more loosely than Elke but is beautiful. It throws out a few stems that are longer but is still very well behaved.
Cut back spent blooms or shear back after first bloom for more. This one has not spread at all in my garden and stays put, so if you are looking for a very tame grower this may be your pick. .
Tiny Monster

Tiny Monster is one of the longest blooming of the group.
It also can grow quite rampant and it tends to swamp my rose. In other climates it grows lower to the ground but it loves it in my garden.
I enjoy its long bloom time and I just cut it to the ground whenever it becomes a bit leggy and bullies my roses.
It takes this haircut well and fills back in nicely with fresh foliage and more blooms.
Rozanne Cranesbill Geranium

Rozanne was the 2008 Perennial of the year and it is not only well behaved but blooms and blooms.
Though I planted it at the base of some roses to hide the bare canes at the bottom of the bush it quickly overgrew the rose, like Tiny Monster. I treat it the same and give it a good cutting back.
I have seen this one planted as a focal point with a short tomato cage as support and it was gorgeous. The support cage was about 2.5 feet tall and it displayed the Rozanne Geranium like a fountain of blooms.
I am going to try that in my garden and I will share with you how it turns out.
How to grow hardy geraniums aka cranesbill
Hardy Cranesbill geraniums have a mounding habit and are hardy in Zones 5-8 but I have friends in warmer zones that are growing it too, quite successfully, it just stays shorter for them. Different varieties grow to different heights so check the details on each but typically they grow between 2 to 3 feet tall.
To rein in the ones that get scraggly, cut them back after first bloom to within a couple inches of the ground and they will fill back in and many will re-bloom.
Like most plants they like well draining soil that is moderately rich. (compost, compost, compost, click here to see how I enrich my soil)
Most prefer full sun to part shade.
Mildew can be a problem in humid climates but just shear them off and let fresh foliage fill in.
Slugs like to snack on the young sprouts so be sure and bait for them or have other slug controls in place.
I have read they prefer moist soil but here in California we have been enduring drought conditions for 4 years and mine have done just fine but they are well established.
Hardy Geraniums are not only deer resistant but pollinators love them. Win, win!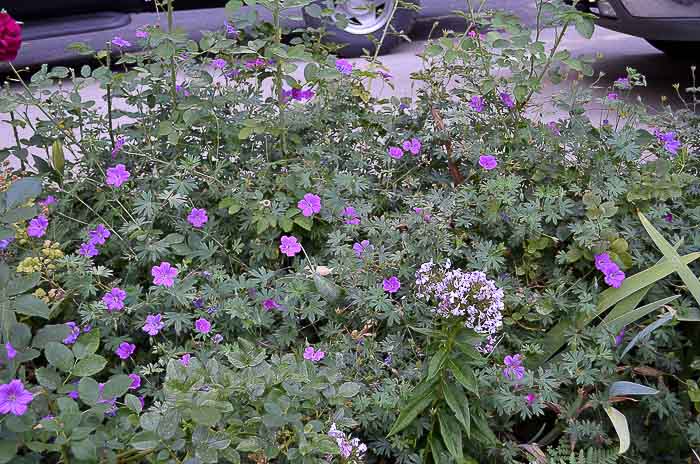 Dividing hardy cranesbill geraniums
When you need to divide just dig up and cut through the root mass and replant, do this in Spring or Fall.(see this post on propagation by root division) Or you can cut off a piece at the edge of the plant and plant elsewhere without digging up the entire plant.
If you want to add an easy, gorgeous plant to your garden then give Hardy Geraniums aka Cranesbill geraniums a try. If you want full summer bloom check and see if the selection you are thinking of buying does rebloom. The ones I have shown in the post do re-bloom quite well.
Happy Gardening!
click on these other flower growing posts you may enjoy.
What grows tall & stately, and no cottage garden should be without?
These sweet smelling blooms make great bouquets!
Need to cover a trellis this summer, try growing these!
Need to fill a garden bed with flowers but don't have the budget to buy, try this!
Please feel free to PIN and share