How to Grow Hardy Geraniums
How to Grow Hardy Geraniums also known as Cranesbill Geraniums or Perennial Geraniums. They are a tough and easy to grow perennial that is worthy of a space in your garden.
How to grow hardy geraniums. Flowering perennial geraniums perform differently in various climates but no matter what it is worth a spot in your garden.
Many perennial geraniums have been crossed to create numerous hybrids. Some are cranesbill geraniums aka Geranium macrorrhizum, bloody geranium aka Geranium sanguineum, Geranium phaeum (black widow) and wild geranium aka Geranium maculatum. I think you get the picture of just how many there are.
Note: Wild Geraniums are native to much of Eastern North America and found in woodlands. You can still find it at specialty nurseries. I often encourage the use of natives because of their benefit to pollinators and beneficial insects.
Perennial Geraniums are Super Easy to Grow
I feel almost like a fraud trying to tell you how to grow these flowers. They are so easy they just about take care of themselves.
These hardy perennials are the true geraniums. What is commonly passed off in garden centers as Geraniums are actually Pelargoniums aka Zonal Geraniums. They are related so I guess it is okay to call them both Geraniums.
What Makes these Hardy Geraniums Perennial
Like many other perennials, hardy geraniums die back in the winter to the ground, then re-emerge as the weather warms in Spring. They will also do well with dividing about every 3 years.
Make sure and do a bit of research on the hardy geranium before you bring it home. Some can be super vigorous growers that become a bully and reseed readily, coming up in areas you don't want them to.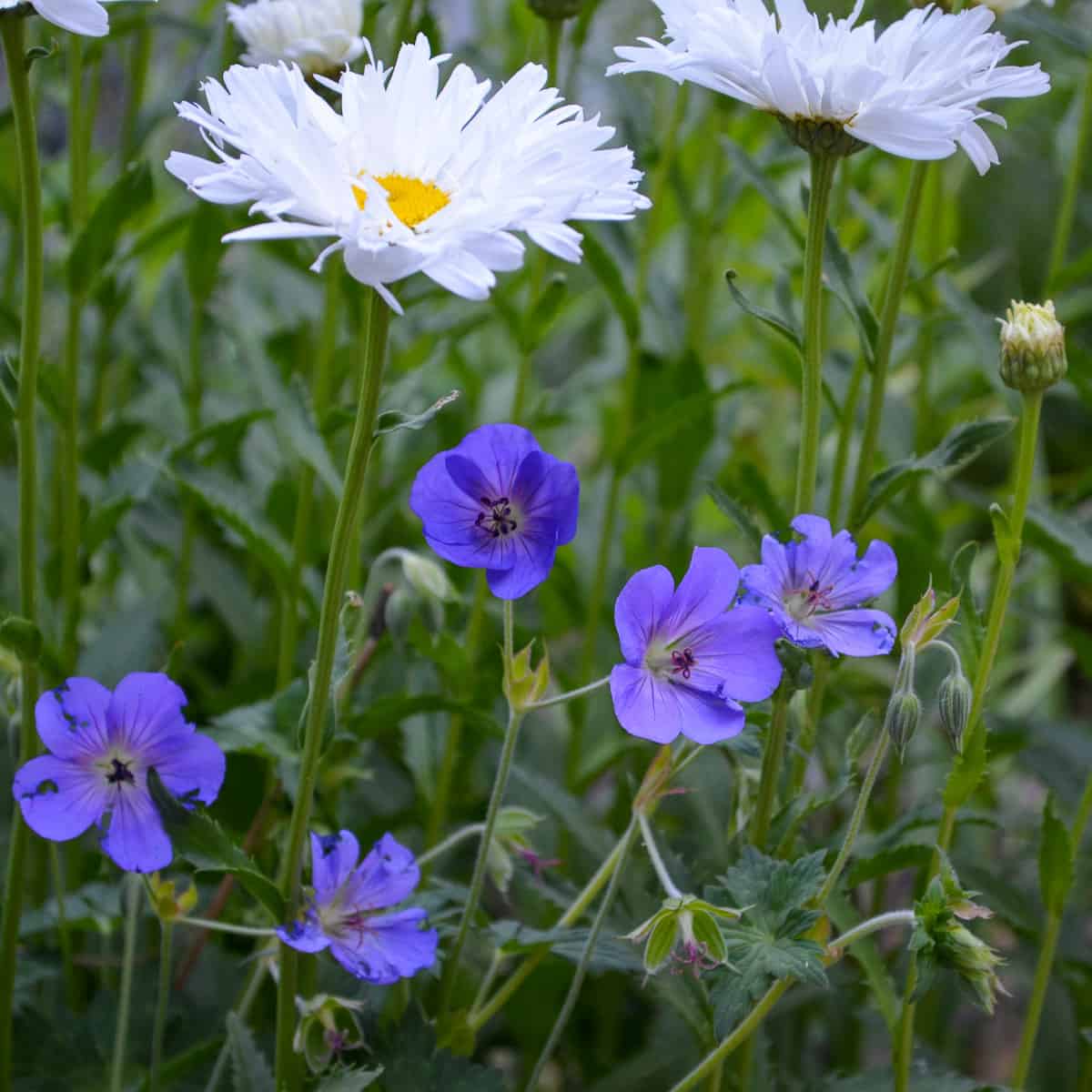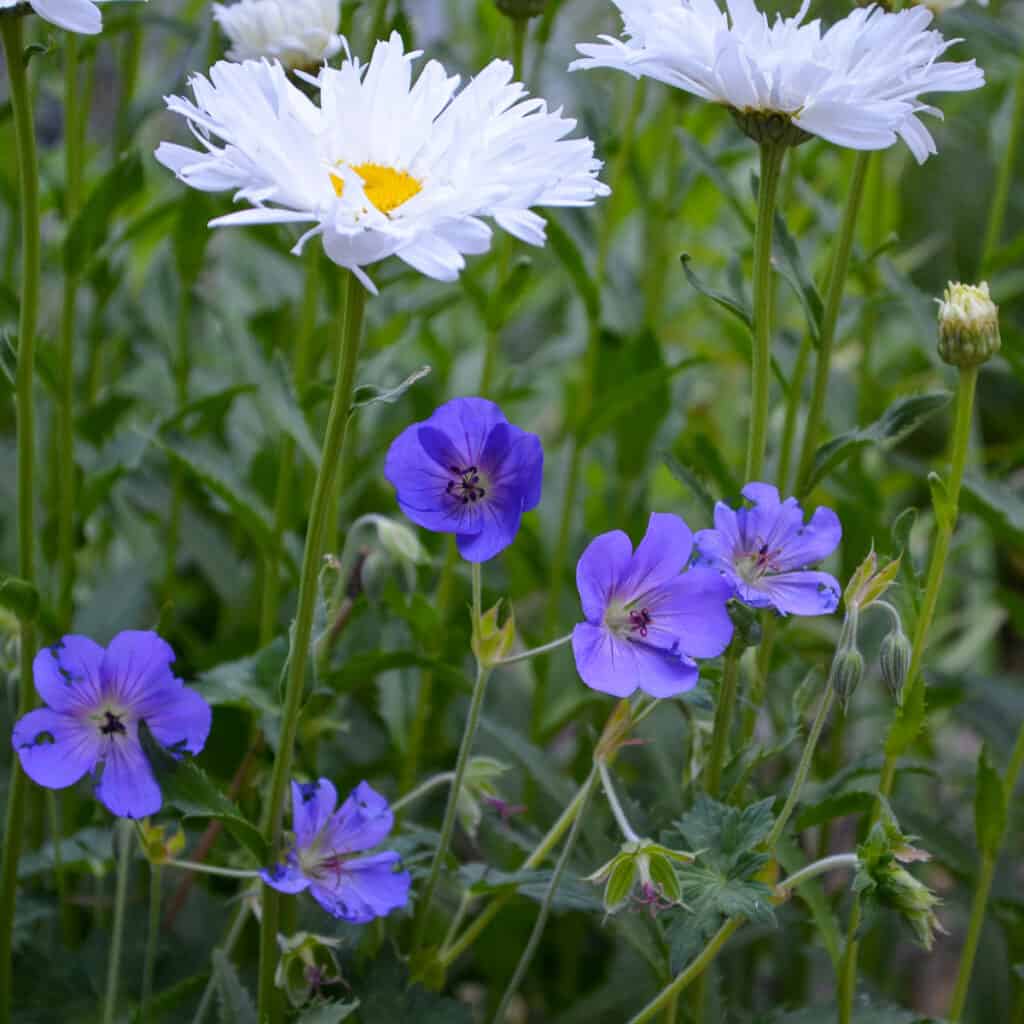 How to grow hardy perennial geraniums
Plant hardy geraniums into the garden with the crown level with the soil. Burying deeper can lead to crown rot.
Hardy Cranesbill geraniums have a mounding habit though some also can sprawl and are hardy in Zones 3-9 depending on variety.
Different varieties grow to different heights so check the details on each but typically they grow between 2 to 3 feet tall. Keep this in mind when placing in the garden.
To rein in the ones that get scraggly, cut them back after first bloom to within a couple inches of the ground and they will fill back in and many will re-bloom.
Like most plants they like well draining soil that is moderately rich. (compost, compost, compost, click here to see how I enrich my soil)
Most prefer full sun to part shade.
Mildew can be a problem in humid climates but just shear them off and let fresh foliage fill in.
Slugs like to snack on the young sprouts, keep an eye out for them.
This post contains affiliate links. If you make a purchase after clicking a link I may make a small commission at no cost to you.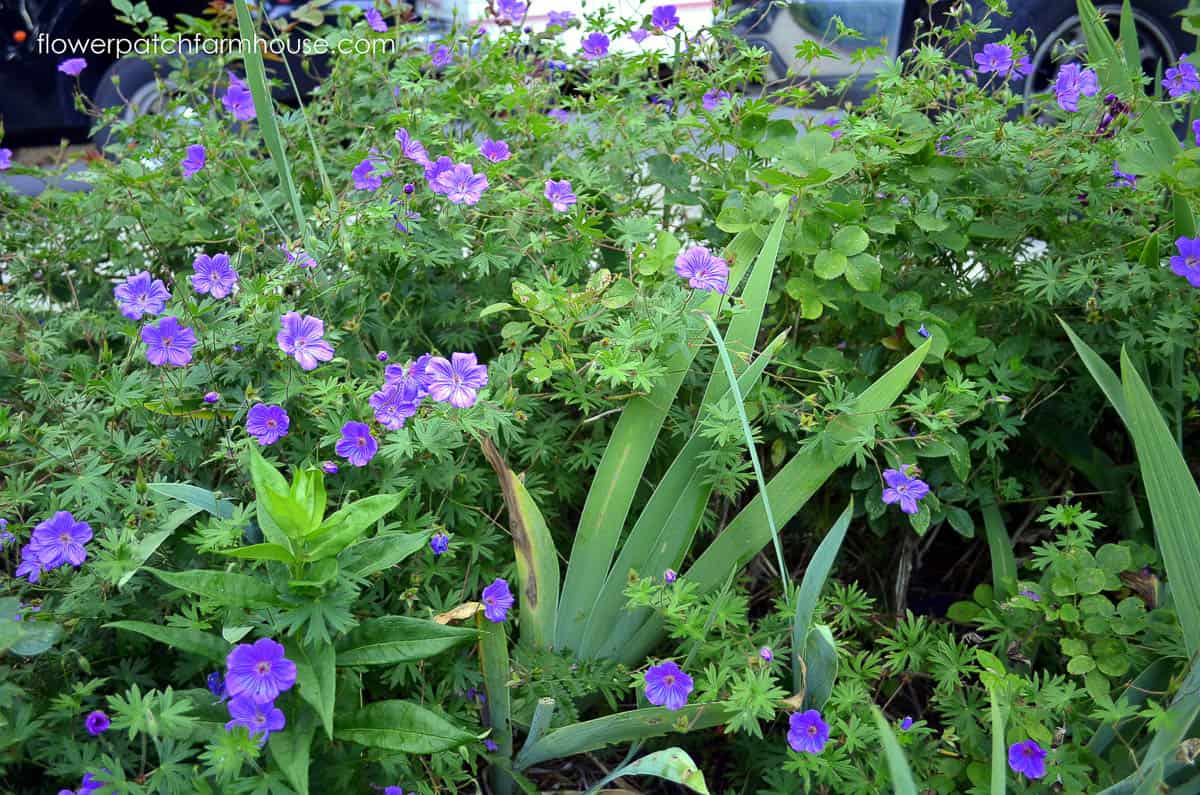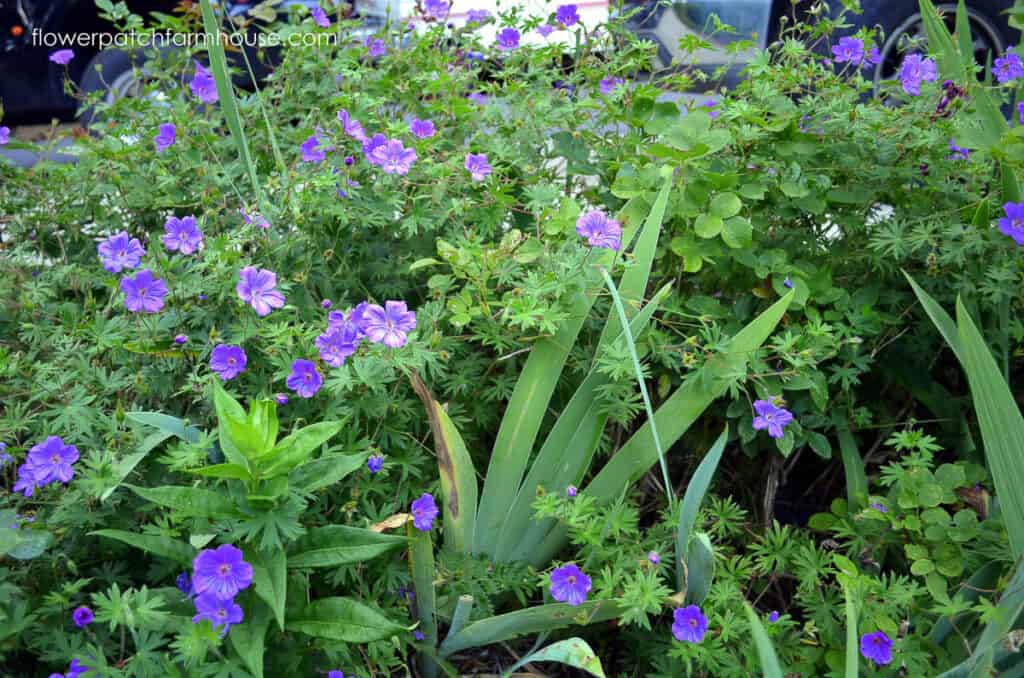 Elke Cranesbill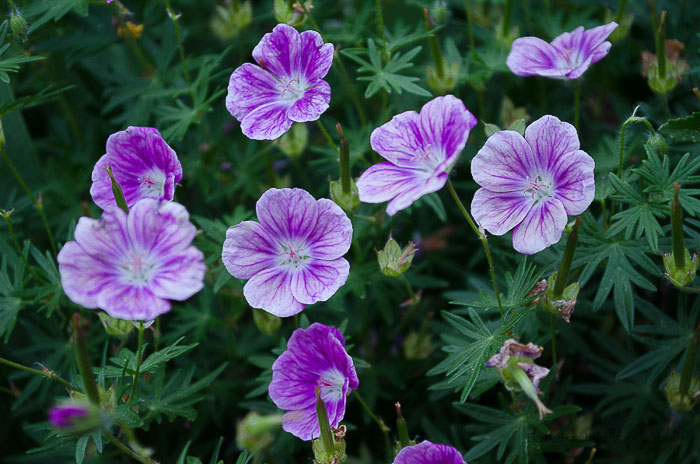 Elke Cranesbill Geranium grows 10 to 12 inches in height and spread 12 to 18 inches. The bright pink flowers are held upright above finely lobed foliage for a spectacular display from Spring until Fall.
Elke grows in full sun to part shade and prefers well-draining soil. Deer-resistant and butterflies love this one.
Use as a ground cover, in a rock garden, underplanting roses, or as an edging plant.
Dragon Heart

Dragon Heart grows to 24 inches high and spreads about 18 inches. It grows more loosely than Elke but is beautiful. It throws out a few stems that are longer but is still very well behaved.
Cut back spent blooms or shear back after first bloom for more. This one has not spread at all in my garden and stays put, so if you are looking for a very tame grower this may be your pick. .
Tiny Monster Geranium Perrenial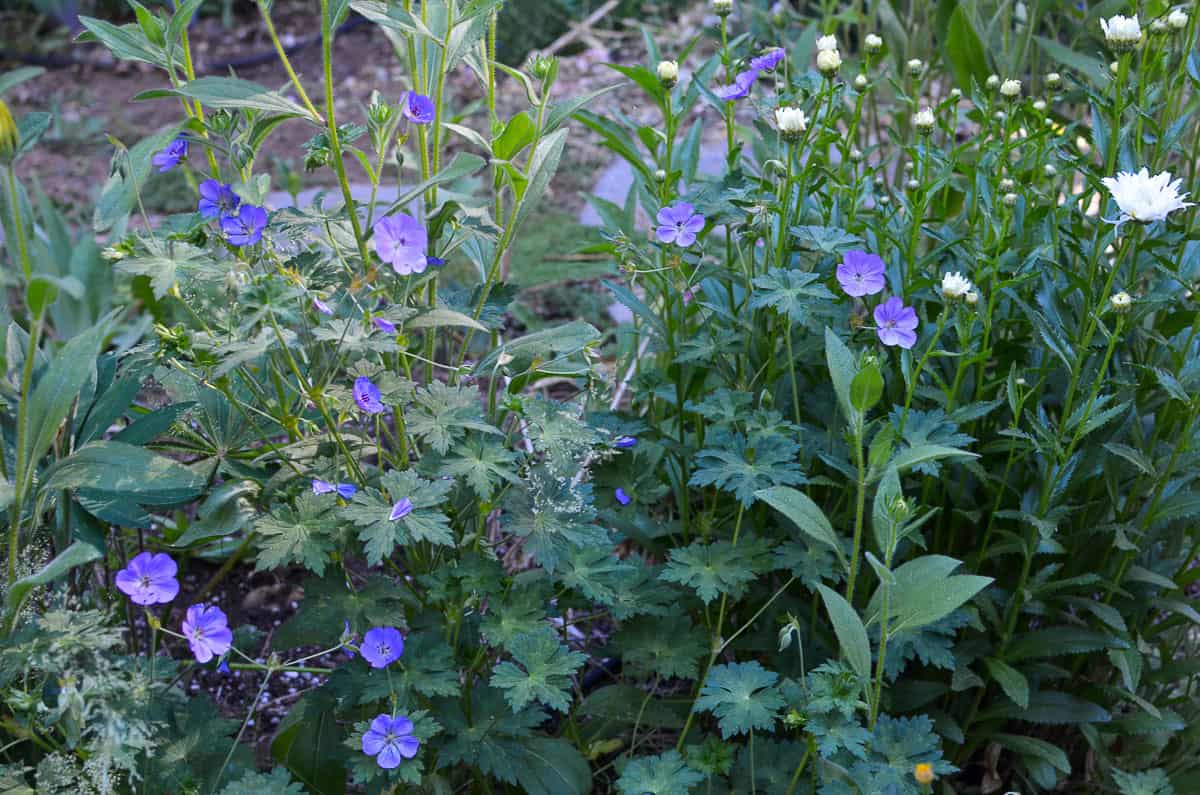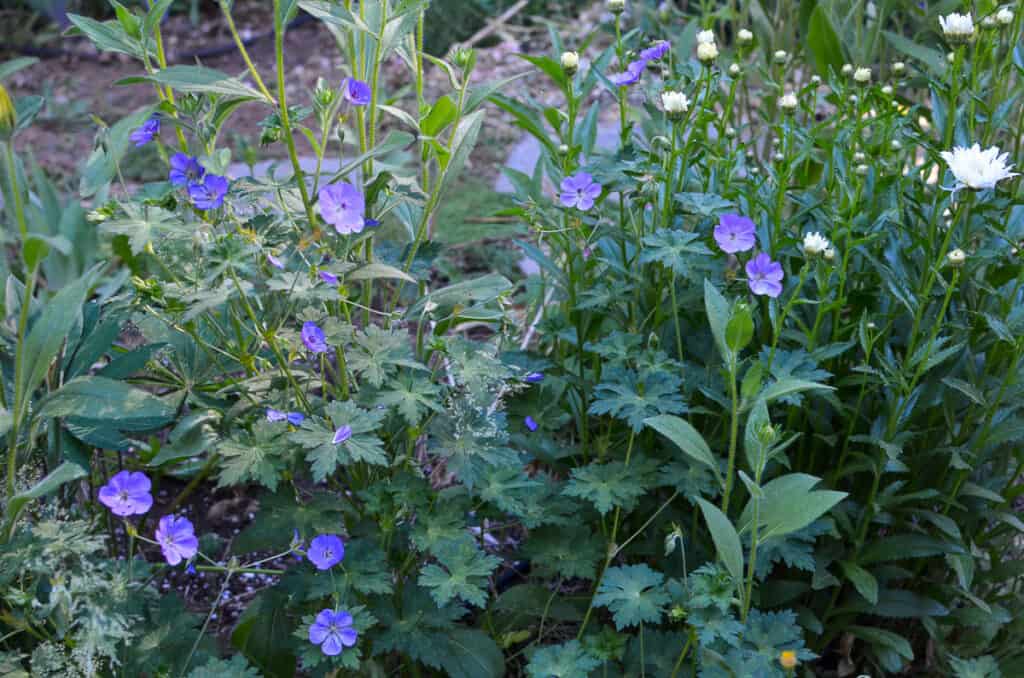 Tiny Monster is one of the longest blooming of the group.
It also can grow quite rampant and it tends to swamp my rose. In other climates, it grows lower to the ground but it loves it in my garden and lives up to its name…Monster!
I enjoy its long bloom time and I just cut it to the ground whenever it becomes a bit leggy and bullies my roses.
It takes this haircut well and fills back in nicely with fresh foliage and more blooms.
Rozanne Cranesbill Geranium

Rozanne was the 2008 Perennial of the year and it is not only well behaved but blooms and blooms.
Be aware that Rozanne is marketed by many as a sterile hybrid that won't reseed. I have found that mine has re-seeded and when I investigated more thoroughly it has been found that it actually does reseed, though not as prolifically as others. But the seedlings will not come true. Meaning they won't have the same attributes as the mother plant.
Rozanne and Orion (another hybrid) are both prize-winning because of their long bloom time compared to other varieties. And that attribute is not carried to its seedlings. I have found this out personally and often pull up many seedlings created by my vigorous Rozanne hardy geranium.
Though I planted it at the base of some roses to hide the bare canes at the bottom of the bush it quickly overgrew the rose, like Tiny Monster. I treat it the same and give it a good cutting back.
I have seen this one planted as a focal point with a short tomato cage as support and it was gorgeous. The support cage was about 2.5 feet tall and it displayed the Rozanne Geranium like a fountain of blooms.
Some claim they prefer moist soil but here in California we have been enduring drought conditions for 4 years and mine have done just fine. If you are just getting started with some hardy geraniums then be sure to keep them watered until they are well established. After that, they will do fine in dryer conditions.
Hardy Geraniums are not only deer resistant but pollinators love them. They pair well with other perennials in the garden like Black Eyed Susans and Daisies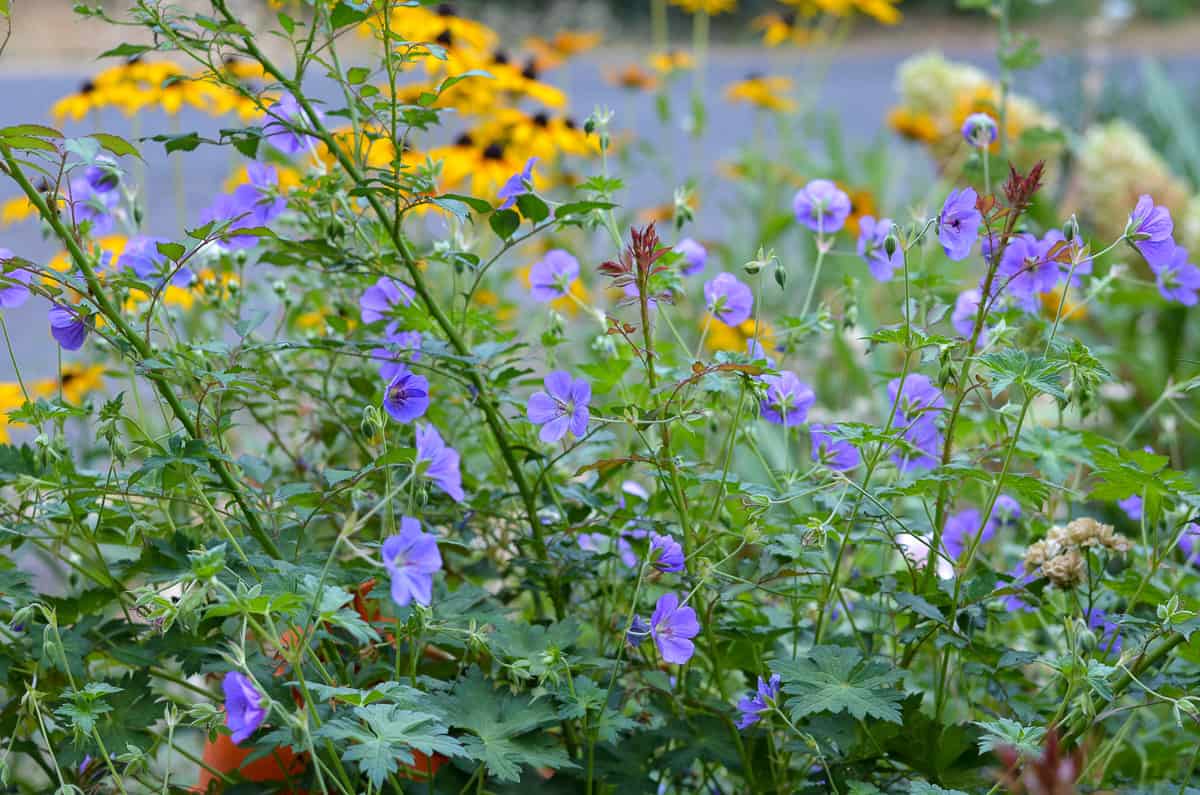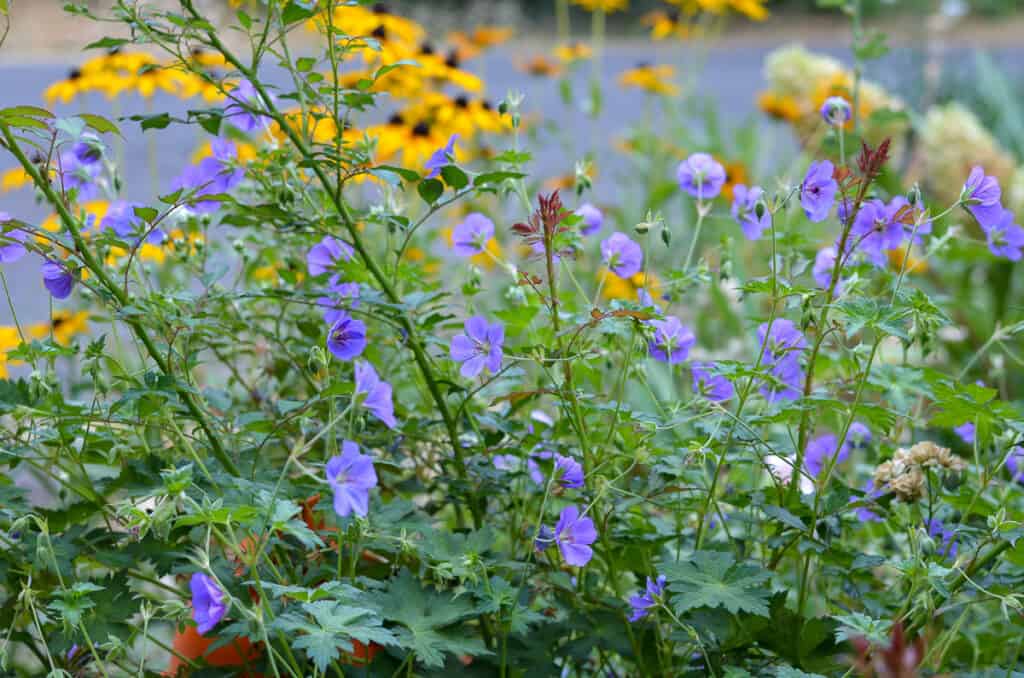 Dividing or propagating hardy cranesbill geraniums
When you need to divide just dig up and cut through the root mass and replant, do this in Spring or Fall.(see this post on propagation by root division) Or you can cut off a piece at the edge of the plant and plant elsewhere without digging up the entire plant.
If you want to add an easy, gorgeous plant to your garden then give Hardy Geraniums aka Cranesbill geraniums a try. If you want full summer bloom, check and see if the selection you are thinking of buying does rebloom. The ones I have shown in the post do re-bloom quite well.
Happy Gardening!
Please feel free to PIN and share