Keeping Your House Clean 10 Minutes at a Time
Keeping Your House Clean 10 Minutes at a Time is a real solution for busy people. You don't have to spend hours at a time to have a clean home.
Keeping your house clean 10 minutes at a time creates an environment that promotes comfort and emotional well being. You can do this!
I get asked from time to time how I can spend so much time painting, gardening along with other creative endeavors and keep my house relatively clean.

At first I merely blink because I have never really thought about it, I just do it.
So I took two weeks and logged how I clean so I can share my routine. I actually set a timer as I worked so I could be more precise on how long each task took.
Can you keep your house clean in 10 minutes?
"Keeping Your House Clean Ten Minutes at a Time" came from approximately how long it typically takes me to whip through a room to give it a general clean. That includes dusting from ceiling to floor, sweeping or dust mopping (I have no carpets only solid surface floors) and mopping. Now even if you have carpets you can do it, since you only have to go over a floor once instead of twice. With wood, linoleum, tile or laminate you first sweep then mop.
You will note the title does not read 10 minutes a day. There are little chores that get done daily that is not included in the general list and I will talk about those later.
Statistic: Our troubled economy has prompted a need for empowerment. Cleaning, organizing and de-cluttering your home can provide this much needed sense of control.
Keep it Doable
The key to all this is breaking it up, you will get the gist of how easy it can be in small increments of time. Doing this in bite sized pieces makes it easier to fit in the busiest of lives. So for this week, just try one room.
Everyday I have a focus room or rooms. Mondays it is the bedrooms. We live in a smaller house, approximately 1344 square feet. Three bedrooms, 2 full baths.
Can you keep your house clean with kids?
Some may argue that they have kids and this is not reality but I raised 4 kids in the same square footage and managed to keep up then too. It took effort and routine.
I made it a habit for them to make their beds before school daily, they were not made perfectly but up to their ability. It took mere moments but went a long way in making their room look and feel tidier.
Nightly we had the routine of picking up toys and things off the floor, clothes were placed in hamper if dirty or put away. I hear many out there protesting that your kids just won't do that. It is called "training" not "volunteering".
Kids are smart and can be trained!
People train their dogs all the time but for some reason think kids can't be. Have you ever volunteered in a Kindergarten class? When play time is over, the kids have to put everything away.
This is one teacher with 20+ children in the class, and you know what? They just DO IT.
Why?
Because from day one, the teacher has trained them to and has been consistent.
Statistic: Household order, characterized by routines and cleanliness, was associated with a range of early reading abilities in a sample of 455 kindergarten and first-grade children. (Teachers College, Columbia University & Ohio State University)
No Need to Rush
In my routine I work at a regular pace, no rushing. Many of the numbers are rounded upward, for instance it takes 1 minute 45 seconds to make a bed, I just round up to 2 minutes.
Enlist Family Members in Keeping your House Clean
The bed is made daily not just on Mondays and this has become my husbands chore. I had to actually ask him not to make the bed so I could time how long it took me. It did not start out in our married life as his chore I had to ask him.
It was as easy as that, I asked that he please make the bed before he takes his morning shower and he complied. He is quite proud that he can make a bed much better than I.
If you want to get help from your significant other just ask and be specific.
What do I mean by specific? I did not ask if he could chip in doing housework, I asked him to take on a specific task aka: making the bed daily. A tidy home is the responsibility of everyone living in it.
here is an example of my routine
Mondays ~ 2 Upstairs bedrooms
Make bed ~ 2 minutes
Dust room and surfaces from top to bottom including blinds (Swiffer duster with extension) ~ 2 minutes
Dust under bed with swiffer~ 2 minutes
Sweep or dust mop (sometimes I use my Eureka Mighty Mite vacuum, it works great on solid surface floors or the microfiber dust mop head for my Bona) ~ 2 min
Damp Mop ~ 2 mins (I use a Bona mop and my all purpose cleaner in a spray bottle, a link to the cleaner recipe is included below in the supply list)
The second bedroom is unused most of the time, it is set up as a guest bedroom so I just basically dust weekly. Sweeping and mopping get done once a month.
I use the Swiffer duster to sweep down the stairs, it takes less than a minute. The third bedroom of our house is used as an office so that room is addressed later.
What makes it so fast in our bedroom is our clothing is always hung up, put away or tossed into the hamper. We do not leave them on the floor, tossed on a chair or over a bed rail. Our drawers are organized and tidy, we don't have to waste time digging.
Folding our clothes this way and actually "filing" them makes it easy to see it all and not have to dig.
Plus you can fit more into a drawer. These are my husbands work shirts. If we folded traditionally they would not all fit in the drawer but this way there is room to spare.

Statistic: Getting rid of clutter would eliminate 40 % of the housework in the average home. (National Soap & Detergent Association)
Another thing that makes cleaning faster for us is keeping clutter to a minimum. Clutter is easy to attain and hard to deal with when you have become overwhelmed with it.
I do everything in increments, it is just easier to follow through. No one wants to take a weekend to do it all at once, at least not anyone I know.
De-clutter incrementally
So to de-clutter when a room or area becomes out of hand I tackle it one thing at a time. It takes just a few moments and you can really think it through. I get a large garbage bag or box and start to fill it, I don't have to fill it in one fell swoop. I remove one thing a day if that is all I can do and place it in the box/bag for donation, or toss it in the garbage.
Most of the time you will end up removing more than that but one item is an attainable goal and you are not swamped with the enormity of de-cluttering a space. You just have to focus on one piece at a time.
You might be surprised at how fast you can get on top of getting it out of the way because you are dealing with it rather than waiting for the right time to take care of it.
Our trash is taken to the dump one day a week, I choose the same day to haul my donation bag or box to the thrift store. Making it part of the weekly routine helps me to keep in control of it and it is not riding around in my car for weeks.
My Cleaning Supplies that I have found make cleaning a cinch:
Swiffer duster extension kit I resisted using anything that is disposable for the longest time, but a friend I worked with in professional cleaning let me use hers and the ease with which I could get tasks done with this one tool was a game changer, it easily adjusts for cleaning on top of ceiling fans, high shelves, under the bed, makes dusting blinds a snap and I can reach the corners of the ceiling where spiders like to build their webs.
Some feel it is not cost effective but I wash the duster heads (air dry, not in the dryer) and use them for a couple weeks, if you keep up with the dusting on a good schedule it takes awhile to use one up and they can average about $1 each. With how much faster it gets the job done…. it is well worth $1 to me.
Mighty Mite Vacuum As I said before, I do not have carpets so I don't need a vac with a beater bar (I do have a large wool Persian rug in my living room but the Mighty Mite works well on it too).
When I was cleaning professionally I used every vacuum under the sun, including the pricey ones that were supposed to be the best, Dyson, Shark, etc. I have always comes back to the inexpensive Mighty Mite for ease of use and it lasts forever.
It does use bags but a bag lasts me a long, long time and I prefer it to trying to empty the canisters on the others
Bona Mop this mop and my own custom made cleaning solution makes it quick to mop a floor, no need to rinse
Micro Fiber Dust Mop head for Bona (love this thing, it really grabs hair off the floor!)
Cleaning Caddy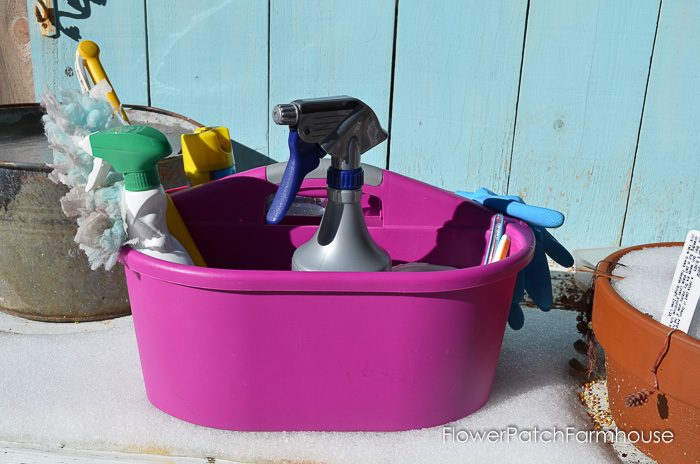 You can find most of these supplies at your local Wal-Mart, Dollar General or other big box stores.
The recipe for my all purpose cleaner that I use on the majority of my surfaces including floors is in this post Faster and Easier Window Cleaning from a Pro.
So I hope I have given you a little boost in confidence that no matter how busy your life you can get started on developing habits that will have you keeping your house clean 10 minutes at a time!
To read about the rest of the house click here
Enjoyed this? Please PIN and share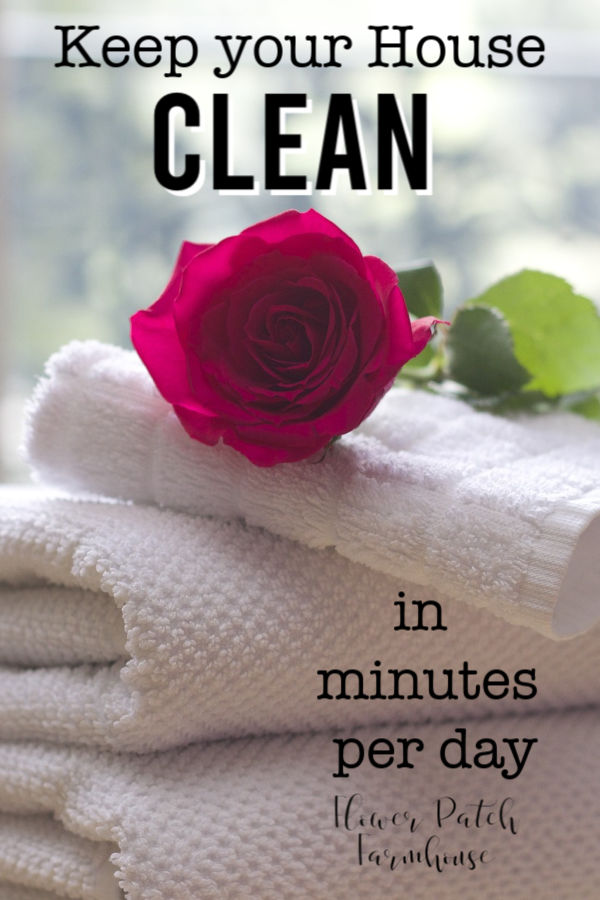 ……………….