How to Grow Sweet Williams in your Cottage Garden, tough and reliable for years of beautiful blooms.
How to grow Sweet Williams is for those who want to add a tough but sweet-smelling cottage flower to their garden. One of those easy flowers that grow well in many zones. Learn what growing conditions sweet Williams like, how to start them from seeds, and how to care for them for a long bloom time.
Related: Garden Zones, what you need to know!
Disclosure: This post may contain affiliate links, meaning I get a commission if you decide to purchase through my links, at no cost to you. Please read my disclosure for more info.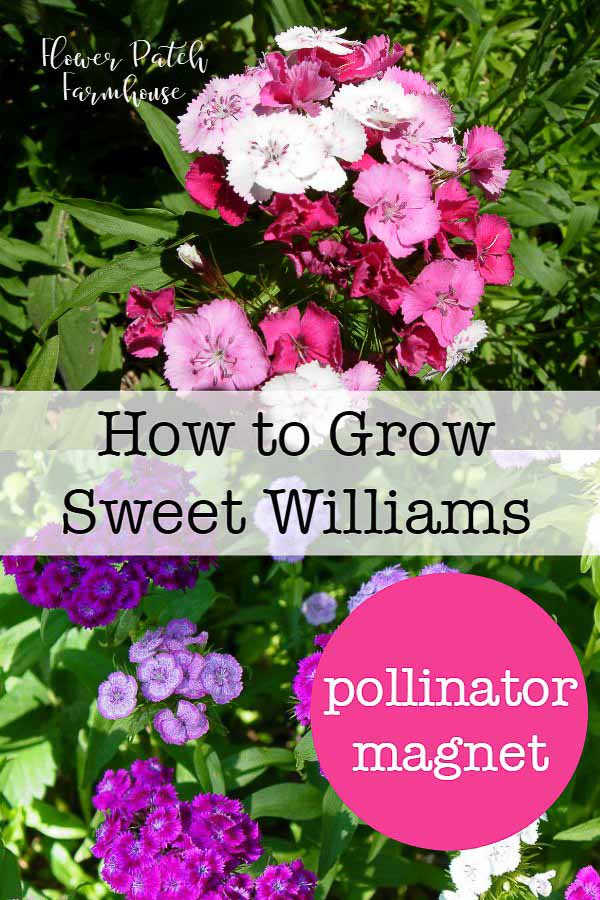 Growing Conditions
Sweet Williams prefers full sun but will tolerate light shade. They tend to grow taller and get a bit floppy if they get too much shade so if this occurs just plant in a sunnier spot the next time. The caveat to this is if you are in the South with hot summer temps, they will do a bit better with some afternoon shade.
They are hardy in zones 3 – 9 and can be grown alongside perennials, as a border to a flower bed or in containers.
Sweet Williams are Easy to Grow from Seed
If starting indoors sow your seed in your containers 6 to 8 weeks prior to first frost. I have an entire post on how I start seeds early here.
Or you can winter sow them as I share in this post. This is super easy and successful!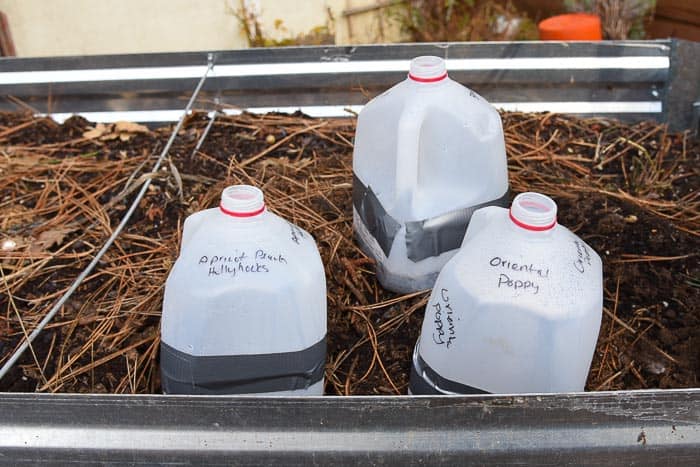 But my favorite way for Sweet Williams takes patience and is super easy. In late summer scatter the Sweet William seeds on weed free soil where you want them to grow.
Don't add a cover of soil, just a firmly step on them to make sure there is good contact with the soil. They like loose, rich soil that drains well so don't press them in too firmly. Keep them watered and watch for the seedlings.
Thin the seedlings once they reach 3 inches tall to 12 inches apart. I dig them up and replant in other area rather than just tossing them in the compost heap or I pot them up to give to garden friends and neighbors. Thinning helps prevent fungal disease and lets the plants grow healthily. By next Spring you should have beautiful sweet-smelling blooms.
Sometimes I don't get to this job of thinning and they have grown fine, they just did not get as big as they could have. We live in a dry climate so fungus is not typically an issue.
Deadhead your Sweet Williams
To keep your Sweet Williams blooming you will need to deadhead them. Watch as the flowers begin to fade and pinch or cut back the stem to half of its growing height. These are my favorite snips for jobs like this.
If you grow a swath of Sweet Williams like I do then cutting each individual flower when it fades is too much work instead wait for the majority of the flowers to begin to fade and then cut with pruning shears all of the stems to half of the plant height.
Shearing allows you to deadhead all the flowers at once. This will also control the size of overgrown plants and encouraging the flowers to bloom again. Keep watered and watch for fresh blooms.
Let Sweet Williams reseed or not
If you want the Sweet Williams to reseed and grow for you again next season then towards the end of summer stop deadheading and let the seeds mature.
Leave all of the seeds to spread on their own for a lot of Sweet Williams or let a few fall to the ground and save the rest of the seeds to give away or plant in other parts of your garden.
To see how I save seeds just hop on over to my Seed Saving for more Garden Blooms article!
Why Grow Sweet Williams
Sweet Williams will perfume your garden, that is the main reason why I grow them. Many traditional cottage garden flowers are sweetly scented.
For more scented flowers for your garden here is an entire post dedicated to flowers to grow for a scented garden. Adding scent to your garden adds another level of enjoyment.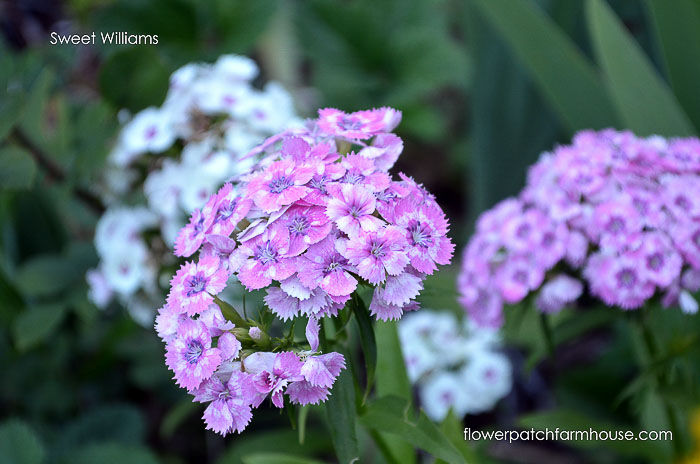 Sweet Williams are a great biennial addition for Spring to Summer bloom with plenty of perfume. Biennials grow the first year then bloom the second. That is why you can plant in late Summer/Early Fall to get growing, then they bloom the following Spring.
Want a great downloadable cheat sheet for growing Sweet Williams? There is one in my Resource Library. Just fill out the form included lower down in this post.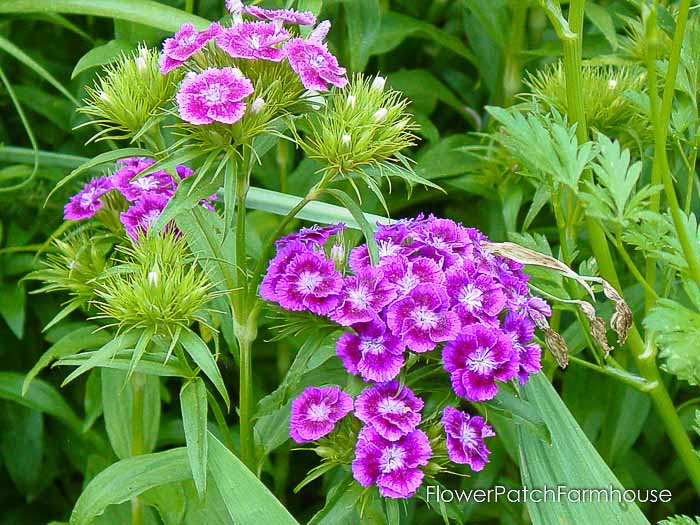 Sweet William Colors
They grow in various shades of red, pink, purple and white. Some can have a variety of colors on one plants, which is fun too.
Here is a great mix to try Dianthus Sweet William Mix, lots of colors and plenty of seed.
This one was a happy accident of many colors cross pollinating in my garden and producing this gorgeous multi-colored specimen.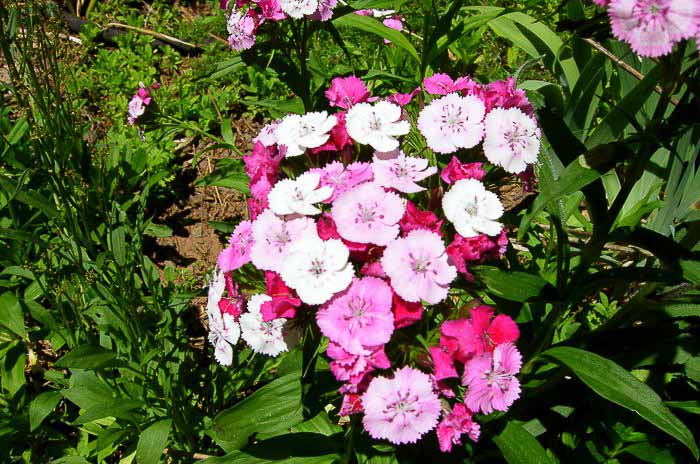 The photo below is a bunch of Sweet Williams by my Asiatic Lilies blooming away (the pink and fuchsia colored flowers behind the orange lilies).
They get to about 7 to 18 inches tall depending on variety and where they are planted.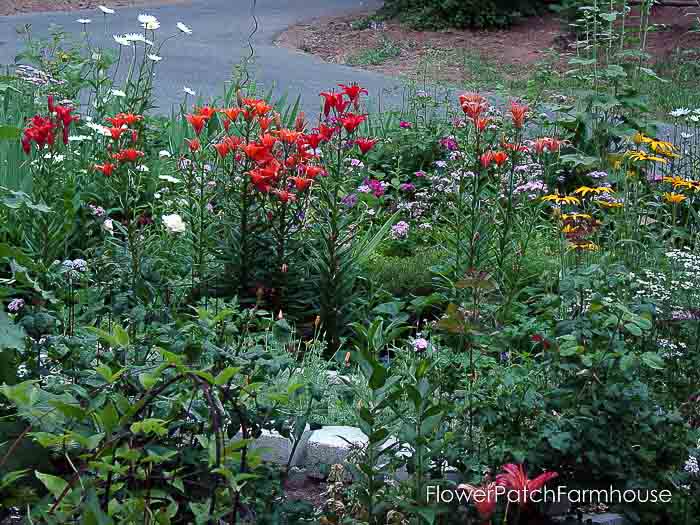 I have always grown mine from seed or transplanted seedlings from one spot in the garden to another but you can also propagate by cuttings or root divisions.
You can also start them indoors, click here to see my method.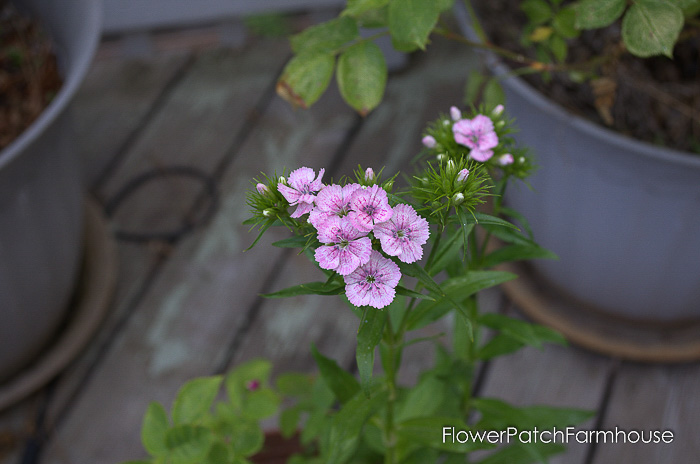 Great for Containers
They do well in pots and can bring a spot of Spring color to many spaces. These two were volunteers in a potted rose this past summer.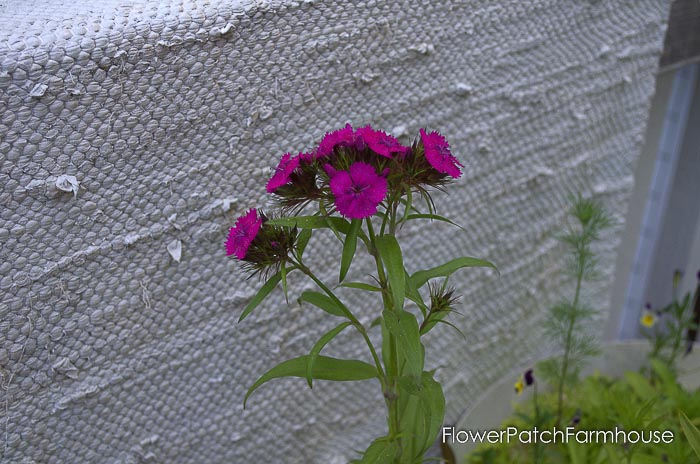 Want access to the How to Grow Sweet Williams cheat sheet? Just fill out this form.
If you are already a subscriber then you have the password attached at the end of your latest email from me.
A variety I am trying out this season are the Sweet Williams Double Blend and their heirloom cousins Cottage Pinks.

What makes gardening so easy for me is I tend to favor flowers and plants that thrive in my area. I give them what they need and let them go.
For a more info on how I garden visit my Lazy Gal Garden Guide posts.
Happy Gardening!