Roses in August, a visit to my rose garden at the height of summer.
Golden Celebration

I know many are sweltering away in the August heat and can't wait for Fall to begin so they can return to more comfy temps. We on the other had have been enjoying the mid 80's with the nights cooling down to the upper 50's.
Maybe that is why I can enjoy summer so much when others are just ready for it to be over.
Petal Pusher (ground cover rose)

We have had a couple weeks of 90s and low 100's but it has been broken up with a week of lower temps so really we only get a few hot days in a row at a time. One day I am heading to the garden at first light in a tank top the next I have to toss on a sweatshirt to be comfy.
In the mountains you have to be ready for anything when it comes to weather.
Queen of Sweden

My roses have just been flourishing this year. I am surprised.
We have been watering with our gray water (bathtub, shower and sink water) and I thought the soaps, shampoos and conditioner we use would somehow affect them negatively.

But it seems to have had quite the opposite effect. My roses have never been better.
Once the rainy season starts I will no longer use the gray water and whatever salts that may have accumulated from the different products will get filtered away. Our neighbor down the street also uses grey water exclusively for his outdoor watering and his yard looks gorgeous too.
Graham Thomas

Most of my roses are David Austin English Roses. I just love them and they seem to thrive in our climate. I don't treat with insecticides and I have not needed to use any fungicides either.
Darcey Bussell

Even one I have on a hillside that is completely neglected and has received NO water at all this summer is thriving and blooming like crazy for me.
Sceptre'd Isle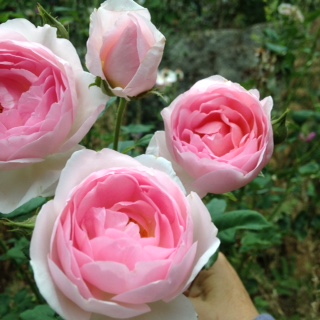 I had taken this photo with my iPhone for Instagram so that is why it is square and not rectangular like the rest. Just look at that color. You can see a hint of the yellow that is in the very center of the blooms in the foremost rose. I need to get an even better photo of it open more so I can attempt to paint them.
This rose had about 10 blooms on it when I took this shot. Remember this has had no water all summer.
Alba Meidiland

I was given the name of this beauty. Alba Meidiland, a ground cover rose that is a workhorse of a bloomer and grower. It produces these sprays of mini roses all summer long, it blooms and blooms and blooms. You can keep it small or you can let it ramble, it produces long canes that can stretch along the ground. I think I will train it as a low hedge around parts of my Secret Garden.
I have many more roses but I will end this here with a shot of the bucket I filled with sedums and sempervivum for a miniature garden but some did so well they are about to overtake the rest. So time to redo this tub!

You can't even see the Sempervivums at all. This purple sedum is so vigorous and lovely, I will find a good spot for it where it can grow all it wants. I can't remember the name of it right now but I saved the marker for it and will let you know soon.
I wish you all moderate weather with comfy temps and Happy Gardening!