The weather has finally stabilized into a warm pattern and I can safely put out my tomatoes and other heat loving plants. I am quite behind many across the country but that is okay, I will be having a hey day in my garden while they will be forced inside because of unrelenting heat. So would you like to see what is blooming in my garden this late May of 2017? Great, lets go on a little garden tour.
My Iris are coming on strong, I am about a month behind the Iris Farms in the valley. Last month I shared a visit to an Iris Farm, if you love Iris you need to see it. Visit to Superstition Iris Farm.
(FYI, any red lettering you see on this page is a link to another page here on my blog, if you click on them you will go to that page)
This yellow is such a dreamy yellow and it has a faint scent of Lemon Chiffon Pie.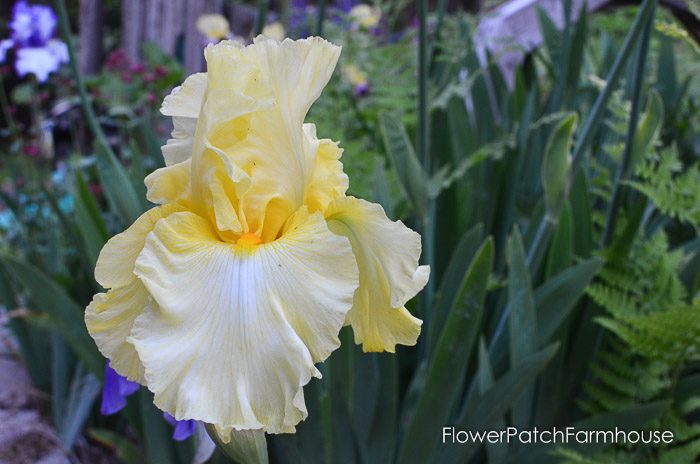 This clematis which I think is Killian Donahue is just loaded with blooms. One of the things I really enjoy about this clematis is it will re-bloom in September. Most of the summer it is merely a pretty green vine after it is done blooming in Spring.
Some Iris are of the vintage variety that I don't know the names of. I got these from a friend who could not grow them in her garden, it was just too shady.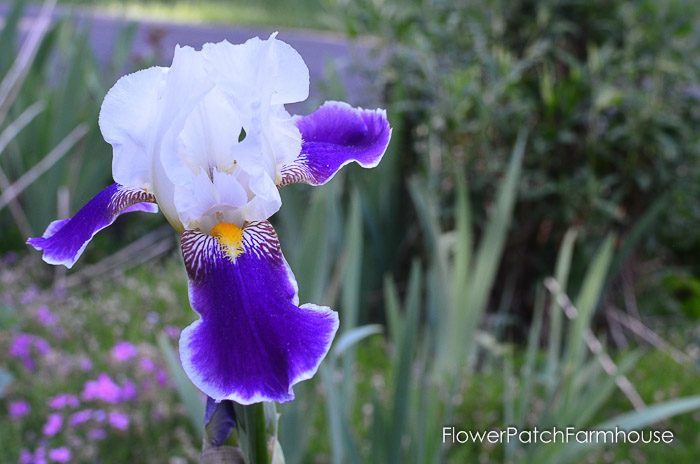 I love the blue of these Dutch Iris, I was worried that I would not get blooms as the late hard freeze we had last month really burned the leaves and I thought it might have zinged the flowers but they are tough little guys.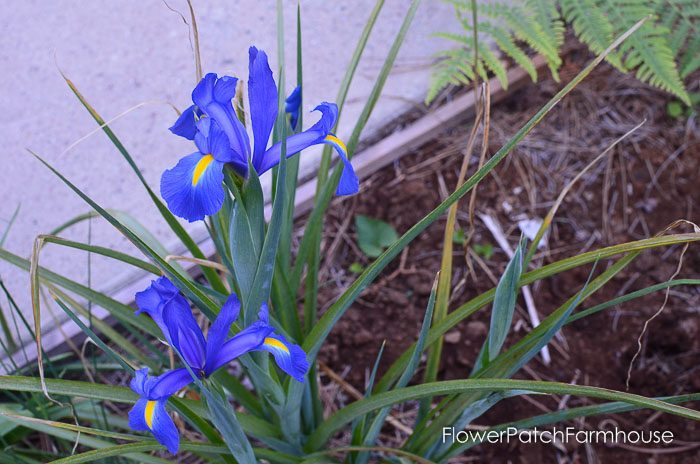 This is Beverly Sills, a pretty shell pink with a tinge of orange beard.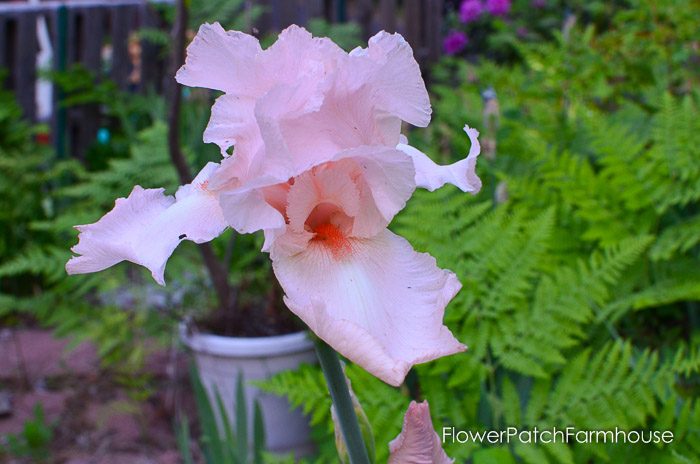 Fire Witch Dianthus only blooms in Spring/Early summer and it gorgeously bright but the foliage is such a pretty grey blue that is is a stunner filler plant even when it is not blooming, it takes rough treatment and keeps on truckin'. Great for rock gardens.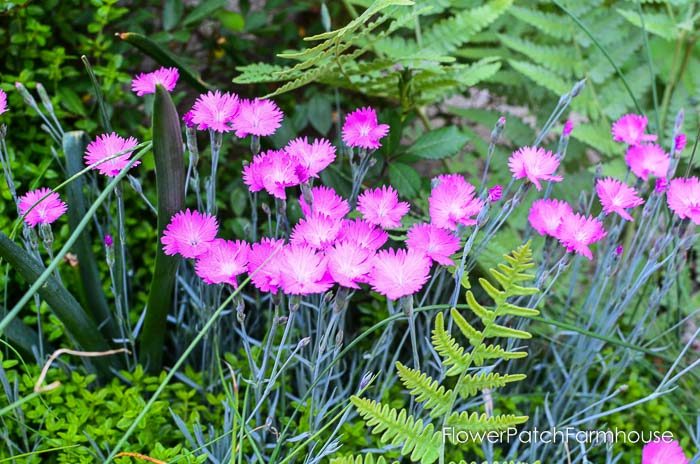 Belle of Woking clematis, most places show this double clematis as white and as the summer gets warmer it does tend to fade a bit but in the spring it is a soft lavender. This one puts on a heavy bloom in Spring then it keeps blooming sporadically the rest of Summer if I dead head regularly.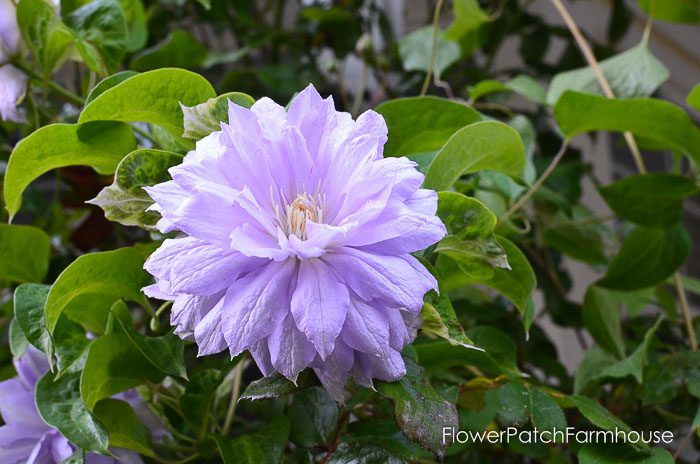 Here is a shot from my side garden, my lupine are doing great too, most of them are volunteers from one plant I have. I love plants that thrive and spread, I just yank out what I don't want. The bright fuchsia and yellow iris is Starship Enterprise, one is here in the side garden and another is out back in my Secret Garden. I forgot I had moved it to two new places when I dug it up two years ago from its original spot. Many of you got a peak at Starship on my Instagram feed where I daily share flowers from my garden and other fun stuff.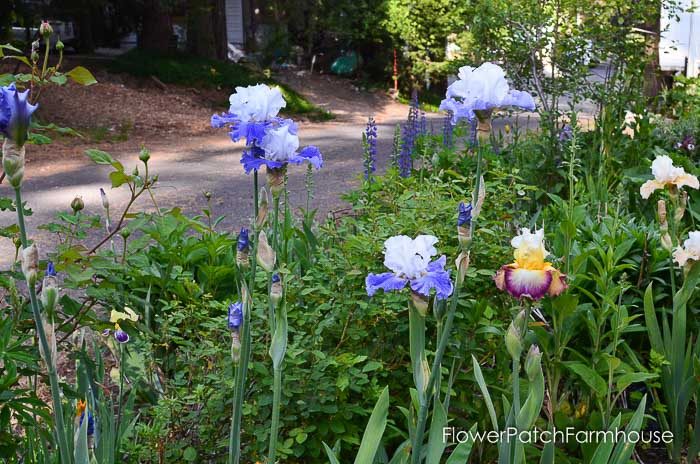 Champagne Elegance, this one is so delicately peach on the falls, I think its name suits it just right. While I love the bright and flamboyant iris I do have a soft spot for the more subdued beauty of these more demure colors.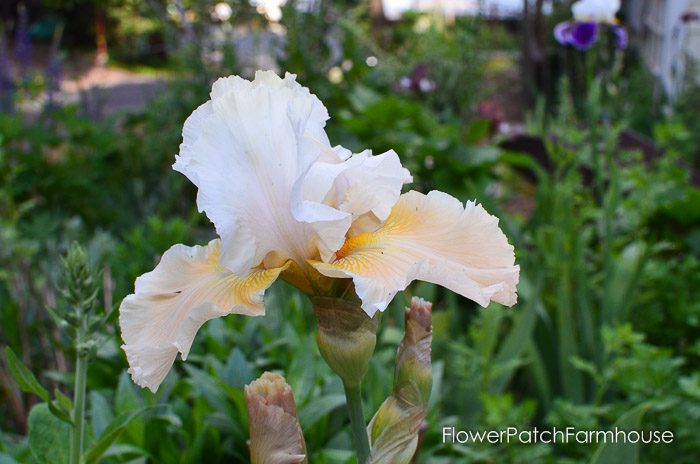 Boysenberry Truffle is such a fun combo of colors. I have this one in 3 different spots, I just love it so.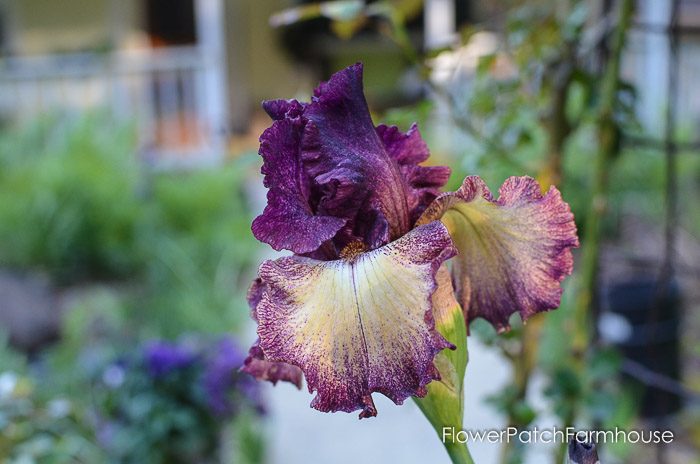 Had enough yet? This is a close up for Starship Enterprise, behind it is some beautiful solid golden yellow Iris.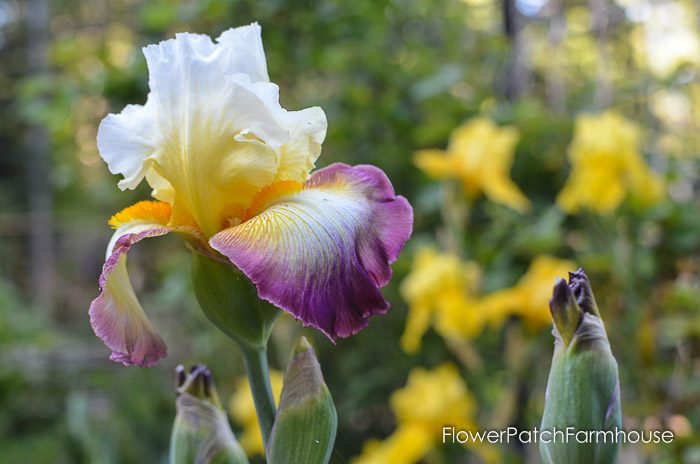 One last one…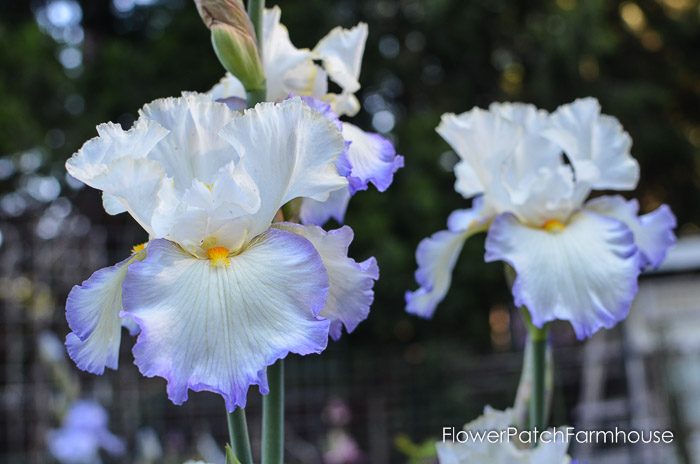 I got a good start on fixing up my back deck sitting area and cleaning up my greenhouse this past week. I will share all soon on how it looks.
This next week I will get all my tomatoes, cucumbers and zucchini into the garden, I am testing out some of the fabric pots as raised beds and I am on the hunt for purple jalapeno plants, I may have to resort to just starting some seeds but I would really love to just find the plants.
Happy Gardening!