Hydrangeas and Pumpkins for Fall
Hydrangeas and Pumpkins pair so well to bring a touch of Fall into your decor without being too orange. I found a tiered pedestal at Hobby Lobby and filled it with organic touches of Fall for my dining room.
Hydrangeas and pumpkins for Fall, what is not to love. There is nothing better than pulling the outdoors in and making your garden seem to last even longer as winter approaches. Understated, simple and natural create a focal point of beauty in an otherwise chaotic house.
Another plus is it is cheap!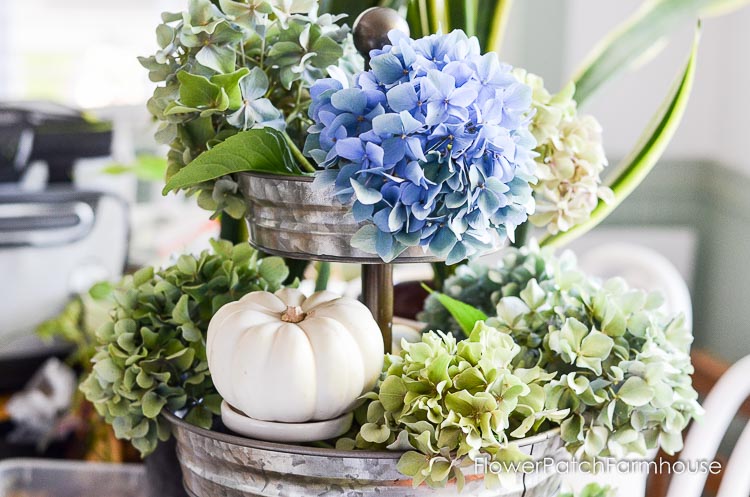 I spent about $6 on pumpkins, the pedestal was purchased to corral some craft paint bottles in the studio and the hydrangeas are from my garden. So needless to say the aforementioned paint bottles are still not stacked neatly. I should go back and buy another one of these galvanized pedestal racks or whatever they are called, it was fairly inexpensive. If I remember correctly it is from Hobby Lobby. They had sent me one of those mailers with so many galvanized goodies at 50% off.
It worked, they sucked me right in and before I knew it this was in my online cart.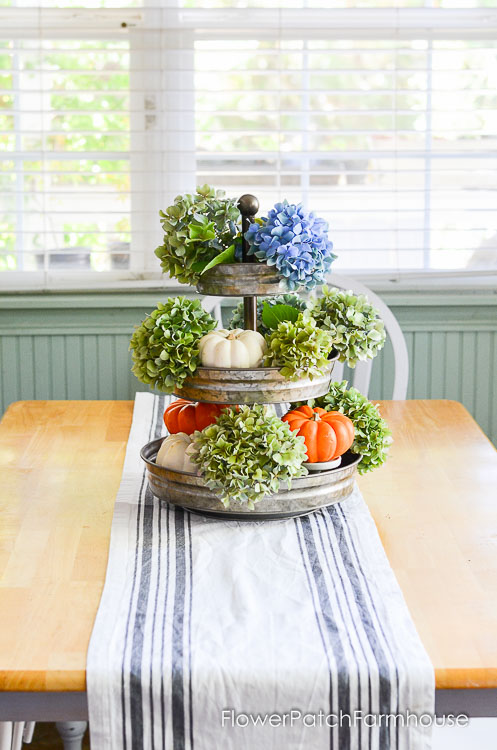 I am so happy I "needed" this it for my paint studio but I am not sure it will ever make it out there.
Don't you love the pop of orange? It makes such a great temperature shift in colors causing the eye to travel instead of landing on one spot. One thing I did forget is the dark green pumpkin that I grew in my garden. It is the mystery pumpkin because, not only did I not plant it, but I have never seen one that stays such dark green.
The table runner is from World Market and is neutral enough to be used with many settings but this one at Target is on my radar. That green is my color! Click here to see
Though it looks like the pedestal leans below it doesn't, it is my photo.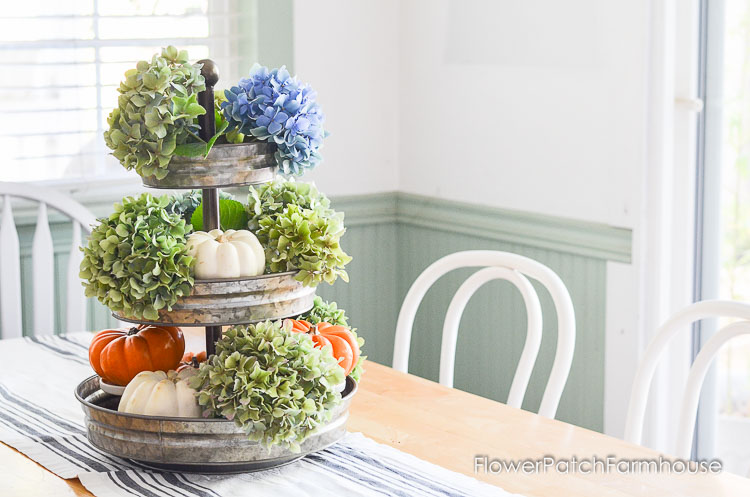 This is the third way I using this pedestal, I recently used it to stack cookies on for a large gathering. I lined it with parchment paper cut to fit and filled it with cookies. The hostess loved it and the cookies were gone in no time.
I love multi purposing things, don't you?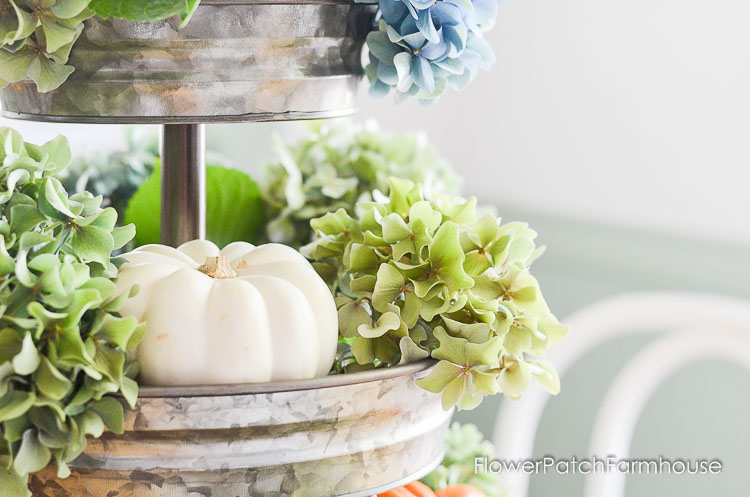 I think it would be fabulous as the centerpiece at a tea party, overflowing with tea sandwiches, scones and other delectable taste treats.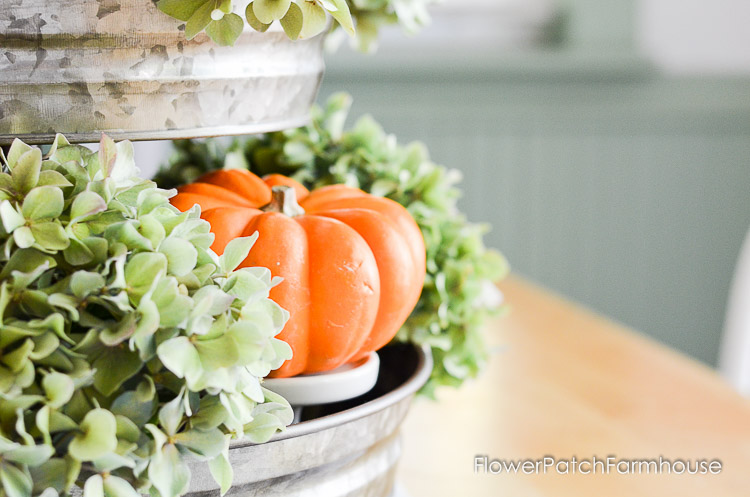 I love, love summer and am trying to gracefully accept the coming of winter. I must confess I do love the beautiful colors Fall brings here in White Pines. The dogwoods now are turning the loveliest shades of burgundy while the oaks and maples are golden. My Japanese Maples are all sort of reds, oranges and golden yellows too.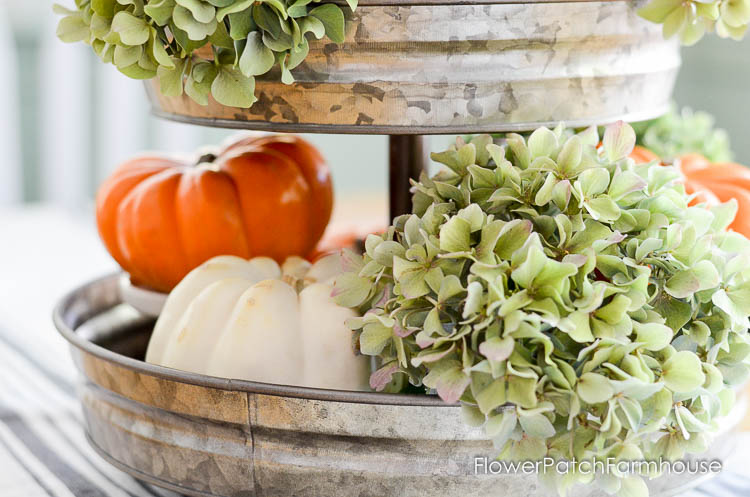 My garden is fading away for the season and I will share a post soon what it looks like. I have photos of what is still hanging on and blooming then I will attach a video to show how the overall picture is true to life. I usually focus my sharing on the beauty alone but it can paint a very different picture of what is real, making other gardeners feel they are lacking somehow.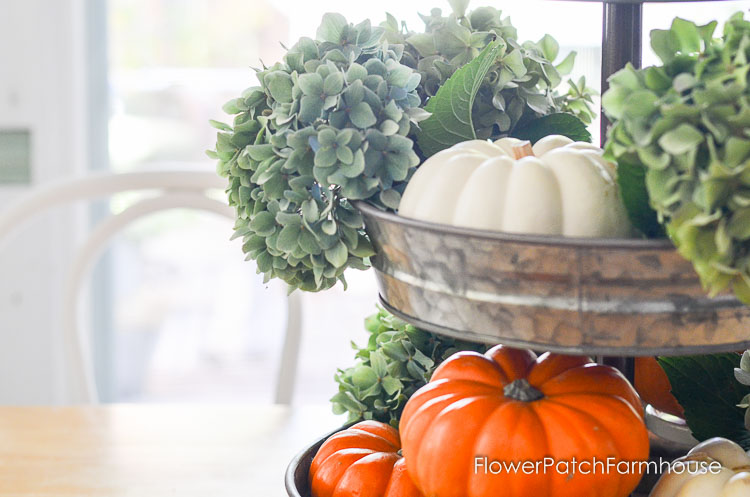 Back to my display…I tried to find tiger pumpkins but have yet to do so. I love tiger pumpkins.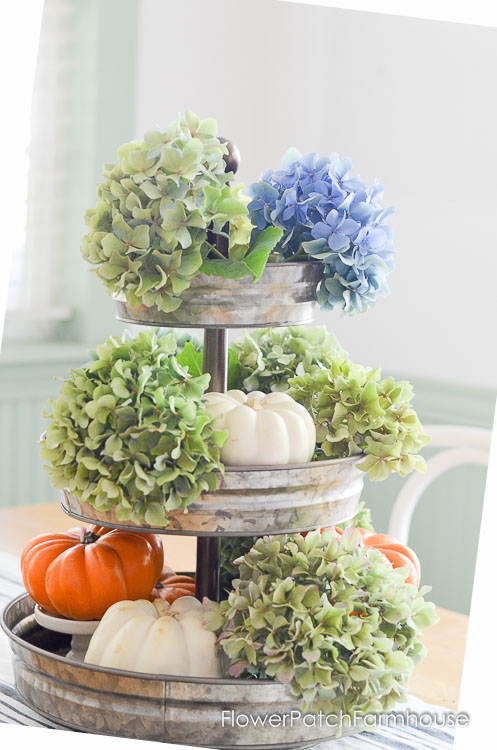 Don't laugh, when I tried to straighten this crooked photo in some software and this (above)was the result. Though it is quirky I actually love the unique edges it gave to it.
There was one blue bloom left on the hydrangea and it gets top billing. Such gorgeous color. I may need to paint it.
Speaking of painting, the dining room table that my little Fall display is sitting on is one of my projects for this winter. I will paint the rather boring top for sure and maybe the legs.
I am not sure what color yet. I have tossed around the idea of building myself a different more rustic table but I just don't have the time. I really do like the legs of this table but the top is marred, dated and just not a great color. I am sure I can make it into something I like and not have to spend much. I have tons of paint!
Taking on renovating our house is going to be fun and to get all the decor help I can get I have been listening to this Podcast Decorating Tips and Tricks I have not really gotten into podcasts until now and I am having so much fun with this one.
How are you bringing Fall into your home?
More you Will Enjoy
Learn to Paint Orange Pumpkins
Fall at the Studio Cottage
DIY Rustic Box Centerpiece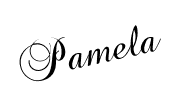 Save for Later