Come see my Back Deck for Fall. This is my favorite spot to sit outside in the early mornings of summer and in the mild late afternoons of Fall.
I totally failed to get a good post out on my back deck this past summer. It was on my long list of things to share and it slipped through the cracks. I am going to make up for that now. You get a summer view then you get to see my back deck for Fall.

First thing I bought was theis comfy chairs set from Wal-Mart. They were on sale and at a great price, the reviews were good too so I went for it and ordered them. They are still available CLICK HERE to see them. I have not been sorry. They are been wonderful.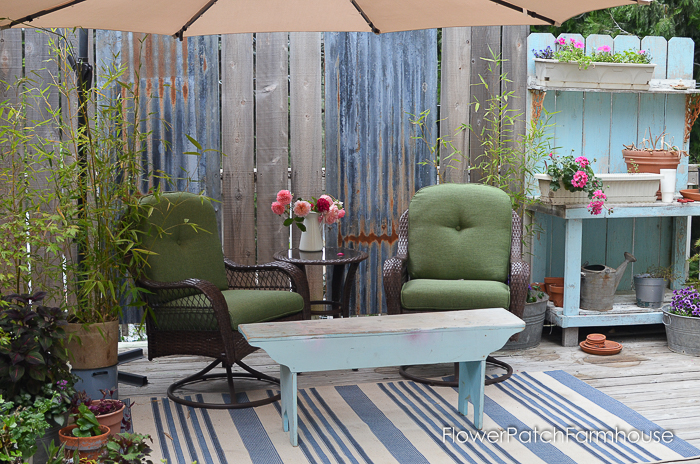 I was placing the bench in front as a coffee table set up but it was temporary, it is visible later in photos, newly painted and behind the chairs. The rug I found on Amazon, it is an indoor/outdoor rug that is easily cleaned with a hose and a good spray nozzle. It is still available now too and at an even better price than when I bought it…CLICK HERE to view it.
I have been more than pleased with both purchases and they dress up this area on our back deck so beautifully.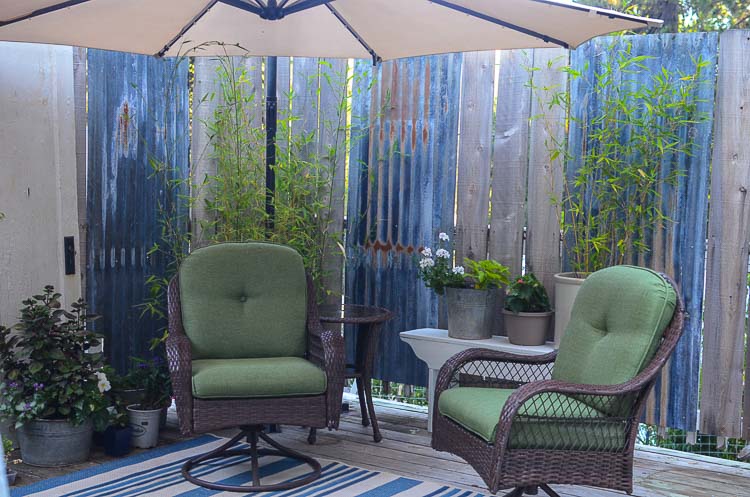 I changed it up a few times until I was happy. This old trunk with a vintage crochet table cloth became my coffee table where I often placed my fresh cut flowers in a blue mason jar. You can see the corner of my bench now painted white and sitting back behind the chairs. It was a wonderful spot to place things to give them added height and the white added a lightness to the back wall that was needed.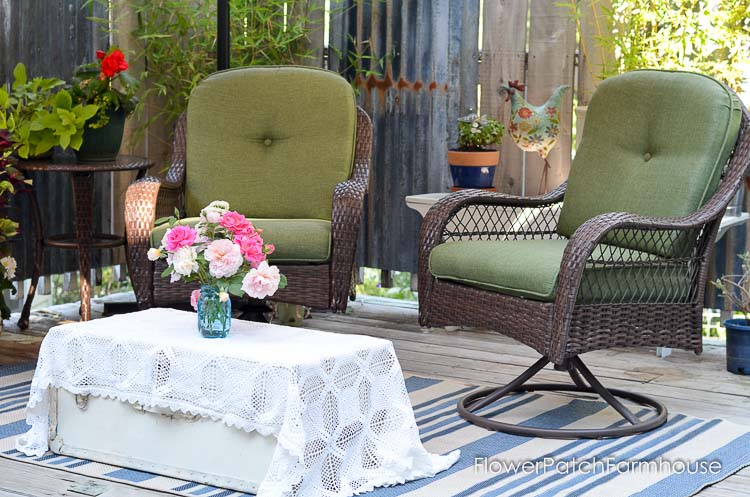 Summer time faded into Fall and now I have switched up some of the plants so I can enjoy the colors that are dominant to these cooler months. Just moving some plants around and adding a couple wee pumpkins and we are transformed for Fall.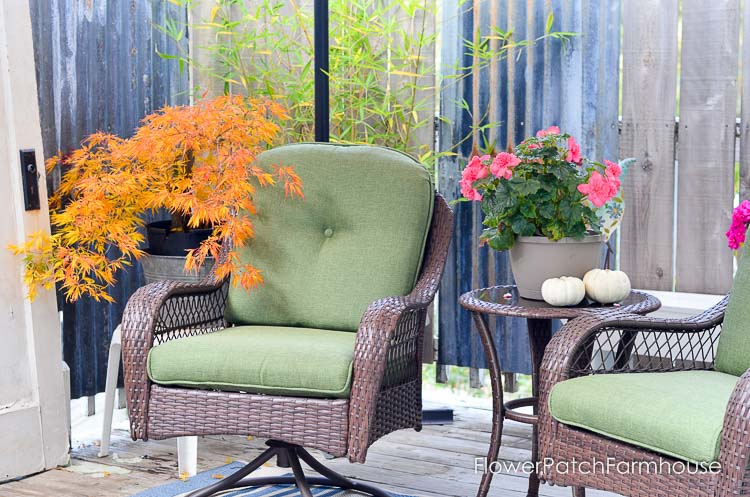 The oranges and reds of my potted Japanese Maples do not clash at all with the pinks left over from summer. They complement each other so well. My pink begonia is still going strong and is at the peak of its bloom. I didn't want to move it from view just because it is Fall. The Baby Boo pumpkins are so sweet and brig their own element of Fall into th.
You can see my Hummingbird feeder there. The hummingbirds are still here and come daily to take a nip or two. I don't have as many feeders out as many of the hummers have migrated but we have a few that overwinter in this area and I keep at least two feeders available for them all winter.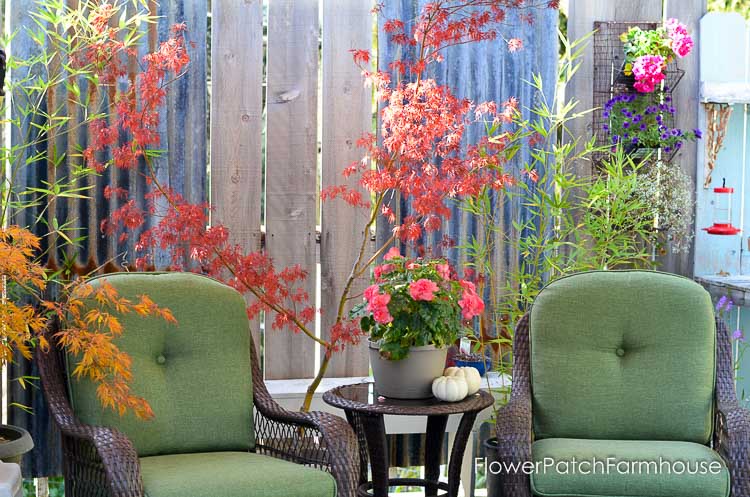 I did not spend a dime to switch from Summer to Fall. The pumpkins were recent purchases but you already saw them in my Hydrangeas and Pumpkins post so they are merely re-purposed, plus they will be used as models for some paintings so the $6 I paid for them all has been earned back in so many ways already.
This hanging basket rack has been one of my favorite finds at Decor Steals. If you are familiar with them then here is a brief explanation. Daily they send out an email with the steal of the day, they seem to specialize in rustic, farmhouse, vintage inspired decor elements. I have found quite a few things to order and I have loved each and every one. I have found similar items elsewhere but they were always at a much higher price. If you don't nab something it can be sold out rather quickly but they try to bring back things that were super popular. I just got a fountain and when I set it up I will share. I have seen this fountain at other garden stores and it was over 50% more than ordering it from Decor Steals.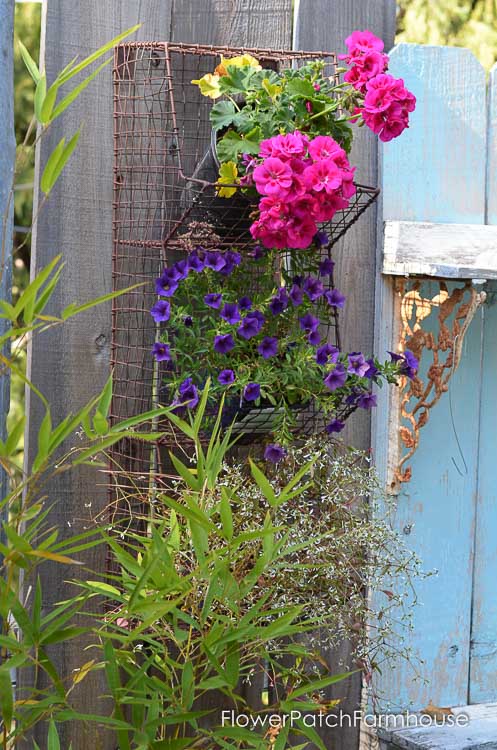 I have stuffed different potted plants in it throughout the summer and change it up at will. I can see it from inside my home and I just love it.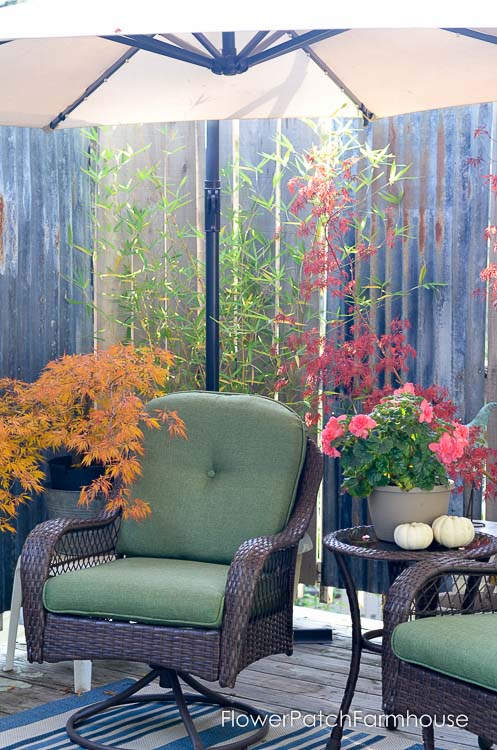 So that wraps up my back deck for Fall.
I still need to share that garden walk with you and the videos. Today I spent a good portion of the day dividing Iris rhizomes (click here to see how I do that) and cleaning up areas in my Secret Garden. (aka back garden) I am getting ready to dig up my Dahlias so I will photograph it along the way and share how I do that.
Happy Fall All!