Decorate A Rustic old Ladder
I have this thing for ladders. I don't know why but every time I see one in a photo I am drawn to it.
There are some really fun and unique ways of using them out there.
I have a few ladders around here that I have used in various ways outside.
Like the tossed together bird bath that the deer think is their very own drinking trough to sip from after they have decimated my Mums.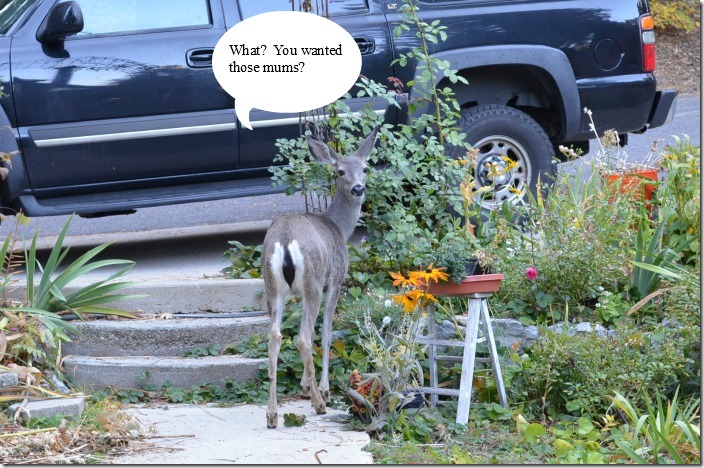 I have used taller ones as an obelisk for my climbing roses…

I love the chippy white paint, that is original to the ladder.
Probably full of lead but since I don't have it inside I am not worried about it.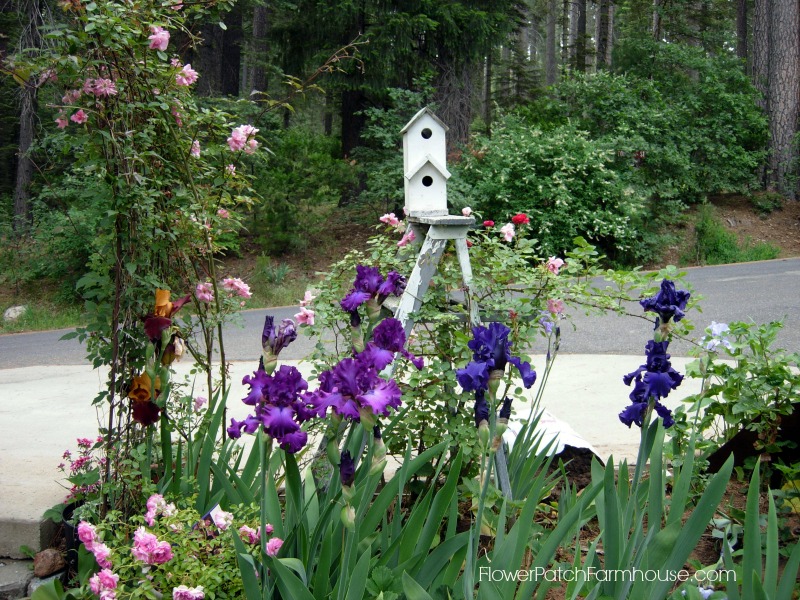 This next ladder I have had for a long time and I have been meaning to use it for something.
Then I spotted my neighbor had one on her back deck and it held whatever is blooming at the moment,
she has been changing it with the seasons and I love looking over at it.
So I decided to do mine up.
I had all these little pumpkins that grew for me and I thought they would look great stacked on the rungs, I did not want too much color to detract from them so I just used the Sweet Potato vines I started from cuttings and popped them into galvanized containers.
I did put a couple Dianthus in the bottom bucket with some boxwood for a wee bit of color.

I have long debated with myself whether or not to paint this ladder but I think I am just going to treat it with Tung Oil to preserve the wood and stick with it in its natural state for now.
What do you think? Should I paint it? Leave it be????
I have decoratively painted ladders before.
Little step ladders are fun all gussied up with roses.

I had tons of fun painting this one.
It sold long ago.
Perfect for the Shabby Chic decor many just love.
(if you would like to learn to paint roses CLICK HERE)

Now back to my current ladder I am decorating with on the back deck.
Here I added my vintage crock with a Coleus in it but the Coleus looks like it is drooping.
Actually that is just a cutting sitting in a glass of water to root.
I need to get it potted and bring it in for the winter.
Soon these Sweet Potato vines need to be brought in for winter too, they will get zapped if the temps drop much more at night.
I Pinned a Ladder that was festooned with lights shaped like snowflakes.
I would love to look out at my deck and night and see that.
Now to find those lights.
I can see this ladder from my living room, it sits next to my Potting Bench.

Here is a shot that includes the Potting Bench my husband and I built.
I still love it and it has held up excellently thru all sorts of weather for the past few years.

I think the ladder would've popped more for you if I had taken photos against a white backdrop but I took it as is, in place, and how we see it daily.
If you want to see more ways to decorate a rustic ladder click on over to my Pinterest Board.
I have collected a few photos of interesting uses of ladders by others.
LADDERS
Until next time…
You may also like
DIY Potting Bench

How to Paint Roses
How to Paint a Pansy