How to grow delphiniums. You can get started with seeds, purchase a plant or take root cuttings but anyway you acquire them delphiniums are worth the effort to grow.
My cottage garden gets a boost in mid Summer from these beautiful tall spires of blooms. I grow delphiniums all around in my gardens. My front garden delphiniums get full sun most of the day while the delphiniums in my side garden get some afternoon shade. I have just planted some delphiniums in my Secret Garden and they won't bloom until next summer. I started those from seed this past Spring. How I grow delphiniums is not complicated at all but I have the privilege of living in a garden zone that is perfect for these lovely cottage flowers.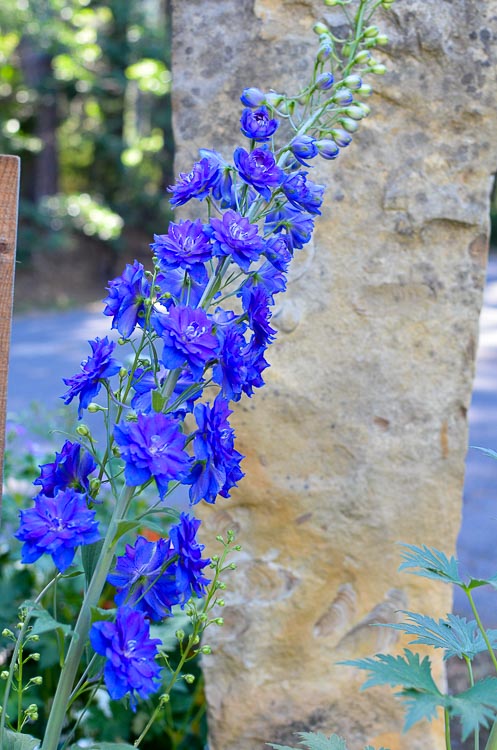 We have cold snowy winters and dry, warm summers. The English or elatum delphiniums need a cold winter to be at their best. The website where I purchase my seeds from have a map showing where delphiniums grow. Where You Can Grow Delphiniums
I started all of mine from seed. We will address starting your delphiniums from seed later on in this post. I have tried two different ways and been successful in both.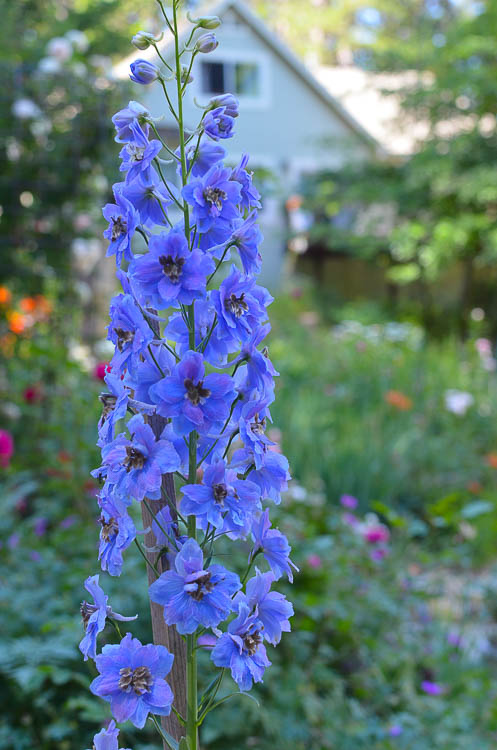 Grow Delphiniums
To be truthful, I don't treat Delphiniums any different than the majority of my cottage flowers. They do like plenty of water so if you don't get summer rains (we don't) then be sure to give them at least an inch a week. Most soaker hoses will tell you how long to leave the water running to accomplish that.
Do protect them from wind or stake them to prevent the stems from snapping, they are top heavy. The ones I have in my side garden have a tomato cage around them, it is hidden by the other flowers growing around the delphiniums so the cage does not actually show. Volunteer seedlings that came up beside the parent plant get tied to the cage to keep them stabilized. Some I have stakes keeping them upright. I like the cage trick better as it is seems to provide the best support.
We don't usually have strong winds, that is the beauty of living surrounded by tall evergreen trees.
Feeding Delphiniums
I feed mine with a liquid organic fertilizer every other week. I have so many things growing close together all competing for the same nutrients from the compost I add each Fall and Winter that I figure they all benefit from additional feeding.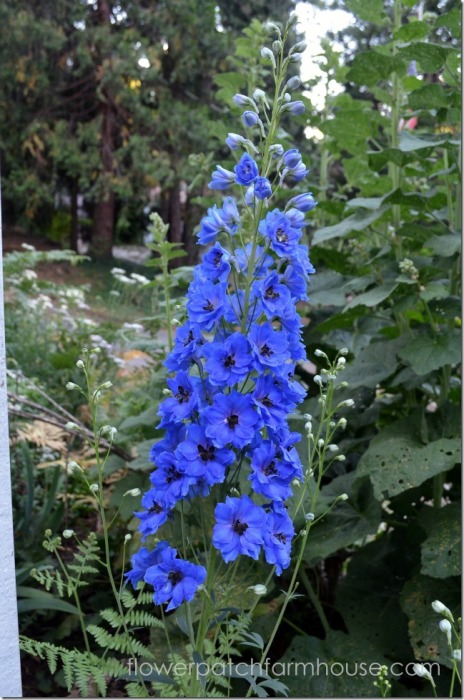 In the Fall I dump tons of composted chicken debris from my hen house and pen on all my plants, including my delphiniums.
Pests & Disease
I don't spray for fungus but we are in a dry climate and aren't usually bothered with those kind of issues during the dry spell in Summer. I do have a great anti-fungal spray that I use in the Spring when fungus can be a problem on my roses called Green Cure which would work great on the delphiniums if I needed it. Slugs can be a problem but I use an organic bait in early Spring when they are especially voracious and that seems to end that problem.
Re-bloom or Seed?
After blooming you can cut off the flower stalk just at the side shoot flowering stem (if there is one).
If you look to the right of the blooms you will seed a side shoot with tiny buds on it. Once the main bloom is done cut down to just above that side shoot.
After the small shoot blooms cut them off, let the stalk die back the rest of the way after. Cut the main stalk off at the base and sometimes you can get a re-bloom.
UNLESS….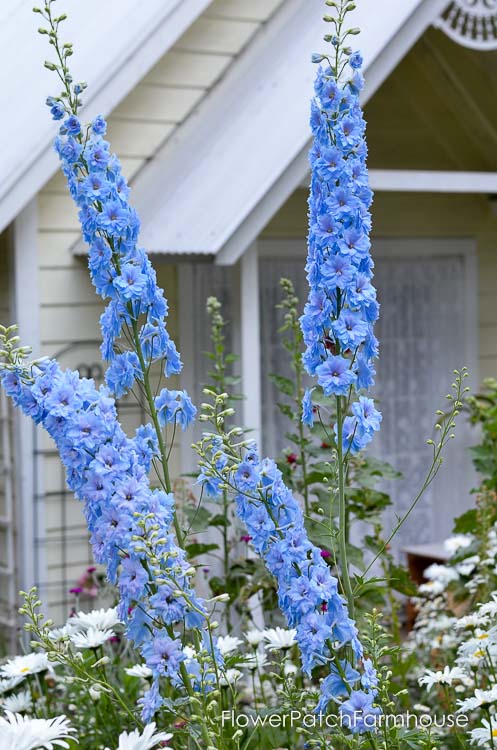 ….you want to let them go to seed.
To let them go to seed do not cut off any blooms, just let them develop seed pods and either collect the seed when it is ready or let them drop to the ground around the parent plant. Plants coming up from seed won't always come true, meaning they can be different colors that the parent plant. To get true clones of the parent you must take cuttings.
To collect, once the seed pod is dry and starting to crack, I hold something under the pod, like a small paper bag or envelop as I cut it off and let the pod and seeds fall into it. Set them aside in the paper container to completely dry. I then separate the seed out from most of the chaff and store in a small baggie in the refrigerator until I am ready to germinate them.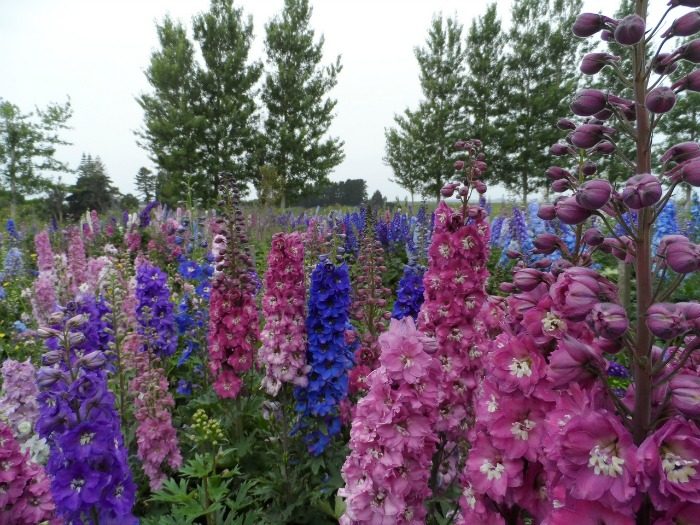 Starting from Seed
Click on over to my entire post on How to Start Delphiniums from Seed
Another post on starting from seeds in coming up soon. Stay tuned.
Starting from Cuttings
I haven't tried this yet but I am going to remember next Spring! It is very similar to my taking Dahlia cuttings.
How to Take Basal Cuttings of Delphiniums
If you live in the right zone give growing delphiniums a try. They are worth it!
More You Will Enjoy
Dahlias from Cuttings
Starting Delphiniums from Seeds
Plant your Cottage Garden for All Summer Blooms
I wish you all Happy Gardening!