Simple Homemade Granola, a wonderful recipe to eat with milk, yogurt or cottage cheese.
I love my simple homemade granola for breakfast in summer. I top cottage cheese or yogurt with it and enjoy a light easy meal.
Please PIN and share!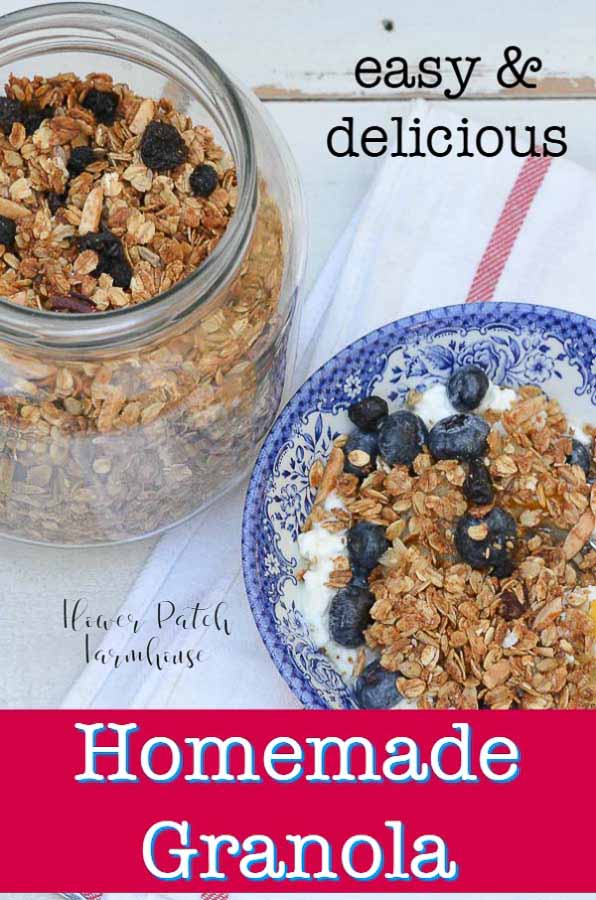 What I love about making homemade granola is you can mix it up with the ingredients and get a whole new flavor.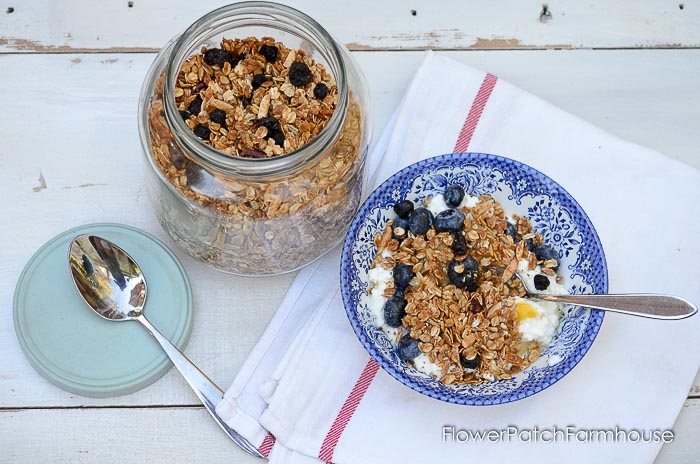 With homemade granola you can swap out the dried cherries for dried blueberries, cranberries or tried and true raisins.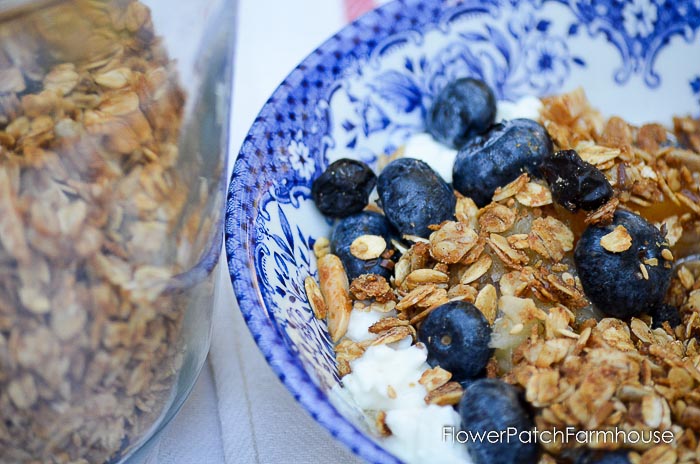 I used slivered almonds as the nuts in this version but you can use pecans, macadamia nuts, pistachios…you name it. Or you can make it nut free!
Okay enough chatter here is the recipe….
Simple Homemade Granola
Basic granola recipe that can be modified in many different ways. Have fun adding your own unique flavors to this tried and true recipe.

Prep Time 10 minutes

Cook Time 40 minutes

Total Time 50 minutes
Ingredients
4 Cups rolled oats (I like thick cut)
1 1/2 cups slivered almonds (I toast mine)
1/2 cup light brown sugar
1/2 teaspoon salt
1/2 teaspoon cinnamon
1/4 cup flax seed meal
2 Tablespoons sesame seed toasted
1/4 cup coconut oil
1/4 cup honey
1 teaspoon vanilla
1 1/2 cup dried cherries (I like the ones from Costco, they actually taste like cherries)
Instructions
Preheat oven to 300 degree F. In a bowl mix the oats, almonds, brown sugar, salt, flax seed meal, toasted sesame seeds and cinnamon.
In a saucepan warm the oil and honey. Whisk in vanilla.
Carefully pour the liquid over the oat mixture. Stir gently with a wooden spoon, finish mixing by hand.
Spread granola on a 15 x 10 inch baking pan (I use a large cookie sheet that has a lip)
Bake 40 minutes, stirring carefully every 10 minutes.
Transfer granola filled pan to a rack to cool completely. Stir in cherries.
Seal granola in an airtight container, (I use a gallon size ziploc freezer bag)
Store at room temp. for 1 week or in the freezer for 3 months.

I use this also as a base for some really great homemade granola bars. I will be sure to share that recipe with you soon too. They make a great on the go snack bar.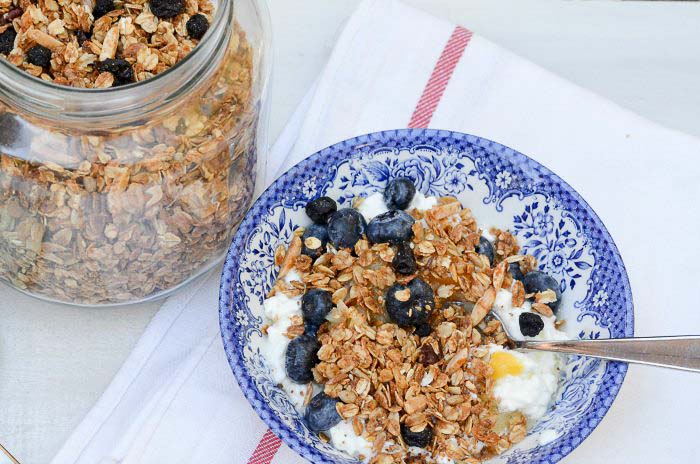 Bon Appetit
Do you have a special ingredient you enjoy in your granola? I am always looking for ways to mix it up, please share with me in the comments below and I may give it a try.
Please PIN and share!