There are just some days when I need a flower fix. I cruise through my summer photo collection and just enjoy. Want to come along and enjoy a flowery kind of day?
Roses are a particular favorite and the ones I find easy to grow and get to flourish are heirloom roses and David Austin English Roses. They keep my garden full of scented beauty all summer long.
Jubilee Celebration David Austin Rose
This time of year I am carefully plotting and planning for Spring and all the wonder it brings. It gets me through the cold and dreary days of winter.
Graham Thomas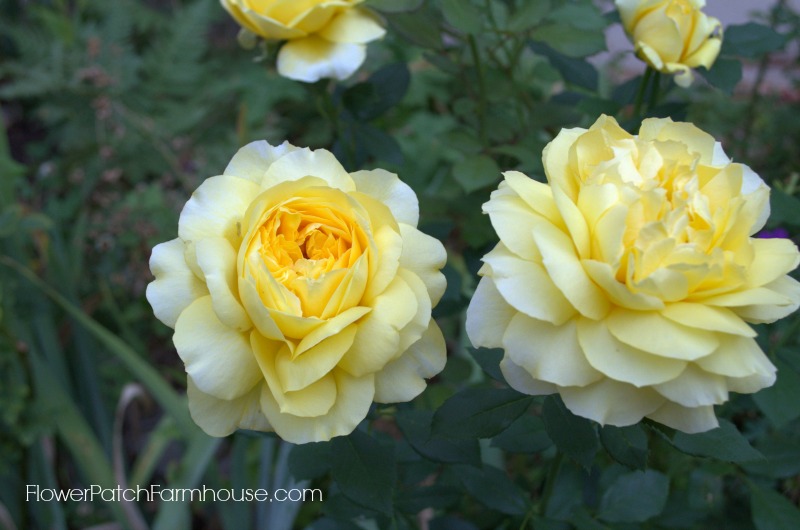 I once read a garden post on planting a Cottage Garden and the man said he would never grow roses as they are too much work. Say what?
easy flowers
Growing Fabulous Roses for Beginners
Some would have you believe that growing roses is difficult. I share how easy it truly is even for beginner gardeners!
He must've been growing the wrong kind of roses! I find them easier than most any plant I have grown. They put on a show every year with little or no help from me.
Anne Boelyn David Austin Rose
I keep the worms fed and they in turn keep my soil healthy. I use no pesticides and garden organically.
What is so hard about that?
Unknown old rose from my grandparents house.
The ladybugs take care of the aphids that make an appearance once a year. This hungry gal is eating her fill and cleaning up those aphids. She invited her ladybird friends and they had these sap sucking aphids wiped out in no time.
I swear I can hear them crunching on the varmints when I get close by.
I find it satisfying that gardening without pesticides and other chemicals makes my garden a haven for the birds and the bees who come to call.
This rose below is called Kirsten Poulson, it is a vintage single rose that is so easy to grow and it thrives in the worst conditions. It blooms its little heart out and is easy to start from cuttings.
There is something so satisfying from cutting a cane, stem or vine and it becoming another thriving plant.
This year I tried another way to propagate roses called Air Layering and it worked wonderfully! I know I will be using this method again next Summer. Click here to see how easy it is.
Having roses to greet you at every turn in the garden is a delight to the senses and to my mind an absolute necessity for a great Cottage Garden. Don't let anyone tell you that roses are too hard to grow or too fussy. Just find the right roses for your growing conditions and enjoy all they have to offer.
You won't be sorry.
I truly hope you enjoyed a bit of flowery garden goodness on this cold November day.
Have a great weekend!