Several easy ways to overwinter your geraniums aka pelargoniums successfully. Overwintering your geraniums is a great way to save money.
Want to overwinter your geraniums (aka: pelargoniums)? Today I am sharing some easy ways to keep your zonal geraniums alive over winter.
Though if you like to grow them as annuals and don't mind replacing them year after year then go right ahead. No judgement here.
Plus you can grow them easily from seed and have tons of geraniums without going to the work of trying to keep last years plants.
Related: Easy start seeds for masses of flowers on a budget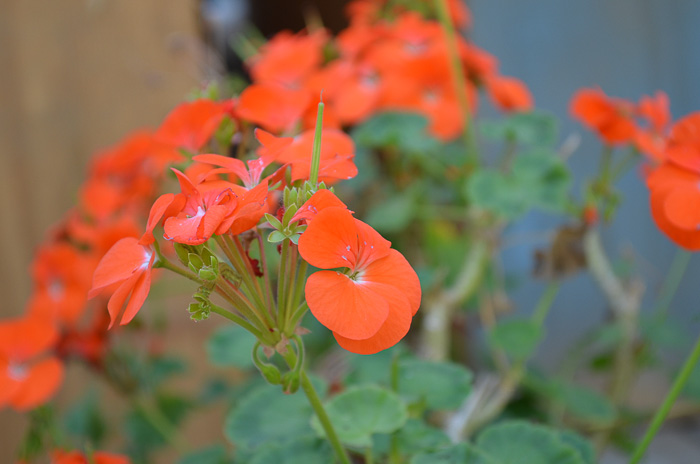 Disclosure: This post may contain affiliate links, meaning I get a commission if you decide to make a purchase through my links, at no cost to you. Please read my disclosure for more info.
Cool dormant storage in containers
Take and root cuttings
Bring in as Houseplants
Bare root dormant storage
How to Overwinter Geraniums Grown in the Garden
Unless you live in Zone 10 or 11 your geraniums will not make it through the winter planted out in your garden.
Before your first frost or freeze cut the geraniums back by half before digging them up. Be sure and only keep healthy plants.
Some recommend doing this 6 weeks prior to the first freeze but don't sweat it if you don't have 6 weeks. I live in the mountains and we don't get a heads up on our first freeze. It can happen in September or not until November and we never know more than a week ahead of time.
Give the plants a thorough washing with a garden hose outfitted with a spray nozzle like this one linked here. This will help remove pests.
Let dry thoroughly. Then give them a nice spritz of this 3 in 1 spray to combat bugs, fungus and mildew.
If keeping indoors, rinse the soil from the roots (critters can be hiding in the soil), trim up roots if needed and pot the geranium up into a container using a fresh potting mix. (remember most potting mixes can have fungus gnats)
Related: How to Get Rid of Fungus Gnats
Then you can bring them into the house as a house plant, treat them the same as the container grown geraniums. (instructions below) or use the bare root dormant storage method listed below.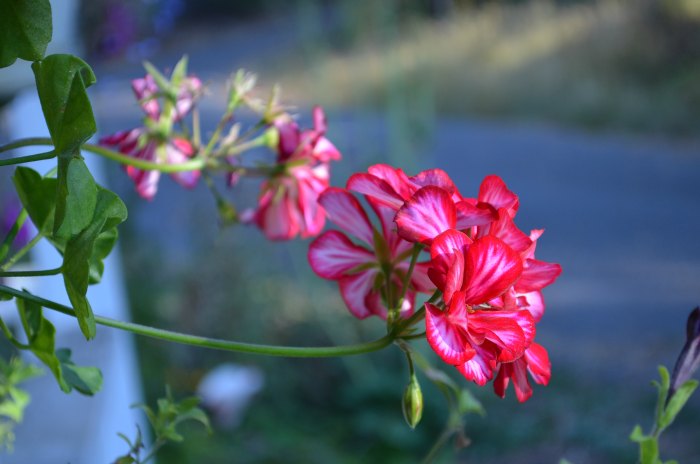 Dormant Storage Potted Geraniums
I grow my geraniums in pots and containers all summer and this method is one I share in the video.
Before the first frost cut the geranium plant back to a nub just above the soil line. It won't hurt the plant.
You can also leave part of the plant as you do in the preceding method. The 3 in 1 spray will help prevent problems but I have better success in cutting the plant all the way off.
Place in a cool but above freezing space until Spring, like an unheated garage or basement. Around 45 degrees is optimal but they can survive lower as long as the temps are above freezing. Check periodically to see if it needs water and cut off any spindly growth. My basement and air is dry so giving them a spritz of water once a month seems to be enough.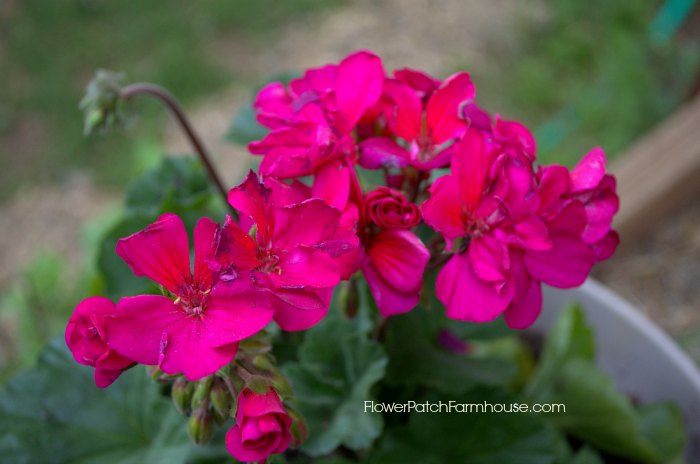 Bring Geraniums into the house
I have seen people grow their geraniums in their homes during the winter and I even had one blooming in the studio cottage one winter.
To overwinter in the house clean the geranium plant with the spray hose and give it a good spray with the 3 in 1 protective spray.
Because many insects can be hiding in the soil it is a good idea to remove the geranium from the soil. Completely clean all soil from the roots, trim the roots back if overly long and pot up in fresh potting soil.
Since most potting soils can be infested with fungus gnats you should also treat the soil with the mosquito bits. Place it in a bright space like an eastern or southern facing window.
Is your plant to big to bring into the house? Then do this…
Take cuttings to overwinter geraniums
If you want to use this method then do start at least 6 to 8 weeks before it gets very cold. The warmth and length of day can have an effect on how well your cuttings root, unless you do this inside under grow lights.
Geraniums root very easily from cuttings. I have an entire post dedicated to it here, How to Root Geraniums from Cuttings.
You can put a few cuttings into a smaller pot that fits on your windowsill or keep them on a rack with grow lights.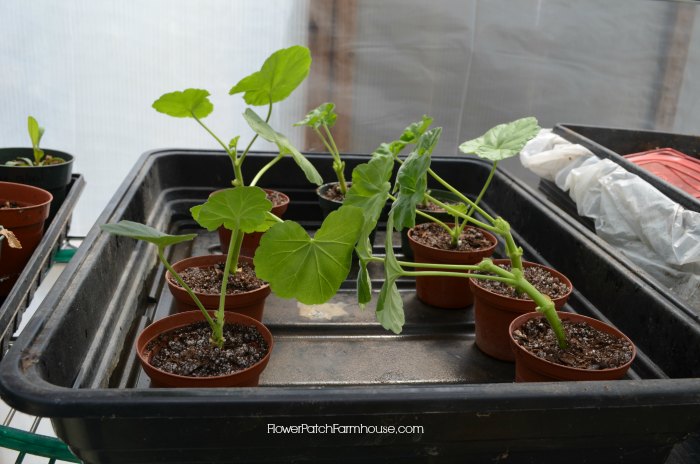 Once you have roots you can pot them in 4 inch pots which can fit on most windowsills.
When Spring arrives you might find the cuttings so successful that you will have plenty to give away as gifts. \
Pot them up into larger containers or plant them out in your garden.
Dormant Storage of Geraniums in Winter
This is a method several have used but I have not yet.
Take the geraniums out of the soil whether in the ground or in containers.
Remove most of the soil from the roots. Place the plant in an open paper bag or place them in a cardboard box. One gal I know loosely wraps them in newspaper.
Keep them in a room or area that stays about 40 to 50 degrees. Check them during the winter months.
Some say to spritz the roots with water once a month and another person claims you need to soak them for a good hour or two.
I am sure the method may depend upon how humid the environment where they are stored is.
And that is the easy ways you can overwinter your geraniums.
Did you enjoy this post? Then please PIN and share.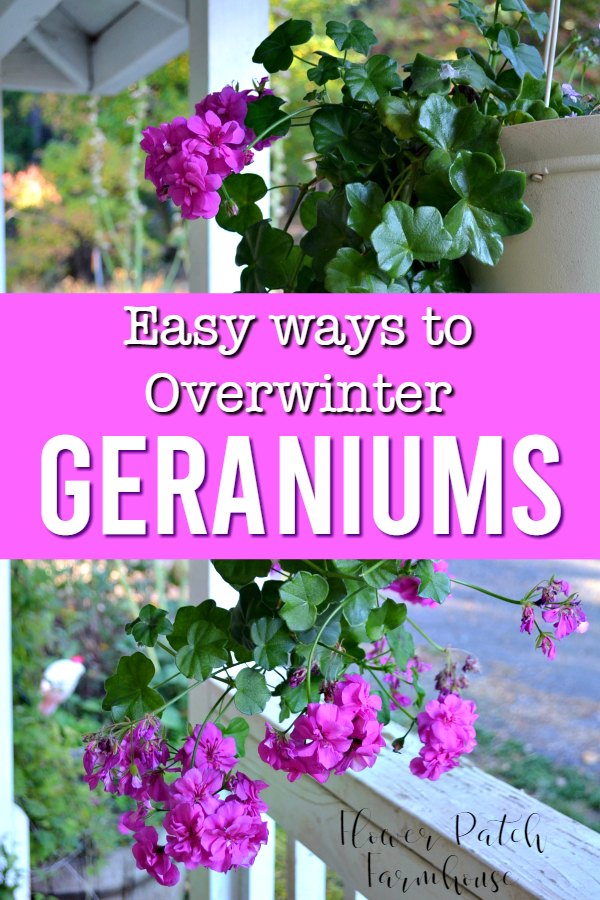 Happy Gardening in winter!