Prune your Christmas Cactus. Pruning is easy and keeps them healthy, bushy, and in check. Got a Christmas Cactus that is outgrowing its space? Prune it!
Step by step how to prune Christmas Cactus. This information also applies to your Thanksgiving Cactus, if you want to know the difference go to this post, Christmas Cactus or Thanksgiving Cactus, how can you tell? Many also call them Zygo Cactus.
Confused yet?
In this post I will use the term Christmas cactus but I will be displaying on a Thanksgiving Cactus. Most plants in stores and garden centers are Thanksgiving Cactus but sold as Christmas Cactus, so we will just fly with that.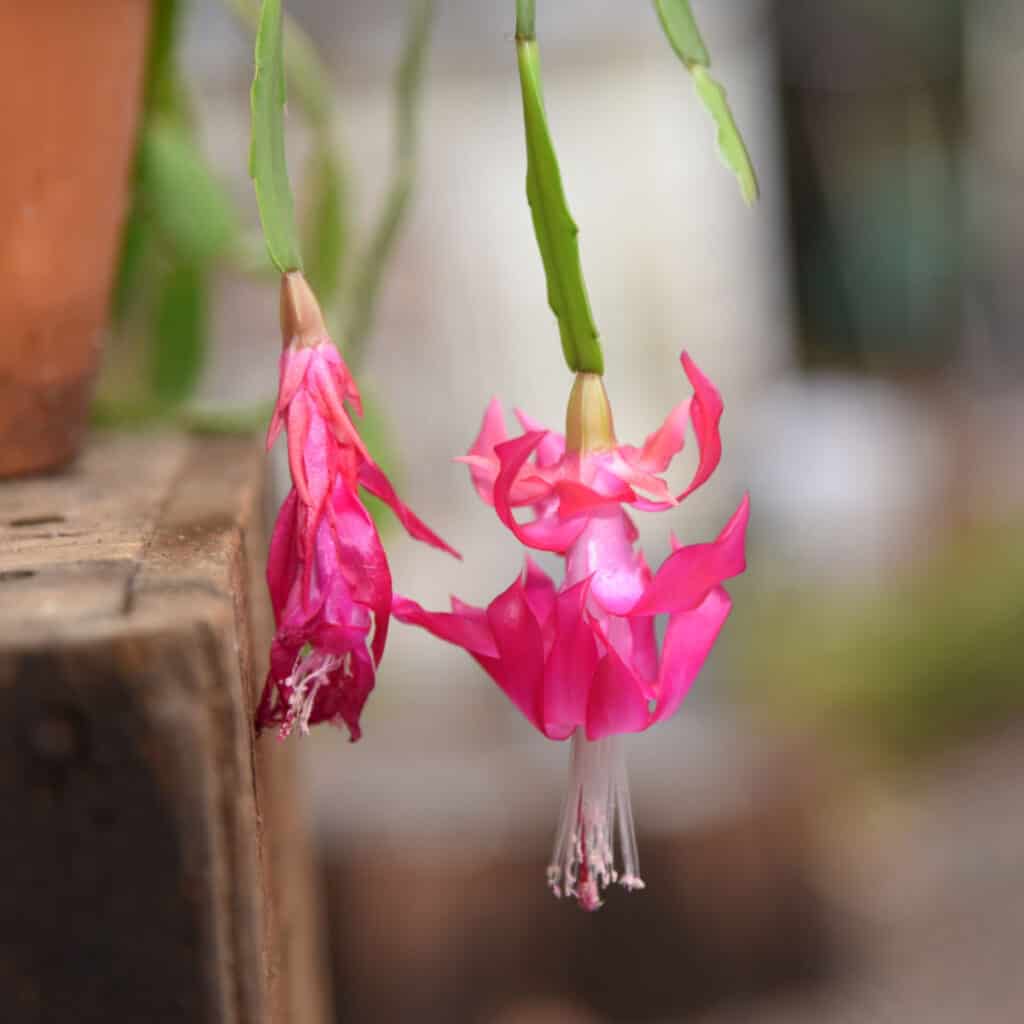 What you will learn
Why you may want to Prune your zygo cactus
Best time to prune
How to prune
What you can do with the pieces you pruned off
Links to best Christmas care tips and tricks
Video of step by step process to prune
Be sure to watch the video showing me pruning one of my plants and what I do with the pieces I prune off. It is at the end of this post and can be so helpful.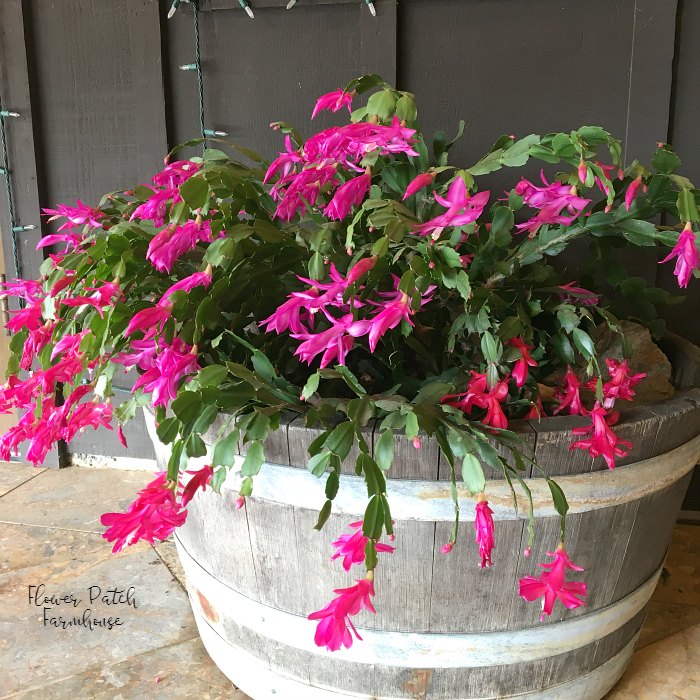 Why Prune Christmas Cactus?
You may want to reduce the size of your plant if it is becoming to large. Or one side is growing faster than the other and you want it more symmetrical.
If you are pruning to reduce the plants size then you can prune back by a third each year. This will also create a bushier plant with more places for blooms to develop.
This cactus below is my example. I have most of my cactus in smaller sized pots that fit on my window sills, making it easy to keep many colors. I have 5 different colors at present.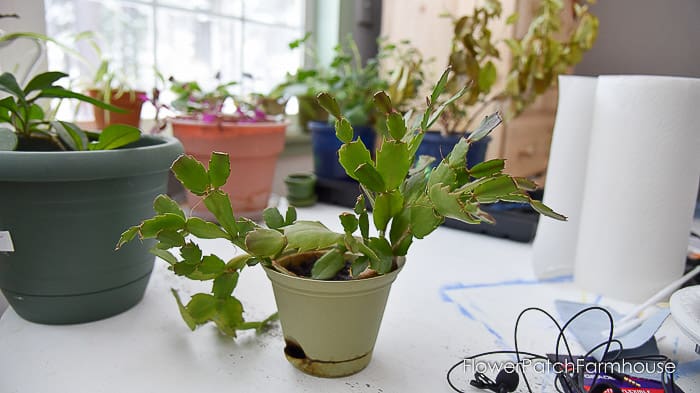 It is getting a bit tall for this pot. Mostly because the pot is plastic thus a lighter weight and the plant is becoming top heavy. This makes the plant want to tip over.
(I now try to only pot up my Christmas/Thanksgiving cactus in Terra Cotta Pots for a few reasons, click here for why I love Terra Cotta pots)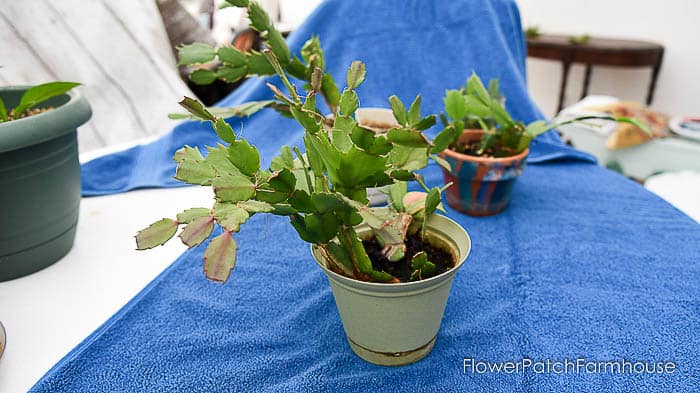 When to Prune Christmas Cactus
So as not to lose blooms the best time to prune your Christmas cactus is right after it is done blooming. This varies by plant. Most all of mine have stopped blooming but one. It has tiny buds on it again, this is the first week of March and it has been blooming since November. The buds are so tiny that if I have not looked close I would've missed them.
You can prune on up through late Spring and not lose next years flowers.
How to Prune
Grasp the segment you wish to prune down and use your thumbnail to separate it at the juncture. Some say to just twist the segment but mine are pretty hearty and tough and need my thumbnail to create a clean snap.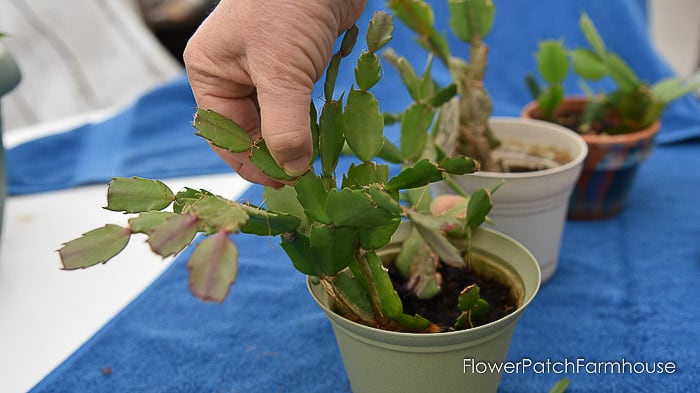 What Next?
Now that you have all these pieces trimmed off your Christmas Cactus what to do with them. You can chuck them into your compost pile or you can Root them for more plants.
Here is an entire post on how I root my Christmas Cactus cuttings.
Some do this directly in soil but I have found the method I use is easier and more successful. I have read that you need at least 4 leaves on the segment you wish to root but I have found that not absolutely correct. I have rooted ones that only have 2 leaf segments.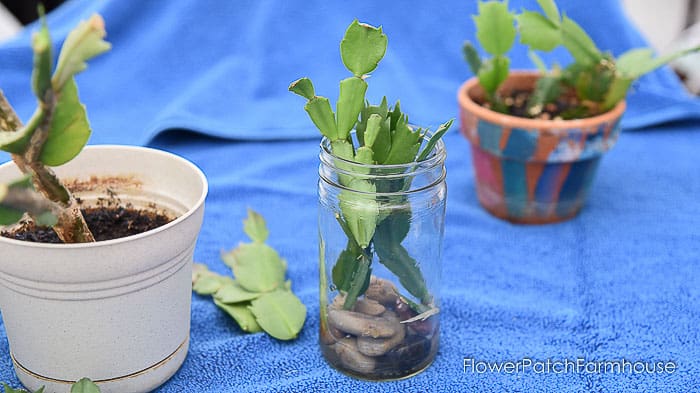 For an entire post on caring for your Cactus for a healthy plant and tons of blooms you can read that here.
Enjoy the video!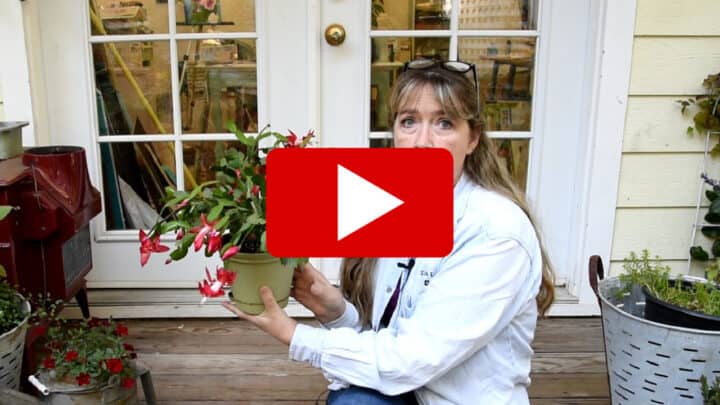 Happy Gardening!