easy How to Root Christmas Cactus Cuttings
Do you have a Christmas Cactus you want to propagate from cuttings?  I have a quick and easy method to root Christmas Cactus cuttings (also Thanksgiving Cactus) successfully every time!
It is so easy to root Christmas Cactus plant cuttings along with all the other Holiday Cactus, you won't believe it! I have had pieces fall off my plant with buds on them that still root and bloom.
Just so you know, I have an entire article written on how to tell the difference between a Christmas Cactus plant and a Thanksgiving Cactus CLICK HERE.
Today we talk about
how to choose a plant to take cuttings from or use your prunings
How to take cuttings
Best container to root the cuttings
Prime location for container of Christmas Cactus cuttings
How to plant Christmas Cactus cuttings when Rooted
Because most people call all the holiday cactus family Christmas cactus I shall defer to that name.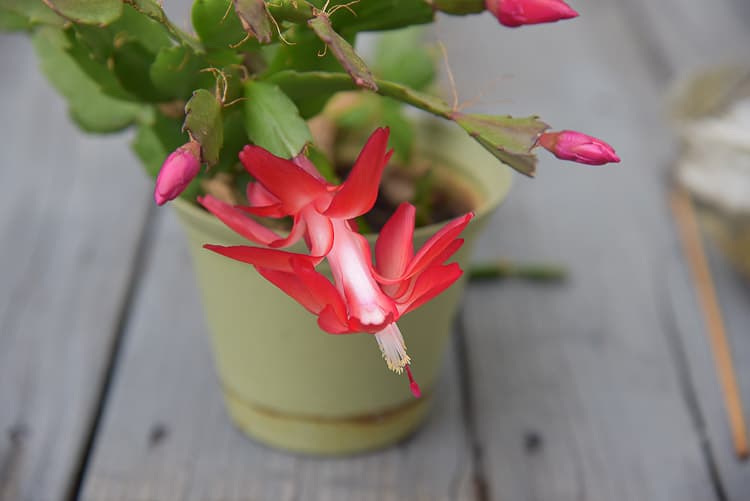 Choose the Christmas cactus plant for Cuttings
I have this gorgeous Salmon colored Thanksgiving Cactus and I want to really fill a nice pot with it.
It is still on the smallish side and I can get it to fill a pot much more quickly by taking a piece from it, rooting it, and then adding it to the pot with the parent plant.
Plus pruning the Christmas Cactus like this will encourage it to send out more shoots.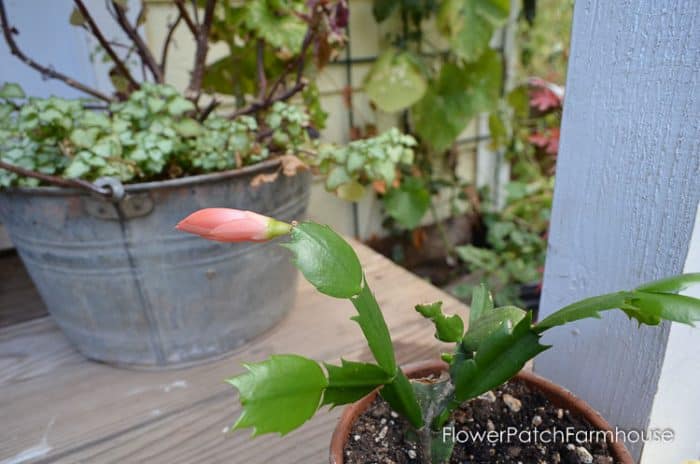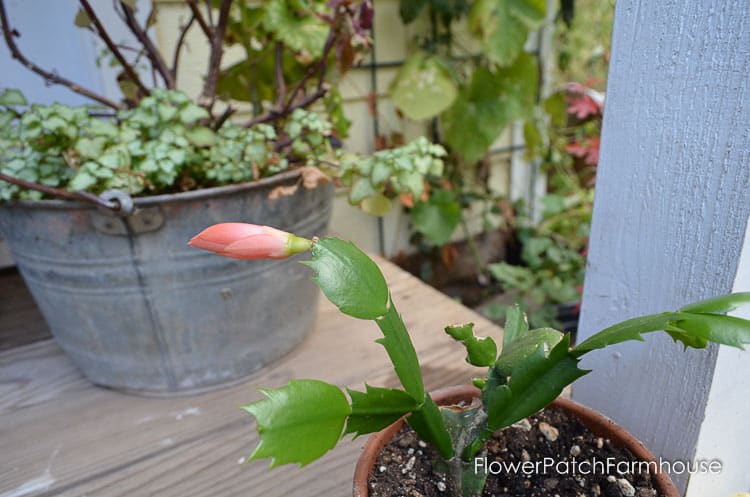 Disclosure: This post may contain affiliate links, meaning I get a commission if you decide to purchase through my links, at no cost to you. Please read my disclosure for more info.
Once it fully opens up I will get another photo of it to share and update this post with it. Here is the updated photo: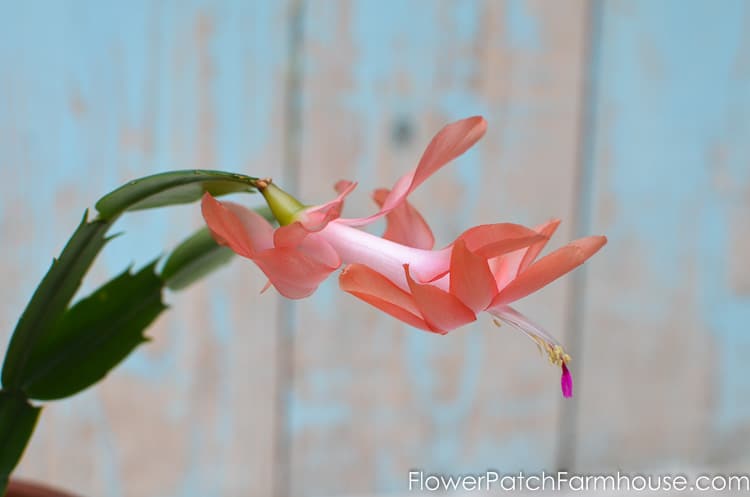 On your Christmas or Thanksgiving cactus locate a juncture where you want to take a healthy piece about 3 to 4 inches long, with 3 or 4 leaves (sections).
This one is kind of jutting out to the side awkwardly so it will make a nice cutting.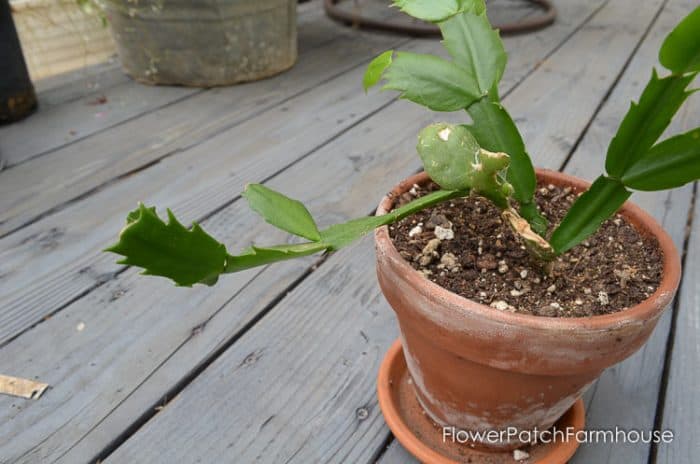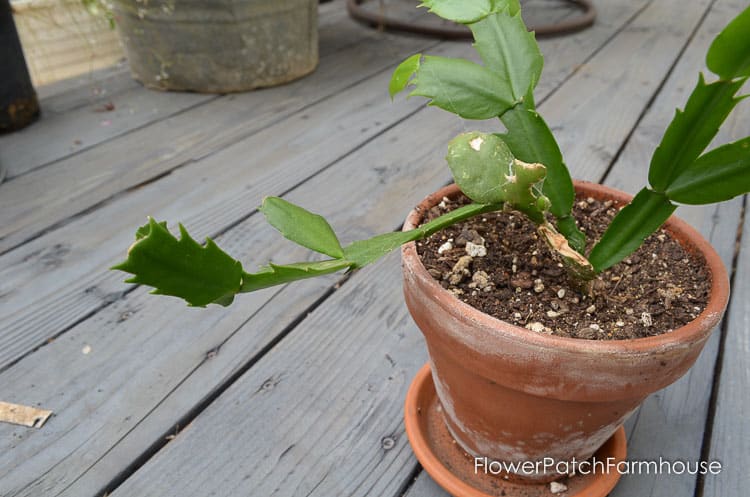 How to take the Christmas plant cuttings
Sometimes gently bending it and twisting at the juncture is enough to snap it off and sometimes I have to use my thumbnail to cut it.
The video gives you a really good idea of how I do it best. I also explain why taking the cuttings at a Y is best but not imperative.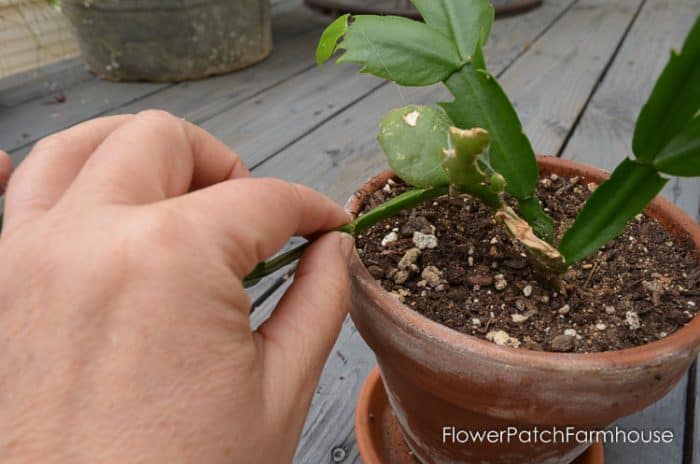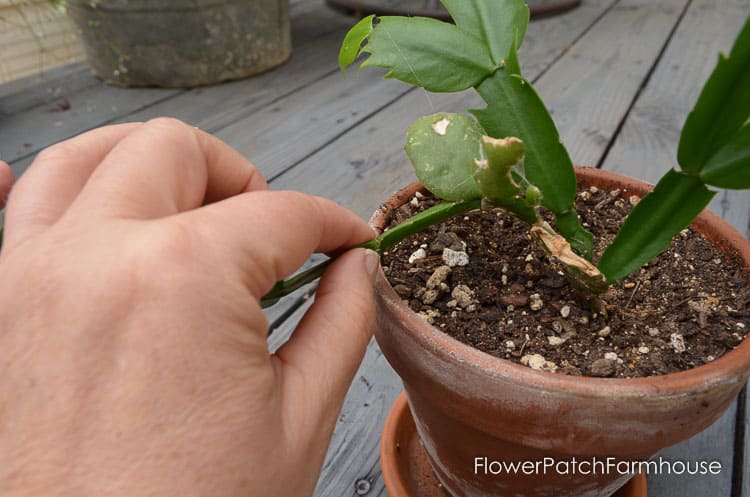 Many let the end heal over by setting it aside for a few days but I don't bother but if it makes you feel better then go ahead and do that.
Now, most will tell you to put them in a potting soil mix to root but that just has not worked for me.
Propagate Christmas Cactus Cuttings in Water
I put a few stones in a glass jar, this is a recycled salad dressing jar I was practicing my glass painting on, the stones are about 2 inches deep.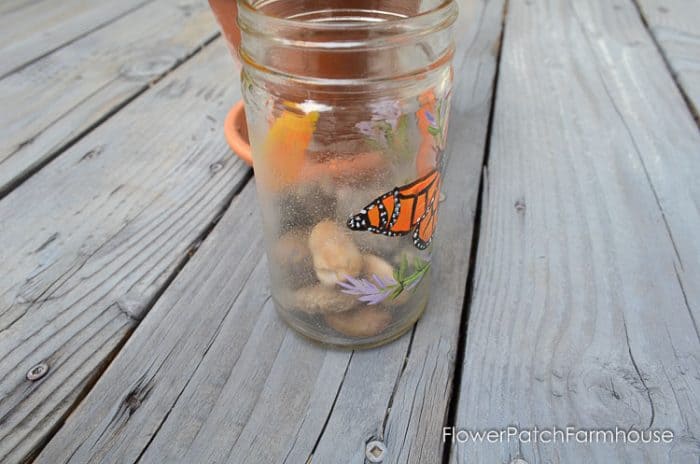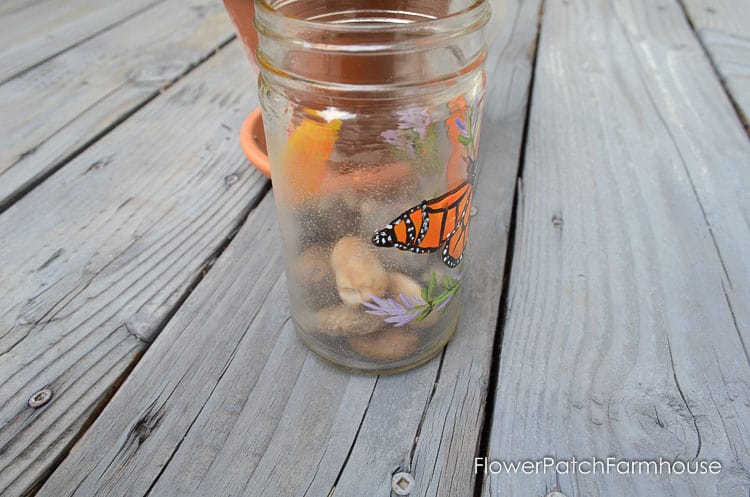 Before I put any water or my cutting in the jar I write what color of cactus it is on one of the sections, I have several and I usually decide to root more than one at a time.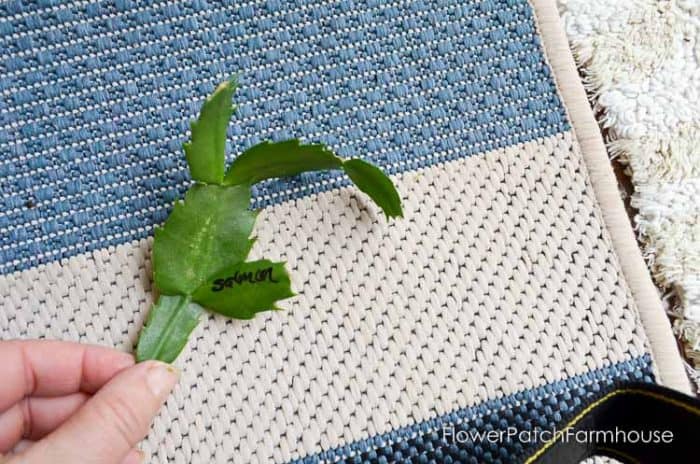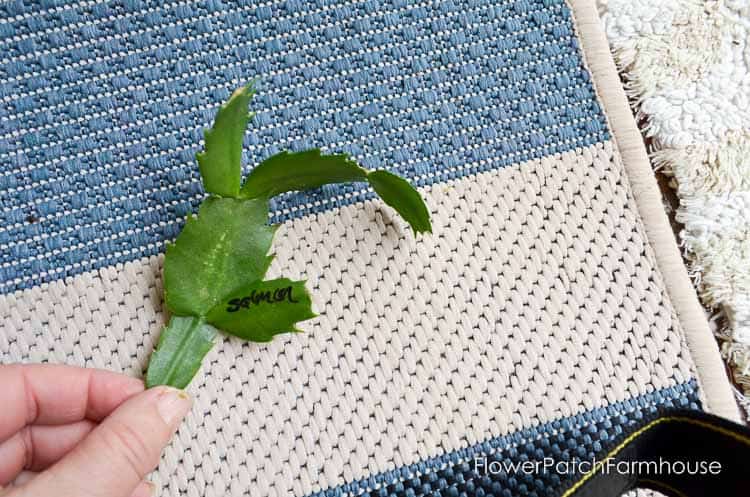 Place the Christmas cactus cuttings in the water.
You want the water to barely come to the top of the stones. The cutting is only slightly touching the water, it is resting on the top stones.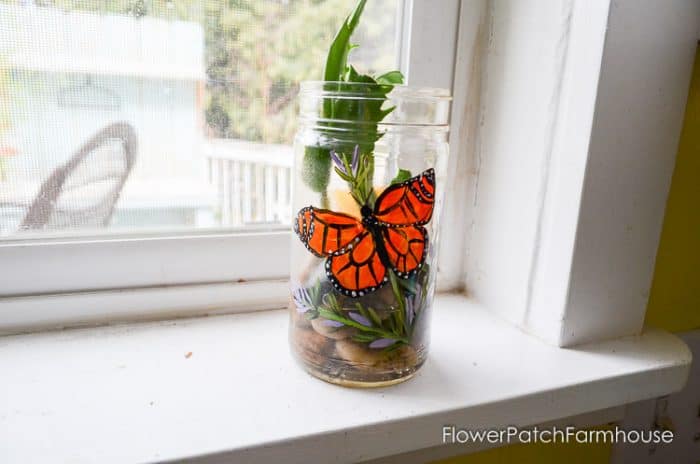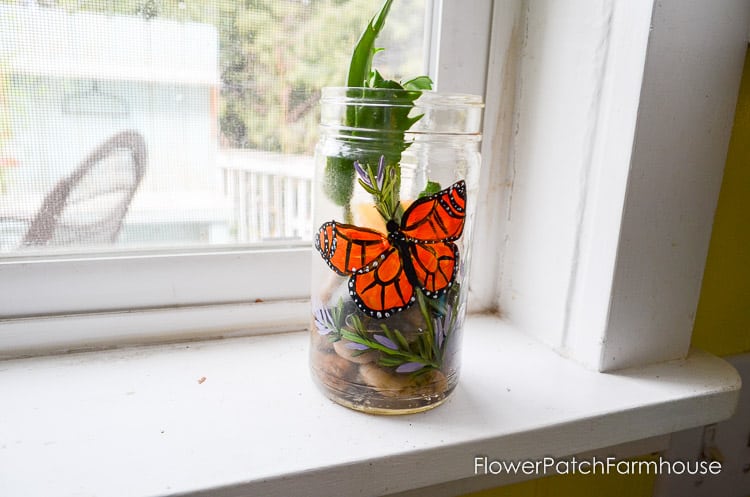 Location of Christmas cuttings container
Keep the jar in a spot where you can keep track of the water evaporating. I typically keep it in my kitchen windowsill and I put more water in as needed.
The humidity alone in the jar will let it root without worrying about it rotting. Below is a wonderful example of a cutting that has rooted.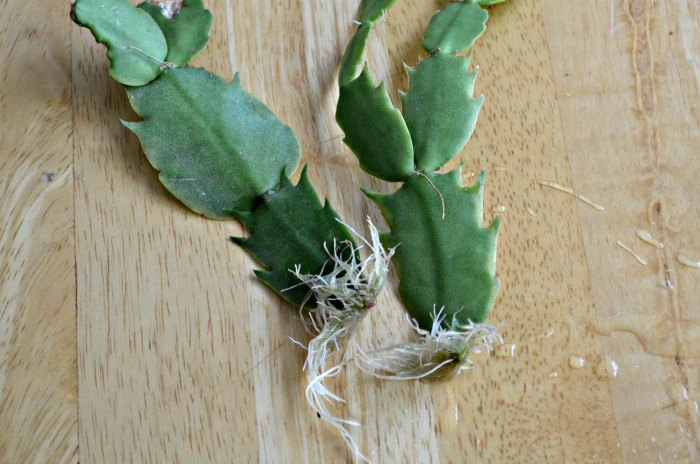 Once there are roots plant it either in the same pot as the parent plant if I am trying to fill out a plant or I give it its own pot.
Related: Potting up Christmas Cuttings that have rooted
I use Cactus Mix potting soil with great results though I have used regular potting soil with some added perlite or horticultural sand which worked too.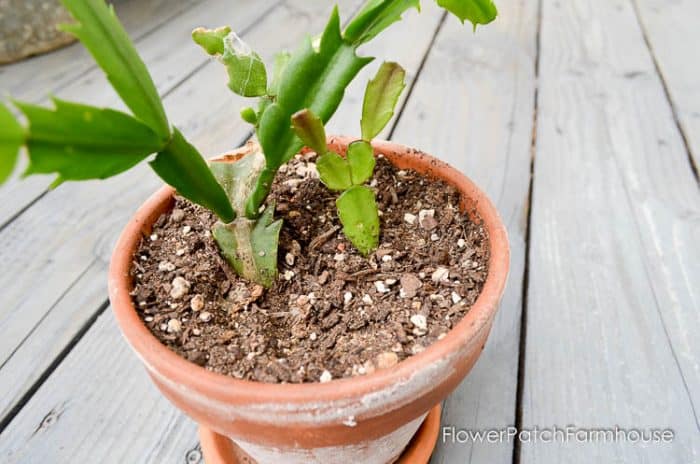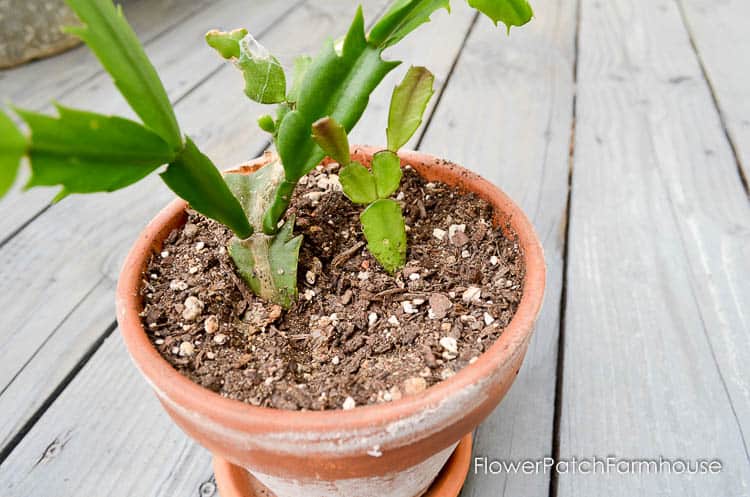 And that is really all there is to it. They are actually quite quick to root and I do it any time of year though it will go faster during the active growing season.
How to Root Christmas Cactus Cuttings, quick and easy Video!
I hope you get to root some of these wonderful Fall and Winter bloomers soon.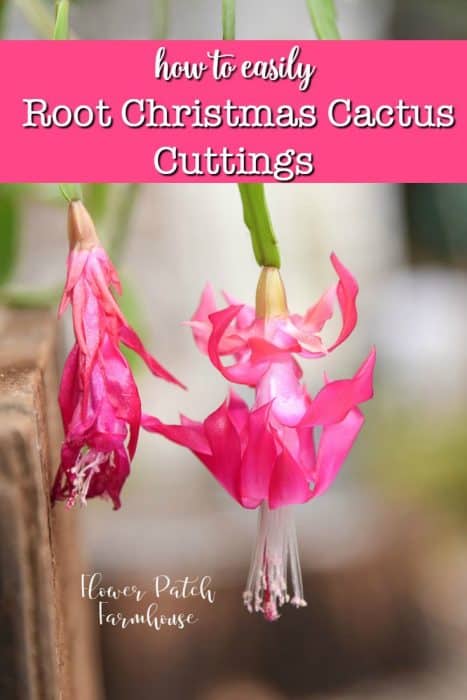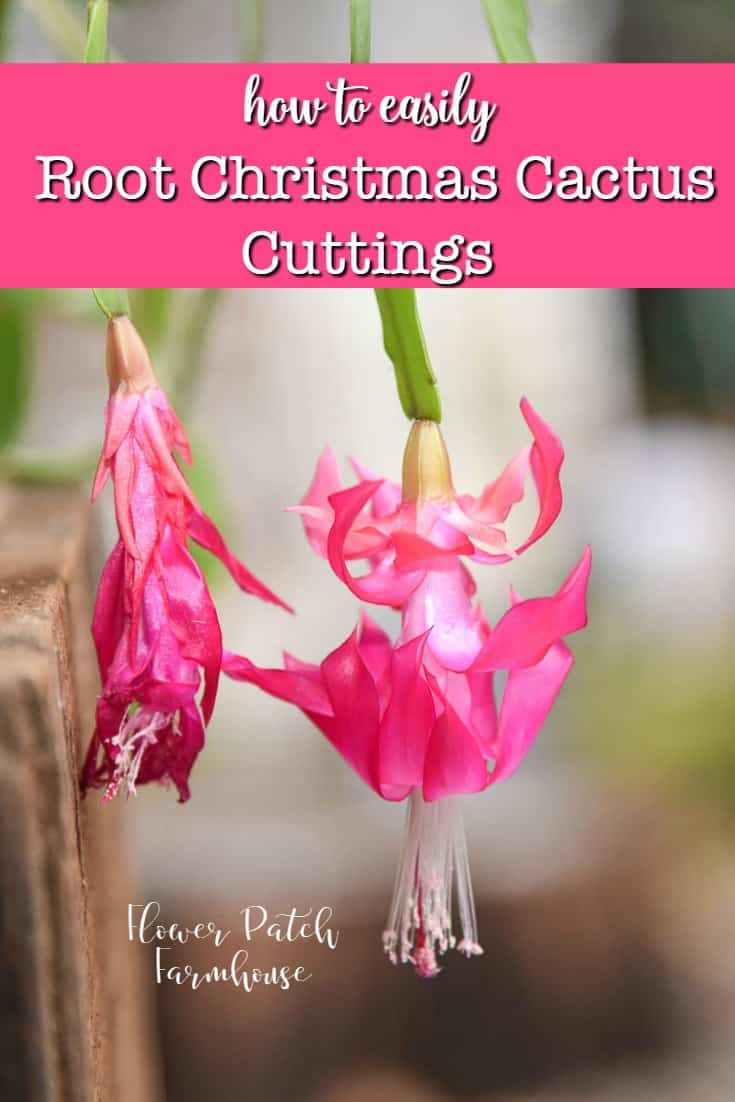 Want to know some easy tips and tricks for growing healthy Christmas and Thankgiving cactus that bloom? Go Here!