Supertunias, Are They Really Super?
Supertunias, What are they and how are they different from regular petunias?
Supertunias are all the rage. You see them being used by some of the top garden vloggers. Are they really that spectacular?
In this blog post, we'll examine the pros and cons of growing Proven Winners Supertunias and give you some tips to help you make the most of these gorgeous plants.
I love all flowers, but petunias have a special space in my heart. My mom had large garden beds that ran the length of the house, and it was my summer job to keep them watered. Just seeing petunias takes me back to that wonderful time.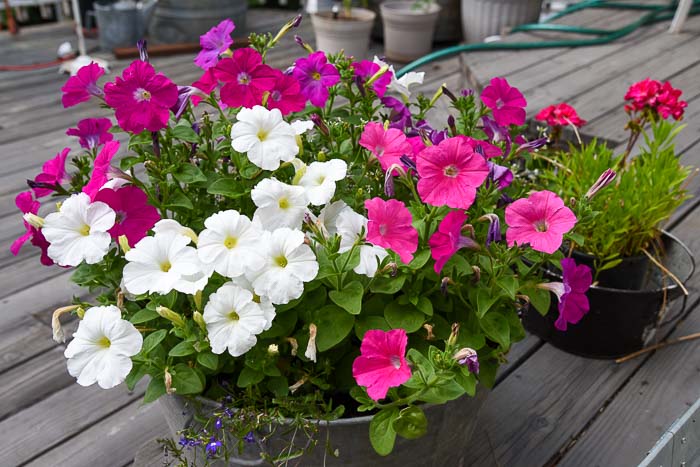 Supertunias is a petunia that has been bred and tested by a company called Proven Winners for excellence in performance.
They are selected for their ability to grow well across many Garden Zones and growing conditions.
Supertunias have a lovely trailing habit making them great for hanging baskets and containers. One series, called Vista has a more mounding habit.
For me, they take a long time to start to put on their gorgeous show but that is because of my microclimate.
Spring can be cold and this year our entire June was downright chilly. (we even had two nights that dropped to 35 degrees)
I have tried several of them in different colors over a few years and they do not do much for the longest time but once it warms up they speed up in growing.
And once they get going, oh my, they pump out the blooms! This year I have waited to buy many because it was so cool but now it is to warm up I will be getting some to pop into containers on my deck where I can enjoy them up close.
And better yet, being July, what I do find will most likely be on sale!
So, let's talk about the Pros and Cons of growing Supertunias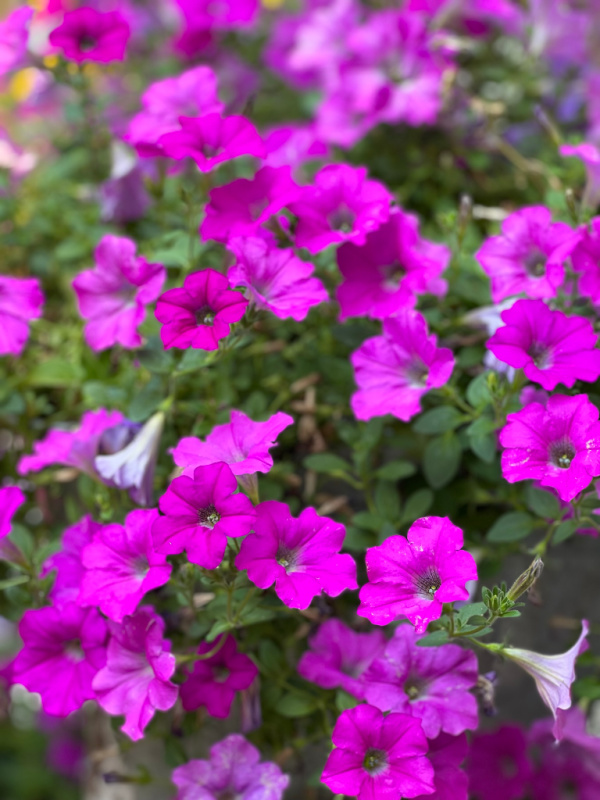 Pros of Growing Supertunia Petunias
Beautiful Range of Colors
Supertunias have an incredibly wide selection of vivid and eye-catching colors.
You can find bright reds, luscious pinks, sunny yellows, and pretty purples. It will be easy to find one for a color theme you are aiming for in your garden.
Plus, it seems that Proven Winners is always adding some new color selections each year. Follow them on Instagram for the latest scoop on their new introductions.
Some super popular colors are:
Supertunia Vista Bubblegum (pink)
Supertunia Vista Paradise (fucshia)
Supertunia Bordeaux
Supertunia Vista Silverberry
Supertunia Vista Silverberry did quite well for me last year! We had a very hot July through September.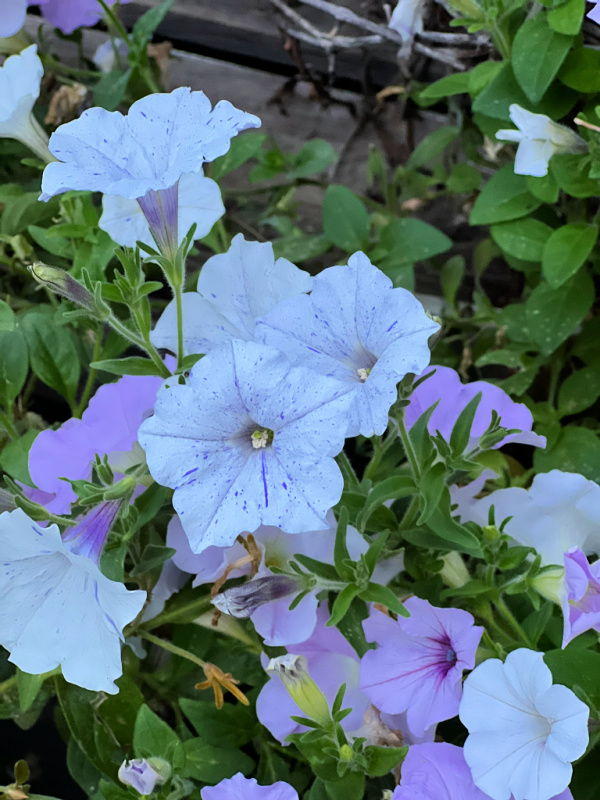 Long-Lasting Blooms
Since Supertunias are started by cuttings and do not set seed they put all their energy into pushing out endless blooms. I find that you can hardly see any foliage.
Some claims say you don't need to deadhead or prune but many find they perform better, especially after a super heat wave, if you do give them a trim.
If you have the right conditions these lovely plants will bloom continuously from Spring to Fall, keeping your garden full of color.
Low Maintenance
For most folks, Supertunias don't take a lot of fuss or attention. They require minimal effort to put on a show.
Some claim they are drought tolerant while others claim they take lots of water. It depends on your climate.
In the south, where it is super-hot and dry during the summer you need to make sure they get plenty of water.
If you get a lot of rain you may not need to water as often.
Versatile
You can use Supertunias in many ways. Fill a flower bed for a dramatic show or plant it in a window box and let it cascade.
You can also fill pots throughout the garden or on your patio or porch to add a pop of color.
The Cons of Growing Supertunias
Cost
Proven Winners Supertunias tend to be pricey. They can be more expensive than other petunias.
You can expect to spend over $6 per 4-inch pot, which can add up. Their cost is higher since their production of them is higher than petunias grown from seed.
Another downside is since they do not reseed you cannot expect free volunteers the following season like you can with Wave Petunias!
But most people aren't really worried about that so very few would consider that a true con.
Frequent Watering
Unless you have a drip system set up for consistent watering of Supertunias you will need to water daily during hot spells.
Planted in the landscape they can be drought tolerant but if you have them in window boxes or containers you should make sure the watering is consistent.
Though this would be true of any petunias not just Supertunias.
Pests and Diseases
Supertunias seem to be particularly attractive to budworms. Budworms like to munch on many plants including geraniums.
Aphids, spider mites, and fungi can be problematic with Supertunias. (this is true of any petunias)
Regularly inspect your plants for hints of infestation. Many find a weekly regimen of spraying a BT product effective for keeping budworms at bay.
This summer, 2023, on a garden forum I am part of many have been complaining that their Supertunias have not been doing very well though they have done great in the past.
The weird weather could be the issue, I know all my plants are not doing as well as they typically are by this time in summer.
I know that is because it has stayed just too cool for good growth and is just now warming up and it is nearly mid-July!
So if you tried them this year and were disappointed, don't be discouraged. Try, try again! That is how it is in gardening. Some years are a boon and others a bust.
Growing Supertunias
Sun and Soil Requirements:
Supertunias love full sun, so give them at least 6-8 hours of direct sunlight each day. They enjoy well-draining soil that is also moisture retentive.
If planting in containers use good quality potting soil and if you plant in the ground then make sure to amend the soil with compost or well-aged manure.
If you have been regenerating your soil then you will most likely not need to do this at planting time, your soil should be in great condition.
Supeturnias bloom and perform sooner in areas that get plenty of warm weather in late Spring and Summer.
Though I am a zone 8 they don't do much at first and I figure it is because we don't really heat up until July and then our nights still cool down below the 60s.
So if you have a cooler start to Summer, give them a chance to get going before becoming impatient with them.
Watering Proven Winners Petunias
When watering, you want to have a balanced approach. Overwatering can lead to root rot, but you do want to keep the soil moist, not wet.
This means keeping an eye on the temperatures and your local conditions. Do you get rain? Is it dry and windy?
Adjusting to what is happening is important and there is no 'one size fits all' advice.
Fertilizing
Proven Winners petunias require lots of nutrition. Pumping out all those blooms can use up a lot of nutrients.
Use a slow-release fertilizer (organic, I like worm castings) when planting them and supplement with a good, organic liquid feed that has been diluted to 50% strength weekly. This is my preferred fertilizer after trialing several.
This should keep them happy and healthy through the season but do keep an eye on them for any issues.
All the best tips
Best Petunia Fertilizer
Your clear-cut guide on how to fertilize petunias. What is the best petunia fertilizer? You might be surprised!
Deadheading
Supertunias don't need deadheading to keep on blooming, but removing spent flowers can promote healthy growth and keep them tidier.
Tidier may be more important for hanging pots and containers, out in the landscape it is most likely a non-issue.
Pruning
Prune back leggy or damaged stems to encourage side shoots which make for bushier growth and a nice shape.
Pruning can refresh your petunia plants if they begin to look tired or stressed.
Using a sharp set of garden shears or even scissors, trim the plant back by 20% of the volume of the plant. (every fifth stem)
Or some like to just prune them up to the base of the pot if they are in hanging baskets.
Supertunias are fabulous when they perform for you. They are filled with an abundance of floral color and the wow factor we all love in containers.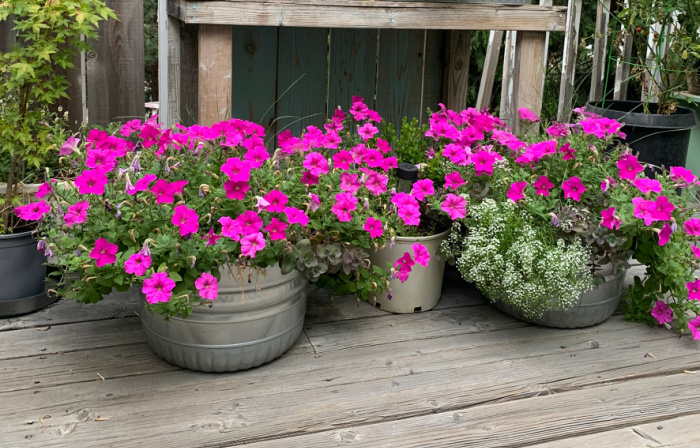 Give them what they love and they will reward you in full over the season.
Yes, Proven Winner's petunias can be more expensive than others but a few plants can fill in an area quickly.
You will need to test them in your garden to see how best you can grow them, if, like me, it takes summer a while to start just know you will be rewarded later in the season.
That can be a bonus as many other things may be getting tired looking.
Want to try great cascading petunias that you can start from seed? Give Wave Petunias a try.
How you can grow them from seed!
All the best garden tips
Grow Petunias from Seed
In this step-by-step guide, we will show you how to grow petunias from seed easily and successfully, this includes Wave Petunias. So get ready to plant some seeds and watch them grow!
Happy Supertunia Growing!