Delicious Homemade Buttermilk Pancakes from scratch
Buttermilk pancakes from scratch are unrivaled in delicious flavor. Easy to make and great for breakfast or a dinner treat.
When we were kids and dad would go on weekend fishing trips with his buddies mom would make pancakes for dinner. We loved it! We didn't know it was her way of making a super simple meal so she could enjoy less time in the kitchen while making all us kids ecstatic.
When my own kids were little I carried on the tradition of pancakes for dinner with this buttermilk pancakes recipe. It not only was a special treat for them but it brought back great childhood memories for m.
If you love waffles I have a wonderful waffles from scratch recipe too. Crisp and so delicious you don't need syrup!
Let's get started on our Buttermilk Pancakes from scratch!
Start with your favorite mixing bowl.
Mine is a well used Pyrex bowl from the early 80s.
I have some stoneware bowls that are lovely but I just like the weight of this one, not too clunky.
First beat the eggs with a fork or whisk until fluffy; stir in remaining ingredients just until blended, it will be a bit lumpy but that is good.
If the batter is too thick add a 1/4 cup of milk.



Grease heated griddle or pan.
(To test griddle, sprinkle with a few drops of water. If bubbles skitter around, heat is just right)
We like our pancakes large but you can make them any size you like. Most recipes say 4 inches round.
Pour batter onto griddle and swirl center outward to spread the batter, this recipe tends to run thick.



Let it cook until you see bubbles emerge and start bursting.
The edges should begin to dry and brown (with a cast iron griddle you have to keep watch as it can brown the pancakes faster than the center can cook)
A stainless steel or non-stick surface is a bit easier to regulate.
Flip them over to cook the other side.

They will rise as they cook into fluffy, golden brown goodness.
Stack on plate and slather with butter.
I like to dip my pancakes in the syrup as opposed to pouring it on top of them so I serve the syrup in a dish on the side.
I wanted to take a beauty shot of a mile high pile of delicious buttery pancakes but I was more interested in tucking in and savoring them while they were still hot.
So a quick photo of my plate is all I was able to get.
Buttermilk Pancakes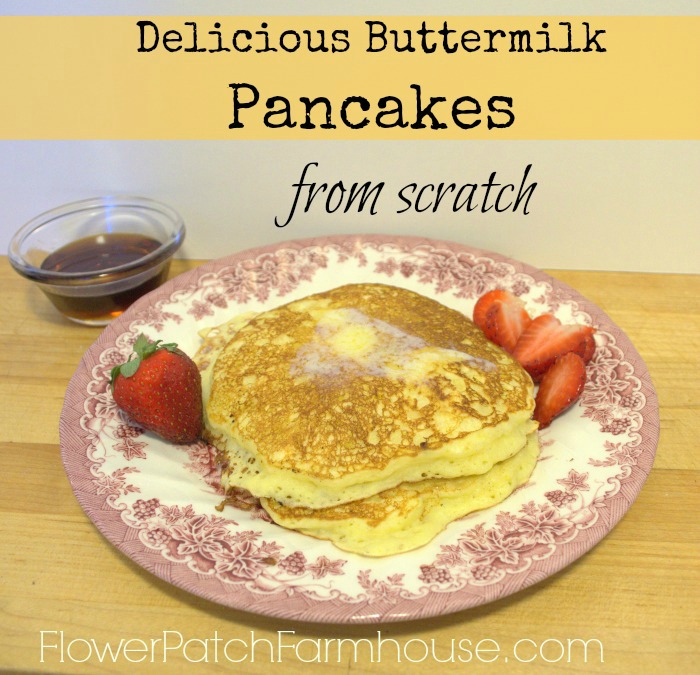 My favorite Buttermilk Pancakes
Ingredients
2 eggs
1 cup buttermilk
1 cup all purpose flour
2 tablespoons melted butter
1 tablespoon sugar
2 teaspoons baking powder
1 teaspoon baking soda
1/2 teaspoon salt
Instructions
Beat eggs until fluffy; beat in remaining ingredients until just barely smooth. For thinner pancakes, stir in 1/4 cup milk. Grease heated pan or griddle. (test griddle with a few sprinkles of water, if they skitter around, heat is just right.)
Pour batter onto griddle with large spoon or ladle. Swirl around center of pancake with back of spoon or ladle to spread thick batter evenly. Cook until pancake bubbles and gets dryish around edges. Flip over and cook other side until golden brown. Stack on plate and eat.
Notes
this makes about nine 4 inch pancakes but for our monster pancakes it makes around 5 or 6
Nutrition Information:

Amount Per Serving: Calories: 997Total Fat: 39gSaturated Fat: 21gTrans Fat: 1gUnsaturated Fat: 14gCholesterol: 453mgSodium: 2851mgCarbohydrates: 126gFiber: 4gSugar: 26gProtein: 36g


Just a quick note, my batter may look much yellower than what you see in your bowl. I use my fresh eggs from my own chickens and they have a darker yellow or orange yolk than store bought and it turns the batter a golden yellow.
Want another pancake recipe to try, check out this one over at Hoosier Homemade
[yumprint-recipe id='2′]