Chicken and Dumplings, Grandmas recipe
Chicken and Dumplings from Grandmas recipe box. Simple fare with few ingredients but so delicious!
Grandma's Chicken and dumplings is a childhood favorite of our entire family. Passed down to my mom by her mother then to me this simple yet delicious recipe is a wonderful comfort food for cold days.
My kids loved this when they were growing up and I usually served it with Cornbread and honey butter.
Yield: 6
Grandma's Chicken and Dumplings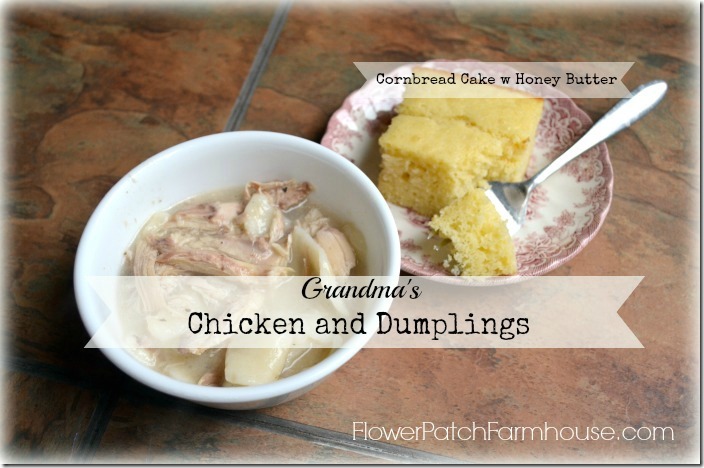 A simple yet easy recipe that is wonderful on cold winter days.

Prep Time 30 minutes

Cook Time 20 minutes

Total Time 50 minutes
Ingredients
1 whole chicken
2 cups flour
1 tsp salt
1 cup milk
water
Instructions
Stew your chicken in a large pot (I used a 6 qt pot), Make sure to more than cover the chicken with water as you want lots and lots of chicken broth.
Add 2 teaspoons of salt to water. I also salt the water.
Stew the chicken for 2 hours. (I now use my Instant Pot which speeds this step up)
Let cool a bit then remove chicken from pot, strain broth. (Note: this step is optional; if you wish to removed some of the fat from the broth you can add some ice to the broth, let the fat congeal and remove)
Once the chicken is cool enough to work with remove the meat from the bones.
Set aside.
Turn the heat back on under your broth, add some pepper (this is to your taste) and let come to a slow boil while you make the dumplings (noodles)
Dumplings:
Mix the flour and salt with the milk.
You will have a very sticky dough.
Take about a quarter or a third of the dough and roll out very thinly on a well floured surface. Don't skimp on the flour on the surface you are using to roll out the dough and on the rolling pin.
Cut the rolled out dough into small strips about 3/4 to an inch wide and about 1.5 to 2 inches long.
Once cut lift dough strips from surface and add to the bubbling broth a few at a time. You do not want the broth to cool too much by adding too many at a time. Broth needs to be gently boiling to cook the dough correctly.
Repeat until all the dough is made into dumplings. Let it all cook on a very gentle boil for about 10 minutes or more.
Salt and pepper to taste. Serve.
Notes
This is one of those dishes that develops flavor the longer it sits. Leftovers are the best!
Nutrition Information:
Yield:
6
Serving Size:
1 grams
Amount Per Serving: Unsaturated Fat: 0g


Then dish up and enjoy.
Delish on a cold winters day.

The chicken and dumplings are even better the second day.
.

Happy Cooking!