Comfort food to warm your soul and belly. Nothing beats Grandma's Chicken and Dumplings on a rainy day. An easy down home recipe your will love.
Grandma's Chicken and Dumplings is a childhood favorite of our entire family passed down from my maternal grandmother to my mom then to me.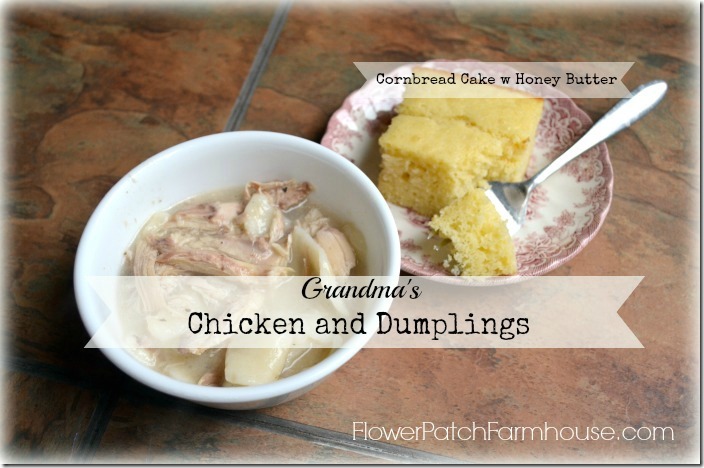 My kids loved this when they were growing up and I usually served it with Cornbread and honey butter.
Yield: 6
Grandma's Chicken and Dumplings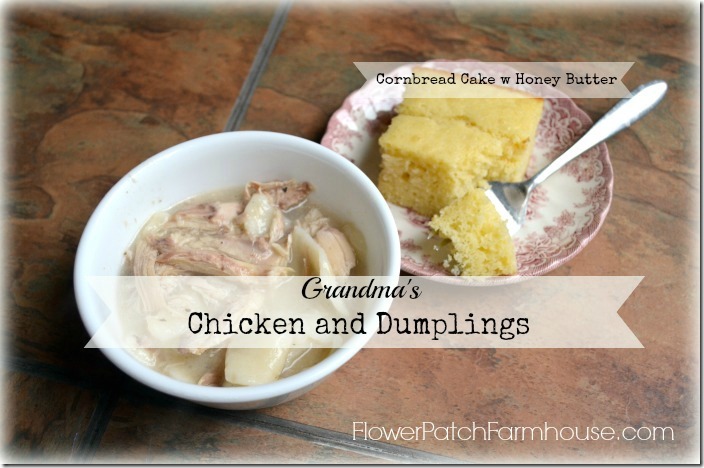 A simple yet easy recipe that is wonderful on cold winter days.

Prep Time 30 minutes

Cook Time 20 minutes

Total Time 50 minutes
Ingredients
1 whole chicken
2 cups flour
1 tsp salt
1 cup milk
water
Instructions
First stew your chicken in a large pot (I used a 6 qt pot), I make sure to more than cover the chicken with water as you want lots and lots of chicken broth. I also salt the water, I eyeball it but I would say I add about a 1 to 2 teaspoons of salt to the water.
I stew the chicken for 2 to 2.5 hours.
Let cool a bit then remove chicken from pot, strain broth. You can refrigerate if you wish to skim off a lot of the fat but I usually just add some ice to the broth and skin off what congeals right then.
While your broth is cooling to skim I debone the chicken meat. Set aside.
Turn the heat back on under your broth, add some pepper (this is to your taste) and let come to a slow boil while you make the dumplings (noodles)
Mix the flour and salt with the milk.
You will have a very sticky dough.
Take about a quarter or a third of the dough and roll out very thinly on a well floured surface. I use a cutting mat or cutting board that I can lift and bring to the pot. You will need to flour your rolling pin liberally as well.
Cut the rolled out dough into small strips about 3/4 to an inch wide and maybe about 1.5 to 2 inches long.
Once cut I bring the mat or cutting board to the pot and add the dumplings slowly to the bubbling broth. Broth needs to be gently boiling to cook the dough correctly. (you can just roll dough on the counter and pick the dumplings from there, it is just less tedious for me to slide them into the pot from the cutting mat) Also do not add too many at a time, you want the broth to keep bubbling while adding the dough.
Repeat until all the dough is made into dumplings. Let it all cook on a very gently boil for about 10 minutes.
Nutrition Information:
Yield:
6
Serving Size:
1 grams
Amount Per Serving: Unsaturated Fat: 0g


Then dish up and enjoy.
Delish on a cold winters day.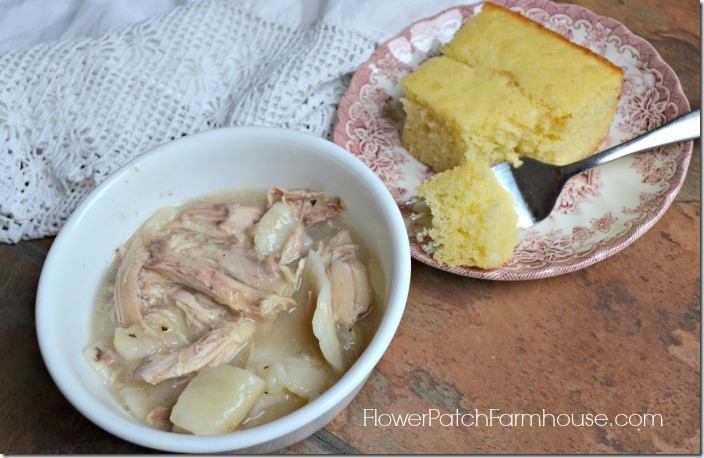 The chicken and dumplings are even better the second day.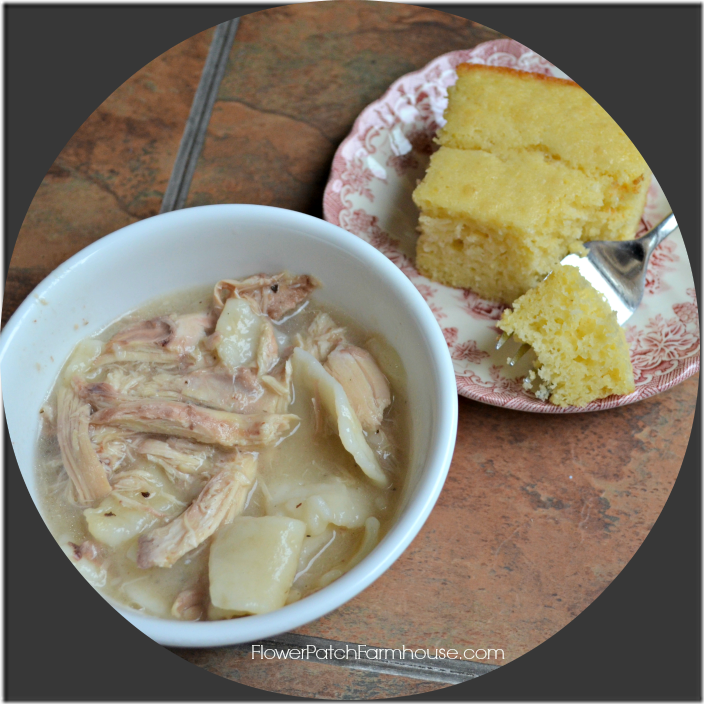 .

Happy Cooking!