Aglio Olio with Delicious Chicken

Aglio Olio with Delicious Chicken
Have you ever had Aglio Olio? It is soooo delish! A local fancy Italian Restaurant here on our humble mountain is where I first tried it and fell in love.
It is rather simple with few ingredients but the flavor is fantastic. I had to try to making it so I could have it anytime I wanted. Most recipes I found prepared it with no meat but I love it with chicken.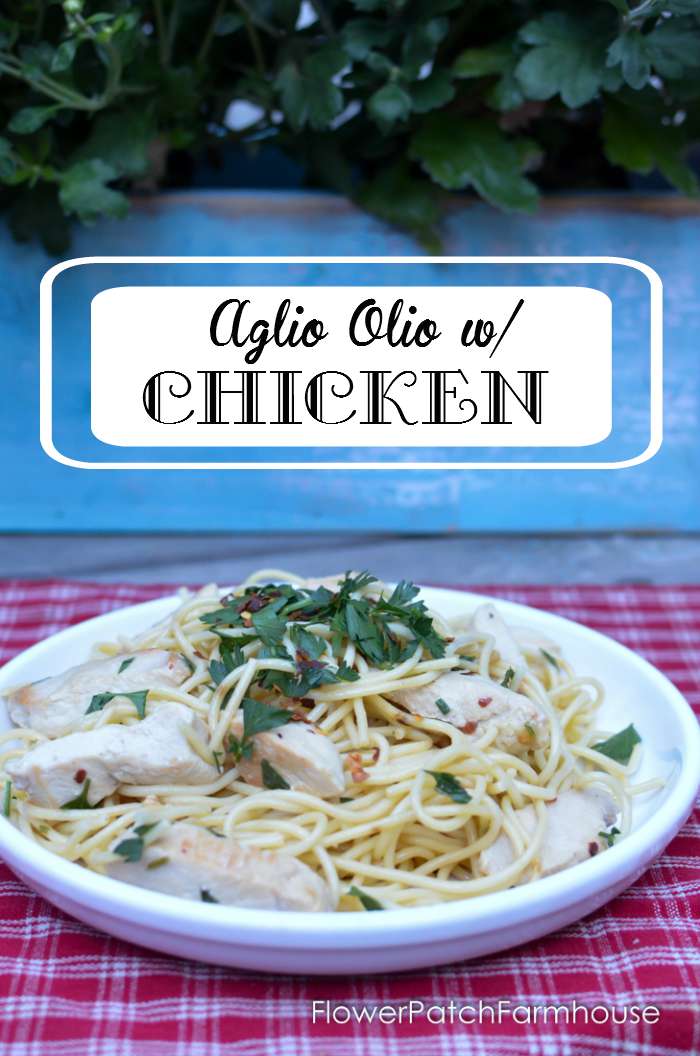 Note: I toast my own croutons to make the bread crumbs but you can easily use store bought croutons. If you do…. get the garlic flavor. Click here to find the recipe for homemade croutons.
• 2 chicken breasts cut into bite sized pieces and sautéed in 2 Tbs olive oil until done. Set aside.
• 1lb spaghetti pasta (uncooked)
• 2 Tablespoons Salt
• 1 ½ cup reserved pasta water
• 1/3 cup good olive oil
• 4 tablespoons fresh minced garlic
• 1 teaspoon crushed red pepper flakes (adjust to taste)
• ½ cup fresh chopped Italian or flat leafed parsley
• 1 cup freshly grated Parmesan cheese, plus extra for serving (I personally prefer Asiago)
• salt and black pepper
•
• While your pasta cooks, heat the olive oil over medium low heat. Add the garlic and cook for 5 minutes, stirring frequently, until it just begins to turn golden on the edges-don't overcook it! (I prefer a lower heat as garlic can burn so very quickly) Add the red pepper flakes and cook for 30 seconds more.
By now your pasta should be done. Carefully add the reserved pasta-cooking water to the garlic and oil and bring to a boil. Lower the heat, add 1 teaspoon of salt, and simmer for about 5 minutes, until the liquid is reduced by about a third.
Add the garlic sauce to the drained pasta and toss. Off the heat, add the parsley and Parmesan and toss well. Allow the pasta to rest off the heat for 5 minutes for the sauce to be absorbed..
• Toss in the chicken and mix well. Taste for seasoning and serve warm with extra Parmesan on the side
• (bread crumbs are totally optional, I just love the added crunch and flavor they give) Top with ¼ cup of toasted bread crumbs (I toss my croutons in a 1. Gallon freezer bag and pound them until the consistency I want, some small crumbs with some larger ones)
And there you have my version of Aglio e Olio with chicken. Delicious, quick and easy while being light on the pocket book. My kind of recipe!
Happy Cooking!
Yield: 4 servings
Aglio e Olio with Delicious Chicken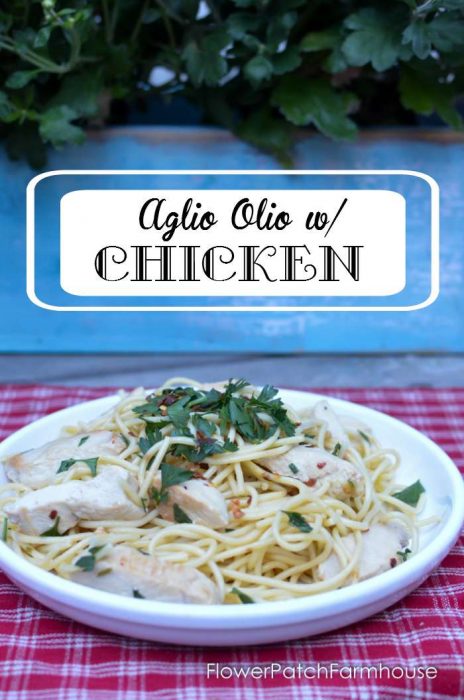 An Italian classic made into a Main Dish using chicken

Prep Time 10 minutes

Cook Time 20 minutes

Total Time 30 minutes
Ingredients
2 chicken breasts cut into bite sized pieces and sautéed in 2 Tbs olive oil until done. Set aside.
1lb spaghetti pasta (uncooked)
2 Tablespoons Salt
1 ½ cup reserved pasta water
1/3 cup good olive oil
4 tablespoons fresh minced garlic
1 teaspoon crushed red pepper flakes (adjust to taste)
• ½ cup fresh chopped Italian or flat leafed parsley
• 1 cup freshly grated Parmesan cheese, plus extra for serving (I personally prefer Asiago)
• salt and black pepper
Instructions
While your pasta cooks, heat the olive oil over medium low heat. Add the garlic and cook for 5 minutes, stirring frequently, until it just begins to turn golden on the edges-don't overcook it! (I prefer a lower heat as garlic can burn so very quickly) Add the red pepper flakes and cook for 30 seconds more.
By now your pasta should be done. Carefully add the reserved pasta-cooking water to the garlic and oil and bring to a boil. Lower the heat, add 1 teaspoon of salt, and simmer for about 5 minutes, until the liquid is reduced by about a third.
Add the garlic sauce to the drained pasta and toss. Off the heat, add the parsley and Parmesan and toss well. Allow the pasta to rest off the heat for 5 minutes for the sauce to be absorbed..
Toss in the chicken and mix well. Taste for seasoning and serve warm with extra Parmesan on the side
(bread crumbs are totally optional, I just love the added crunch and flavor they give) Top with ¼ cup of toasted bread crumbs (I toss my croutons in a 1 Gallon freezer bag and pound them until the consistency I want, some small crumbs with some larger ones)