There is something good in every day
There is something good in every day quote
(for a higher resolution photo for printing just Click Here)
Happy start to a new week!
Our weekends are so hectic we actually look forward to Monday rolling around. Though I would've liked to spend a good of time in the garden this weekend that was not to be. Even with the neglect my garden is putting on a gorgeous show for me….and everyone else that drives by. I get quite a few people slowing down to a crawl to take it all in as they cruise on by my house.
This shot has not been saturated, these literally are this bright. They do tend to fade a bit if the sun is hot but if it stays a bit cooler the color remains this lovely hue. These lovlies are called Petal Pusher. They are a ground cover rose that is a very prolific bloomer, they take a lickin' and keep on tickin'…..all summer long.


Many folks say they won't plant Iris as they bloom such a short time. Well mine have been blooming and filling the garden with their sweet scent and beautiful color for a good spell now, though just finishing up there is plenty to take their place.

The foxgloves are filling in nicely, I have a little foxglove forest just outside my Studio Cottage doors..

Just beside the Studio Cottage porch stands this pair, don't they look lovely together?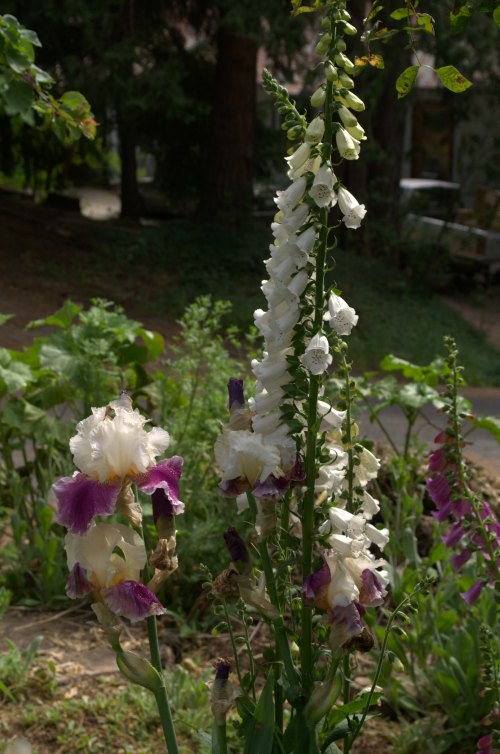 I have extoled the blooming virtues of this Clematis before, Warsaw Nike is a great all summer long bloomer. It just doesn't want to quit.
The California Poppies have so taken over that I cannot even see my flagstone path. I will yank them all out as soon as they are done blooming. A week or more and they will be ready to be compost.

I got some painting done on a sign, so I shall share. Painting Geraniums is always fun and uplifting.

I wish you an awesome week and I am planning on getting tons accomplished!
But then I always do.