Some Inspiration
Sorry to have disappeared on you. Life has been a whirlwind.
Does life get away from you sometimes? Your schedule completely obliterated by other pressing matters?
Yeah, me too. So I need a few reminders to keep positive and upbeat and not let the darkness of frustration creep in.
It is so nice to have a quiet morning to just breathe. I love the quiet of early Sunday mornings, everyone else in the neighborhood seems to sleep in. No hustle bustle of the neighbors leaving for work.
It is no longer light by 6 am as it was in June and July. I miss being able to walk through my garden with my first cup of coffee. Here it is after 6 already and it is still quite dark. Sniff. I can hear a hawk calling through my open window and other scurrying sounds of nature waking up so I know the sun will be up soon.
So what good things happened this week? I did get a custom sign done for a customer. It turned out better than the customer expected and she was overjoyed when she received it. She wanted bright and she got bright!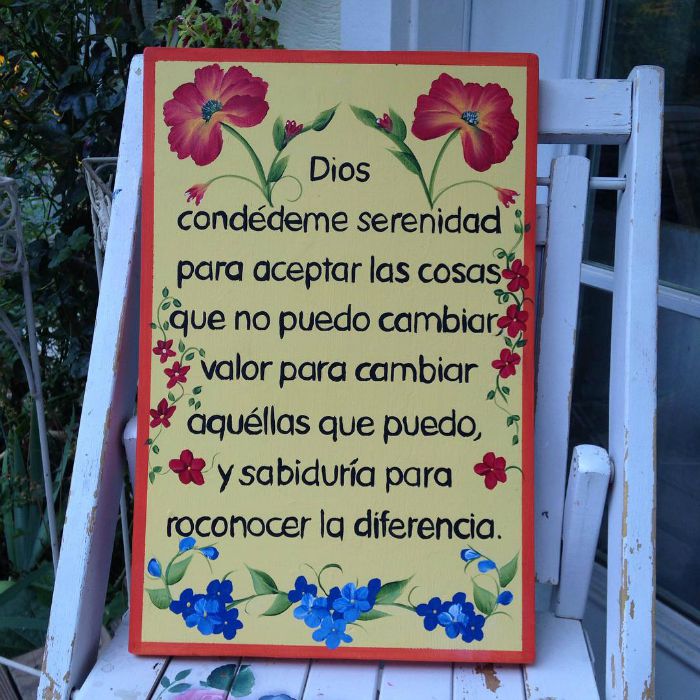 All that lettering was a pain in the pa-toot, I do it with a brush. I have tried paint pens but I have yet to find any that are smooth and easy. If you know of any, please let me know.
Have you tried Periscope yet? I have been practicing and I am finding it quite addicting. I think I find it so appealing as I can see its potential and it is just plain fun. If you decide to hop on then look me up my handle is @FlowerPatchPam

As promised I have also been working on some new videos to make into DVD's of my painting tutorials. I certainly hope to have my first one available next week sometime. It has been a bit more challenging than I had anticipated. Snafu's keep occurring but I shall press on and learn how to create the DVD's smoothly and efficiently.
This is the design I work on through this first DVD.

Yellow roses are a bit tricky. I take you step by step on building the roses and how each one is really a bit different.

I have been doing some Fall garden clean up and moving of plants. It is a little early for some of it but with not watering many areas of my extensive garden because of the drought many of perennials have gone to seed early.
Though they are drought tolerant they will perform longer with watering and that just did not happen this year for obvious reasons.

Next I am going to divide and replant many of my Iris, many of the purple and pink are going in my Secret Garden. I need to look up the Schreiners catalog and see what they have on sale but I need to be resolved to stick to a budget, I can so easily get carried away!
My parting sentiment for the day. I am off to enjoy a bit of quiet in my garden and absorb the loveliness of the day.
Happy Sunday or whatever day you read this!