Paint a Floorcloth on Linoleum
Got an ugly floor? Here is a budget friendly way to pretty it up. Paint a floor cloth on Linoleum.
Paint a Floorcloth on linoleum, so much easier than on canvas. No hemming and with the right finish it is easy to clean.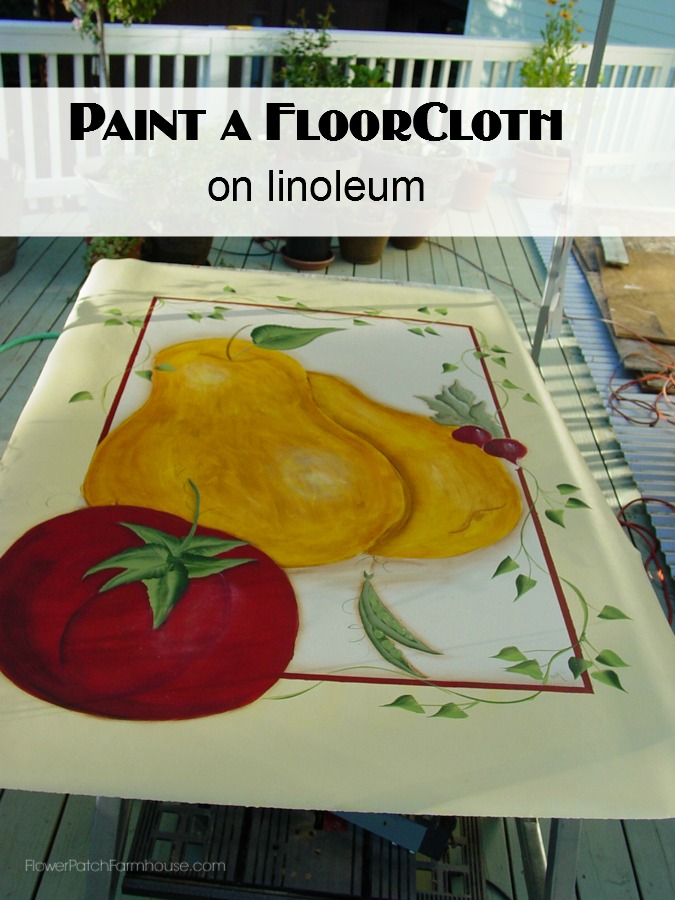 Back when my kitchen was in the Tuscan colors, I painted this floor cloth to add a bright splash to an otherwise plain floor.
I used a piece of linoleum remnant from a local flooring supply and cut it to fit my floor space.
(Home Depot and Lowes also carry linoleum remnants)
I first rolled on a base with a creamy color of exterior latex paint.
(I had read somewhere that the exterior works better as it has more flexibility but any satin, eggshell or flat latex will do)
I taped off the yellow border with painters tape and rolled on the yellow.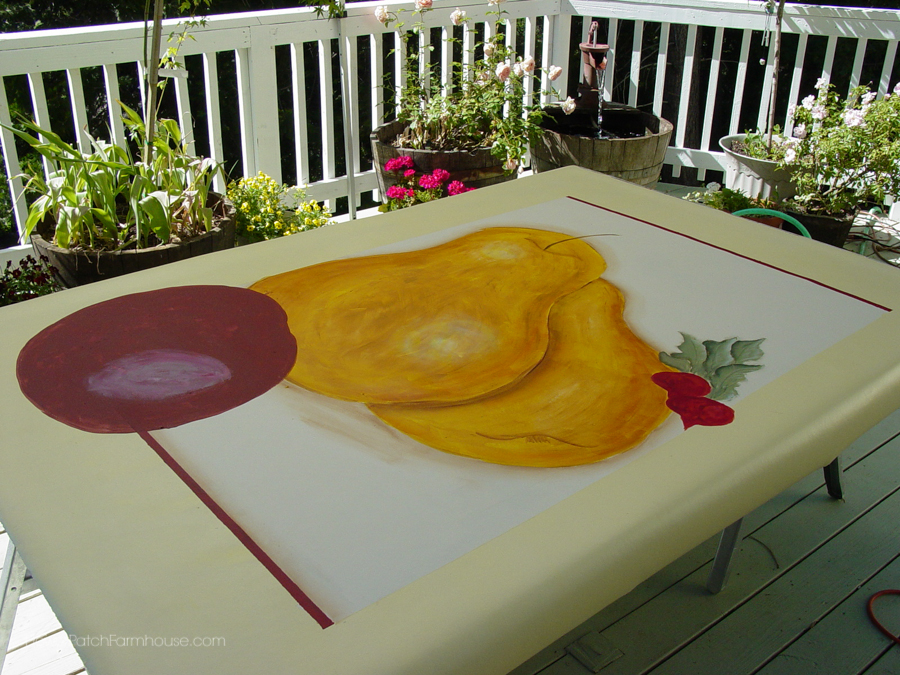 I taped off another thinner stripe for an inner border of red.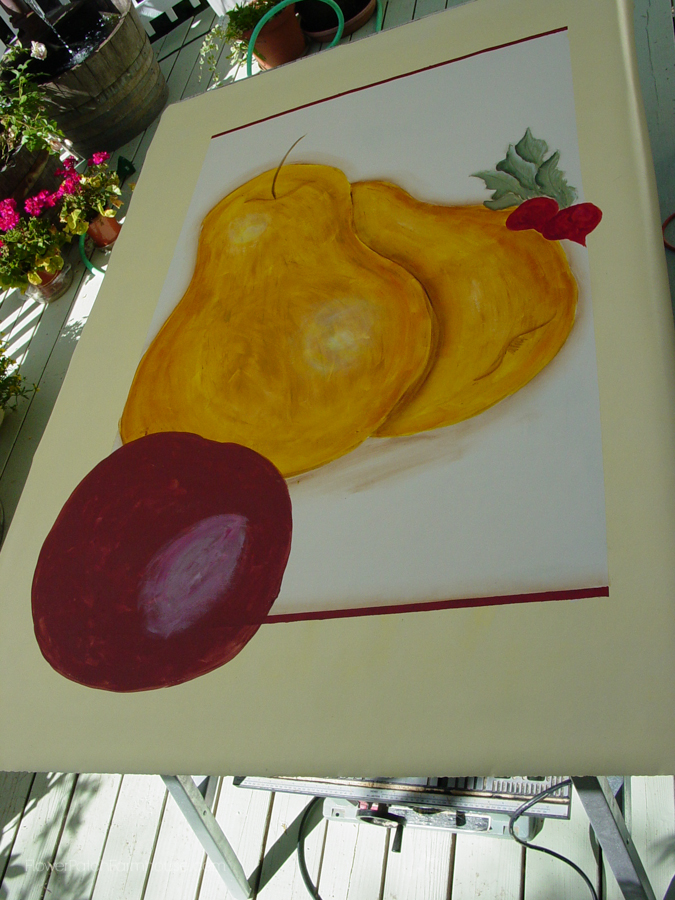 I thought that would be enough for a border and sketched in some veggies and fruit that matched the Tuscan color scheme.
I let them come out over the borders.
For the veggies and fruit I used regular bottle craft acrylics.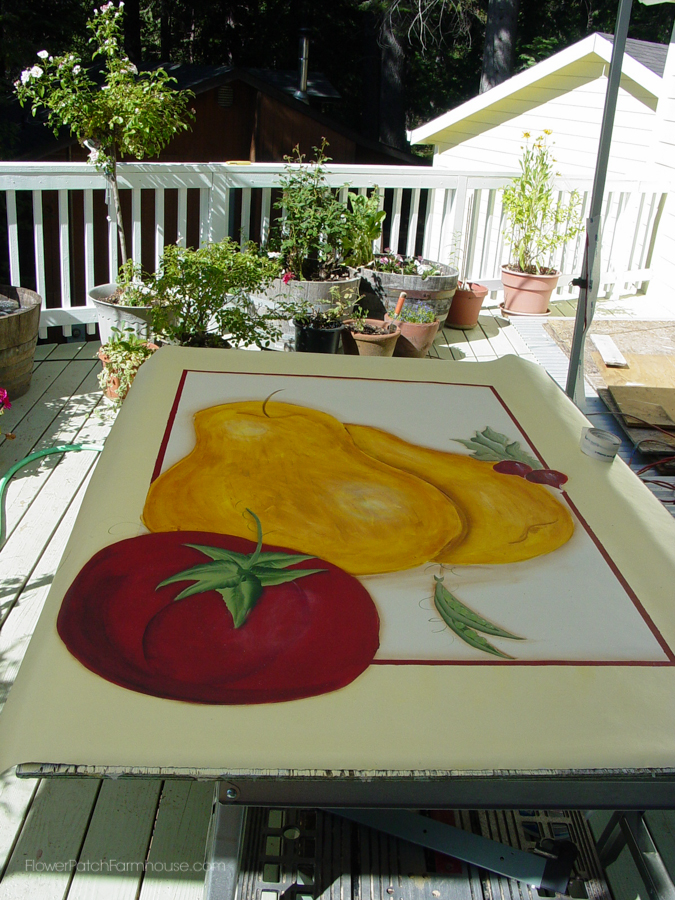 I decided after adding in more details on the veggies that the red border needed to go all the way around so I added it in, again taping it off and just filling in.
For the red border I also used a regular bottle craft paint.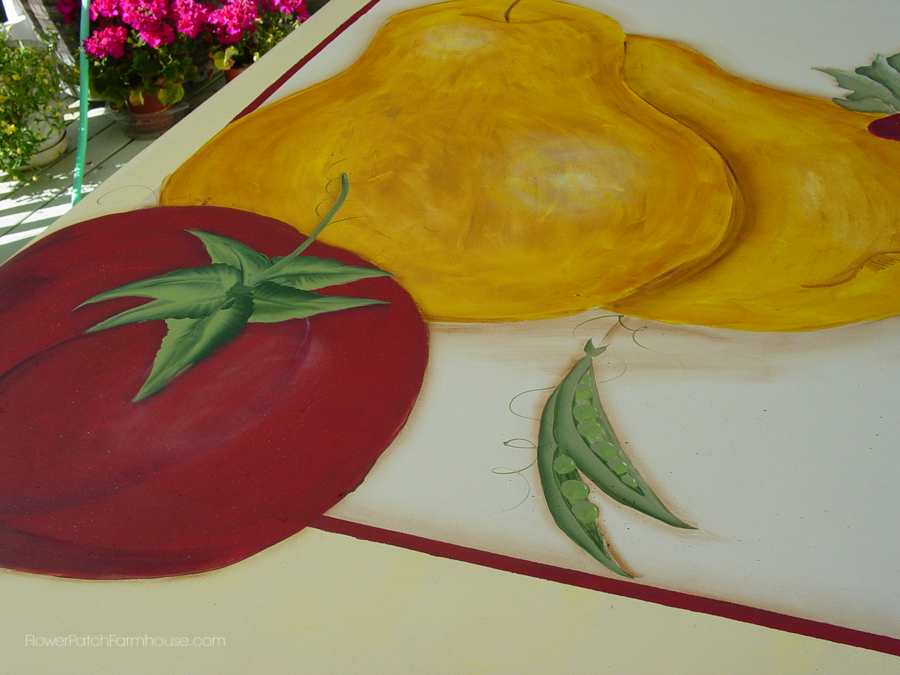 I added fly specks with a toothbrush and inky paint, and added some shadowing to both the border and the veggies to give it depth.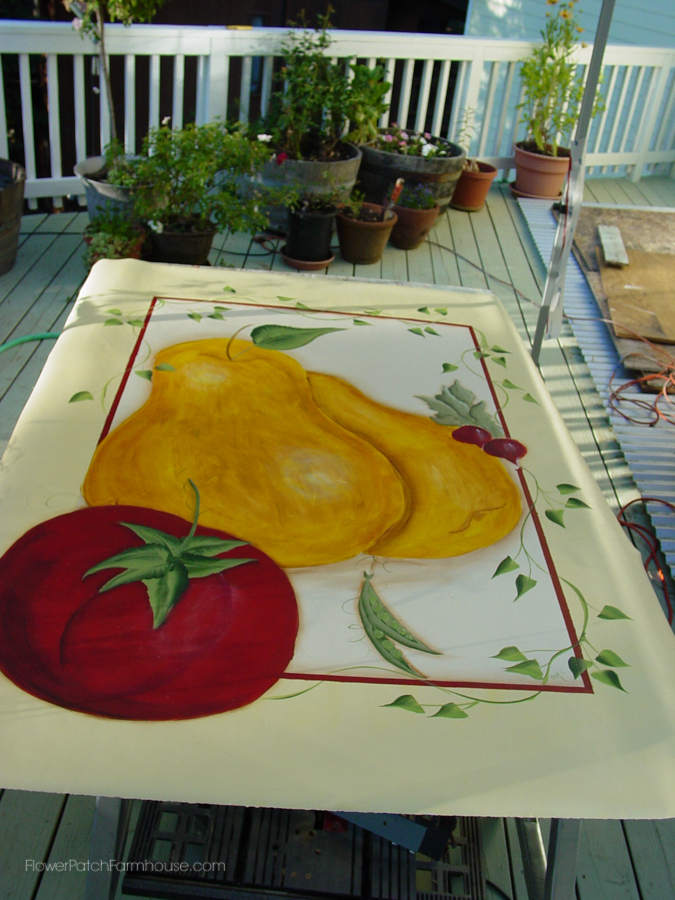 It still was a little too plain so I added in the trailing leaves.
Once it was dry I finished it off with a few coats of Semi-Gloss Exterior water based Varathane Spar Urethane.
Once that is dried and cured it is easily cleaned with a damp mop.
Not only is this good for a kitchen or dining area but it will also work on a porch or deck.
Fairly inexpensive and fun.
I haven't priced remnants lately but that is your biggest expense, the paints I had on hand for other projects.
I want to paint another soon and am brain storming a pattern.
In the future, I do plan to do some tutorials on painting fruits and veggies, probably with video.
Sorry I never took a photo with this in place on my floor and I have long since given this away.
But I will be sure and photograph the new one.
I do hope this sparks some ideas on easy and fun, plus durable floor cloths.
You may also enjoy..
Build A Farmhouse Bench