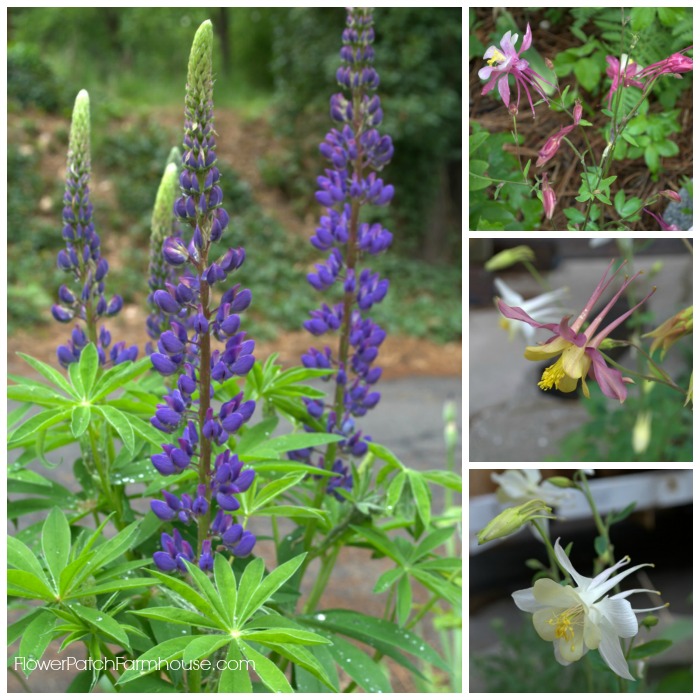 It is that time of year….
my garden is starting to put on a show and we better catch it while we can.
Grab a sweater (it has been rather coolish the past few mornings) we are going to tour the garden!

Being a drought year I will refrain from watering much,
so most of my glorious plants will not bloom as profusely as years past.
The plants will survive,
they just won't perform with the limited water.
My Iris are providing most of the color for now..
as well as a lovely perfume.
And as you can tell from the sparkling water droplets
we have been getting some much needed rain here in N. California.
Last summer I shared with you how I separate and replant my iris
and though most would claim I did it at the wrong time of year…
the results speak for themselves,
many of the rhizomes I dug up and replanted are blooming.
Like this vibrant yellow that I put next to my studio cottage porch
I really love the bi-colored ones with the frilly edges.
I have two that are very similar set next to each other.
These are but a few of my iris, more are getting ready and have big fat buds just waiting to blossom.


A quick shot of my side yard with Henny Penny prancing around trying to find some yummy bugs to eat.
On the lattice to the left you see a spot of bright red….
that is my Grandpa Nute rose…
last year it kept that lattice covered in luscious red blooms,
they even trailed along inside the porch rails to keep me company on the back deck.

along with his climbing buddy, Warsaw Nike clematis.
This year, Zepherine Drouhin is giving them a run for their money,
and I think she is winning.
She has made it to the porch eave and is loaded with happy pink roses.
William Baffin is on the next post and is catching up but we will share him when he is blooming a bit more.
One last parting photo, a gorgeous gal and I forget her name..
Wyzinski or something clematis…I just love her fluffiness.
I hope you enjoyed our garden tour and I will be sure to come back with more.
Now time to get back to the studio.
More signs to get done.
Have a marvelous day!