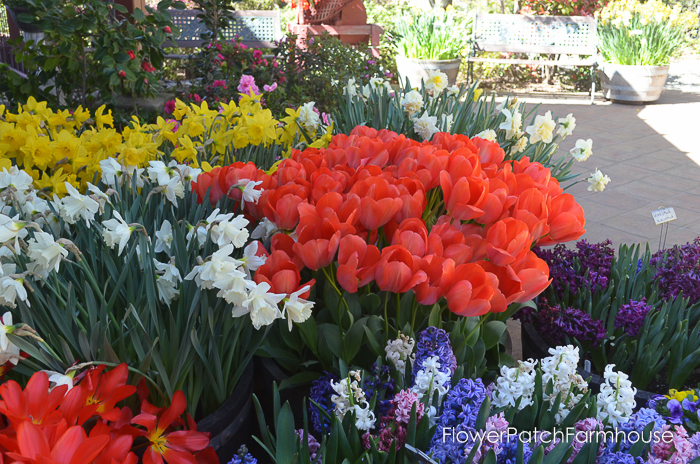 Life is a Beautiful Ride (sometimes you just have to peddle extra hard through the tough spots)
I am in the spot again where I am going too many directions at once and it is making me a little crazy.  It cannot be avoided so I just have to enjoy the ride and create my own beauty.
If you follow me on Facebook or Instagram you have already seen one of my ventures I am testing out at the Gallery where I have some of my painted items.
The Gallery is called Timeless Home Gallery here in Arnold, Calif.
It has recently moved to Cameo Plaza right on the main drag through town and they asked if I could paint the windows but not obscure the view inside the store.  There are items displayed in the windows and we want them clearly visible.
So here is what I came up with, it is a Spring like motif, in a couple months I will change it out for a more Summery one.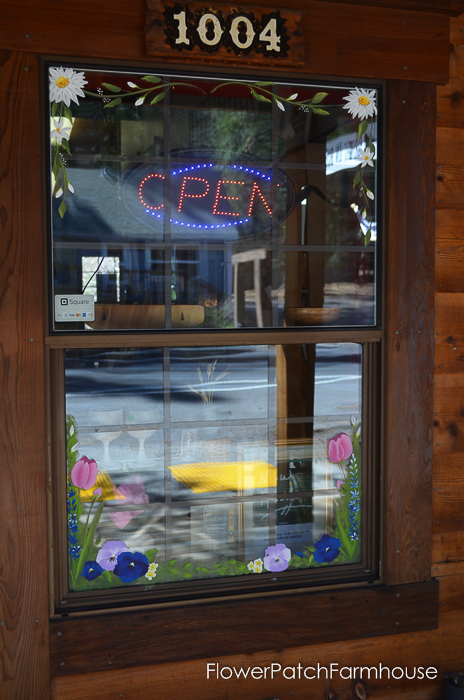 It took me much longer than it should to paint but I did not have a plan and had to wing it.  But I was happy I only had to wipe off a flower one time because I botched it, on the two windows I did get done this time around.  I will paint two more windows the next time it is my turn to mind the gallery.
This week I worked on a few more signs and paintings to go into the Gallery but my favorite so far is this bench.
I posted how to build this Sweetheart bench in February.
I loved the roses on it but felt it needed something on the seat for an extra kick.
When I spotted this stencil I knew it was what I wanted for the bench.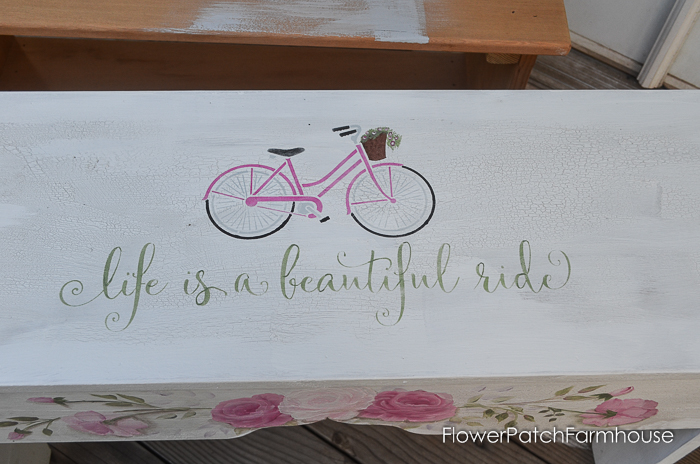 I used complimentary colors to the roses for the lettering and frame of the bike then added the bit of flowers spilling from the basket freehand.   I had thought maybe a bit of leaves twirling in a corner but haven't settled on it yet.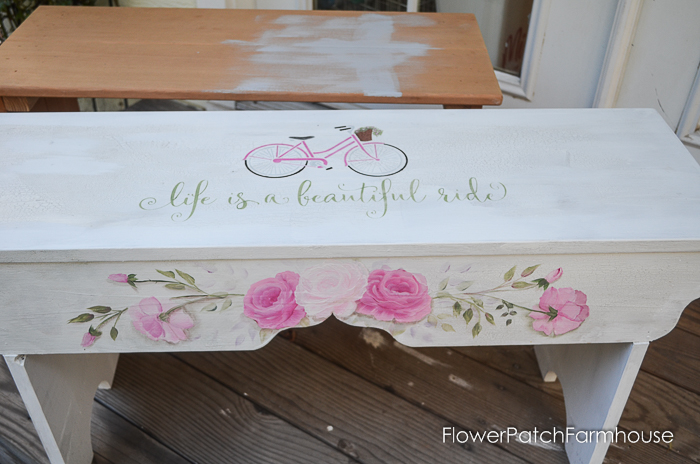 The bench behind this one is waiting its turn for some beautification.
I kind of don't want to turn loose of this pretty little bench and I wouldn't if it wasn't for the fact that I can build another and paint something similar on it so off this baby goes to the Gallery.
Adios little Sweetheart Bench!  I hope your future new owner knows how hard it was to part with you.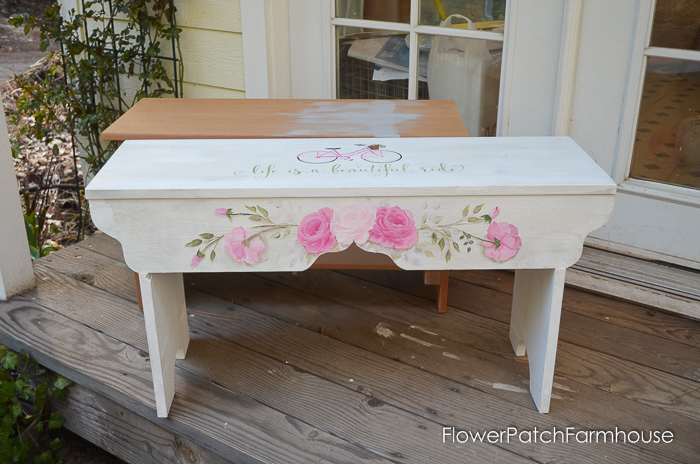 A bench I would love to build and paint is this Church Pew design by Rogue Engineer.  I have the plans but now to wrangle some help.   Can't you just see that painted with white roses and sitting in my Secret Garden?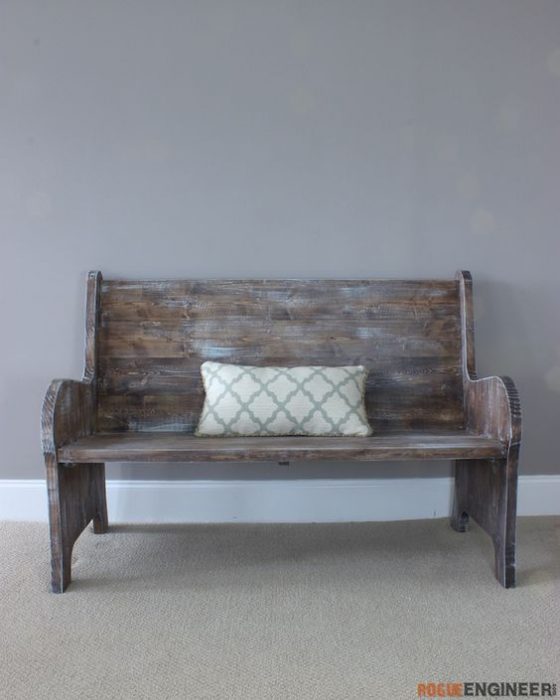 Speaking of my Secret Garden, it is in it's ugly duckling stage right now.  One look and you get my drift.
I am using boards as my makeshift pathways until I know exactly where I want them to run, they are easy to pick up and move unlike cement pavers.  Once I have a good feel for flow and design then I may replace them or I just might love them and keep the boards.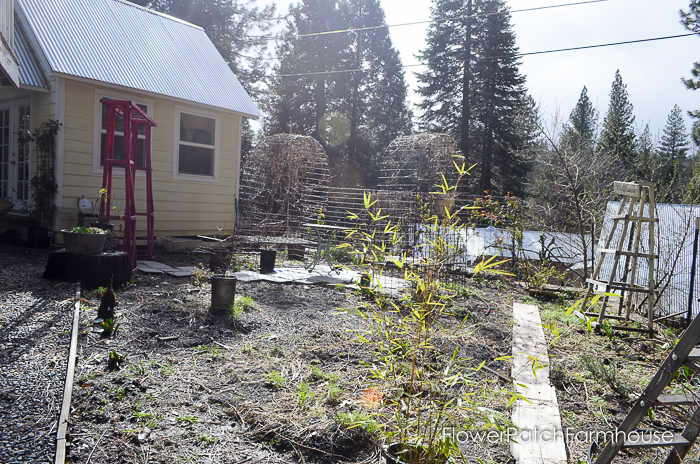 There are lots of bulbs and flowers just waiting to bloom and before we know it it is going to look as wonderful as this.
I am waiting patiently and trying to remember what I planted where.  I was supposed to make a map and did start to but somehow it got forgotten along the way and now I will just have to be pleasantly surprised as the flowers make their appearances.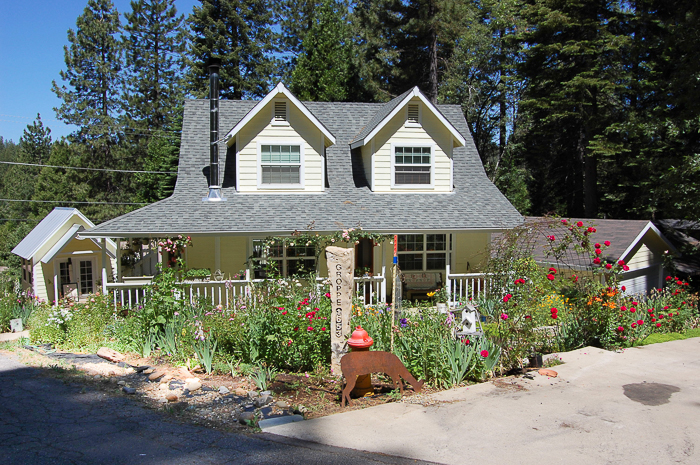 And in true cottage garden style I am just going to plant my veggies in among the flowers, wherever I think they shall do best.
So until my flowers begin blooming I enjoy my little forays to Ironstone Winery to view their flamboyant barrels of gorgeous blooms.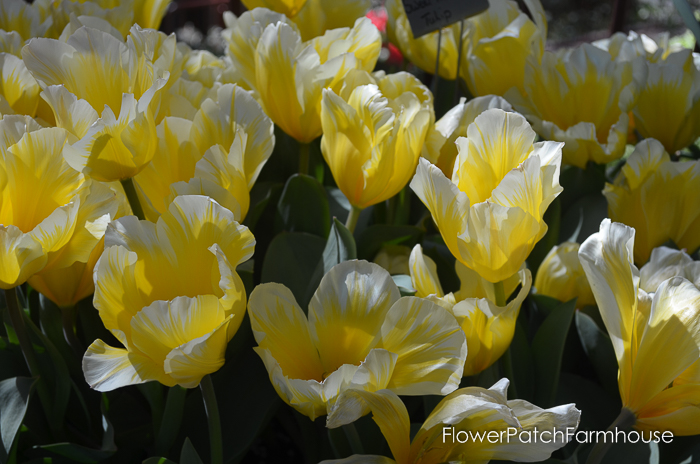 Happy Spring and Enjoy the Ride!