Learn How to Paint Poinsettias one stroke at a a time.
First off let me say that I am not quite polished at painting these yet but I sometimes need to push myself in order to grow in my techniques.   I also wanted to show everyone how even I have to work at new strokes and techniques when first trying them out so don't get discouraged if your hand and brush just don't seem to want to produce what you are aiming for.  Just keep practicing and you will get how to paint poinsettias.
The video you will see with this tutorial shows how I struggle through some of the strokes and how I correct that.  The great thing with this technique is you can either go over a stroke you do not like or wipe it off and start again.  I did not do many step by step photos, I was  intent on getting the video done, which does display it much better than photos anyways but I may come back later and edit this post to include more photos one day for those of you who may prefer that.
Please feel free to PIN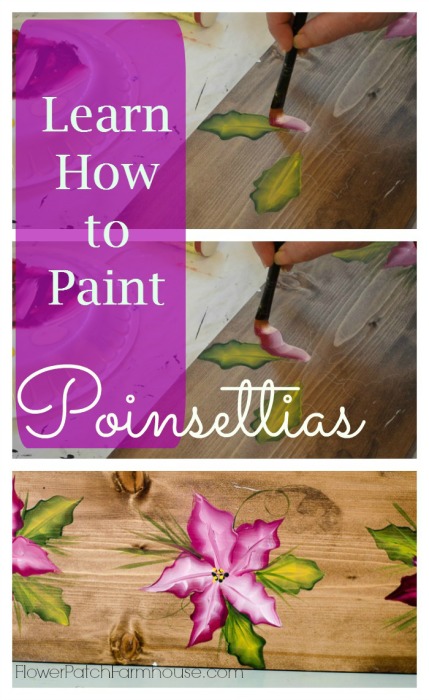 (this post contains affiliate links, please see the disclosure page for more info)
Supply list:
Surface to paint on: I used a stained board for this project.  It is a pine 1 x 8 stained a dark walnut.
Paints: DecoArt Americana,
Titanium White
Cranberry Wine
Evergreen
Cadmium Yellow
Graphite Transfer paper (in this case white)
If you prefer Plaid FolkArt paints here is what I would use:
Wicker White
Berry Wine
Thicket
Medium Yellow
Donna Dewberry Onestroke brushes
Brush Caddy
A great book for more painting flower fun Flowers A to Z
I start with a pattern of a Poinsettia.  I look online for photos, graphic etc to make a pattern from.  I can't draw to save my life so I need to use something like a photo to create one.
I transfer the pattern onto my surface by laying my graphite paper on the surface, placing my pattern over the graphite and tracing over it with a pen.
You can see me do this in the video

Once the pattern is transferred to my surface I double load my brush with Evergreen and Cadmium Yellow.  I double load by dipping each corner of the brush in the puddles of paint on my pallet and stroke back and forth until my brush is fully loaded.
I follow the outline of my pattern on the surface, I start on the chisel edge of the brush and as I move towards the tip of the leaf I am pressing and releasing to create the ruffled edge.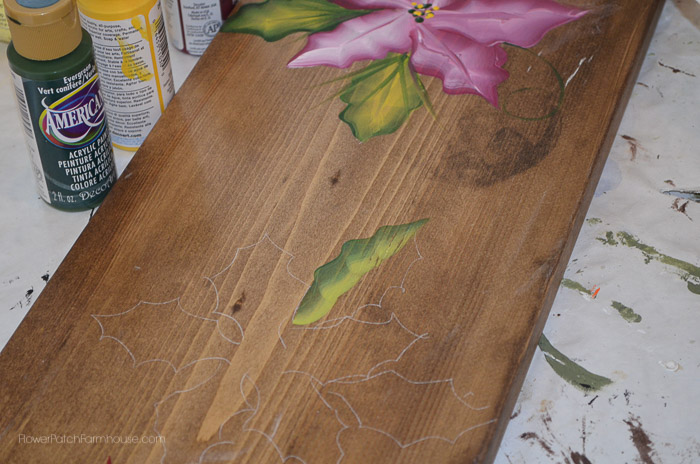 I sometimes started at the top and worked down or from the bottom and worked up, it depended on what felt comfortable for me.  I did the same for the other side.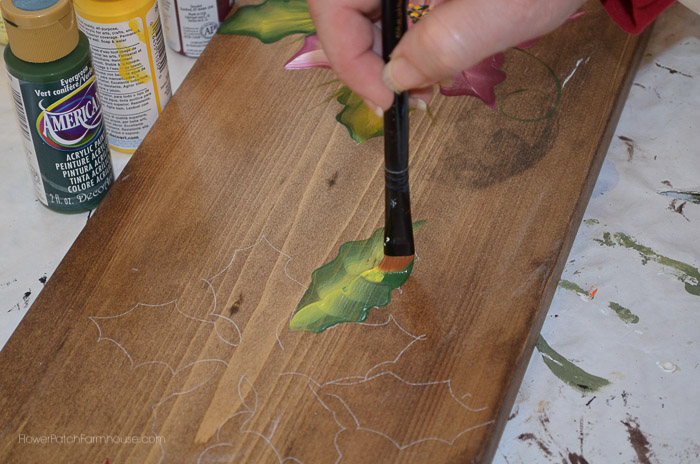 You will note I am not exactly following the pattern, it is more of a guideline for me.   Make sure you have only one point when you end your stroke.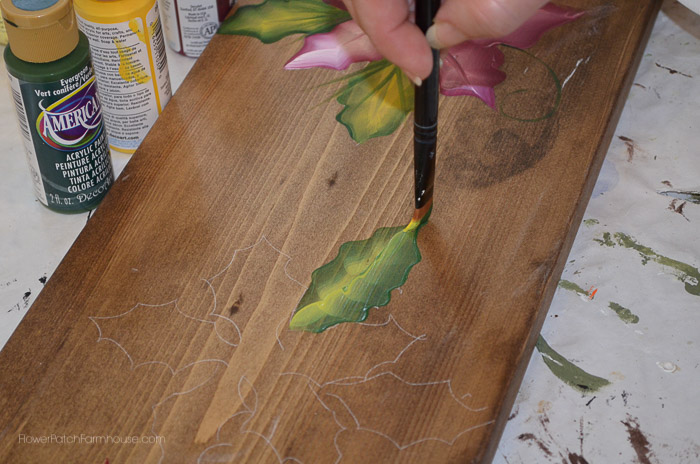 The flower petals are done much the same way except in the Cranberry Wine and White.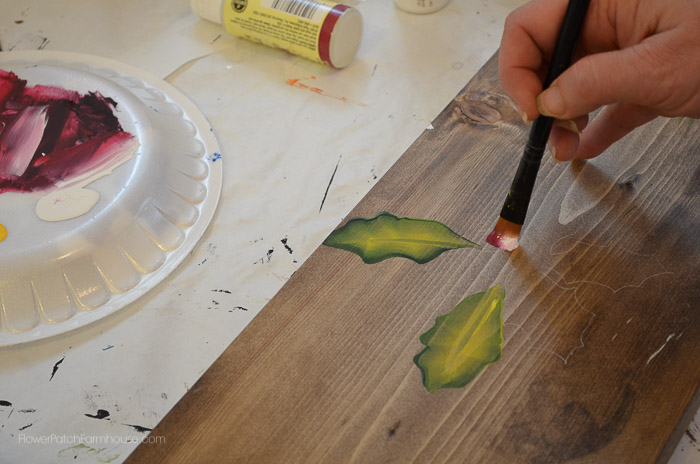 Again, start on the chisel edge, press as you take your brush up towards the tip, lifting at the areas you want and peak along the edge.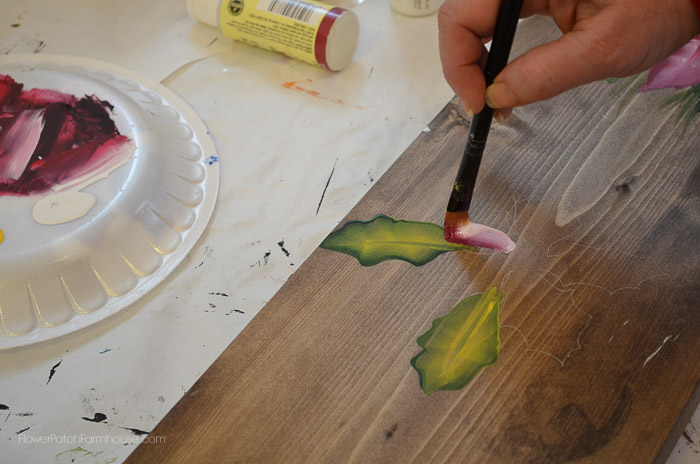 Press down again as you continue the take the brush towards the tip…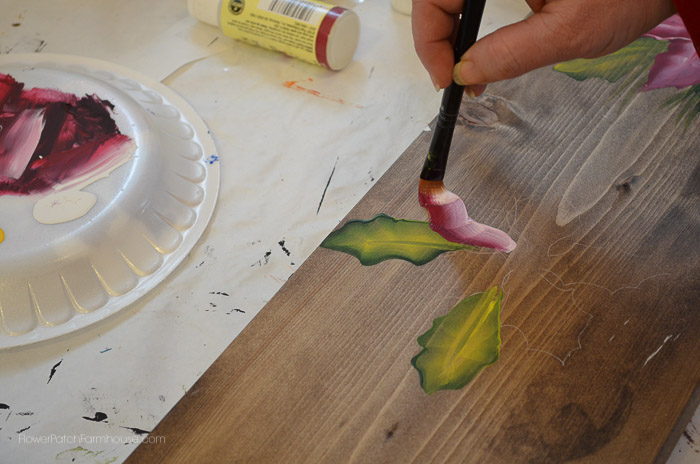 The video displays this so much better than my explanation and photos so please go ahead and watch…

Before you know it you will have painted some lovely Poinsettias like this.

I did attempt to show the Double Poinsettia on the video but I did not figure out to do the dark petals in the back and the lighter on top until after the video was done.  The one I did on the video is underneath the darker one shown in the photo above.  It still needs work so I will definitely be trying to perfect that one.  Also I have noticed in different photos of Poinsettias that not all have a serrated type edge and in fact many are quite rounded with a point.  So I will practice a bit more and see if I can paint a more rounded petaled one, which if I can I will definitely bring you an updated video and picture tutorial.
More Posts You Will Enjoy
How to Paint a Chickadee
Paint a Snowman
How to Paint a Cardinal
Learn to Paint a Simple Snowman
Happy Painting,