Good morning!  What a beautiful week it has been.  Some rain, clouds and sunshine.  The rolling hills are greening up and winter began with a whisper here.
I created another 2019 calendar but this time with some watercolor florals.  I put it in my new shop that I have been working on.  If you are interested in it you can go HERE.
The shop mostly has my printable painting lesson digital downloads with printable traceable patterns but I will also be adding other items as I go along. (the printable painting patterns on are sale for $1 with this code GETPAINTING)
I want to create a garden journal/workbook to keep myself organized in my garden.  I will let you know when that is ready to roll.
On to my Inspiration for today!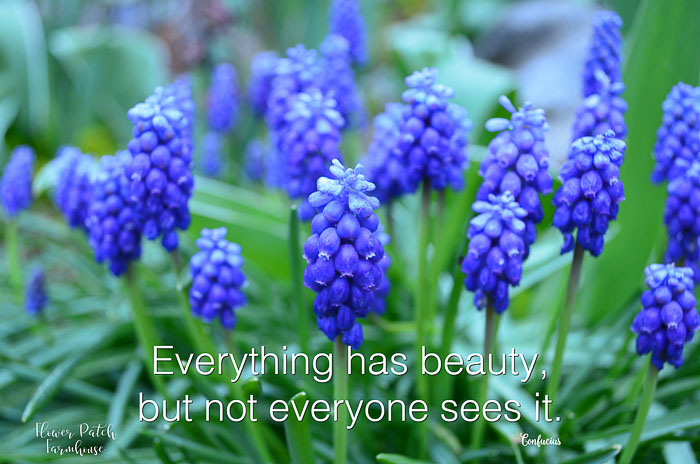 The grape hyacinths are one of the fist things to bloom here in the mountains of N. California. They have to withstand wet, late Spring snows but they are tough, and the shot of blue they bring are a beautiful contrast to the Daffodils and Tulips.
To Download a Hi Resolution copy of this photo go Here.  (for personal use only, please)
Did you miss last weeks photo and post? Go here to see it now!
I know this next week is a busy one for most folks so I doubt I will be posting anything again until next weekend.  But I have some great articles coming up soon.  One I can't wait to share is on Sweet Peas and some new colors I am going to give a go. I will be sharing a new resource for buying seeds too.
I have an article on Growing Sweet Peas Here, I love the beautiful scent they grace the garden with. It is light, refreshing and delightful.
Happy Sunday and enjoy your Week!