Hand Painted Welcome Sign for Fall you can paint. Easy step by step painting instruction with pattern available. Make this fun Autumn inspired DIY sign and display it with pride!
Easy yet BIG hand painted welcome sign for Fall is something you can paint using my step by step lessons!

I had so much fun painting up this bright welcome sign for Fall. The Fall welcome sign is large and eye catching for a gorgeous focal point on your porch, deck or entry way.
Welcome Fall in a big way.
I am going to showcase it on the front porch of my studio cottage along with more Fall fun.
I posted it as I progressed on my Facebook and Instagram accounts and my followers loved it.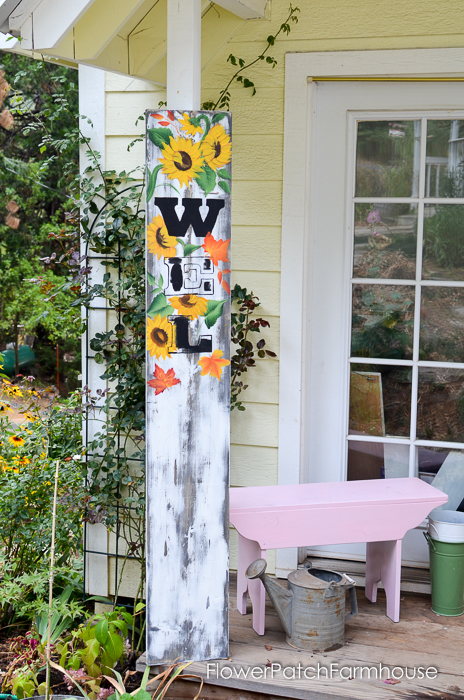 I did not have a set pattern, just a rough idea in my mind but I made one for you.
It is available below.
This includes as many of the Fall designs I have available as painting tutorials here on the blog so you could make one yourself.
Prepare Board to Paint Fall Welcome Sign
I started with a six foot 1 x 12 pine board.
I sanded it well then did my Rustic finish in 4 steps to give it a well worn look before transferring the lettering.
Usually I will add the lettering after I had the design painted on but this time around I wanted to see how best to work around the lettering with the designs instead.
Sunflowers
From the very beginning I knew I wanted sunflowers on it.
Sunflowers are such a bright cheery flower and easy to paint so that is where I started.
How to Paint Sunflowers
Leaves & Chickadees
I added in Fall leaves further down along with some Chickadees.
How to Paint Fall Leaves and How to Paint Chickadees
Pumpkins
In place of the O in Welcome I used a pretty orange pumpkin.
How to Paint a Pumpkin.
I don't know if you noticed but to give the design dimension I put shading around the designs.
The instructions on how to shadow is in the video for painting the pumpkin.
The lettering is in Black with a DecoArt Sky Grey (affiliate link) for the shading on it.
At the bottom I had thought to put a pile of pumpkins but went with more Sunflowers instead to balance out the design.
And Voila' you have a fun Fall Welcome sign!
With all the different tutorials you can mix and match as you please for your own unique Welcome sign.
I taped the pages together in such a way as the letters were 2.5 inches apart when painted but you can space them as you wish.
I finished it off with a few coats of Rustoleum Waterbased Spar Urethane (Exterior) to keep it lovely through many seasons. A link showing which one I use is just below.
For a full list of my most used painting supplies just go here Most Used Painting Supplies
Happy Fall Painting!
Click the green button below for a pattern you can use to paint this sign yourself.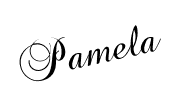 If you like, Please PIN for future reference!