Fun DIY Scrabble Tile Art for Fall!
Fun DIY Scrabble Tile Art for Fall, use scrap wood or new, whatever you have to make this fun decor for your Fall display.
This DIY Scrabble tile art is a fairly quick and easy project that is reversible and can be made with any word you wish. Easy paint, crackle and distressed finish for your rustic, farmhouse and/or cottage decor.

I deliberately hand painted a pumpkin on one side and a …..

….leaf on the other in place of the A so that is not it. I am not going to tell you, I am going to see if anyone can tell me in the comments. I will fix it and insert a photo of the finalized project in a week or so.
I will go ahead share the step by step of creating these tiles. I already have instructions here on the blog for
painting the leaf
and also one for how to
paint a pumpkin
.
Here is a tutorial for painting White Pumpkins as well.
Lets get started on our DIY Scrabble tile art…I used a 1″ x 6″ pine board, just plain ol lumber from our local lumberyard. I trimmed it at 5.5″ intervals so they are nearly square. As you may know regular lumber may be called a 1 x 6 but it does not measure that. You could also use a 2 x 6 for thicker tiles. Or you can use wrapped canvas', you will just need a way to stabilize them to stand like a faux scrabble tile tray. (I will come up with a DIY for that soon)
Once I had the squares cut I stained them with a dark oak stain, any dark stain will work.

Once the stain is dry I slapped on a bit of crackle medium. Some use Elmer's white glue but I prefer the consistency of a crackle medium. Let the medium dry then paint on your top coat. CLICK here for an entire post on using Crackle Medium
I went with a white. This is regular house interior latex. Nothing fancy, you can use craft paint as well.
Be careful as you brush on the white, the crackle medium re-activates and you will brush it right back off if you overwork putting on the white paint. As the paint dries the crackles appear.
Let the white coat dry completely then take your sander or sand paper and sand each tile a bit to distress them, work a bit more around the edges.
Next trace on your letters and design. I print out the letters with my printer using Microsoft Word then I transfer them to the tiles with graphite paper…
You can print out your own custom wording. I show you how to create wording for signs here.
You can see the faint outline on the tiles below.

Now paint your leaf and/or pumpkin on the one tile and the letters on the others. I painted in the letters using a filbert brush.
I decided to distress them a bit and add some shadowing but that is totally optional.
There you have your Fall Scrabble Tiles to add to your decor.
You can use them on your mantel, with a porch display or in a vignette on a table top… Or even coasters if you put an exterior varathane finish on the. I like Rustoleum Spar Urethane Outdoor.
More you Will Enjoy
Fall Sign with Leaves & Acorns
Fall Welcome DIY Sign
Harvest sign and How to Paint Lettering w/o a Stencil
How to Use Crackle Mediums


Did you enjoy this post? Please PIN and share.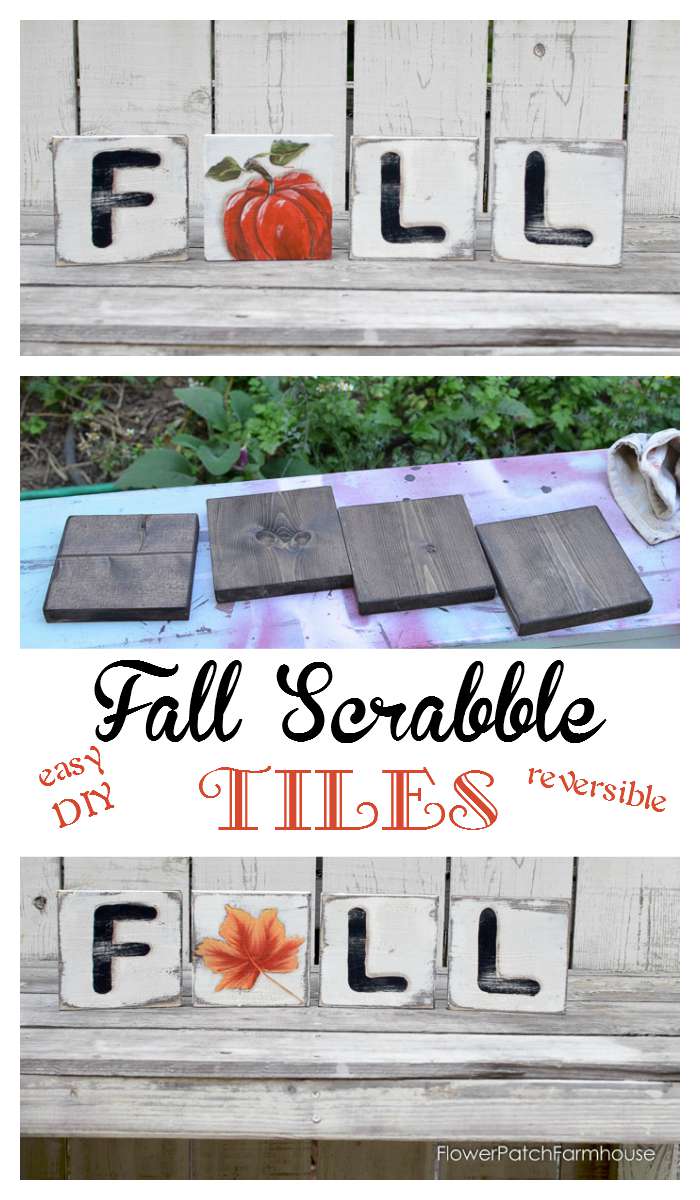 Happy Fall Painting!