I love annual easy Sweet Peas! They are simple to grow from seed, make great cut flowers and create a perfume in your garden that is refreshing and light. A walk in a garden scented with Sweet Peas is truly a delight for the senses.
Easy sweet peas for your garden. I have some new (to me) sweet peas seeds to get started for a gorgeous display this coming Spring and Summer. Come see what colors I am crushing on.
Note: I have updated this post to show the Sweet Peas I grew from the seed I received from Sweet Pea Gardens.
Georgina sent me sweet pea seeds to try and I absolutely loved them. The photos of the ones I grew are at the end of this post with a discount code you can use to order your own to grow!
No time now? PIN for later.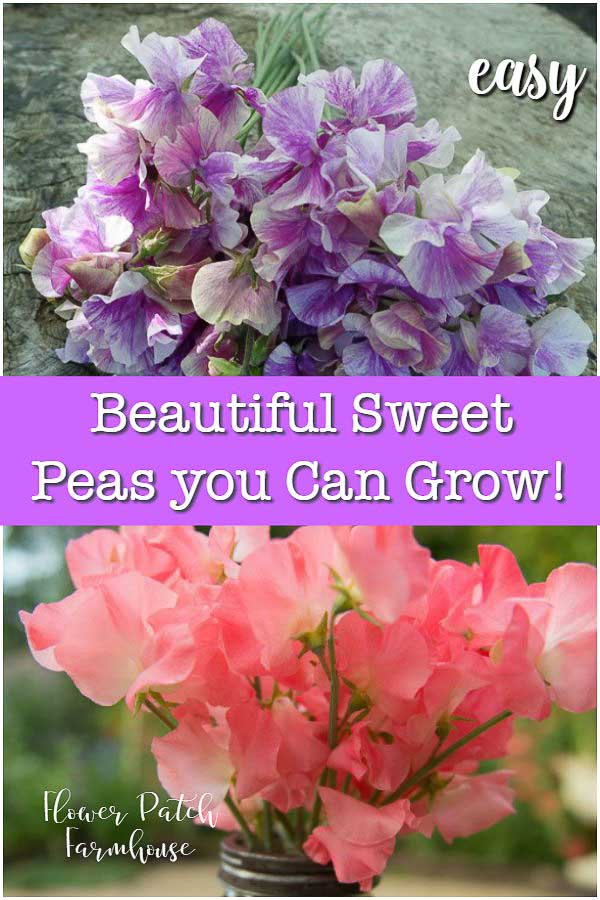 You know I love Sweet Peas and I shared how I grow them HERE so when I was contacted by a sweet lady who has a sweet pea garden and she sells sweet pea seeds in her online shop I was immediately interested.


It was extremely hard for me to whittle down my choices but I managed too. And here they are…
Just look at those striations…don't you love how unique they are. This one is called Chocolate Flake.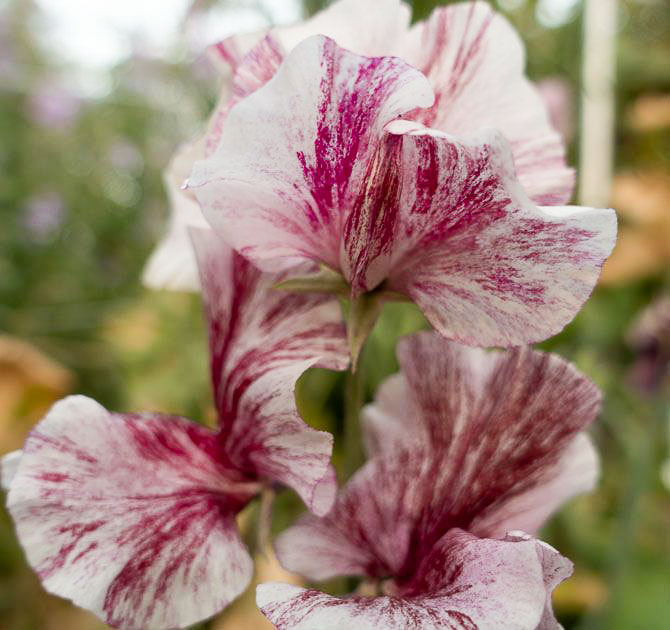 This one, called Blue Vein, changes color during the season, I can't wait to see that…here is the excerpt from the sales page…
A highly unusual sweet pea that starts out a lovely shade of orange coral and then develops fascinating blue purple veining on the petals with age. The petals are so distinctive that they almost look as if they have been painted! The flowers are more on the petite size, but just as lovely and they still have the lovely sweet pea fragrance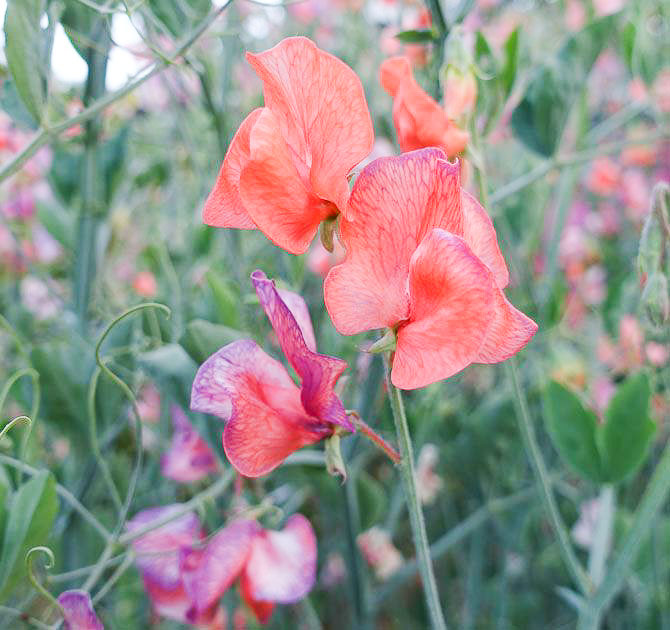 I know these Valerie Harrod sweet peas will add a lovely apricot glow to my garden! I will be sure to share photos when I am picking masses of bouquets.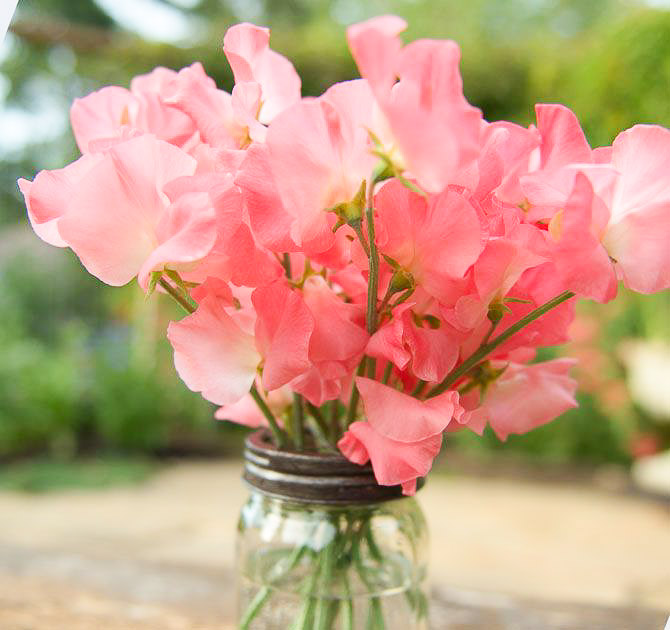 This one I had to have, I love subtle shifts in colors that add a delicate touch…Spring Sunshine Champagne..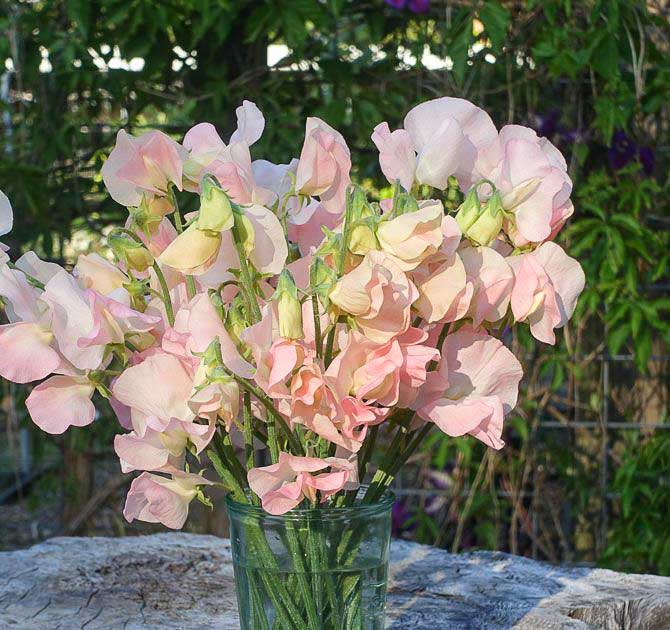 Pandemonium sounds like a description of my garden but it is the name of this beautiful sweet pea…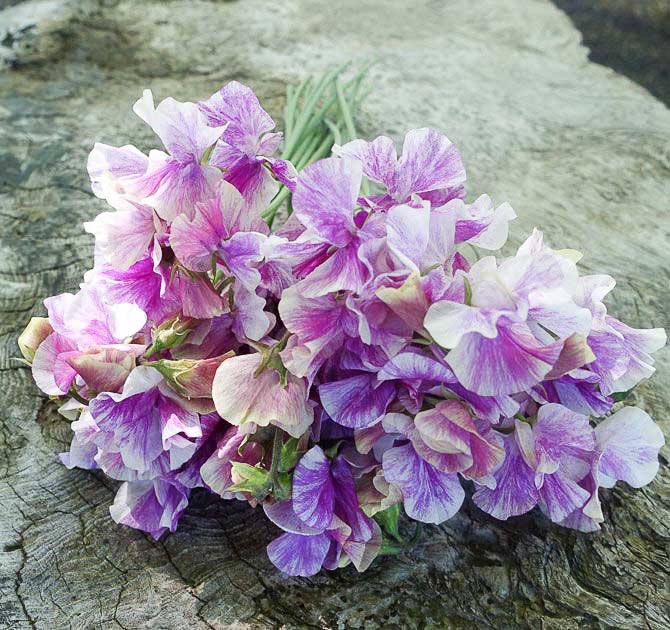 Aren't they all gorgeous! When Georgina of Sweet Pea Gardens contacted me to collaborate I jumped at the chance in a red hot second. They let me use photos from their site to share which ones I chose but there are many more colors.
Georgina has offered a sweet deal for my readers? 15% off your sweet pea seed order.
Tap here to go to her website and order
Enter this code at checkout: FLOWERPATCH15
15% off Sweet Pea Seeds
One use per customer
Active until Jan 5, 2020
If you are wanting some gorgeous sweet pea seeds to grow in your garden I can highly recommend them. Sweet Pea Gardens website also has information on growing and has a FAQ page that you may find helpful.
I wish you Happy Sweet Pea gardening!
Now for the photos of my lovely sweet peas I grew this Summer!
This bouquet is a mixture of High Scent and Pandemonium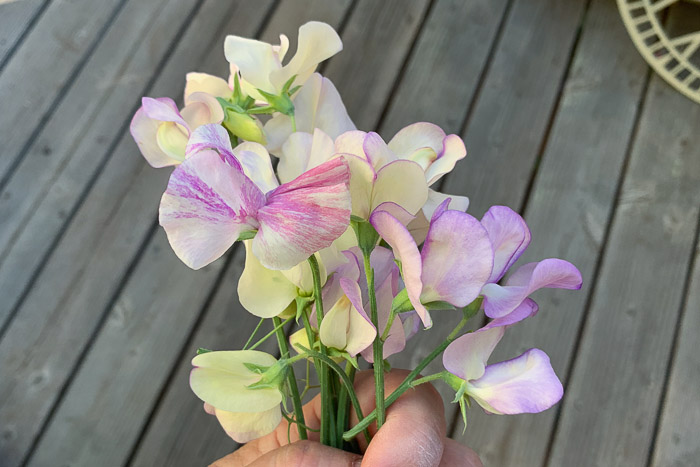 I grew many of my sweet peas in large containers with other plants. Growing them with bamboo offers support to the sweet peas as the climb for the sky.
This planter is just outside my back sliding doors and the delicious scent of sweet peas delights me as I walk in and out to the back deck.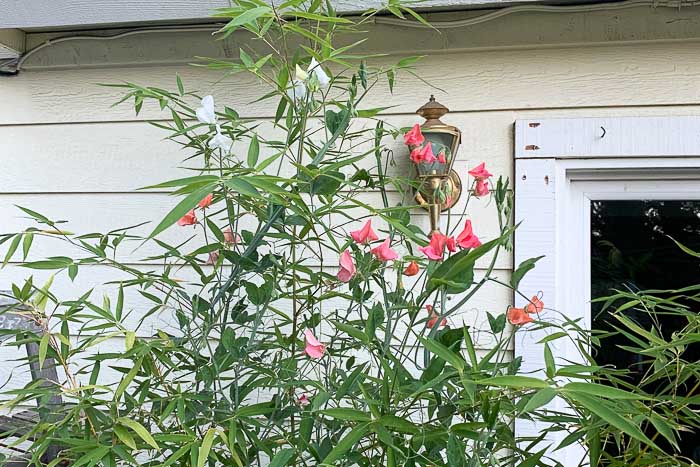 Blue Vein sweet pea with hydrangeas. The contrast is just eye catching. Blue Vein gets the purple edging as it ages. You can see in the center of the bouquet a bloom that is starting to get the edge coloring.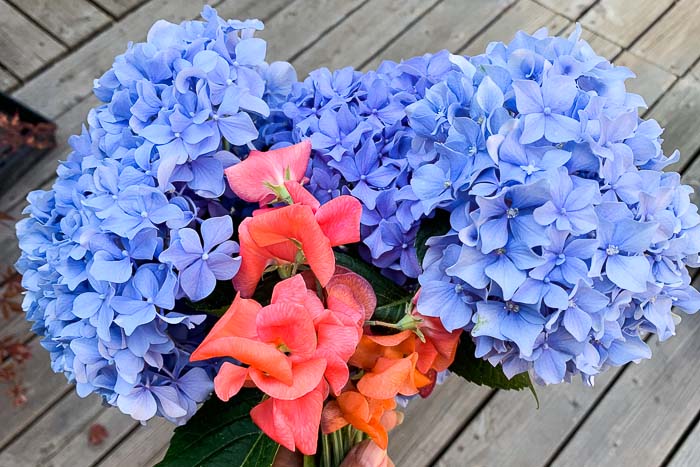 Valerie Harrod, Chocolate Flake, High Scent, Blue Vein and Pandemonium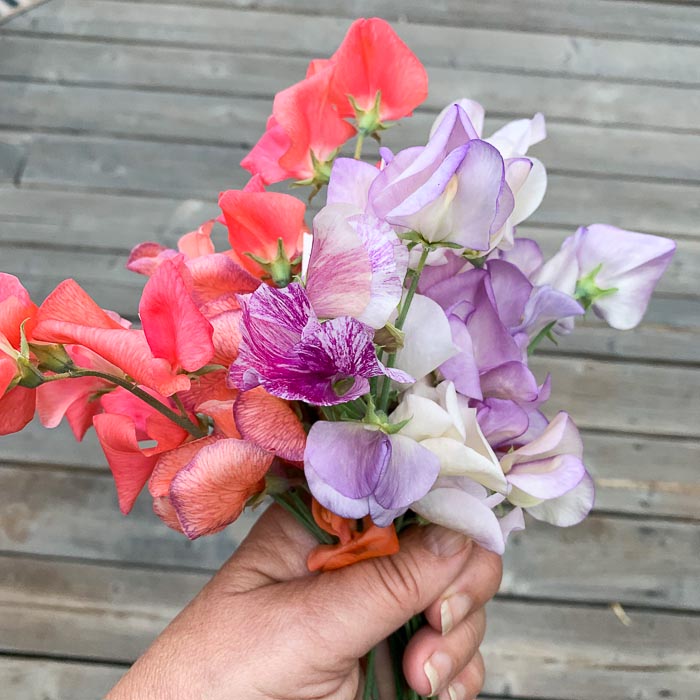 I had planted early in the Spring but we had some really odd temperature swings and weather so my first planting suffered and died so I replanted in June.
All of these are from the second planting. I know that my weather is capricious in Spring time and not reliable for planting sweet peas so I always reserve half of my seeds for a second planting if the first is decimated.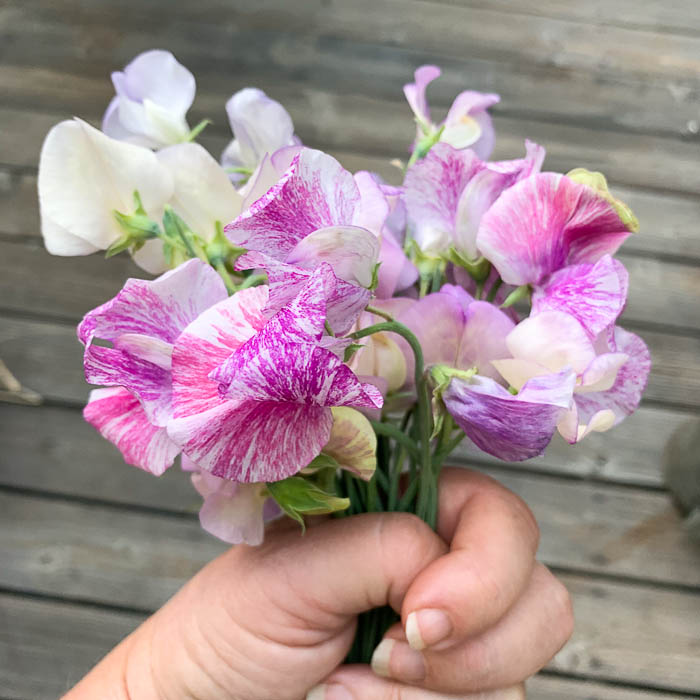 The bright bi-color sweet pea was one that had reseeded itself in my garden and I am not sure what it is called but I am sure you can find one similar on Sweet Pea Gardens store.
I love that they have Sweet Peas I have been searching high and low for.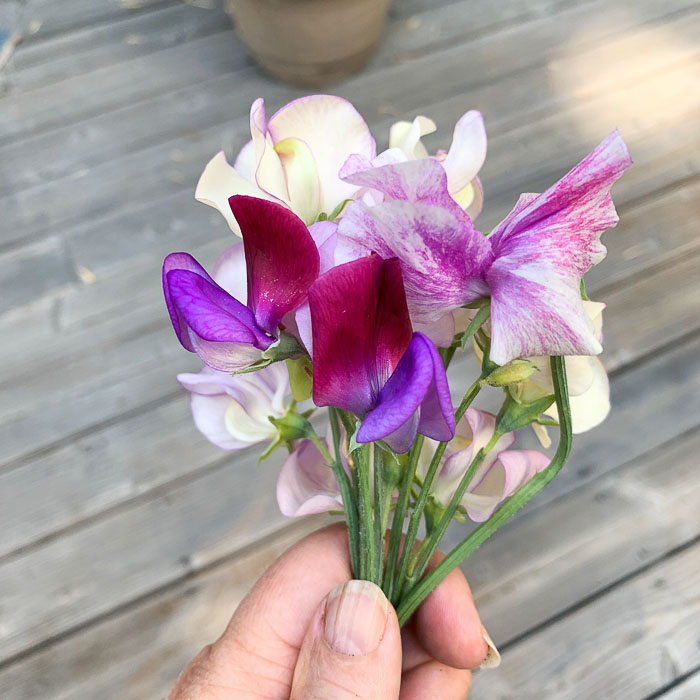 And that my friends is just a smattering of the sweet pea bouquets I picked and brought into my home this past summer.
You can do that same next summer, get your sweet pea seeds at a great price here:
Sweet Pea Gardens
Enter this code at checkout: FLOWERPATCH15
15% off Sweet Pea Seeds
One use per customer
Active until Jan 5, 2020