December Income Report – Blogging Experiment

signs I painted and sold in December
Hi all…I hope this finds you well.
It is time for me to check in with the December income report. Part of my focus for the month was trying to share on Facebook more and I am trying to figure out Twitter.
I had sign orders to fulfill which I managed to do but I failed to stock any in my website shop. Sign sales are one way to make this site pay and I do need to make sure I follow through on that end of things.
My job at the resort demanded much more of my time and energy because of the holidays so that is where the sign painting time went. I did read another e-book from a gal that made a good income the first year of her blogging but the scenario doesn't really fit my niche and some of her info I completely disagreed with from my own experiences, so as I said last month no one way is going to work for everyone. So keep that in mind, the only tried and true method is keep at it and make sure you are enjoying yourself or else you will burn out.
Now on to the numbers for December income.
Income:
Sign sales $640.82
Adsense 80.69
YouTube 80.42
Lijit (sovrn) 4.02
Total $805.95
Expenses:
Gallery Rent $ 50.00
Hosting 20.00
PayPal Fees 9.65
Shipping 57.35
Total $137. 00
Profit for December $668.95
My page views for December only increased by about 500.

I still need to clear out space for better photography and staging of my signs and other projects. I need a good week of not having to go or do anything else so I can focus on de-cluttering. I am working towards that goal. Still.
Where my traffic came from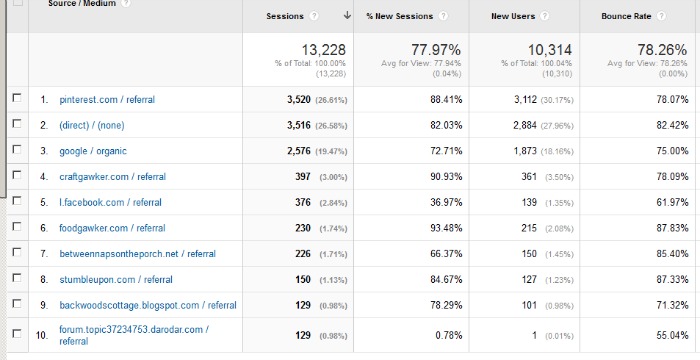 Pinterest is still #1, while my direct and google traffic are also still in a good place.
December I have submitted photos of past posts to craftgawker. Even if i had to go back and retake photos to get them accepted. They bump up my stats well so it is worth my time. I have not been joining the linky parties as much, I just did not have the time but I feel the time to get on craftgawker a better investment.
I joined Sovrn (formerly Lijit) and set up the waterfall for the ads in my side bar, footer and in the post. (when one ad company has nothing to fill the space then the other does) Moving the 300 x 250 ad into the post was another thing I had done which so far is helping to bump up my numbers. That may be annoying to some but moving ads around to find the most profitable place for them is one of the ways to support a blog so that we bloggers can continue to bring you the fun things we love to create and share.
Many report better ad rates with Sovrn than Adsense but that has not been the case for me. I have been with Adsense forever and I get a pretty good rate per page view so maybe Sovrn will improve for me overtime as well. Right now I get 3 times the rate with Adsense than I do with Sovrn.
So this month I have started adding Pattern Packets for purchase. These are the first two I have listed.
How to Paint a Chickadee.

How to Paint a Pansy Nana's Garden Sign


I have had requests for patterns on painting designs so as I paint signs I have been taking the time to draw up a pattern including the wording and turn it into a downloadable PDF. I price them reasonably so they are affordable and list them. I have meant to do this for awhile but just did not take the time and now I find I really do enjoy it, enjoying it makes it that much easier to continue providing that. So the sales from those should add to my monthly income, even if it is just a little. Every bit helps.
I have done a video and post on how I paint wording but it was the block print so I really should provide one on how I do script. Actually, I find the script to be easier but there are little tips that help me get the effect I want that I can pass on to you.
Sign sales typically decline in January then pick up in February and March. So we shall see how January goes as far as income. I have seen a jump in traffic so it should prove interesting if that continues. I have added some more sign up for email update widgets that seem to be gaining some subscribers and I note a bump in traffic after each time I post.
We are heading for Spring so I will get busy in my greenhouse prepping for my favorite time of year…SUMMER! If California does not get more rain and snow we are going to have to be ingenious in providing water for our ornamental plants this summer so we have been talking about how to implement a grey water system on the cheap.
I think I shared everything for this past month, if I remember anything else I will come back and add it.
Happy Blogging everyone!
In case you missed past posts here are the links
Blogging for Income November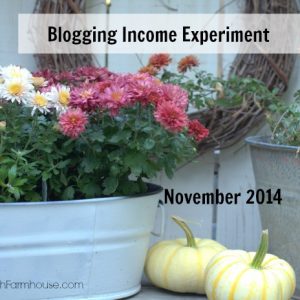 Blogging for Income October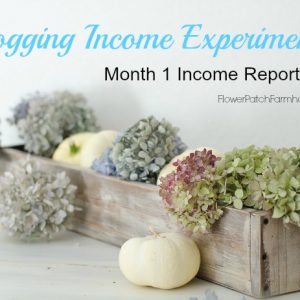 How to Build a Blog 3 Great Resources
Next month I will share what new things I have added or done to promote and improve my income. I hope you find this helpful and if you have any questions please do ask. I will be happy to answer as best as I can.