Coastal Beach Signs
I have been slaving away in my studio painting on custom orders.  I love being out in my little painting cottage with the french doors flung wide letting in the fresh summer air while I am bent over my work table.  I was asked for particular sign and I had to look back in my archives for some coastal beach signs I have done in the past.
Until I had to look through those photos I did not realize how many beach type signs I have painted for folks with a flair for coastal decor.  They have all enjoy lovely to paint and I want to share them with you.

Some were simple words painted on an old board with just a skiff of color and sanded down for a driftwood feel.  Bits of wire were added to keep the splits in the wood more secure and gave it a reclaimed look.
This next one was for a cafe on the east coast.  It has been so long ago I can't remember what state.  The soft sea mist green background fit the name of the cafe.  Doesn't it sound like a relaxing place to gather with friends and enjoy the sound of the ocean?
This one was for a resort of some kind that rented little cabins on the beach.  The bright red border gives it a punch of color that catches your eye.
Perfect for that relaxing little beach shack everyone dreams of.  Many find the sound of the ocean a panacea for the crazy world we live in. The family that requested this sign had a spot all picked out over their French Doors leading out on to a sandy beach just steps from the surf.
This sign was created for a gal up in Seaside, Oregon.  She had named her little cottage after the town and wanted a sign by her front door.   She requested the hydrangea blossoms be translucent.  I love how it turned out.  The shape seems fitting for a small cottage.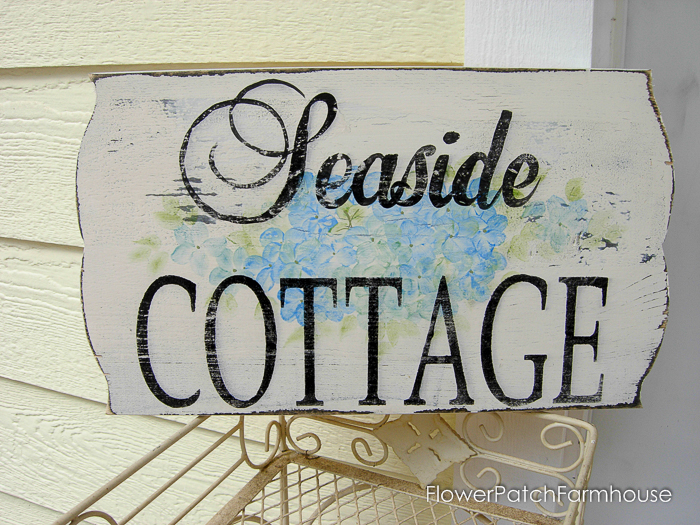 This is similar to my Beach Painting Tutorial.   Right now that is my most watched video.  I guess everyone wants to capture the peace and quiet of a beach scene.
I did a couple with the addition of a beach umbrella and chair.  What a fun Grammy & Pop, they have a beach house!
Sorry for the glare, I guess I used my flash in this one.
And I did a couple with palm trees added.  They are fun to paint as well.
I should do another beach painting tutorial but show how to add Palm Trees.

This is an oldie but goodie.  This one is from about 2002.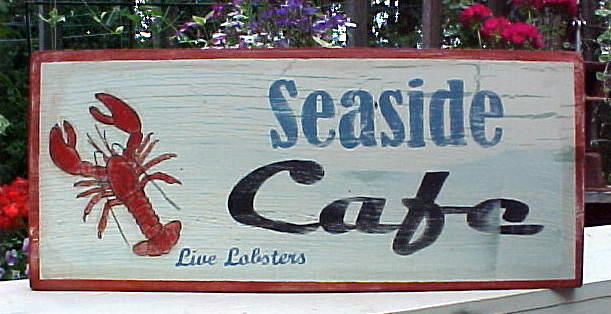 Another from about that same time, sorry it is so small.  I could not find a larger jpg.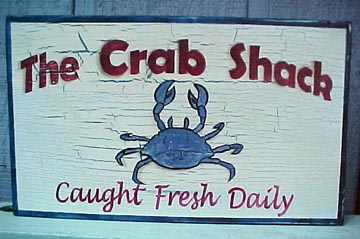 I had fun going down memory lane.  I hope you enjoyed seeing some coastal / beach signs and took away some ideas on creating some of your own.
Happy Painting!
More Posts You May Enjoy
How to Paint a Beach Scene
Paint a Sunset Beach
How to Paint Lettering
How I Paint Script Lettering for Signs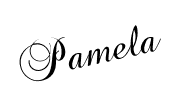 Please PIN and share